Sometimes you get to a point where you just no longer need a credit card. In those instances, you might be very tempted to proceed with canceling your card. However, before you choose to cancel your card you need to be mindful of some factors.
In this article, I will show you how to cancel your American Express cards, but I will also provide you with some tips and tricks to think about before you pull the trigger on canceling a card. In many cases, you will be better off not canceling a card so you definitely want to check out this article before taking any action.
How to cancel American Express cards
There are different ways that you can cancel your American Express credit cards. I will explain each of these methods below but make sure that you keep reading to get some insight and tips on why you should not cancel your cards in certain instances.
How to cancel via phone
One of the easiest methods to cancel your cards is to simply call the phone number on the back of your card. You can also call the customer service phone number 1(800)528-4800 but you may need to have all of your card details with you.
Cancel American Express cards online?
You cannot cancel American Express cards online through your account. However, it is possible to cancel your cards via chat.
Cancel American Express cards via chat
Simply log in to your account and then pull up the chat feature which you can find in the bottom right corner of your screen. After a secure connection is established, you can enter in the reason for your chat which in this case would be canceling a card.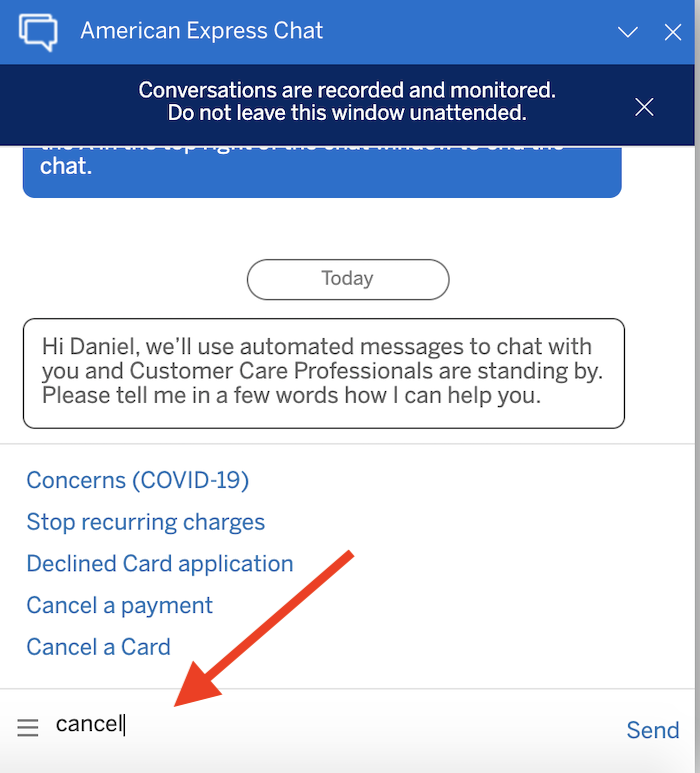 As you type in cancel you should see "cancel a card" automatically populate and once you select that reason, a representative will appear in the chat and will want to inquire about what card you would like to cancel.
Most likely, they will send you some disclosure information that you need to read about the closure of your account and then once you agree to the terms, your card will be closed.
Re-opening a canceled Amex card
In the event that you change your mind and realize that you actually did not want to cancel your American Express card you still may have a way to re-open the card.
If you have canceled the card within the last 30 days, American Express will likely allow you to re-open that card. However, you will most likely have to pay a $25 fee in order to reinstate the card. Worth noting, this reinstatement fee will not apply towards your annual fee.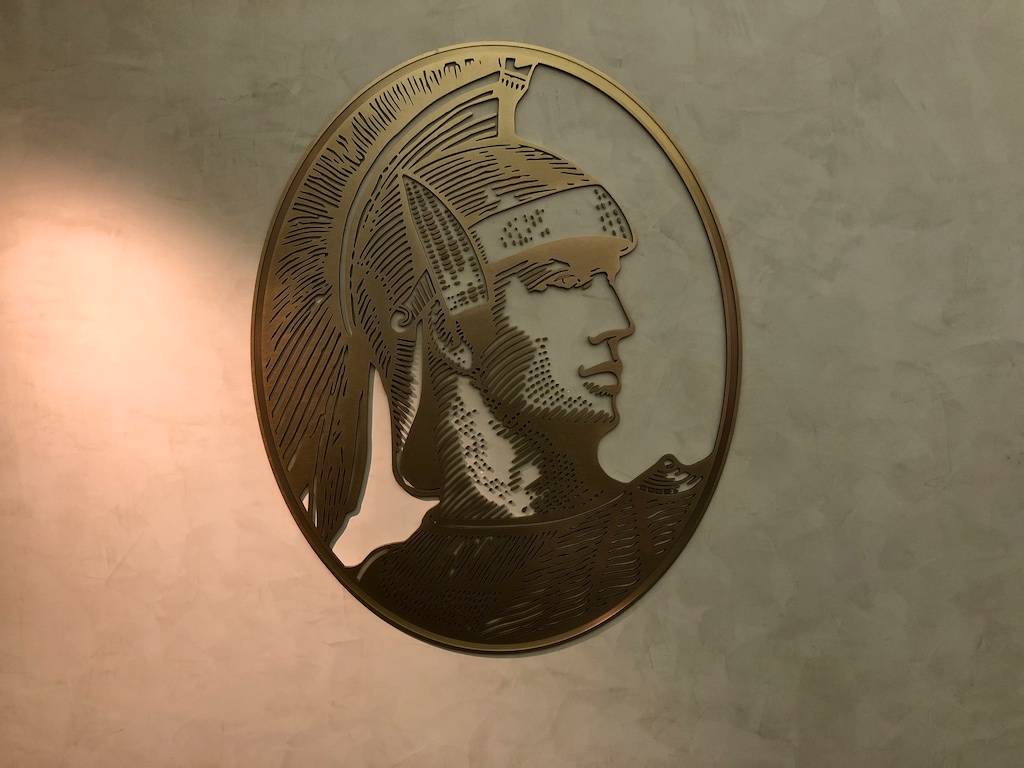 Losing your Membership Rewards
In order for you to keep your Membership Rewards you will need to have at least one active Membership Rewards earning card. If you fail to keep at least one of these cards open then you will lose everything.
One of the best strategies for doing this is to open up the Amex EveryDay card which has no annual fee but still earns transferable Membership Rewards. This way, you never have to worry about paying an annual fee just to keep your points alive.
This Amex EveryDay card is special because it is one of the only cards that allows you to transfer points out to travel partners while not having to pay an annual fee.
Preserving your credit score
Whenever you cancel a credit card, there is a chance that you could hurt your credit score in a couple of ways. The most immediate way that you could impact your credit score is via your utilization.
Utilization
Utilization is how much of your overall credit limit that you are currently using. So for example if you had an overall credit limit of $50,000 and you were currently in debt $25,000, then you would have a utilization of 50%. Generally, you want to keep your utilization at at least 30% or below although I recommend to keep it at 5% to 10%.
When you cancel your card you are removing credit lines and that could increase your utilization and thus hurt your credit score. So you really need to be mindful about what effect that your cancellation will have on your available credit.
Something that you can do to prevent the damage done by this is to ask American Express if you can transfer credit from one credit card to another. In that case, you can transfer a good portion of that credit line and keep it alive so that you only end up losing a small amount of available credit.
If you are ever canceling an American Express card with a very high credit limit, this is usually a very smart move.
Credit history
Another way that your credit score can be impacted is by lowering the average age of your accounts. Credit history makes up 15% of your FICO score, and the most influential factor of that is the age of your oldest account. This is why you never want to cancel the oldest account that you have.
Currently, FICO allows a canceled account to continue to age for several years even after it is canceled. But after that, it will fall off your credit report entirely. So while your average age of accounts might not be immediately impacted by a cancellation, down the road your credit score will be impacted by it.
So be sure to have a long-term perspective when it comes to canceling credit cards. Otherwise, you could be setting yourself up for trouble down the line.
Payment history
The most important factor in your FICO score is payment history and it makes it 35% of your credit score.
By keeping your card open and making on-time payments every month you are able to continue to build up your payment history. So just keep it in mind that if you cancel your card you no longer will be able to improve this factor with that card.
If you have late payments currently on your credit report and you don't have many other cards with good payment history to help "dilute" those late payments, then you should highly consider keeping your card active.
Avoiding annual fees with retention offers
A huge driver for why people cancel their cards is because they don't want to pay the annual fee. This is really understandable for cards that have annual fees in the $200-$500 range. But did you know that you can avoid these annual fees sometimes or at least get them effectively cut down?
You can do this by getting something known as a retention offer. These are offers that go out and are usually based on things like your spend in a given year and also your history with American Express.
So let's say that you have put $50,000 worth of spend on a Platinum Card and you have had that card for a handful of years.
In that case, you could expect to get some kind of offer with the annual fee waived, partially waived, or given an offer of Membership Rewards.
Sometimes you might have to put additional spend on your card to earn the Membership Rewards but other times they will just give them to you outright.
You don't always have to put a significant amount of spend on the card to get a retention offer, though. But generally the more spend you put on it the better your odds of getting a retention offer. Click here to find data points on past retention offers.
To inquire about a retention offer the easiest way is to just simply call the number on the back of your card and let them know that you were thinking about canceling your card but wanted to see if there are any incentives to prevent you from canceling.
Some people just out right ask for retention offers and you can do that if you feel comfortable doing that but other times you might have more luck going with a more subtle approach.
Canceling before the annual fee
I highly suggest that you avoid canceling your American Express cards before you have been hit with the annual fee. For example, some people like to cancel American Express cards right after they receive a welcome bonus.
Doing this could really hurt your relationship with American Express.
It could potentially lead to your account being under review which means that your earnings in other cards could be at risk for getting shutdown. Also, you may not be eligible for other bonuses in the future if you partake in this.
Getting refunded for the annual fee
If you cancel the card within 30 days after the statement containing your annual fee, you can get a full refund. Keep in mind that American Express no longer prorates annual fees if you wait until after 30 days to cancel. They can be very strict about this timeframe so even waiting one day longer could put you at risk for paying that annual fee.
Tip: If you product change outside of the 30 day window you likely will still get a prorated refund. So product changing can be a smart way to save yourself on the annual fee if you have decided to no longer use that card after that 30 day window.
Downgrading
Rather than cancel a card you might simply just want to downgrade the card. This is one of the easiest methods for avoiding an annual fee and it very simple to do.
For example, if you had a card like the Amex EveryDay Preferred and you wanted to avoid the annual fee you could simply downgrade to the Amex EveryDay.
One issue with changing to a different credit card though is that you could remove yourself from eligibility for the cards welcome bonus. Another thing to note is that you cannot downgrade or product change between personal and small business cards.
If you would like automated assistance when trying to figure out downgrade options, then I would create a free account with the new credit card tool WalletFlo. Once you input the cards you have, you can see options for upgrading and downgrading and the corresponding annual fees. It's very handy and easy to use.
Charge cards
American Express is known for its charge cards which are cards that don't have a set credit line and instead require you to pay them off every month (although you can enroll in programs like Amex Pay Over Time).
If you have American Express charge cards there are some additional considerations. You should not have to worry about utilization because most credit reports do not factor in charge card credit lines into your utilization. However, your average age of accounts can still be affected in the same way with charge cards.
Something that you should know about the charge cards is that you cannot convert them into credit cards.
So for example if you had the American Express Gold Card and you wanted to convert that into the Amex EveryDay Card that is not possible. Instead, you will need to downgrade from one charge card to another charge card.
If you are looking to downgrade a charge card then a popular option will be to look at the American Express Green Card — if you were looking to avoid the higher annual fee of the Platinum Card or the Gold Card then this can be a good option.
Upgrading
If you are thinking about closing a card, the last thing you probably want to do is upgrade the card.
But in some cases you can get some very lucrative offers for upgrading your cards with American Express. For example, many people get special offers to upgrade the Hilton Surpass to the Hilton Aspire and they get a great bonus to go along with that.
Sometimes you can end up coming up with a lot of extra value that will easily offset any annual fee that you would be paying. So don't forget to entertain the possibility of upgrading if you are on the brink of canceling a card.
Total number of credit cards
Finally, American Express will limit many people to a total of four credit cards although some people are able to get more.
In some cases, you may need to cancel a credit card so that your total number of cards will be under four in order to make yourself eligible for another credit card.
In this case, you would likely want to consider canceling your newest card first so that your oldest card can continue to age.
But in some cases, you may be getting so much value from your newest cards that you don't want to cancel those. So it often comes down to a balancing act of: how much value are you getting from your cards versus how much value do you think you will get from the age of your account?
Final word
There's a lot to consider before choosing to cancel American Express cards. Basically you want to make sure that you have considered the following:
You are not losing your Membership Rewards
Impact on your credit score
You have inquired about retention offers
You know your product change and downgrade potential
You've checked about upgrade offers
Daniel Gillaspia is the Founder of UponArriving.com and creator of the credit card app, WalletFlo. He is a former attorney turned full-time travel expert covering destinations along with TSA, airline, and hotel policies. Since 2014, his content has been featured in major publications such as National Geographic, Smithsonian Magazine, Forbes, CNBC, US News, and Business Insider. Find his full bio here.