If you're planning a trip to the San Antonio Riverwalk you have tons of different hotel options and it can be an overwhelming process to narrow them down.
But if you're looking for a four-star luxury property that won't require you to break the bank, the Westin Riverwalk San Antonio is a super solid choice.
In this review article, I'll tell you everything you need to know about the Westin Riverwalk San Antonio.
Booking
We had a family meet up in San Antonio around Christmas time and decided that staying at the Westin Riverwalk San Antonio would be a perfect two night stay.
We paid cash for the booking but utilized suite night awards which ended up getting us a nice corner suite.
In addition to that, Titanium Elite status gave us free breakfast at the property which added even more value to this stay and made it a great option.
Tip: Use the free app WalletFlo to help you travel the world for free by finding the best travel credit cards and promotions!
Location overview: San Antonio Riverwalk
The Westin Riverwalk San Antonio is located right in the heart of the San Antonio Riverwalk aka tourist central.
It's only about a seven minute walk to the Alamo and very close to all of the other major Riverwalk tourist attractions.
The property is also located directly on the Riverwalk, although you need to take some stairs or an elevator down to that level to exit out that way.
Check-in
Check-in was a very smooth process and I was immediately impressed with the beautiful hotel lobby.
I heard that NBA players sometimes stay at this hotel when they play the Spurs which I think says a lot about the level of luxury offered by the property.
If you have a little bit of extra time, you may want to check out the second level which is where a lot of the conference rooms are located. On your way up, you'll pass through a beautiful staircase with a 19th century rod-iron chandelier.
At one point, I thought I heard one of the tour boats on the river mention that the Westin has items on display from an old castle or palace which wouldn't surprise me given how elaborate some of the fixtures are.
The room
The corner suite we were upgraded to was a very beautiful and spacious suite. I loved the oversized double doors separating the living room from the bedroom.
The workstation fits right between these two doors and the living room TV is actually embedded in the wall.
The sitting area is pretty spacious and we were able to request a rollaway bed for my nephew without much hassle which was great. (The sofa does not convert to a bed.)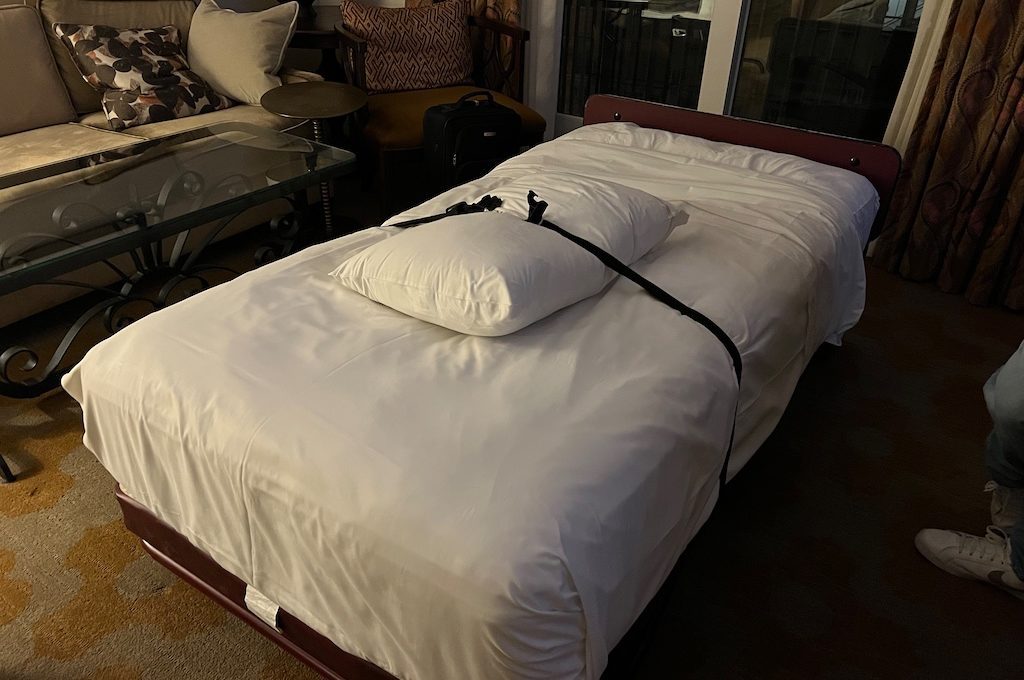 Both the sitting area and the bedroom have their own balcony.
We were positioned a few floors above the pool which gave us a nice view of the pool but a mostly obstructed view of the river.
Inside the room, you have a nice and soft king bed. As expected at the Westin, the bedding was extremely comfortable.
On each side of the bed you can find outlets and USB ports for easy charging.
Related: Should You Use USB Ports In Hotel Rooms? (Stay Away!?)
In front of the bed, there's a dresser with a large TV monitor hanging above it.
Overall, I had little complaints about the bedroom other than the temperature and the view.
While the living room stayed nice and cool, the bedroom was a bit too warm and there really was nothing we could do about that unfortunately.
The only other thing that was slightly disappointing about the room was the lack of a river view.
It looks like the river views are much better for rooms that are not above the pool since the terrace for the pool cuts into the river view.
So if you really want a great view of the river you might want to ask to not be put in one of those rooms.
Near the bathroom was a large counter with the coffee maker, a mini-fridge, hotel safe, and a couple of bottles of water.
Related: Are Hotel Coffee Makers Safe & Clean? (YIKES!)
As for the bathroom, it was huge (and glorious).
The sink area had two sinks, two large mirrors, and a beauty mirror.
There's a large tub perfect for relaxing in and complete with a roll of soft Westin Heavenly towels.
There is an enclosed area for the toilet which is great for privacy.
The shower is also pretty spacious and comes with a dual shower head and pre-filled, wall dispensary soaps.
And of course there is the Westin double needle stitching spa robe.
Pool
The hotel has a nice pool area but the somewhat Alamo-shaped pool is pretty small for such a big hotel, in my opinion. I guess if the pool wasn't deep enough for you you could always take a dip in the river? Just kidding — don't do that.
Despite its small size, it's still a pretty terrace area with greenery, fountains, and a lot of seats to lounge in.
There's even a bar on the deck but it wasn't open while we were there, probably because it was so dang cold.
I would try to avoid the rooms that are right next to the pool. Not only would you have no view of the river but you would also have to deal with the noise from the pool, which was even kind of loud where we were.
I'm almost positive the pool is heated as it was pretty cold during our stay and people were still hanging out in the pool.
Fitness center
The Westin Riverwalk San Antonio also has a pretty solid fitness center. You'll find plenty of treadmills and other cardio equipment like ellipticals. You'll have a view out to the pool area on some of the cardio machines which is nice.
Breakfast
You'll find breakfast in the hotel's restaurant were they will have a buffet set up.
As mentioned, with Titanium Elite status, we were offered two free breakfasts every morning for a total of four free breakfasts.
They issued us individual certificates which was nice because it allowed us to use three of them one morning so that my nephew could get a taste of the Westin breakfast life.
Overall, I was pretty impressed with the breakfast. It wasn't quite the best Westin breakfast I ever had. Some things like the pastries could've been a little bit better in my opinion.
But the buffet still had a great selection of foods with fresh fruits, berries, and even biscuits and gravy. So overall, I would still say it was a quality breakfast.
The servers at breakfast were also on point, just like they were everywhere else.
if you're wondering what the breakfast spread looked like, check out the photos below.
Restaurant: Zocca Cuisine D'Italia
We were looking for a good place to grab dinner on the Riverwalk but this was a weekend just a week before Christmas and it was absolutely packed everywhere.
It seemed like every restaurant had at least an hour wait and we were just too hungry (and cold) to sit around for that.
So we thought it would be a good idea to try out the hotel's restaurant, Zocca Cuisine D'Italia, for dinner.
I'm really glad that we decided to give it a shot because the restaurant at the hotel was absolutely amazing.
We tried a few different dishes like their pizza, fried ravioli, and some other dishes and they were all on point. While we chose to eat inside, I do believe you can eat out on the river if you would like.
The hotel also has a grab and go café called Cafecito but we were not able to try it out.
Final word
Overall, this was a fantastic stay in San Antonio!
I loved the room that we were upgraded to and while we did not have a great view of the river, it was still a beautiful and spacious suite.
The service was tremendous throughout the stay including when we grabbed breakfast which just made the hotel stay that much more special.
I would absolutely recommend this hotel for anyone looking for a luxurious stay without breaking the bank.
Daniel Gillaspia is the Founder of UponArriving.com and creator of the credit card app, WalletFlo. He is a former attorney turned full-time travel expert covering destinations along with TSA, airline, and hotel policies. Since 2014, his content has been featured in major publications such as National Geographic, Smithsonian Magazine, Forbes, CNBC, US News, and Business Insider. Find his full bio here.