I don't typically do flight or lounge reviews (I leave those for the experts) but it would be impossible for me to go without writing about my experience aboard the Etihad A380 in the first class apartment. The experience exceeded my expectations in just about every way imaginable from the time we walked through those sliding doors at the first class entrance to the time we touched down. Here's an inside look at the Etihad Apartment and what you can expect if you're lucky enough to fly in this unforgettable cabin.
The chauffeur pick-up
The "apartment experience" began with complimentary chauffeur pick up in an Audi from our hotel at the W in Dubai (a pretty spectacular hotel). Although Dubai is located about an hour away from Abu Dhabi's airport, the complimentary chauffeur service for Etihad extends to anywhere in the United Arab Emirates, so our commute to AUH was easily taken care of.
After close to an hour's car ride, we arrived to the airport where we were dropped off at the exclusive entrance for premium passengers. One one side there's an entrance for business class and on another side, shiny lit lettering marking the entrance for "First Class."
Once inside, we were directed to the special first class check-in desk where staff members promptly issued our two boarding passes.
After that, they pointed us through a short security line and on to the Etihad First Class Lounge and Spa.
Inside the lounge, there are showers, a cigar and whiskey room, relaxation chairs, and complimentary services for massages at the spa and even a room for haircuts and beard trims. Unfortunately, we didn't have time to fully indulge in all of those services but we did enjoy a phenomenal dining experience while there.
The dining experience at the First Class Lounge
We started with sparking water and champagne and an appetizer consisting of thin watermelon slices and feta cheese. The textures and unique blend of flavors combined to create an unexpectedly delicious appetizer.
At about that time, our server recommended we try a cocktail and so given our destination, we went with the "New York" signature cocktail, an applejack, walnut-infused bourbon with pressed apple juice that packed quite a kick.
After a palate cleanser and being poured a nice complimentary glass of wine, our main dish of lamb was served. The lamb's tender texture and juices made it easily the best lamb I've tried in recent memory and the red wine paired amazingly well with it.
Finally, it was time for dessert.
Our server brought us two separate dishes to finish up our dining experience. The first was a sampler platter of various desserts including a hard and soft chocolate, a small brownie, and a Japanese cheesecake topped with strawberries and some form of white chocolate candies.
The second dessert dish came in a martini glass and was full of vanilla ice cream, some type of fruity sorbet-like substance, whipped cream, and caramel popcorn. I'm usually not one to overfeed myself, but in this instance, the bit of gluttony was well worth it and felt well called for.
After dining I went in for a quick beard trim since we didn't have much time before needing to leave to clear pre-arrival customs back to the US. The barber pampered me for a good 15 minutes, lathering my face up and shaping up my beard about as finely as I could ask for. Once that finished up, we were out on our way to clear customs and the second line of security for US arrivals. Thankfully, there's a Global Entry stand at the customs line and so we bypassed a fairly long wait to get through.
Once through security and customs, Etihad staff redirected us to the business class premier lounge to wait for our flight to board. This lounge, while decent, was crowded and felt muggy, making it a feel like a far cry from the luxurious first class lounge experience we'd just left behind. But after a few minutes, it was time to board and we lined up begin our apartment experience aboard the Etihad A380.
The apartment experience
I'd viewed the photos of the apartment and read reviews what felt like hundreds of times before our flight became a reality, so I experienced that first shock-like feeling as soon as we stepped into the first class cabin area — I couldn't believe it was finally happening.
I immediately noticed the ornate suite walls and lighting, along with the enchanting Etihad boarding music setting the mood just right.
I found my "apartment number" 4K and Brad parked in the neighboring apartment, 3K. I sat down in the deep thrown of a seat and marveled at the space I'd have to occupy for the next 4 hours. The deep seat, 3-window wall, and mini "hallway" inside the apartment gave me this sense of space that nothing I've ever flown on has even come close to (not even the beloved Singapore Suites).
If you're able to lower the partition between a neighboring apartment the space opens up even more, transforming your apartment more into a loft.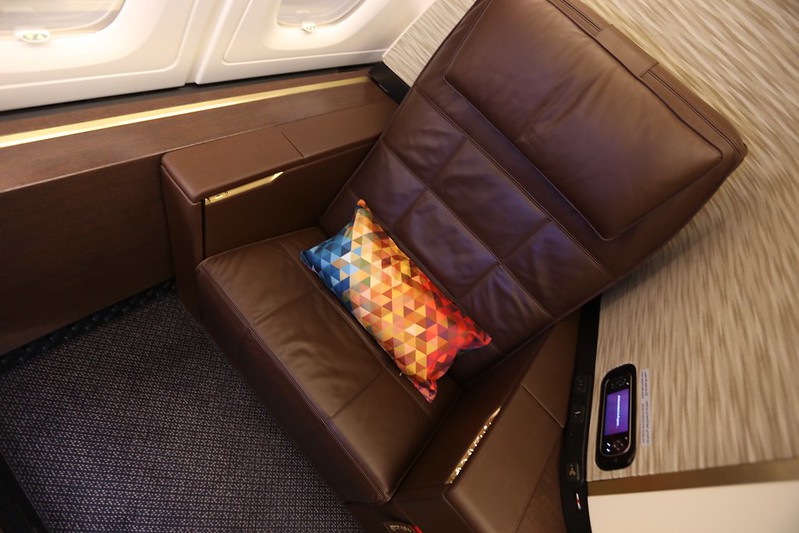 Sitting in this seat, you can't help but to feel a slight sense of zen, as if you might actually be royalty.
Champagne and a welcome letter help further set the tone for the upcoming unforgettable flying experience.
After enjoying the initial dose of overwhelming glee, it was time to start checking out all of the features and compartments. The first feature I fixated on was the large 24-inch television, definitely the biggest I've had to myself on an airline.
Next, I scoped out the many different compartments found in the apartment.
Compartments include a dresser-like drawer with plenty of room for your passport, phone, and other personal belongings; a compartment for hanging clothes; a slot for storing your high quality headphones, and even your own mini-bar (you'll have to add the alcohol). There's also a storage rack beneath the sofa that should fit any reasonably sized carry-on luggage. 
Then there's the three-panel mirror display, which opens up with amenities found inside. You'll find a razor, toothbrush and toothpaste, lotions, and Q-tips. You'll also be given a sleeping mask, slippers, and very comfortable pajamas.
There are two lamps found in your apartment, one by the windows and the other by the door, each with multiple settings for you to set them at just the right amount of dimness.

Automatic blinds and shades are an additional feature of the cabin and can be controlled by a small button at their base or remotely.
The tv offers several nice features in addition to movies and tv shows, such as live television and multiple real-time camera angles of your plane so you can admire your surroundings without even opening a window. 
While the amenities and features are what you'd expect to find in such a cabin, the overall presentation and design of these things combined with the brilliant lighting, mystic background music, and wall and door decor create an ambiance that doesn't scream flash and bling, but unrivaled class and luxury — two things that are hard not to absorb as you get immersed in relaxation.
The Service
There's something to be said about what it feels like to receive service from individuals who are solely focused and determined to provide you with the highest grade of service possible (and are actually professionally capable of doing so). It's a feeling that I've honestly only felt a few times in life, with the Etihad Apartment and Singapore Suites experience being two of those.
Enough cannot be said about the first class staff on board the A380, the chef himself included. I found the staff to be engaging on multiple levels including both personally and professionally. We got to know a little bit about each other while at the same time exchanging ideas on what dishes and drinks might fit my palate and hunger level at that moment. What I liked best is there wasn't that kind of awkwardness that can sometimes accompany receiving such high level, bend-over-backwards for you service. Everything just felt genuine and appropriate. 
The dining experience
Dining in the Etihad Apartment is "on-demand" meaning that you pick and choose exactly what you'd like to eat and at what time you'd like to receive it.
As I'd eaten quite a lot in the lounge pre-flight, my appetite didn't show up very much on the flight. However, I knew I had to at least try a few dishes to experience the renown in-flight dining first-hand. So before we requested turn-down service, Brad and I decided to eat a quick meal. For our first meal, we sat across from each other in my Apartment and despite the two of us not being exactly tiny, we still sat pretty comfortably.
For the meal, I went with a chicken dish while Brad went with their beef for our first meal. Both dishes were extremely satisfying. 
Later, for a second meal that effectively replaced my breakfast, I went with a steak, cooked medium-well and finished up my meal with a cheesecake. All of which met my expectations and left me very pleased. 
The sleeping experience
Once you're ready to get some shut-eye, a simple request for turn down service will initiate the transition from sofa to bed in your apartment. The staff will graciously pull out your cushion and blanket and assemble everything for you so that you don't have to lift a finger.
During this time, I decided to go and spend some time in the lounge or "The Lobby" for a few a minutes to see what it was all about. Nobody else was in the lounge and so Brad and I just sat around for a little bit and talked while we waited for the turn down service to be complete.
I opted to wear the complimentary pajamas (as always) but if your body runs hot, you might find them to be a bit too warm for your liking. While Etihad kept its A380 much cooler than Singapore did on our 2 flights with their A380s, it wasn't exactly chilly throughout the cabin.
After a couple of minutes, we were back in our apartments but with fresh new bedding set for us, including two large soft pillows. 
So, how was the sleep?
Let me start by saying that I'm one of those unlucky people who struggle to fall asleep almost all of the time. When it comes to sleeping on planes in economy, there's no chance of that happening (even on 14 plus hour flights to and from Australia). Even in a lie-flat business class I still struggle to fall asleep. I think it has something to do with being in an unfamiliar place and in a moving vessel that just doesn't sit right with me, but unless I'm completely relaxed and comfortable, sleep just doesn't happen for me.
With that said, I was extremely relieved to catch some quality shut-eye during our flight. If you're someone who has to sleep on your stomach, you'll be in heaven in the apartment as the sleeping cushion and blankets are very comfortable and seatbelt easily stretches with a light tug when you have it buckled over you. You can pretty easily turn over on your side, stomach, and back without being forced to contort your body in odd and uncomfortable positions like you sometimes have to do in business class.
I loved being able to share the sleeping space with Brad, too. Having the partition down made so much more spacious and for some time Brad went back to his seat so I had more room than I could ask for while lying down.
With the doors closed to your suite, you feel maximum privacy. I don't think the walls are as tall as those in the Singapore Suites but they are still tall enough to afford you with the feeling that you're secluded from the rest of the cabin.
An added bonus is that the tv swings out from the wall so that you can watch it as you drift to sleep. I settled on watching a throwback, Space Jam as I fell asleep to a bit of nostalgia.
The shower experience
Only a couple of airlines boast a shower available for first class passengers and Etihad is luckily one of them. The way the shower works is that around take-off a member of their staff will take down your preference for when you'd like to use the shower. You'll be given 5 minutes time for water and I think up to 30 minutes total to get all dolled up in the lavatory. In between each shower, the staff does a superb job cleaning the facilities so you don't have to worry about too much about who came before you. 
Much like the entire Apartment experience, taking a shower on a plane is an absolutely surreal feeling. As soon as you hit the "on" button in this shower, hot water comes flowing out with water pressure that I felt was about as much as you'd expect (and could ask for) on a plane. They supply you with body wash, shampoo, and conditioner, in addition to a towel, so you don't have to worry about bringing any of that in with you. 
When the dial pictured above reached the red zone, the water cut off which I believed to be a standard warning to finish up with my rinsing process. I learned that to reactivate the water, I simply had to open and close the door and then re-hit the start button. (I assumed this was the standard procedure and not a hiccup.)
After your shower you'll find some amenities located in the lavatory but try to remember to bring in your own amenity kit with you so that you'll have everything you need. I didn't have a comb on me but Etihad gladly provided me one so if you realize you're short any items, just pass a quick request to someone on staff and they'll probably be able to take care of you.
It's immensely refreshing to spring from a shower about 10 to 11 hours into a flight. You feel fresh and if you were able to combine that with quality sleep, you don't even feel like you've been stuck in a plane for half of an entire day. I felt like I could have easily gone another 10 hours in the plane. 
Final Word
The Etihad first class Apartment is something completely different from anything else available right now. Every detail and component of the experience is well done standing alone but when you combine the extraordinary service, the fine dining, the elegant lighting and decor, the features, and the spectacular uniqueness and comfort of the Apartment itself, something is achieved that can only be understood by experiencing it. It truly is flying re-imagined. 
Daniel Gillaspia is the Founder of UponArriving.com and creator of the credit card app, WalletFlo. He is a former attorney turned full-time travel expert covering destinations along with TSA, airline, and hotel policies. Since 2014, his content has been featured in major publications such as National Geographic, Smithsonian Magazine, Forbes, CNBC, US News, and Business Insider. Find his full bio here.