Bloomberg just released an article titled "Airlines Make More Money Selling Miles Than Seats" and it's a interesting insight on the economics of miles and points that I don't think a lot of people are informed about.
Last year, I was questioned (and sort of praised in good fun) on live television for "scamming the airlines" on an Australian morning show regarding my use of miles and points. Caught a bit off guard, I replied by getting into how airlines are actually making lots of money by selling their miles to the banks. I then realized that I was essentially stating a case that this was a scam on the banks and not the airlines and then promptly redirected my response elsewhere.
However, the Bloomberg article above is what I was referring to in that interview.
After reading the article, even I was surprised to see that the value of loyalty programs exceed the value of the core operations for some carriers. In other words, some airlines make more from their loyalty programs than they do from selling seats and this is in large part due to the credit card issuers gobbling up these miles.
How valuable are these loyalty programs?
Bloomberg shows just how valuable these loyalty programs are to some of the major airlines in the graph below. Look how large the difference is between American's market cap versus its estimated loyalty program value. That's quite a large gap. And many people, including sophisticated investors, are completely unaware of this.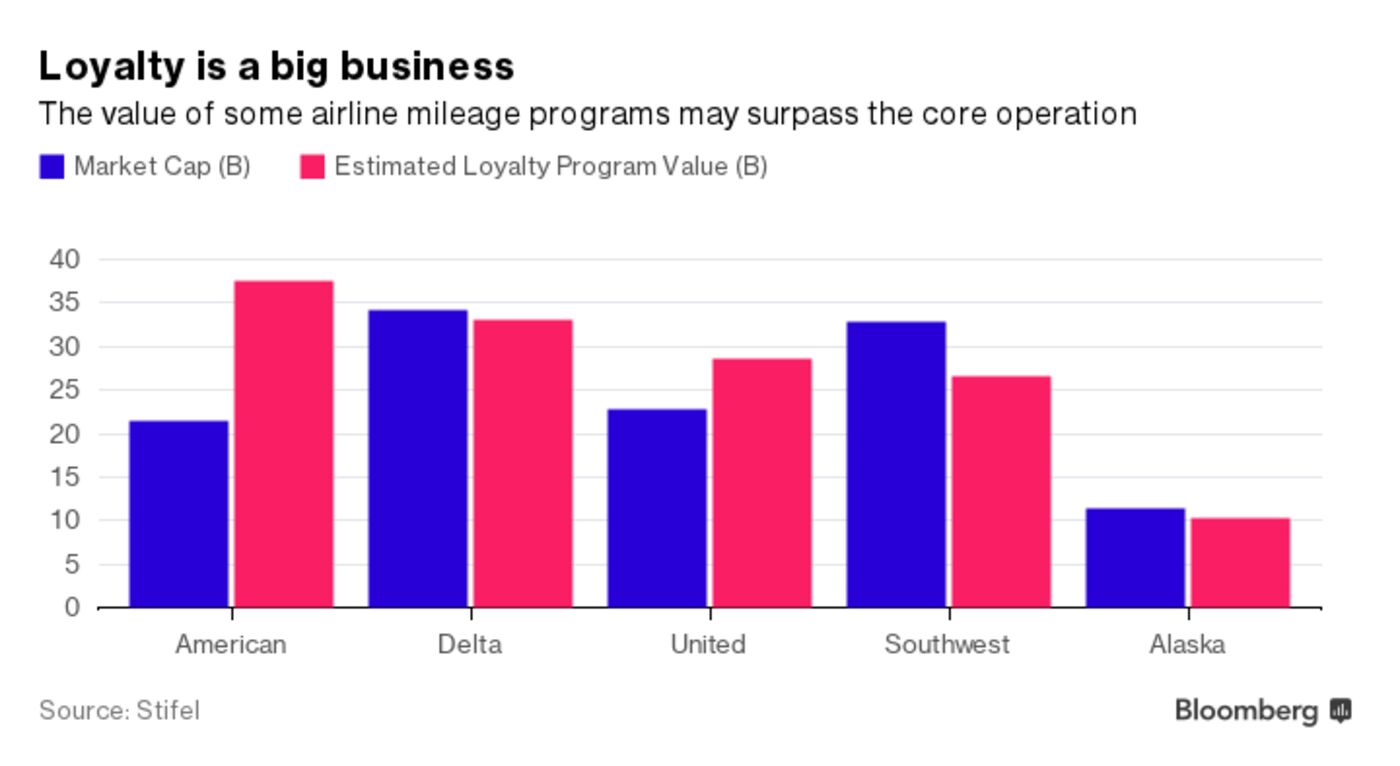 Just how much do the airlines make by selling their miles to issuers? Bloomberg reports:
Delta Air Lines Inc., the world's second-largest carrier, said it expects that its American Express partnership will yield $4 billion in revenue per year by 2021, rising by more than $300 million annually until then…. At an investor presentation on March 29, Alaska Air Group Inc. said its Mileage Plan relationship with Bank of America will account for $900 million in annual cash flow, once the airline has fully combined with Virgin America Inc.
So loyalty programs are multi-billion dollar programs that in some cases make up more than 50% of an airline's income, which is a reassuring fact for some of us who constantly worry about the doomsday scenario of miles and points.
How are airlines making money on miles and points?
Airlines are able to pocket so much revenue because they sell these miles for much more than it costs them to redeem them. For example, Bloomberg states that "[e]ach mile fetches an airline anywhere from 1.5 cents to 2.5 cents." But the cost to large loyalty programs like American (the largest) for a redemption is estimated to be about 1/3 a mile's sale price.
"Fundamentally, airlines are selling miles to credit card companies for much more than they will cost the airline when those miles are redeemed—and they are doing it hundreds of billions of times a year," Stifel wrote in a February client note
And there's always the 100% profit margins for unused or expired miles, although outstanding mileage balances typically count as a liability under accounting rules.
These profits are a huge boost to airlines even when the economy turns down in bad economic cycles. Bloomberg further writes:
Beyond the cash, carriers reap something else from the cards: These deals remain lucrative in both good times and bad, as they are immune to economic cycles. That's because of the addictive nature of miles, a dubious commodity that tens of millions of Americans, particularly those who fly for their jobs, will probably never quit.

"In a recession, that [bank] business will go down, but it should provide a very high cushion to the airline," DeNardi said in an interview. "That's the real benefit here: It speaks to downside protection for the industry better than anything else."
Many folks who have been in the miles and points game remark that during times of economic stress the sign-up bonuses get better since banks are trying to provide incentives for others to come on board.
It's hard to get a clear picture on exactly what kind of margins airlines are making with these credit card issuers because of the confidential nature of the deals that are made with banks. However, some banks have revealed more about some of their partnerships. For example, Amex revealed that Delta SkyMiles is Amex's "largest airline co-brand portfolio" and accounted for around 7 percent of its globally billed business in 2016 and was also responsible for nearly 20 percent of worldwide card-member loans.These are huge numbers in terms of dollar value, although it helps that Amex has so many different Delta cards.
This just goes to reiterate that loyalty programs are extremely valuable ventures that airlines rely more on for revenue than we probably think, and I think some of us could probably worry a little less about these programs going away anytime soon.
UponArriving has partnered with CardRatings for our coverage of credit card products. UponArriving and CardRatings may receive a commission from card issuers. Responses are not provided or commissioned by the bank advertiser. Responses have not been reviewed, approved or otherwise endorsed by the bank advertiser. It is not the bank advertiser's responsibility to ensure all posts and/or questions are answered.
Daniel Gillaspia is the Founder of UponArriving.com and creator of the credit card app, WalletFlo. He is a former attorney turned full-time credit card rewards/travel expert and has earned and redeemed millions of miles to travel the globe. Since 2014, his content has been featured in major publications such as National Geographic, Smithsonian Magazine, Forbes, CNBC, US News, and Business Insider. Find his full bio here.