Opinions, reviews, analyses & recommendations are the author's alone, and have not been reviewed, endorsed or approved by any of these entities. UponArriving has partnered with CardRatings for our coverage of credit card products. UponArriving and CardRatings may receive a commission from card issuers. 
The Capital One® Venture® Rewards Credit Card is a well-known credit card but surprisingly a lot of people don't know a ton about the Capital One Venture Benefits. Thankfully, this is a relatively straight forward credit card so you don't have to learn about a lot of confusing and complicated benefits. In fact, if you're looking for a simple credit credit with a solid sign-up bonus then the Capital One Venture might be just for you.
Update: Some offers are no longer available — click here for the latest deals!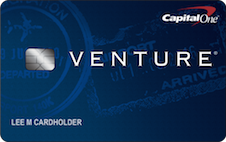 The #1 Capital One Venture benefit: the sign-up bonus
The current sign-up bonus is for 50,000 miles for spending $3,000 within 3 months.
That means that once you hit the minimum spend you'll have earned 56,000 miles worth $560.
While there are many great cash back cards out there that earn a similar 2% return, most don't offer such a high sign-up bonus and and that's one of the main reasons I include the Capital One Venture in my Top 10 Travel Credit Cards.
Simplicity
One of the benefits to the Venture card is that it offers a much simpler alternative for using reward points than other cards. For the Venture, you earn "miles" through spending at a rate of 2 miles/per dollar spent. So if you spend $3,000 you earn 6,000 miles.
These miles are then redeemed at a rate of one cent per mile after you make a qualifying travel purchase. So for example, let's say you booked a hotel for a total of $400. You would then log in to your online account after the charge posts in order to use the Capital One "Purchase Eraser" feature.
You'd then select to have your miles credited to your account for that $400 hotel stay and if you had at least 40,000 miles, the statement credit would be applied to your account within 2 to 3 business days, cancelling out your hotel expense like it never even happened.
Extended time to redeem your points
One major Capital One Venture benefit is that Capital One gives you additional time to redeem your miles.
You are technically required to redeem your statement credit within 90 days from the date of purchase. However, you can actually call and request an extension for up to 6 months on this time restriction.
No minimum redemption amount!
One of the best Capital One Venture benefits is that there is no minimum requirement for redemptions. This is a huge benefit because it allows you to use this card to cover any of the random travel expenses you will incur as you travel, such as parking, taxis, busses, etc.
Other similar cards have much higher minimums — sometimes requiring you to cover a $100 minimum purchase.
What constitutes "travel" for the Capital One Venture?
Another major Capital One Venture benefit is that the travel category for the Capital One Venture is very broad. This means that many different purchases will qualify for you to use your points to cover the purchase.
Here are the terms taken straight from Capital One's website:
Purchases made from airlines, hotels, rail lines, car rental agencies, limousine services, bus lines, cruise lines, taxi cabs, travel agents and time shares are generally considered to be travel purchases and availability for redemption is based on the merchant category code assigned to them by the merchant.
Additional Capital One Venture Benefits
The Venture comes with a number of other additional travel benefits.
No foreign transaction fees
Fraud coverage
Security alerts
Travel upgrades and savings
24 hour concierge service
It's always nice to have a solid Visa credit card (with wide acceptance) that you can take with you internationally and not have to worry about paying fees when making purchases.
Since this is a Visa Signature card, it also comes with all of the Visa Signature benefits, some of which include:
Purchase protection
Lost luggage reimbursement
Auto rental insurance
Travel accident insurance
Roadside dispatch
You can find the home page for the Capital One Venture benefits here.
Final Word
Overall, the Capital One Venture benefits are solid for a card with a low annual fee that's waived the first year.
UponArriving has partnered with CardRatings for our coverage of credit card products. UponArriving and CardRatings may receive a commission from card issuers. Responses are not provided or commissioned by the bank advertiser. Responses have not been reviewed, approved or otherwise endorsed by the bank advertiser. It is not the bank advertiser's responsibility to ensure all posts and/or questions are answered.
Daniel Gillaspia is the Founder of UponArriving.com and creator of the credit card app, WalletFlo. He is a former attorney turned full-time credit card rewards/travel expert and has earned and redeemed millions of miles to travel the globe. His content has been featured in major publications such as National Geographic, Smithsonian Magazine, Forbes, CNBC, US News, and Business Insider. Find his full bio here.