Hyatt has unleashed a fury of promotions making it extremely easy to earn top level elite status and also a ton of points in the process. This is one of the best fast track opportunities I've ever seen so you'll definitely want to check it out.
I'll break down the different promos and explain how available these can be.
Tip: Use WalletFlo for all your credit card needs. It's free and will help you optimize your rewards and savings!
Fast track to top level Hyatt status
Hyatt is literally cutting the elite requirements in half for earning status in 2021 for the 2022 status year.
Here is what the new elite requirements look like:
Discoverist: 5 elite nights or 12,500 base points ($2,500 in spending)
Explorist: 15 elite nights or 25,000 base points ($5,000 in spending)
Globalist: 30 elite nights or 50,000 base points ($10,000 in spending)
This is extra exciting for those with the the World of Hyatt Card.
That card comes with five elite nights per year so it would only take you 25 elite nights to earn the top level status. Plus, for every $5,000 you spend on the card you can earn two elite qualifying nights.
Also, according to View From the Wing, new card members who are approved by December 31, 2020, will receive "10 Tier-Qualifying Night credits toward tier status in 2020 and 2021."
Since you can have your elite nights doubled from January 1 to February 28, 2021, this means that you could earn top Globalist elite status with only 10 nights.
And even if you don't have the Hyatt credit card, all you would need is 15 elite night credits in January or February to obtain Globalist. (Just be sure to register using the link below.)
That is pretty crazy and I don't think I've ever seen a fast track so lucrative for top level Hyatt status.
So if you were interested in the World of Hyatt Card, this would be an amazing time to jump on it.
It's worth noting that Milestone rewards are not changed.
World of Hyatt Card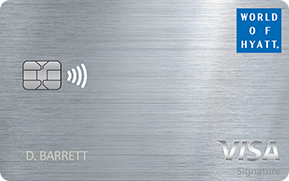 The World of Hyatt Card is one of the best hotel credit cards available since it comes with a great sign-up bonus, strong bonus category earning, and the opportunity for free nights. It's also one of the best hotel cards for climbing your way up the elite status tiers for Hyatt. You can read our full detailed review here. 
Welcome Bonus

30,000 Bonus Points after $3,000 in purchases within 3 months of account opening
Plus, 2 points total per $1 spent on purchases that earn 1 point, up to $15,000 in spend in the first 6 months of account opening

Bonus earning: 

4X spent with your card at Hyatt hotels, including participating restaurants and spas
2X on local transit and commuting, including taxis, mass transit, tolls and ride-share services
2X at restaurants, cafes and coffee shops
2X on airline tickets purchased directly from the airline
2X spent on fitness club and gym memberships

Free nights: 

Receive one free night at any Category 1-4 Hyatt hotel or resort every year after your cardmember anniversary
Earn an extra free night at any Category 1-4 Hyatt hotel or resort if you spend $15,000 during your cardmember anniversary year

Elite status:

Comes with Hyatt Discoverist status
Receive 5 qualifying night credits toward your next tier status every year
Earn 2 additional qualifying night credits toward your next tier status every time you spend $5,000 on your card

$95 Annual Fee 
If you jumped on the card now and very quickly earned your 50,000 points, you could use those points in January or February to stay at Hyatt properties to help you cheaply earn those 10 nights needed for top elite status.
So some people could basically obtain top level status without spending a dime on Hyatt stays. Pretty crazy.
Triple and quadruple points extended
Hyatt currently has a promotion called "Bonus Journeys" that allows you to earn triple the points (up to 150,000 Bonus Points) beginning with your first stay. Just be sure that you register for this promotion here.
And if you have the World of Hyatt Card, you can earn quadruple the points (up to 75,000 Bonus Points) at 350 resort locations.
This is also the promotion allowing you to earn double the nights on your stays from January 1, 2021 through the end of February 2021. For every night you complete in 2020, you'll get one night awarded for 2021.
This promotion was originally scheduled to end January 4, 2021 but this promotion is being extended to February 28, 2021 and you must register by January 15, 2021.
Award stay rebates
You can also save on awards days with a different promotion.
If you are making an award stay, you can get 15% of your points rebated for stays through February 28, 2021. Register.
And once again, the deal is sweeter if you have the World of Hyatt Card, because you can get a total of 25% of your points rebated. Register.
Both of these promotions will also offer free parking where available.
3X points
You can also earn triple the points on dine-in, delivery or takeout at participating hotel restaurants through February 28, 2021 when you're not staying the night.
Final word
Hyatt is a great program. Globalist is one of the harder elite status is to earn but has some great perks like free breakfast and lounge access that can greatly enhance your stay.
If you are at all interested in Hyatt, this is the time to act.

Daniel Gillaspia is the Founder of UponArriving.com and the credit card app, WalletFlo. He is a former attorney turned travel expert covering destinations along with TSA, airline, and hotel policies. Since 2014, his content has been featured in publications such as National Geographic, Smithsonian Magazine, and CNBC. Read my bio.