I'm getting more and more into travel hacking and making the most out of web portals so I'd thought I'd share some of my recent progress with placing an order of everyday items through the American Airlines AAdvantage eShopping portal.
First, if you don't know what a web portal is, it's basically a website that you go through in order to access certain online stores. By going through a portal you usually benefit with travel miles/points or cashback from certain sites. It's a great way to double-dip with a rewards card and there are plenty of different portals for different travel companies and sites just giving you cashback… (I'll write up a post about these later).
The portal I'm focusing on in this post is the American Airlines AAdvantage eShopping portal. I regularly need certain pharmacy OTC items like omeprazole for heartburn, probiotics, sleeping aids, and random other products. I recently discovered the AAdvantage eShopping portal and saw that the current miles rate for Rite-Aid Pharmacy was 5 miles/per $1, which is pretty good and one of the better deals you'll find on the portal. It then dawned on me that I could start purchasing all of my essential pharmaceutical products through the AAdvantage portal and start double dipping with AA miles and the usual Membership Rewards points that I earn from American Express purchases. Why didn't I know about this sooner!?
Promo codes
When you find a store on AAdvantage eShopping there are often special promos. Some are generic and just state that you can save X% of money but others are more specific and require promo codes to unlock — these can be pretty worthwhile. (Caution for newbies: make sure you don't enter any promo codes found outside a portal like this or you may not be able to collect your points).
Thankfully, there was a promo code for Rite-Aid, "GET15OFF" that saved you $15 off when you spent $70 or more. So Brad and I took advantage of this deal to put in two purchases (the promo code would only work 1x per account). The deals are even better if you become a Rite-Aid Wellness+ with Plenti member because you get cheaper products with good discounts. Many deals are BOGO free making the deal much more lucrative.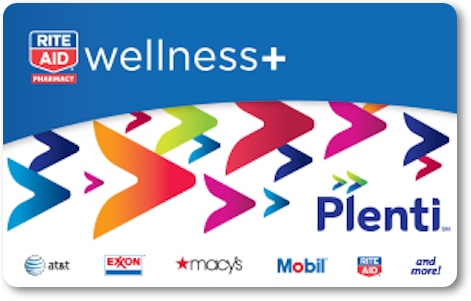 The promo codes, cheap prices, and no sales tax definitely made my online shopping experience at Rite-Aid worth it. For example, if I had driven to the local grocery store where I usually buy a 42 pack of omeprazole I'd pay about $1 less for each carton. However, when you factor in the promo code savings from buying multiple packs, I ended up saving easily a few bucks per pack making shopping online worth it.
So I saved money, still got Amex MR points, and also get the AAdvantage miles. Here's a look at what we earned just with our purchases:
$53 x 5 = 265
$80 x 5 = 400
That equals 665 extra AA miles for buying mostly stuff I would usually be buying anyway!
The special AAdvantage promo
Now, there is a special AA promo going on for those who spend at least $125 or more before August 16, 2015. I knew that I wouldn't need enough items at Rite-Aid to meet the threshold of $125 so I decided to take advantage of some of the buy-one-get-one-free deals and try to resell those for a profit on Ebay. I'm not a big fan of buying non-essential items just because they are discounted, and I wouldn't normally spend the extra effort to go the Ebay selling route but I've been wanting to just try out the resale game for a while and begin building a reputable account as well.
The jury is still out on whether I'll make a profit on some of the those supplements but based on the research I've done, it looks like I'll at least break even because with the discounts and BOGO offers I paid some pretty dirt cheap prices for things like fish oil. Also, I'm pretty confident these items will sell because almost all of them showed a decent history of selling and the items currently listed had several watchers (some had over 40!).
To some, especially more experienced travel hackers, I'm sure putting in this effort for 500 extra miles may not seem worth it, but for me it's more of a "testing-the-waters" type of thing. If I could regularly make a profit by earning miles and Amex MR points with a few sales here and there, why not do it while I have the time?
So online portals show a lot of potential to me to supplement miles for reward programs and to allow you double dip with a rewards card. It feels good to know that I got an extra 1,165 miles with AA for simply buying items I would've already bought in addition to a few items that could potentially turn into a small profit for me.
I'd recommend checking out the promo and seeing if you can find some discounts at certain online stores that really will make it worthwhile to pursue!
Daniel Gillaspia is the Founder of UponArriving.com and creator of the credit card app, WalletFlo. He is a former attorney turned full-time credit card rewards/travel expert and has earned and redeemed millions of miles to travel the globe. Since 2014, his content has been featured in major publications such as National Geographic, Smithsonian Magazine, Forbes, CNBC, US News, and Business Insider. Find his full bio here.