If you appreciate distinctive towns, particularly those infused with German culture, Frankenmuth is sure to captivate your interest. This quaint locale, rich in history, provides a taste of Germany right in the heart of Michigan.
But is it merely a tourist trap or a destination worth exploring? Our recent brief visit to Frankenmuth provided us with some insights.
What is Frankenmuth, Michigan?
Frankenmuth, often referred to as "Michigan's Little Bavaria," is a quaint and compact city celebrated for its strong German heritage and architectural style. It is renowned for its vibrant array of festivals and events, as well as for housing the world's largest Christmas store.
Frankenmuth history: brief overview
The city derives its name from a fusion of the German terms "Franken" and "Muth," which translate to "Franconia" and "courage" in English. Thus the name Frankenmuth actually means "courage of the Franconians."
This nomenclature is tied to its history, which has its roots in the 1840s.
In 1840, a German missionary by the name of Frederick Wyneken was stationed in the upper Midwest.
He penned a letter addressed to Lutherans across Germany, seeking assistance while describing the challenges faced by German pioneers in his region. He emphasized their pressing needs, including a shortage of pastors, churches, and schools.
Wilhelm Loehe, pastor of the country church in Neuendettelsau, Mittelfranken, Kingdom of Bavaria, was moved by the letter and wanted to send a missionary congregation to give comfort to the German pioneers but to also show the Native Americans in the region "Wie gut und schön es ist bei Jesu zu sein" (How wonderful it is to live with Jesus).
So Loehe selected Pastor August Craemer to be the mission's leader and he would lead a group of 15 German Lutherans consisting of mostly mostly farmers from around Neuendettelsau.
After a tumultuous 50-day sailing experience across the Atlantic where they dealt with terrible weather and illnesses, they reached New York Harbor on June 8, 1845.
Subsequently they embarked on a journey via steamboats and trains, ultimately reaching Bay City and then trekking miles through forest, thickets, and swamps to Frankenmuth.
The settlers were drawn to Frankenmuth by its rolling hills and lush forests, which reminded them of their native Mittelfranken.
After paying $1,700 to purchase 680 acres of Chippewa Indian Reservation land from the federal government, they began building their settlement, which involved lot of land clearing and some rough times with one person writing home, "The most miserable village in Bavaria has palaces by comparison."
At the outset, their settlement had a mostly religious motive, aiming to establish a Lutheran mission for Native Americans. However, the Native American population in the area was subsequently displaced and moved away to better hunting grounds, leading to an early abandonment in their mission efforts.
Nevertheless, immigration from Germany continued to contribute to the region's population through the decades and Pastor Loehe also organized three other colonies in Michigan in the nearby area like current-day Richville.
The settlers residing in this region remained steadfast in their allegiance to Germany and the Kingdom of Bavaria while living on American soil.
Frankenmuth achieved official city status in 1959, around the time when the tourism industry began to quickly rise, and today its known for being a tourist hot spot with waterparks and festive shops and restaurants.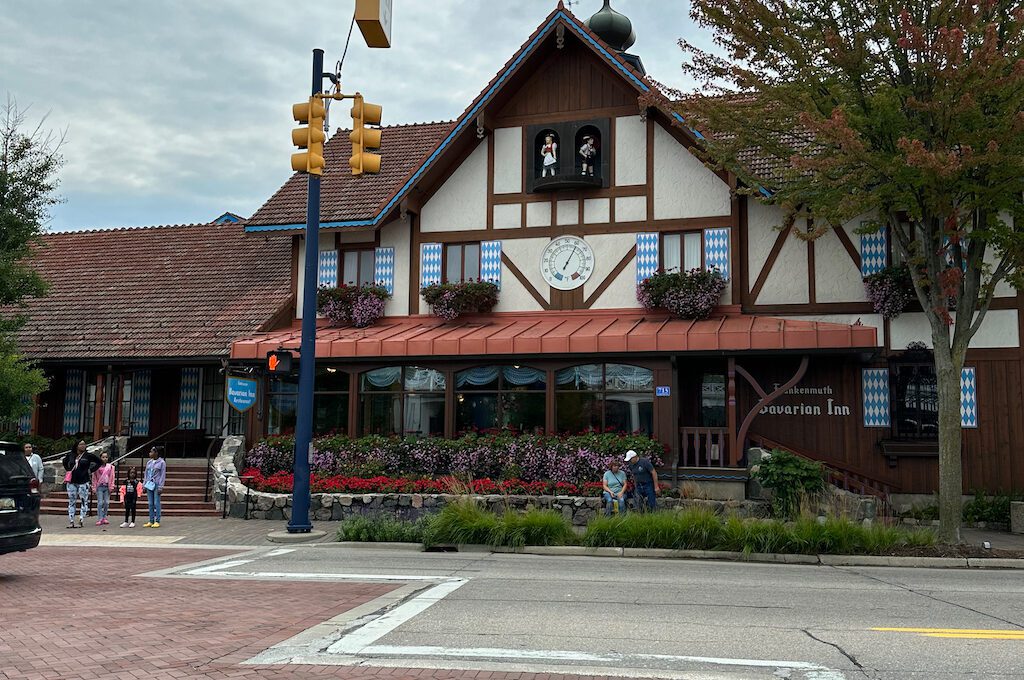 Our experience visiting Frankenmuth
Frankenmuth is a small city with most of its sites pretty close to each other making it an easy destination to explore even if you are just passing through.
The "hub" of Frankenmuth — at least for tourists — is on Main Street where you can find Zehnder's of Frankenmuth, a place known for its family style fried chicken dinners.
We did not have the opportunity to test out their chicken but I have heard mixed reports. Some have talked about it as if it's nothing special while others have raved about it, so I'd imagine it's worth giving it a shot at least once.
They also have a market on the bottom level that's definitely worth checking out, as you can find a lot of different tasty pastries, breads, and other fixings.
Just on the other side of the street you will find the Bavarian Inn Restaurant (not to be confused with the Bavarian Inn Lodge which is on the other side of the river). This is another well-established restaurant that also has a bakery and chocolate shop underneath it. If you're looking for a delicious soft pretzel this is where you can find them.
You can take a stroll down the street where you will encounter the Frankenmuth Visitor & Welcome Center, which can help you plan out your visit. If you are a fan of cheeses then be sure to stop at the Frankenmuth Cheese Haus.
If you're interested in exploring more of the city's history there is the Frankenmuth Historical Museum housed in a former hotel from 1905. Another museum worth investigating is the Military and Space Heroes Museum.
You'll find several other restaurants and shops along Main Street and there is a parking lot that runs in the back of lots of these buildings so it's easy to get from one end to the other even if you don't prefer to walk.
The Cass River meanders through the city and you can even hop on a Bavarian Belle Riverboat tour if you'd like.
A few bridges cross the river but make sure you take time to cross over the beautiful wooden covered bridge, which you can do in your vehicle or by foot. Mind the low speed limit of 7 mph!
On the south side of the river you'll find the Frankenmuth River Place Shops. This is essentially an outdoor mall that is filled with Bavarian style architecture buildings.
In actuality, the Bavarian-inspired architecture found throughout the town offers a creative interpretation, somewhat reminiscent of a Disney-fied version of Bavaria. It's a captivating and unique sight to behold, even though it may not be an exact replica of the original Bavarian architecture.
You'll find over 40 shops and attractions in this area, including local family-owned businesses and national retail chains. Many of them are dog friendly which you will know by the red paw print on the outside of the store.
After you get done exploring this portion of the town, you can take a short drive a few minutes south to arrive at the famous Bronner's CHRISTmas Wonderland. This place is known for being the "largest Christmas store in the world." For anyone who is a fan of Christmas, it's worth checking out.
The store is incredibly vast, overflowing with ornaments, lights, decorations, and an abundance of holiday items. It's quite easy to find yourself navigating its expansive aisles.
Whether you're looking for personalized ornaments and stockings or searching for practically any Christmas-related item you can envision, this store has you covered. It's particularly appealing for those celebrating a traditional Christian-style Christmas, offering nativity sets and similar Biblical-themed items.
But even if you simply crave the festive spirit of Christmas, this is the ideal destination to immerse yourself year-round in all things merry and bright.
While the year-round attractions are interesting, Frankenmuth is also very well known for the special events that take place during holidays.
As you might imagine, Oktoberfest is a major event that starts here every September. And they also have big Christmas and winter events like Zehnder's Snowfest and Dog Bowl, the largest Olympic-style event for dogs.
Basically, before heading up check your calendar and see what is potentially around the corner as it could really enhance your visit!
Final word
Overall, I thought Frankenmuth was a really interesting stop. Despite its evident touristy and theme park-like ambiance, I wouldn't categorize it as a tourist trap. This is because it possesses genuine historical significance and offers real value to visitors with its unique sights, food, etc.
Some people make this a multi-night vacation spot which I could see being worth it for some (especially during festivals and special events) although I would probably opt for a day trip in most cases. And as mentioned, if you're like us and just passing through it can be worthwhile stop.
Daniel Gillaspia is the Founder of UponArriving.com and creator of the credit card app, WalletFlo. He is a former attorney turned full-time travel expert covering destinations along with TSA, airline, and hotel policies. Since 2014, his content has been featured in major publications such as National Geographic, Smithsonian Magazine, Forbes, CNBC, US News, and Business Insider. Find his full bio here.