Are you planning on staying at the Hampton Inn anytime soon and wondering about the breakfast situation? You might be wondering exactly what you can expect.
Will it be a breakfast bonanza that leaves you skipping down the hallway with a happy belly? Or should you prepare for an early morning let down?
In this breakfast exposé, I'll spill the beans (and maybe some syrup) on everything you need to know about the breakfast scene at a Hampton Inn.
Is the Hampton Inn breakfast free?
Yes, the Hampton Inn breakfast is included in the cost of your room, so you don't have to pay extra for it. It's like a sneaky little cost hidden in your room rate, which is why I hesitate to really consider it "free."
But this isn't some exclusive breakfast club where only Hilton Honors elite members with Gold or Diamond status get to indulge. Nope! Everyone typically gets a piece of the free breakfast pie at Hampton Inn. So go ahead and enjoy those golden waffles without any membership prerequisites. It's a breakfast free-for-all!
Related: What Hotels Have Free Breakfast?
What to expect with a Hampton Inn breakfast
You'll be pleased to know that some Hampton Inn properties serve up a "continental plus" breakfast — that's fancy talk for an upgrade from your run-of-the-mill continental breakfast. What does that mean?
Well, in addition to the basic breakfast items, they'll hook you up with some hot and hearty items to fuel your day. Think fluffy scrambled eggs, crispy bacon, and fresh-off-the-griddle pancakes. These can be much more filling which is why a Hampton Inn can be a great place to start your day.
A typical Hampton Inn breakfast is going to be a buffet style breakfast so you can eat until your heart's content.
On occasion, you might see a sign that says you are limited to a number of items but I don't think those signs are typically enforced especially because there often are little to no attendants in the area. Still, try not to go overboard for the sake of other guests.
The breakfast area
Some Hampton Inn properties, particularly those recently renovated or newly built, offer a nice breakfast area to savor your meal. For instance, I was pleasantly surprised by the Hampton Inn in Salem, Massachusetts, which provided a roomy restaurant-like area with cozy booths, including some with TV screens.
At times, you might encounter a smaller eating area, which means you won't have anywhere to sit. The hotel should allow you to retreat to your room and indulge in the comfort of your own private dining haven, so that's always a good backup plan.
As far as what your options will include, most likely, you'll have a variety of both cold and hot choices.
For the cold options, you may find a bin filled with bread slices, loaves, bagels, croissants, and some muffins/pastries. I've had some truly divine blueberry muffins at Hampton Inn properties, but the type of pastry you receive will always depend on the property.
Expect to find an assortment of condiments for your bread, including grape jelly, strawberry jelly, peanut butter, and various butter options. You might also come across honey, as well as ketchup, salsa, and salt and pepper. If you feel the need to toast your bagel or bread, rest assured that a toaster should be available for your toasty desires.
In addition, you may have a collection of cereal items including cereals like Cheerios, Froot Loops, Rice Krispies, and other popular types like Frosted Flakes. The cereal could come in individual boxes or in one of the dispensers that require a touch of caution to prevent any accidental spillage. So, exercise your breakfast ninja skills and enjoy the crunchy goodness of your chosen cereal.
There may be a dispenser for milk next to the cereal or you may find individual cartons inside of a refrigerator (along with other cold beverages).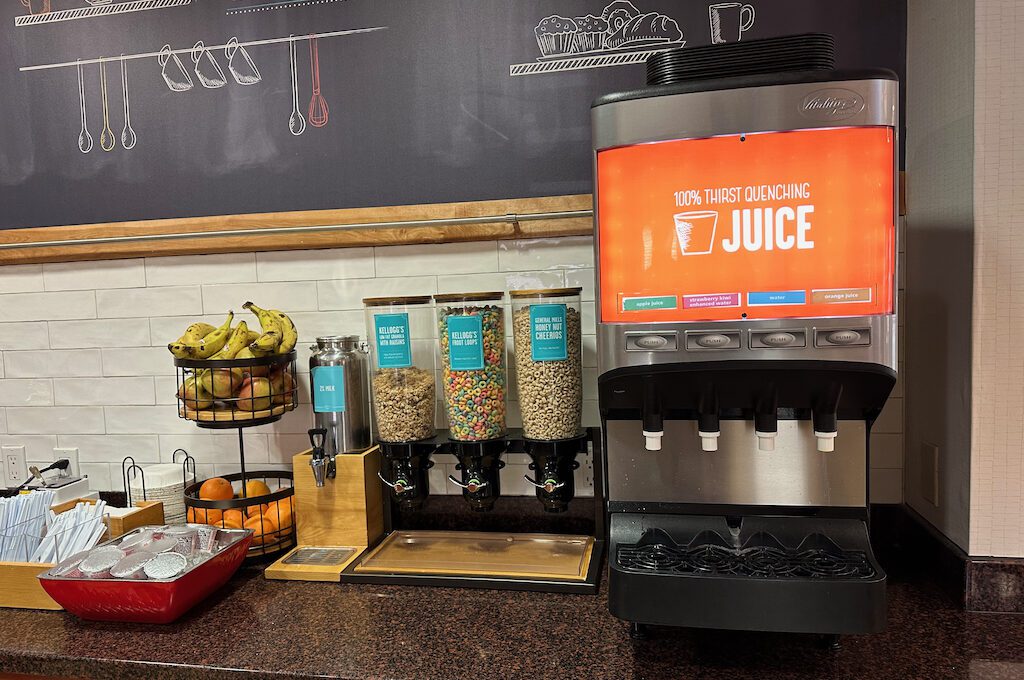 You could also enjoy a variety of different flavors of yogurt, granola bars, and possibly some fresh fruit, such as oranges and bananas. However, I must admit, there are times when the fruit may appear a tad past its prime.
For those who love to indulge in a steaming bowl of creamy goodness, you'l be happy to know oatmeal is another staple that you can expect to find.
Sometimes you will have your own little instant oatmeal packs that you can make yourself which can come in different flavors like apple cinnamon, cinnamon and spice, original, and maple and brown sugar.
Now getting into the hot items. You may find traditional hot breakfast items like eggs, potatoes, and proteins such as sausage or bacon.
The eggs may come in scrambled form but you may also find them in other varieties like omelettes.
For the potatoes, those could come in the form of a hash brown, tater tots, home fries, etc. Expect the quality of the breakfast sausage and bacon to vary from not so delicious to quite enjoyable.
If you're really lucky, you might even stumble upon some biscuits and gravy or even fresh breakfast burritos. If so, report back and let me know what you thought!
One of the perks at staying at the Hampton Inn is that sometimes you can have a waffle or pancake maker to enjoy your own fluffy creation.
You might have different options for the batter which could consist of a traditional vanilla flavor or something a little more interesting like a blueberry waffle batter.
Always make sure you spray down the waffle maker before you use it so that you're better doesn't stick (assuming they offer you that option of course)!
You can expect a delightful assortment of beverages to quench your morning thirst at the Hampton Inn. Your options will include coffee, tea, juices, milk, and water, ensuring there's something for everyone's taste buds.
Citrus-lovers will likely find orange juice available, usually without pulp. In addition to orange juice, there may also be a tantalizing variety of other juices available, such as apple juice.
Coffee enthusiasts can find both regular and decaffeinated options and might even find a selection of different roasts, ranging from light to dark. All your cream and sugar needs will be conveniently located right next to the coffee canisters, providing the perfect fixings for your preferred cup of joe.
For the tea aficionados, the breakfast area may offer more tea options than your own room, with a hot water dispenser readily available to assist you in crafting the perfect cup of tea in the morning. Some hotels may even provide hot chocolate packets, particularly if you find yourself in a chilly area or visiting during the winter season.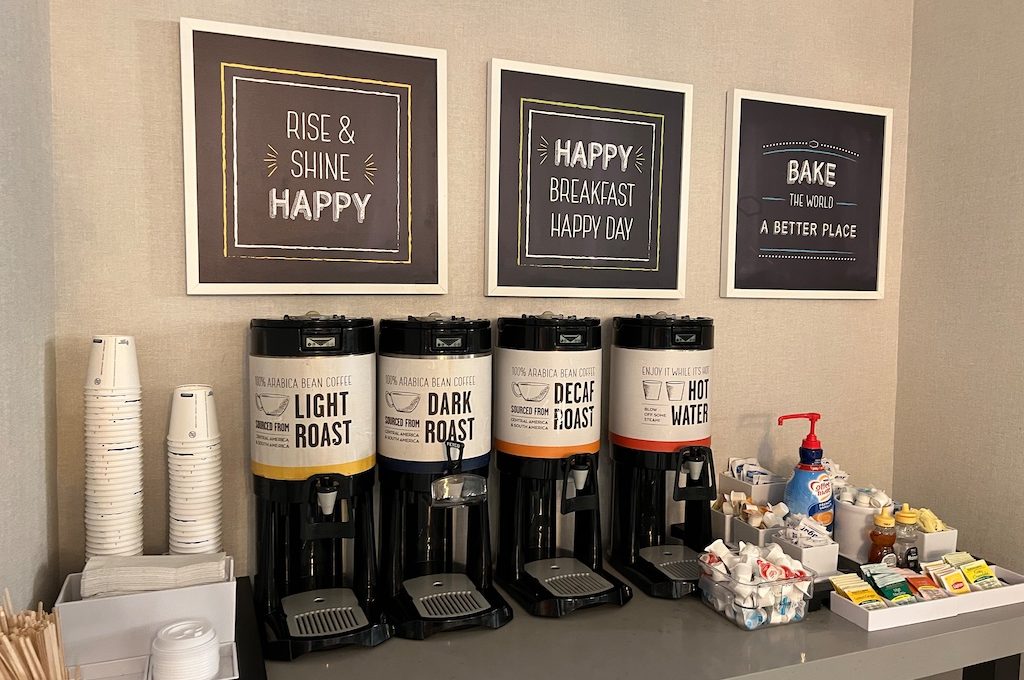 What are the breakfast hours?
Typically, they serve breakfast from around 6:00 or 6:30 a.m. until 9:00 or 10:00 a.m. on weekdays, although some might stop serving even earlier. On weekends and holidays, the breakfast hours may be extended to accommodate late-risers, usually until 10:00 a.m. or possibly even 11:00 a.m.
Sometimes a Hampton Inn may have grab and go options for people heading to breakfast extra early or late but those are not always available.
But every property is different so you always need to verify hours with the front desk!
The different forms of breakfast at Hampton Inn
Sometimes the breakfast will not live up to the standards you would hope for. In fact, there have even been reports of Hampton Inn properties offering discount cards when you show your room key to nearby breakfast restaurants such as Denny's.
That's probably not a super common occurrence but it is something you can look out for, as it might be a sign that the breakfast isn't all that.
Also, be aware that some properties might be offering a grab and go breakfast experience which will be very different from the options described above.
Other properties might even give you a voucher to be used at the pantry/market so just remember that breakfast can come in a lot of different forms within the same Hampton Inn brand.
It's also possible that some properties may offer a different breakfast on weekends versus weekdays so be prepared for that. And finally, it's also possible that for whatever reason breakfast may not be available at all. If breakfast is really a top concern, you should think about calling ahead to verify what you can expect.
Final word
A Hampton Inn breakfast can be quite satisfying if they have a decent amount of both hot and cold options to help fill you up along with a good selection of beverages. The key to remember is that every property may be a little bit different so just because one Hampton Inn delivers at a high-level, the next one may not.

Daniel Gillaspia is the Founder of UponArriving.com and the credit card app, WalletFlo. He is a former attorney turned travel expert covering destinations along with TSA, airline, and hotel policies. Since 2014, his content has been featured in publications such as National Geographic, Smithsonian Magazine, and CNBC. Read my bio.