I was really looking forward to our stay at the Marriott's Kaua'i Beach Club, located on the south part of the island of Kauai. It had everything I thought you need for an amazing Hawaii stay: views, beaches, and a great location.
But out of all of the six hotels that we stayed at on this Hawaii trip, this ended up being by far the worst stay. Check out my full review below to see what went wrong and why I won't be returning.
Booking
On a recent 10 night trip to Hawaii we spent a large portion of the trip tracking down all of the Jurassic Park filming locations.
This meant that we would be focusing a lot on the island of Kauai since that is where most of the filming went down.
While researching I realized that the crew of Jurassic Park actually stayed at this hotel during filming.
What's more, this is where they hunkered down whenever the strongest hurricane to ever hit Hawaii in recorded history hit.
Specifically, they would be huddled up in the ballroom which was something we were also able to check out.
So I thought this hotel would be a perfect site to add to our list of places to check out.
Tip: Use the free app WalletFlo to help you travel the world for free by finding the best travel credit cards and promotions!
I paid cash for two nights which came out over $1,061.66.
Quick note: I learned that it's kind of depressing to stay at timeshare properties like this when you have Marriott elite status like Titanium because it essentially means nothing.
No breakfast, late check out, no upgrades, etc.
So if you're elite and you've never stayed at a property like this be ready to feel like you're losing out on value because you will inevitably feel it.
Location overview: Lihue
The hotel is located in Lihue, directly on Kalapaki Beach which is really cool since you can just walk out the hotel and sit on a Hawaiian beach without having to drive or hike anywhere.
You have to be careful with the water here though because there are some strong riptides that come through.
Interestingly, if you look out from Kalapaki Beach and you see the jetty sticking out that jetty was actually featured in a scene from Jurassic Park.
They used actual storm footage from the hurricane to portray the storm hitting the island in the movie.
Here is the movie still from Jurassic Park. Pretty cool, huh?
Something else that is notable about this property is that it is practically in the backyard of the Lihue Airport (LIH).
If you plan on doing helicopter rides you don't have to drive far at all to get there which is a major plus.
The city of Lihue has quite a few places that may come in handy like Walmart and there's also a shopping center (mini-mall) nearby with a Target.
As far as attractions, you have the Kauaʻi Museum nearby and if you want to experience a luau the Lu'au Kalamaku is very close.
If you want to get on the road this is also a good starting off point to get to Waimea Canyon State Park. It's about an hour away from the hotel but that is much better than the driving time from the north side of the island.
You can also get to the north side of the island in about an hour, which is not bad.
So overall I think this hotel has fantastic location on Kauai.
Check-in
The Marriott check-in desk is pretty far inside the hotel and you have to go through a lobby, down an escalator, through some outdoor corridors, and finally you arrive at the check-in desk.
The woman working the check-in desk was extremely friendly and personable which got me really excited about this property. It's always a good sign when things start off that way.
Early check-in would not be available which meant that we would need to kill some time.
We did so by heading to the nearby Kuki'i Point Lighthouse (Beacon) area and just explored some of the rocky areas and took in the views. It's adjacent to a golf course but there is a set of stairs that is open to the public so you can legally access this area.
Finally, we got a message that our room was ready so technically we did get in a little bit early which was nice.
The room
As soon as we got to the room I was immediately disappointed.
It wasn't really the room (although I will get to that later).
It was the fact that there was really loud construction going on in the room directly across from us and indeed other rooms in the hallway.
I did not recall seeing any message about construction going on at this property and so that led to me contacting the hotel to see what was going on.
It turns out the hotel claimed that there was a warning message and that message read:
Please note – The adjacent The Royal Sonesta Kauai Resort is undergoing renovation. Please anticipate construction noise. Work is expected to continue through March 31, 2022.
This message was extremely misleading because in the context of hotel premises, "adjacent" would suggest a connected tower/building or perhaps a connected wing.
I've stayed at a lot of hotel properties, including a lot of co-branded properties.
Every single time I've stayed at a co-branded property, the two properties are segregated by different buildings or different wings. But in this case, they actually are located on the same hallway.
A prior email from the hotel indicated that these two properties "share a campus" which again would suggest separate buildings.
What they should've said in the email was they "share buildings."
That would have been 10 times more clear and accurate because campus =/= building.
But that level of transparency would have scared away potential customers like myself….
Also, remember I booked this largely because of the special content piece we were doing on Jurassic Park?
I had called the hotel previously trying to figure out which building the Jurassic Park crew stayed at. Was it the Marriott property or the Royal Sonesta?
During that call, the representative made it sound like the properties were located in different buildings.
So I felt like I had no reason to think that these two properties would be sharing the same hallway.
Surely the hotel would understand, especially with me being Titanium elite?
Uhm, no.
The hotel management could not have cared less despite admitting that I had a valid argument regarding the vague use of the term "adjacent."
Their response was "Unfortunately we can't stop construction for you…." Right, because that's what I was expecting.
It completely turned me off to this hotel.
Lucky for us, for the most part we were out doing things so the construction was not the worst thing.
The thing that rubbed me the wrong way the most was just how management completely dismissed the issue.
Anyway, going back to the review.
Here's a look at the studio room we booked.
It's basically a studio apartment and comes with a small kitchen area (no stove).
The closet is where you will find your two pillows along with the iron and iron board. They also have a safe.
I liked that the room came with such a big fridge and a freezer.
There's a workstation which came with two chairs which was nice for in-room dining, although you are talking about a very tight fit with two seats.
I booked a Murphy bed at this property largely as an experiment. I had never stayed in a hotel offering a Murphy bed and wanted to see what it would be like.
It was not very comfortable and I would not recommend it.
The bed initially only came with two pillows and even after calling in to request a few more, it was still just not a comfortable bed.
I'll take responsibility for that one though. In retrospect I should've known.
The room did have a pretty decent view but from the sixth floor balcony there was only so much of the beach you could see.
The bathroom was a problem.
It was one of those horribly designed bathrooms where you basically have to solve a Rubiks cube every time you want to maneuver around the toilet, shower door, and the bathroom door.
Sometimes you're almost forced to touch the toilet when you come out of the shower which never feels great.
As far as the hotel premises, I feel like this is one of those properties that you either hate it or love it.
Personally, I thought it was pretty cool having all of the columns throughout the property, but I could see how some people would think it is very dated.
It's pretty cool that they have hot tubs located underneath these balconies although some of the balconies look down into the center of the hot tub which is just awkward when people are in there. Not sure what the point of that is.
Here are some more shots of the pool area.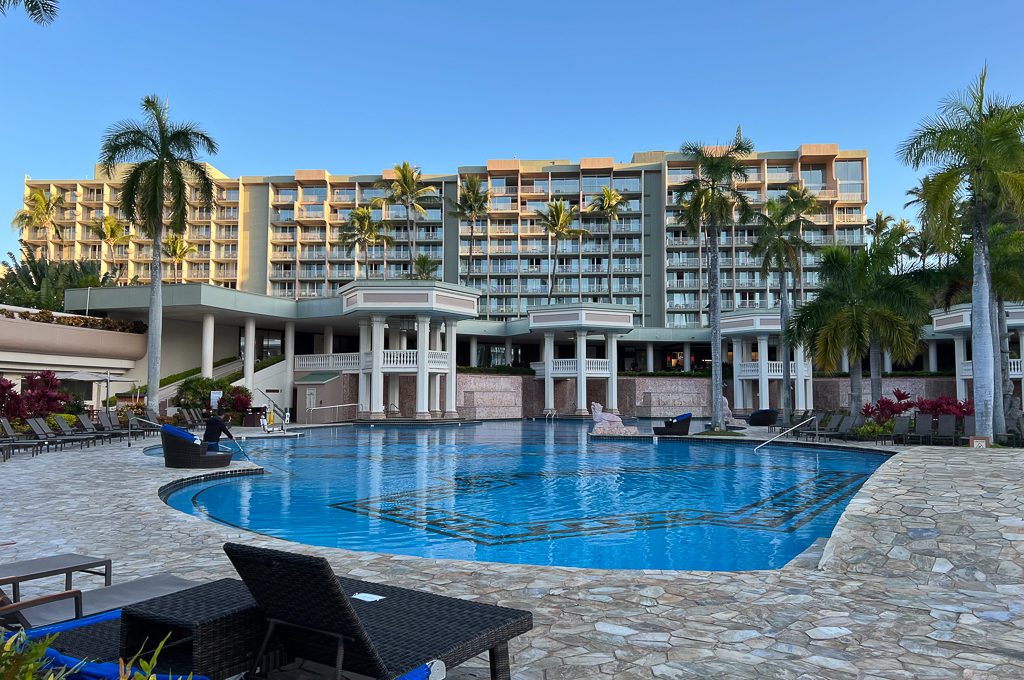 Breakfast
We had the opportunity to try out one of the restaurants on site, Kukui's on Kalapaki Beach, for breakfast and I was very pleased by the food quality.
But just when I thought I was over the "adjacent hotel" issue we asked to put our breakfast on our room and were told that we could not because this restaurant was part of the Royal Sonesta.
So these properties are close enough that they can share a freakin' hallway but not so close that you can put a meal on your room at a restaurant that you find in a common area? Okay, cool.
When you get there, ask for a seat with a view of the beach because otherwise they will apparently seat you as far away from the beach view as possible.
After breakfast, we took some time to check out the pool area.
They have some cabanas but the view inside them is restricted by a lot of the vegetation. So if you are seated or lying down it's like you are just looking at a wall of bushes.
They do a good job of keeping up with all of the landscaping on the property, though.
I thought the beach area was pretty nice but watch out for those rip currents. There are no lifeguards.
Here is the view of the harbor that you will have. That view was also used in Jurassic Park movie: The Lost World.
Someone had created a beautiful sand sculpture while we were there which was cool to see.
Here are a few more shots from the beach area.
Before dipping out we checked out the gym which was quite large and fully equipped.
Final word
This hotel has a great location and I really thought the premises were quite beautiful. The staff seemed to be very personable and professional but I can't say that about the management.
I've stayed at and reviewed a lot of hotels over the past decade and this may have been the worst exchange I've ever had with management.
I had a valid argument that their description of the construction was vague and misleading and the manager even admitted as much but decided to dismiss the complaint.
For that reason, I can't ever see myself returning to this property. I got my Jurassic Park fix and was pretty much done.

Daniel Gillaspia is the Founder of UponArriving.com and the credit card app, WalletFlo. He is a former attorney turned travel expert covering destinations along with TSA, airline, and hotel policies. Since 2014, his content has been featured in publications such as National Geographic, Smithsonian Magazine, and CNBC. Read my bio.