Southwest Airlines offers some great credit cards and a couple of those credit cards come with a special upgrade benefit that offers you four upgrades per year. But how exactly do these upgrades work and how much value can you get from them?
In this article, I'll tell you everything you need to know about the four upgrades benefit.
What is the four upgrades benefit?
Select Southwest credit cards will allow you to be reimbursed for the purchase of up to four upgraded boardings to Business Select every year.
These cards include the Southwest Priority Credit Card and the Southwest Rapid Rewards Performance Business Card. Both of these credit cards are top-notch travel rewards cards.
The Southwest Priority Credit Card (full review here) is an awesome card that comes with the following perks:
Bonus spending:

2X Rapid Rewards on Southwest purchases
2X Rapid Rewards on hotel and car rental partner purchases.
1X Rapid Rewards on all other purchases

Four Upgraded Boardings per year when available.
20% back on in-flight drinks, WiFi, messaging, and movies
No foreign transaction fees
Earn tier qualifying points towards A-list Status
$149 annual fee
If you are a frequent Southwest flyer, you can easily offset the $149 annual fee quickly with the $75 annual travel credit, the four upgrades, and the 7,500 anniversary points.
If you are interested in a great business credit card with similar benefits check out the Southwest Rapid Rewards Performance Business Card. It comes with all the following perks:
Strong welcome bonus
9,000 bonus points after your Cardmember anniversary.
3 points per $1 spent on Southwest Airlines purchases.
2 points per $1 spent on social media and search engine advertising, Internet, cable and phone services and 1 point per $1 spent on all other purchases.
4 Upgraded Boardings per year when available
Inflight WiFi Credits
A-List credits
Global Entry or TSA Pre-Check Fee Credit
Employee cards added at no additional cost
$199 Annual Fee
These cards are also great because they can expedite your path to getting the coveted Southwest Companion Pass. That pass allows you to fly for free with a companion for up to two calendar years and is arguably one of the most valuable travel perks available.
Tip: Check out the free app WalletFlo so that you can optimize your credit card spend by seeing the best card to use! You can also track credits, annual fees, and get notifications when you're eligible for the best cards!
What is Business Select?
Southwest does not have a traditional first class or business class cabin like other legacy carriers such as United or American.
Instead, they have a type of ticket called Business Select which offers you certain types of benefits. Business Select comes with a number of benefits including:
Guaranteed A1-A15 boarding
Fly By lane access
Free premium drink
12 Rapid Rewards per dollar spent
Fully refundable fare
Standby
However, whenever you upgrade to Business Select you do not get all the above perks. For example, you will not get a free premium drink nor does it mean you will receive 12 Rapid Rewards per dollar spent.
Instead, when upgrading, the big benefit is that you get a guaranteed A1 through A15 boarding. I'll explain why this benefit is a big deal when flying Southwest below.
How Southwest boarding works
The reason why it is such a big deal to get guaranteed A1 through A15 boarding is that it will allow you to board the plane before most people. Southwest does not offer assigned seats so it is a first-come, first-serve basis when choosing where to sit.
If you are one of the first people to board you can get the best seats such as those seats located in the front of the plane or other seats located in or around the emergency exit rows which have more legroom.
The amount of available seats with more legroom/privacy depends on whether you're flying on a 737-700 or 737-800. You can find out more information about the different types of seats in my Tips for Flying Southwest.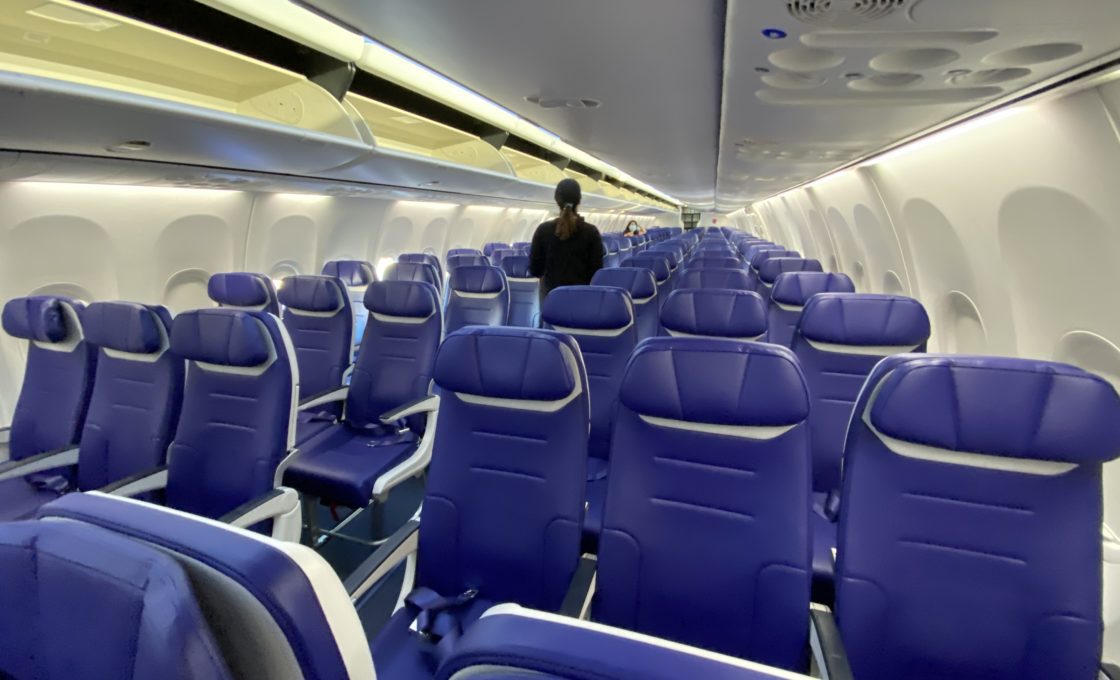 Anniversary year or calendar year?
Every anniversary year you will be reimbursed for your upgrades. This means that the benefit resets on the anniversary that you opened up your account (the official date used is the date in the Chase system.)
Chase explains explicitly what they mean by anniversary year: "Anniversary year means the year beginning with your account open date through the first statement date after your account open date anniversary, and the 12 monthly billing cycles after that each year."
Contrast this to a benefit that resets at the end of the calendar year which is on December 31 of every year.
Where can you purchase the upgrades at?
Currently, you cannot purchase your upgrades online ahead of your travel date. Instead, you must purchase the upgraded boarding pass at the departure gate or ticket counter on the day of travel.
In the past, I have purchased upgrades at both the ticket counter and departure gate. In some cases, an agent will tell you that they cannot process it at the departure gate.
One tip I have is to ask the agent what your new boarding position will be if you upgrade. This is a good idea because in some cases you will not want to upgrade if you are going to be issued a high boarding position such as A15. That's because you may not be able to select the best seats in the plane.
If you ask about the new boarding position before you upgrade, you can ensure that you will not waste one of your four upgrades.
Just note that in some cases, for whatever reason, Southwest will have empty business select seats. One time I was given something like an A9 position and there were no individuals in front of me. I'm not sure exactly why that happens but it is something to be aware of.
How much do these upgrades cost?
The amount of money it costs to upgrade depends on the length of the journey but you usually pay $30 to $50. So getting four upgraded boardings per year when available could be worth anywhere from $120 to $200.
That is a significant amount of potential savings per year. If you maxed it out every year, you could easily offset the annual fee of either the personal or business card that offers this benefit.
How long does it take to get the credit?
After you make an eligible purchase for an upgrade, it may take up to eight weeks for the statement credit to post to your account. This means that if you wait until the end of your anniversary year, your credit may not post until the next year.
How many upgrades can you purchase?
You can purchase a single upgrade or you can purchase all four of your upgrades at one time. This means that your upgrades can be on the same flight or each individual upgrade can be on a separate flight. Either way, you will be reimbursed.
Can you upgrade an award ticket?
If you purchase your ticket with Rapid Rewards points you should still be able to upgrade your ticket once you arrive at the airport.
Final word
These upgrade benefits can be worth up to $200 which means that in some cases you can entirely offset the annual fee each year of these premium Southwest credit cards just by utilizing the upgrade perks. When you also consider the additional benefits on those cards like the anniversary points, the credits, and all of the value from your spend it becomes a no brainer when getting these cards.

Daniel Gillaspia is the Founder of UponArriving.com and the credit card app, WalletFlo. He is a former attorney turned travel expert covering destinations along with TSA, airline, and hotel policies. Since 2014, his content has been featured in publications such as National Geographic, Smithsonian Magazine, and CNBC.