Southwest Airlines is one of the most popular airlines in the US. But is that because of the cheaper fares or is Southwest actually a good airline? In this article, I'll take a look at all of the major things people care about when evaluating an airline to give you a clear idea as to the benefit of flying Southwest.
Is Southwest a good airline?
Southwest is a "good airline" based on many of the factors travelers care about the most like on-time arrivals, service, baggage fees, etc. But every passenger is unique and values everything a little bit differently. Below, I'll provide a breakdown of a lot of the reasons why Southwest would be considered a good airline by many and also some of the shortcomings. In the end, you will have to be the judge as to whether or not Southwest is a good airline in your eyes.
Tip: Use the free app WalletFlo to help you travel the world for free by finding the best travel credit cards and promotions!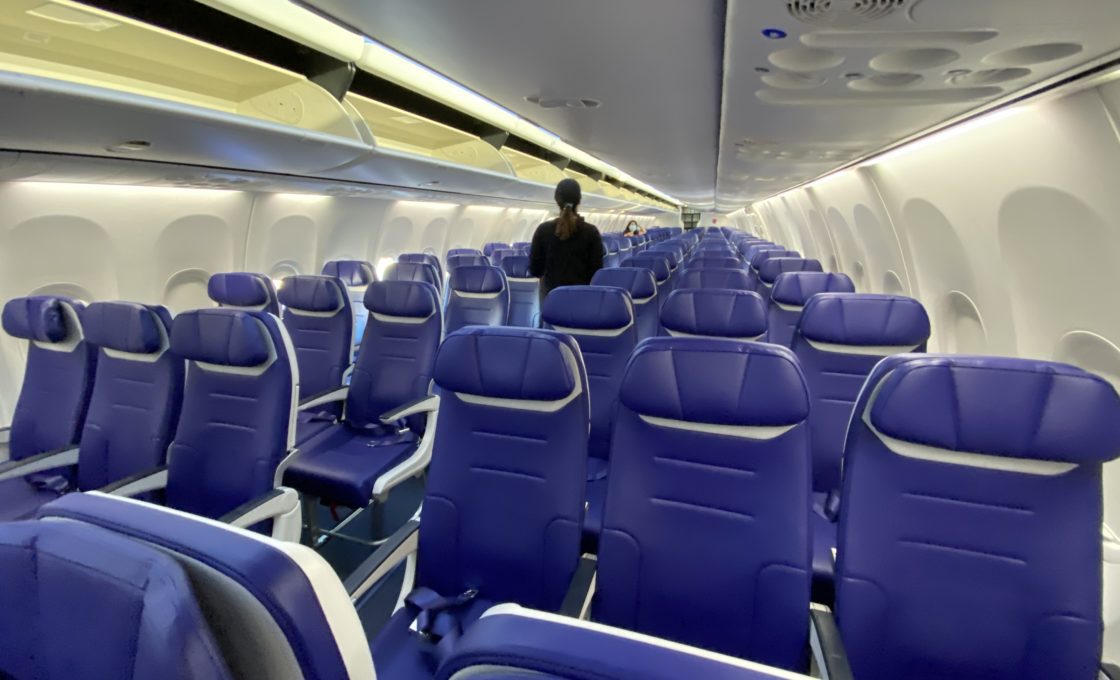 On time arrivals
One of the most important factors for determining whether or not an airline is "good" is: does it actually get you to where you want to be on time?
According to the Bureau of Transportation Statistics (BTS), which compares all of the major US airlines, Southwest was #5 in 2020 for on-time arrival percentage. Their on time arrival percentage was 85.98% and the top position — occupied by Hawaiian Airlines — was 87.5%. That means Southwest was not too far off from #1.
So while their ranking is seemingly in the middle of the pack, Southwest actually did quite well compared to the top performers.
There have been issues with cancellations and delays here and there but a lot of airlines have had logistical issues ever since the pandemic hit. Personally, I have flown Southwest a lot over the past 12 years and I've never had consistent issues with arriving on time.
Skytrax
Not everybody is into Skytrax ratings but they do offer a comprehensive breakdown of pretty much everything you would care about related to airlines. They consider things like baggage delivery times, boarding efficiency, seat comfort, attention to cabin safety, the list goes on and on.
When it comes to Skytrax ratings, Southwest is the only major US airline to receive four stars. All of the legacy carriers received three stars. While the highest Skytrax rating is five stars I think it still says a lot that Southwest is the highest rated US airline.
Service
Southwest has consistently been voted as one of the top airlines for its customer service. This has held true in my personal experiences flying with Southwest.
Sure, if you fly with them enough you will run into some employees who aren't the most friendly but that is going to happen with any large organization. But overall I have come to expect pleasant interactions with Southwest staff and flight attendants.
This is largely because Southwest is considered the best airline to work for. Flight attendants working for Southwest Airlines receive great pay and the company has built a great culture all around that is ultimately felt by passengers.
Baggage
Southwest is known for its generous baggage policy and it's one of the major ways that it stands out above the competition.
With Southwest, you can fly with two bags for free. Every other US airline is going to charge you for your baggage with prices usually starting at $30 for your first bag and then jumping up to $40 for your second bag. This means that if you were to check two bags on a traditional airline, you could be shelling out $140 for a round-trip just on baggage fees alone!
So taking advantage of the lack of baggage fees on Southwest is a great way to save money and it's something you should always consider when comparing prices with other airlines.
Also, despite being known as a budget airline, Southwest never charges for carry-on or personal items either.
Changes
Southwest allows you to make free changes to your flights. Now, a lot of the major US airlines also allow you to make free changes. But I still think it says a lot about Southwest that they have allowed you to do this for a long time.
Companion Pass
Another major way that Southwest stands out is with its Companion Pass benefit.
This benefit allows you to choose a companion that can fly for free with you on every flight for up to two calendar years.
Whether you pay with cash or with points, your companion can ride along for free and only has to pay for the fees which are extremely minimal on domestic flights.
And if you get sick of your companion you can even switch them out for someone else a few times!
To earn the Southwest Companion Pass by flying you'll need to:
Complete 100 qualifying one-way flights in a calendar year
Earn 125,000 Rapid Rewards points in one calendar year
The 125,000 Rapid Rewards points can easily be earned with the right credit cards which I will talk about next.
Credit Cards
The Southwest cards are issued by Chase. While they don't allow you to get multiple personal Southwest credit cards, they do allow you to acquire a personal and a business credit card. This means that if you get approved for these cards when they offer large welcome bonuses you could earn enough points to get the coveted Companion Pass.
Below, I'll talk about some of the details of the best Southwest credit cards.
Southwest Premier credit card
The Southwest Premier credit card will also offer you the following benefits:
2 points per $1 spent on Southwest purchases and Rapid Rewards Hotel and Car Rental Partner purchases
No foreign transaction fees
This is a decent airline card but it is not the card I would recommend if you are flying Southwest a lot. For frequent flyers I would recommend one of the cards below.
Southwest Priority card
The Southwest Priority card is the ultimate Southwest credit card. That is because it comes with some seriously valuable perks which include:
Bonus spending:

2X Rapid Rewards on Southwest purchases
2X Rapid Rewards on hotel and car rental partner purchases.
1X Rapid Rewards on all other purchases

7,500 anniversary points each year
Four Upgraded Boardings per year when available.
20% back on in-flight drinks, WiFi, messaging, and movies
No foreign transaction fees
$149 annual fee applied to your first billing statement
This is a great card for people who frequently fly with Southwest since the credits and benefits allow you to easily offset the annual fee each year. You can read my full review of this card here.
Southwest Rapid Rewards Performance Business Card
The Southwest Rapid Rewards Performance Business Card is another beast of a card and comes with the following features:
9,000 bonus points after your Cardmember anniversary.

3 points per $1 spent on Southwest Airlines purchases.
2 points per $1 spent on social media and search engine advertising, Internet, cable and phone services and 1 point per $1 spent on all other purchases.
4 Upgraded Boardings per year when available
Inflight WiFi Credits
A-List credits
Global Entry or TSA Pre-Check Fee Credit
Employee cards added at no additional cost
$199 Annual Fee
Tip: Check out the free app WalletFlo so that you can optimize your credit card spend by seeing the best card to use! You can also track credits, annual fees, and get notifications when you're eligible for the best cards!
Cheap fares
Southwest is known for offering flash sales with super cheap fares that you can sign-up for here.
The catch is that sometimes the cheapest fares are limited to specific days in the week and sometimes to less popular routes/destinations. But if the routes and dates line up for you, these sales can save you some serious cash.
The other side to this coin is that last-minute flights on Southwest can be pretty expensive. Usually whenever I compare the price of a last-minute Southwest flight to a legacy carrier like United, Southwest is more expensive (sometimes by a wide margin).
Extensive network
When it comes to passengers getting around, Southwest is one of the busiest US airlines. Take a look at the enplanements for 2020 and you'll see that Southwest was ranked number two with 67.7 million!
If you were trying to get around the US, Southwest makes it very easy with so many different routes available.
International and Hawaii flights
Southwest is much more than just an airline that can get you around the US. They also can help you hop over to paradise in Hawaii and also to a number of international destinations. The prices to Hawaii on Southwest can be very reasonable so it can make your Hawaii vacation very doable.
And there is a nice list of international destinations that they serve which include:
Los Cabos/Cabo San Lucas (SJD)
Puerto Vallarta (PVR)
Cancun (CUN)
Cozumel (CZM)
Belize City (BZE)
Havana (HAV)
Nassau Bahamas (NAS)
Grand Cayman (GCM)
Montego Bay, Jamaica (MBJ)
Providenciales, Turks and Caicos (PLS)
Punta Cana (PUJ)
Liberia, Costa Rica (LIR)
San Jose, Costa Rica (SJO)
Aruba (AUA)
Simple elite system
Some frequent fliers enjoy figuring out the intricacies and complexities that come from airline loyalty programs. From regional upgrades to airline alliance lounge access, the policies and procedures can get pretty confusing for a lot of people but many are okay with that because the payoff is worth it.
But others prefer simplicity.
Southwest Airlines makes it really simple when it comes to earning elite status and figuring out your elite benefits.
There are only two levels to Southwest elite status and the levels are: A-List & A-List Preferred.
Here's a look at the benefits for A-List.
Priority boarding
Priority security and check-in lanes
25% bonus earning
Free same day standby
Dedicated A-List phone number
The benefits for A-list Preferred are extremely similar to the benefits for A-List but slightly upgraded.
Priority boarding
Priority security and check-in lanes
100% bonus earning
Free same day standby
Dedicated A-List phone number
Free in-flight wifi
No business class
One of the major knocks against Southwest Airlines is that they do not have a "true" first class or business class cabin. This means no special treatment or extra wide seats with only one seat next to you.
Essentially, everybody is on equal footing.
Southwest does have a type of fare called Business Select which offers the following benefits:
Guaranteed A1-A15 boarding
Fly By lane access
Free premium drink
12 Rapid Rewards per dollar spent
Fully refundable fare
Standby
So you can get business class treatment (just mostly outside of the plane).
If you want extra legroom, there are some seats that have extra legroom and depending on the aircraft you may be able to find a row with only two seats so you can get a quasi-economy plus experience. But still, it is not the same as flying in a dedicated cabin at the front of the plane.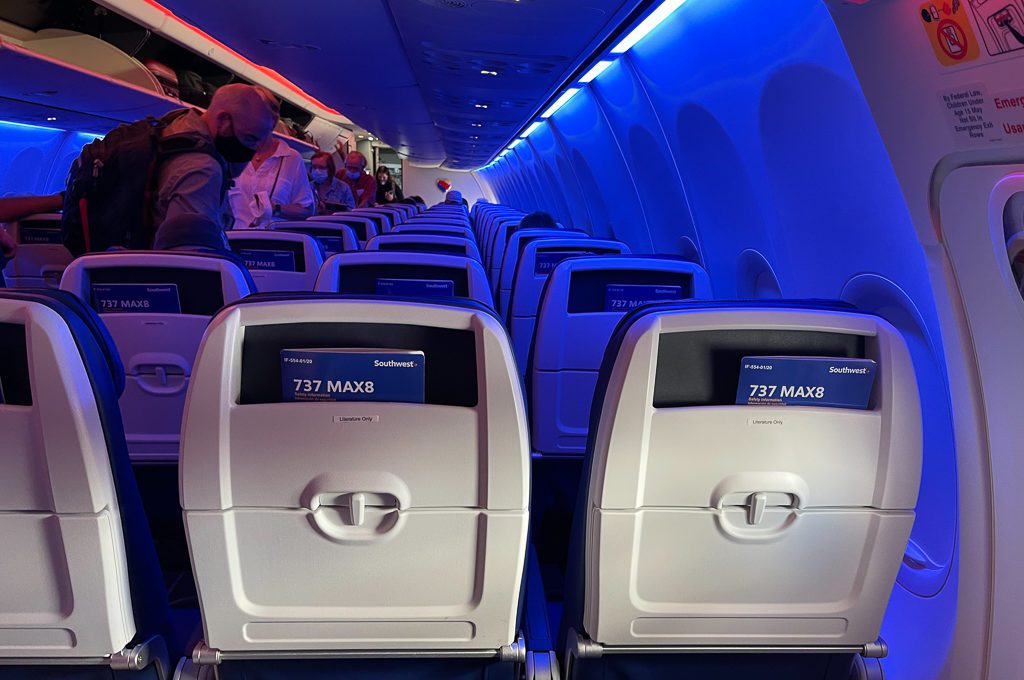 No assigned seats
Another drawback to Southwest is the boarding process. Personally, the boarding process does not bother me and we generally upgrade to Business Select so that we are at the front of it.
How the boarding process works is that you will be forced to check in 24 hours prior to your flight. At that time, you will be given a boarding position depending on when you check in.
Once you enter the plane it is first come, first serve so there are no assigned seats and you can claim anything you would like (unless you were not allowed in the emergency exit rows for some reason).
A lot of people don't like that you have to check in 24 hours prior to takeoff because sometimes you might be busy during that time and not have access to a computer or Wi-Fi. The good news is that you can purchase Southwest EarlyBird which will check you in 36 hours prior to takeoff.
No seatback entertainment
Another knock which I have to agree with is that the Southwest is lacking in the in-flight entertainment department. You will not find a seatback TV on any Southwest flight. (Compare this to competitor JetBlue which has seatback screens on every flight.) You can still stream entertainment but not having the seatback screens in my opinion is a pretty big negative since the streaming is not always optimal.
Final word
By many measures, Southwest Airlines is objectively a good airline. They are timely, budget friendly in a few respects, offer an extensive network of flights with great service, and also have some amazing perks like the Companion Pass. They don't offer the best experience to people seeking more premium in-flight amenities, though. So I think Southwest is good for many but definitely not perfect for everyone.

Daniel Gillaspia is the Founder of UponArriving.com and the credit card app, WalletFlo. He is a former attorney turned travel expert covering destinations along with TSA, airline, and hotel policies. Since 2014, his content has been featured in publications such as National Geographic, Smithsonian Magazine, and CNBC.