Missing your flight can leave you with a sinking feeling in your stomach but it is often not the end of the world.
If you can act quickly, you still might be able to catch a flight to your destination and you may not even have to pay anything extra.
This can be done via the flat tire rule and in this article I will tell you everything you need to know about utilizing this on Southwest Airlines.
What happens if you miss your Southwest Airlines flight?
If you miss your Southwest Airlines flight you still may be able to get put on the next available flight or take advantage of the standby list. Keep reading below to find out just how you might be able to take advantage of a lesser known exception called the "flat tire rule."
Tip: Use the free app WalletFlo to help you travel the world for free by finding the best travel credit cards and promotions!
Southwest flat-tire rule explained
The "flat tire rule" is something that airlines came up with to help people who experienced unexpected situations that caused them to miss their flight.
For example, getting a flat tire on the way to the airport could slow you down and cause you to show up after your flight has departed. In those cases, an airline would work with you to put you on the next available flight free of charge.
Today, it's not required for you to have a flat tire or even for you to miss your flight due to situations outside of your control.
Instead, just about any reason can be used to take advantage of the flat tire rule as long as you show up within a specified time period.
So for example even if you slept late, forgot to set your alarm, had the wrong departure time, etc. you would still be able to take advantage of this flat tire rule.
Just be aware that this is usually an unpublished rule. Check-in agents and gate agents should be well aware of the rule but it's not usually advertised to the public.
So sometimes it is something that you have to proactively bring up and request.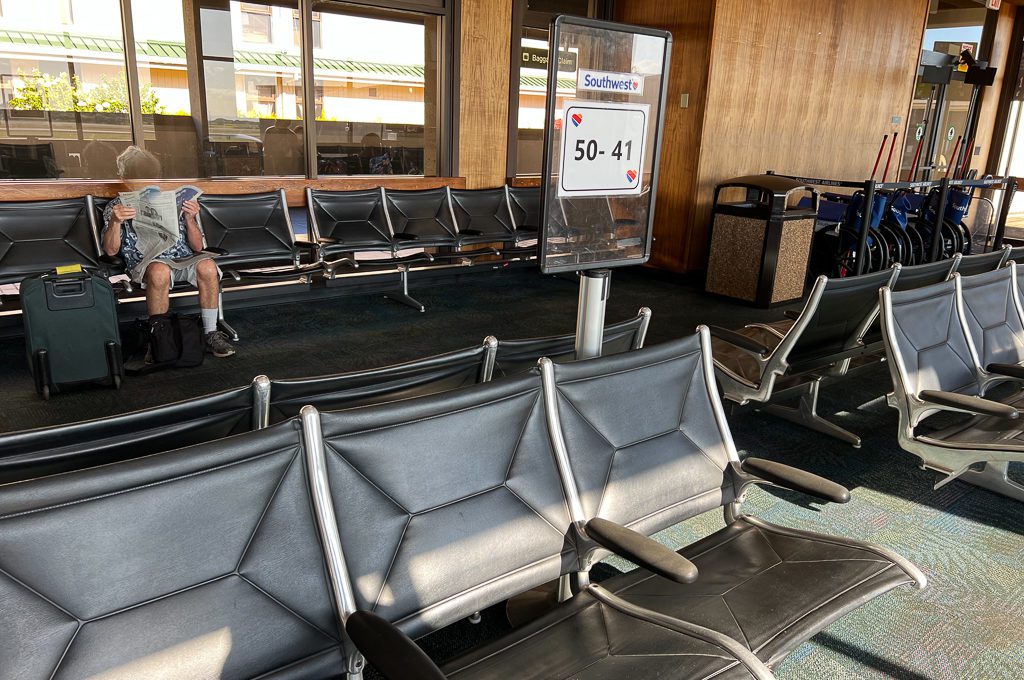 How does the flat tire rule work?
If you show up within two hours of the scheduled flight departure time you should be able to take advantage of the Southwest flat tire rule.
Also, if you show up after check-in closes for your flight you can probably also take advantage of the flat tire rule. This would typically be about 30 minutes prior to departure, which means that you might want to consider same day changes (but more than that below).
In cases where you show up after departure or you missed check in, you can show up to the check-in desk or to a gate agent and simply let them know that you missed your flight and would like to utilize the flat tire rule.
You might be able to call and get things moving but typically this is something that you work out on the ground at the airport.
If there is an opening to your destination on a different flight, even if that flight has different connections, an agent may be willing to put you on that flight free of charge and sometimes immediately. If there are no openings then you may be put on the standby list, which is a more likely outcome.
If you choose not to be on the standby list or for whatever reason that is not available to you then you will either lose out on your the money spent on your ticket or you will receive some type of refund — it all depends on the fare that you booked.
Related: What Are the Best Seats on Southwest? (And How to Get Them)
Same day changes
In some situations, instead of relying on the flat tire rule, you may be able to be proactive and utilize the same day change.
On the same calendar day as your flight, if you see open seats for a later flight to the same destination, you can request to be put on one of those flights as long as you make this request at least 10 minutes before your original scheduled departure time.
Business Select, Anytime, and Wanna Get Away Plus fares are eligible for free same-day change and can complete their free same-day change online.
A-List and A-List Preferred Members with a Wanna Get Away fare are eligible for free same-day change, but they must call Customer Service or visit a Southwest Gate Agent to make the change without paying the fare difference
Wanna Get Away customers (non-A-List or A-List Preferred) can opt into same-day change, but will likely have to pay the fare differences.
If you are changing your flight one hour prior to departure you can probably make the change online but if it is between 10 minutes and one hour before departure you'll have to speak with an agent to request the change.
Something interesting to think about is that the flat tire rule could allow Wanna Get Away customers to avoid paying the fare difference for their new flight. But it's a gamble because if you can't get on a new flight on standby, you risk losing everything.
As a Wanna Get Away passenger if you get put on the standby list you will be above non-revenue passengers but you could be below many A-List or A-List Preferred.
But if you are successful you usually will be notified about 10 to 30 minutes prior to departure, depending on how full the flight is.
Canceling
If you don't think you will be changing your flight and you just want to completely cancel, the consequences of canceling will depend on the type of fare booked and when you cancel.
If you are booking a Business Select or Anytime fare you need to cancel at least 10 minutes prior to departure to receive a full refund. Otherwise, you will receive travel funds for being a no-show.
Wanna Get Away fares are not refundable and if you do not cancel them at least 10 minutes prior to departure you will lose ALL of your funds.
If you used Rapid Rewards points for your booking, those points should be refunded back to your account.
Walk-up fare
If you are not able to get on the next available flight or to use the standby list then your only option may be to book a walk-up fare. Unfortunately, these are usually some of the most expensive tickets so be prepared to spend more money than you usually would booking in advance.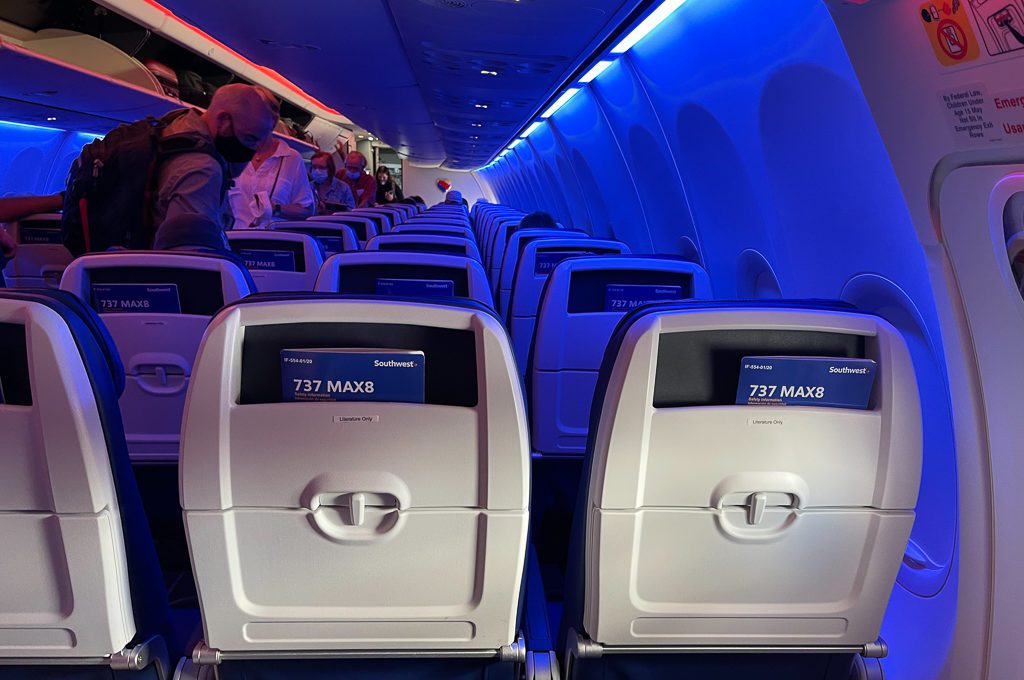 Does Southwest still honor the flat tire rule?
Some people always question whether or not the flat tire rule is still honored by Southwest Airlines since it is somewhat of an unofficial policy.
As of the summer of 2022, I confirmed with a representative from Southwest that they still honor the flat tire rule.
Connecting flights
If you miss your connecting flight on Southwest and it is on the same ticket and was caused by irregular operations such as a flight delay or cancellation from Southwest, Southwest is responsible for finding you another flight to your destination.
However, if you are missing your connection because you booked a separate ticket on a different airline then the situation is on you and you will have to rely on the flat tire rule if you can.
Be sure to get clarification on how the standby options will work on connecting flights. You may not be guaranteed a spot on your connecting flight and may have to rely on standby for multiple segments which can be tricky.
You can read more about dealing with missed connections and the responsibility the airline has here.
Final word
Missing your flight on Southwest does not have to be the end of the world. If you can get to the airport within two hours of your scheduled departure time you might be able to get on the next available flight free of charge.
If that does not work then the standby list might be your next option. And if all else fails, then you may have to book a walk up fare or simply deal with whatever refund you are entitled to.

Daniel Gillaspia is the Founder of UponArriving.com and the credit card app, WalletFlo. He is a former attorney turned travel expert covering destinations along with TSA, airline, and hotel policies. Since 2014, his content has been featured in publications such as National Geographic, Smithsonian Magazine, and CNBC. Read my bio.