We rode Executive (first class) on the Trenitalia Frecciarossa 1000 from Roma Termini to Milano Centrale during our latest round the world trip. It was a nice train ride and my first experience with riding first class on a train. Here's a look at how that experience went and a review of the Trenitalia Frecciarossa 1000.
Interested in finding out the top travel credit cards for this month? Click here to check them out!
---
Booking the Trenitalia Frecciarossa 1000
We booked our tickets from Rome to Milan using ItaliaRail.
You can book both flexible and non-flexible fares but since we were locked into our dates we went with the non-flexible. Now, ItaliaRail lists fares as "Flexible: Refundable" and "Best Prices: Non-Refundable" but when we booked they had a very confusing naming scheme with "Super economy" and other weird terms but it looks much more straight forward now and I don't want to confuse so I won't get into the old system.
Because this was a special round the world trip where we were flying in mostly first class, we wanted to try out first class on a train to see how it would be and were willing to cough up a little extra.
For two people, the total came out to €245.80 which came out to $294 USD or $147 per person. That was a little pricey but not that bad. I recall the price not being that much more than the other fares available which were (Business Quiet, Premium, and Standard).
Our train ride was a direct ride from Roma Termini to Milano Centrale which was just under three hours.
---
Arriving to the train station
We finished up spending three nights at the amazing Palazzo Manfredi just steps away from the Colosseum. This was one of my top boutique hotels I've stayed and each morning we were able to catch breakfast in the rooftop restaurant which has this tremendous view of the Colosseum. Read more about that great hotel experience here.
After a heavy breakfast at the hotel we made our way via taxi to the Roma Termini train station which was only a short drive from the hotel. We arrived about 45 minutes prior to our train which was scheduled to depart at 9:00am. Others said we could arrive as close as 10 minutes prior to out train's departure but I'm too type A to cut it that close.
It took a while for our train information for Frecciarossa 9614 to show up on the monitor so we just hung out at the train station and checked out some of the different shops that they had at the station.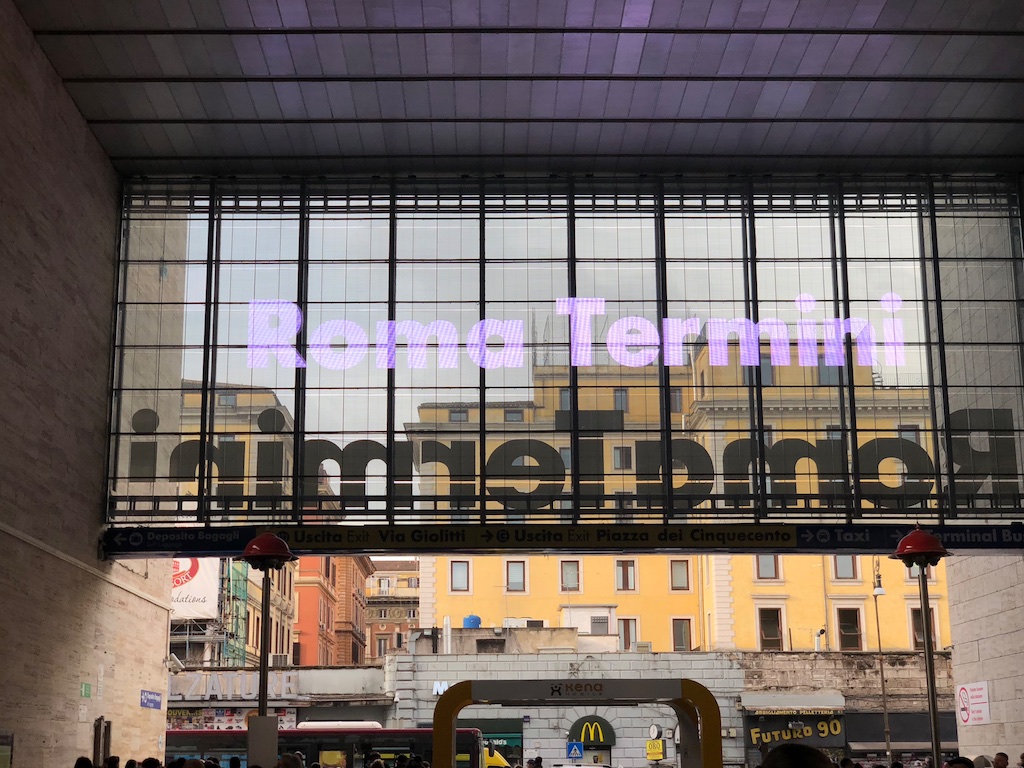 Unfortunately, there was a mix-up with lounge access. I'd read beforehand that there was lounge access but when I asked an attendant at the station where the lounge was, I was told there wasn't one. Since we didn't have much time anyway and there was a language barrier I dropped it but it turns out there definitely is a lounge for Executive Class passengers called the FRECCIAClub Rome Termini. In the end, it wasn't that big of a deal but next time I just need to do more research beforehand.
Eventually, we saw our train information show up and we made our way to the Trenitalia entrance to utilize our Fast Track pass which we really didn't need but decided to use it anyway.
Once we made it to our platform we still had to wait a little while for our train to show up. And then the Trenitalia Frecciarossa 1000 showed up, which is a relatively new train that entered service only a couple of years ago.
Freccia rossa means red arrow in English and the train had previously been known as Eurostar Italia in the past. This high speed train can reach a max speed of 400km/h which is about 250 mph. The train houses 10 Executive seats, 69 Business seats, 76 Premium seats, and 300 Standard seats.
Our Executive cabin was cabin 1 so we awaited for the train at the end, though we had to board where the people congregated in the photo below.
Trenitalia Executive class cabin
The Executive class cabin is pretty elegant and I liked the champagne color scheme on the leather seats and the spaciousness between seats. The seats are about 29 inches wide and positioned a meter and a half one from the other.
There's not really any privacy between the seats though. I'm not very experienced at all when it comes to first class train cabins, so I'm not sure if this is the standard layout or not. My guess would be this is pretty standard.
The seats have a pretty good recline range and a leg rest that lifts up. To me, it's comparable to a regional first class/business class product on an airline that doesn't offer lie-flat seats.
My one complaint is that the seats facing each other can be problematic when fully reclined. Depending on how tall you are, your feet could be bumping into another passengers. Some of seats can be spun around though so this is a pretty solvable problem, I think.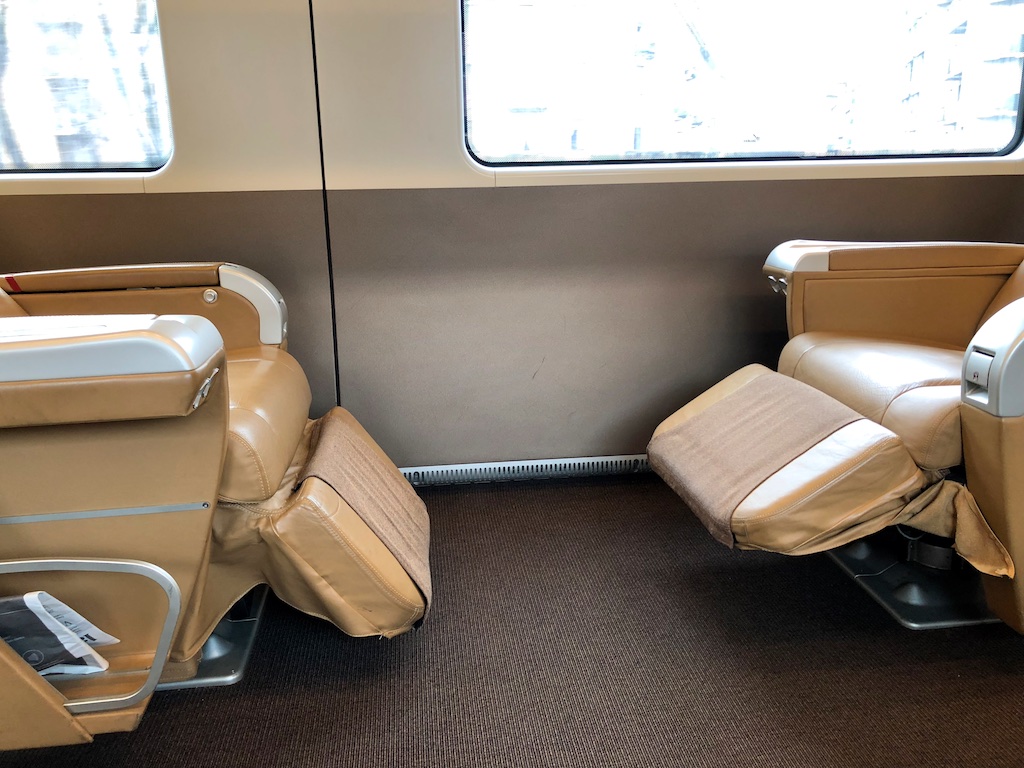 The seats each had two power outlets which you can see below, which was very nice. There is also a tray that you can pop out for your meals or for your laptop on the other armrest.
They also had seat controls similar to a plane and very easy to use.
The ceiling has a screen that keeps you updated on your trip including the weather.
There's a lot of overhead space for your bags and garments, too.
Trenitalia Executive class business area
Outside of the cabin there's a cool little business area that's actually very private. If you wanted some privacy during your train ride, this is actually the spot that you'd want to go. The staff actually stored one of our bags in the walkway which you can see below.
As you can see there's plenty of seating and you can extend the table's area if you needed to. You can also hook a laptop up to the 32″ monitor.
Some left their bags in this room but I don't think I would've been comfortable doing that given how private the room can be.
Trenitalia Executive class bathroom
The bathroom is pretty spacious and is similar to that of a plane. While the ride is smooth for the most part you'll probably want to hold on to the bar seen below for a little added assurance.
Make sure you lock the door with the easy to hit button on the wall, too.
Trenitalia Executive class menu
They handed us a menu at the beginning of the train ride, which had a decent selection of food and drink. Since we had just had breakfast at the hotel, I didn't try anything out except for some chips which were delivered to me in gourmet fashion.
Our cabin was served by a gentleman who was extremely personable and felt like a butler. He did not know any English at all though so we communicated by using Google Translate, which actually worked out surprisingly well.
During the train ride over to Milan there's some beautiful views of the surrounding mountains and green fields.
Arriving at Milano Centrale
After arriving at Milano Centrale we took our bags and made our way through the station pretty quickly. Milano Centrale is a pretty beautiful station and I kind of wish I would have checked it out a little more but we were on our way to the Park Hyatt Milan for only one night and didn't want to waste any time.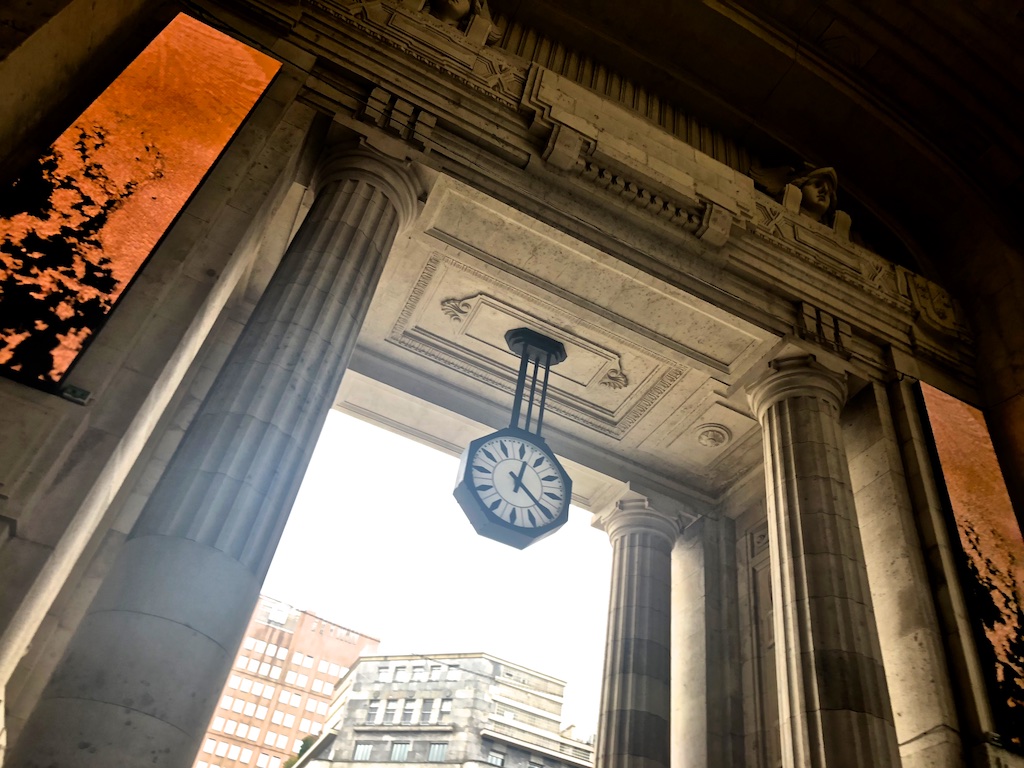 One very huge tip: don't take a ride from the folks (scammers) just outside the train station. As soon as we exited we were approached by people asking where we needed to go and ushering us toward their vehicle. If it had been five years ago I probably would've agreed to go but I knew better from experience.
I knew they were full of it so I asked them to quote us on a rate to get to out hotel in centra Milan. It turns out these people were offering to take us to our hotel for about 3X the rate of a normal taxi! So don't fall for these scammers.
---
Final word
The train ride overall was quiet and comfortable and I really did enjoy the first class experience. I was hoping for the seats to be a little more comfy and private but I think that was more of me expecting a premium airplane experience on a train. The service was fantastic though and I'd gladly take another first class ride in the future.

Daniel Gillaspia is the Founder of UponArriving.com and the credit card app, WalletFlo. He is a former attorney turned travel expert covering destinations along with TSA, airline, and hotel policies. Since 2014, his content has been featured in publications such as National Geographic, Smithsonian Magazine, and CNBC.