Opinions, reviews, analyses & recommendations are the author's alone, and have not been reviewed, endorsed or approved by any of these entities. 
United Airlines Global Services is one of the most rewarding "unpublished" elite statutes available from any airline and its members are rewarded with special perks like better upgrades, more award seats, and special treatment that comes in many forms.
But how do you get United Airlines Global Services and what exactly are the perks?
This review will dive deep into United Global Services and show you what the qualifications and benefits are for the program.
You'll first see what the spending requirements are and how you can increase your chances of making the cut for Global Services. And then I'll go into all of the details related to the benefits of the program and show you why it's such a valuable membership.
Interested in finding out the top travel credit cards for this month? Click here to check them out!
---
What is United Airlines Global Services?
United Airlines Global Services is the top-tier elite status offered by United Airlines that is available to United's most profitable customers by invitation only. It offers an array of benefits like better upgrades, award inventory, and special treatment that comes in various forms.
Global Services is not advertised publicly and as you can tell from the chart below, Premier 1K appears to be the top status offered by United.
| Premier level | PQM and PQS requirement (and PQD requirement for U.S. residents) |
| --- | --- |
| Premier Silver | 25,000 PQM or 30 PQS (and $3,000) |
| Premier Gold | 50,000 PQM or 60 PQS (and $6,000) |
| Premier Platinum | 75,000 PQM or 90 PQS (and $9,000) |
| Premier 1K® | 100,000 PQM or 120 PQS (and $15,000) |
Note: To be eligible to qualify for any Premier level, you must fly a minimum of four paid flight segments on flights operated by United and/or United Express during a calendar year.
Basic Economy (N) purchases do not count toward the four segment minimum.
Tip: Use a travel card like the Chase Sapphire Preferred to earn extra points on travel purchases like airline tickets — you can even transfer your points to United (at a 1:1 ratio) and use them to fly for free! Plus, it's at an all-time high offer of 60,000 points after spending $4,000 in the first three months after account opening!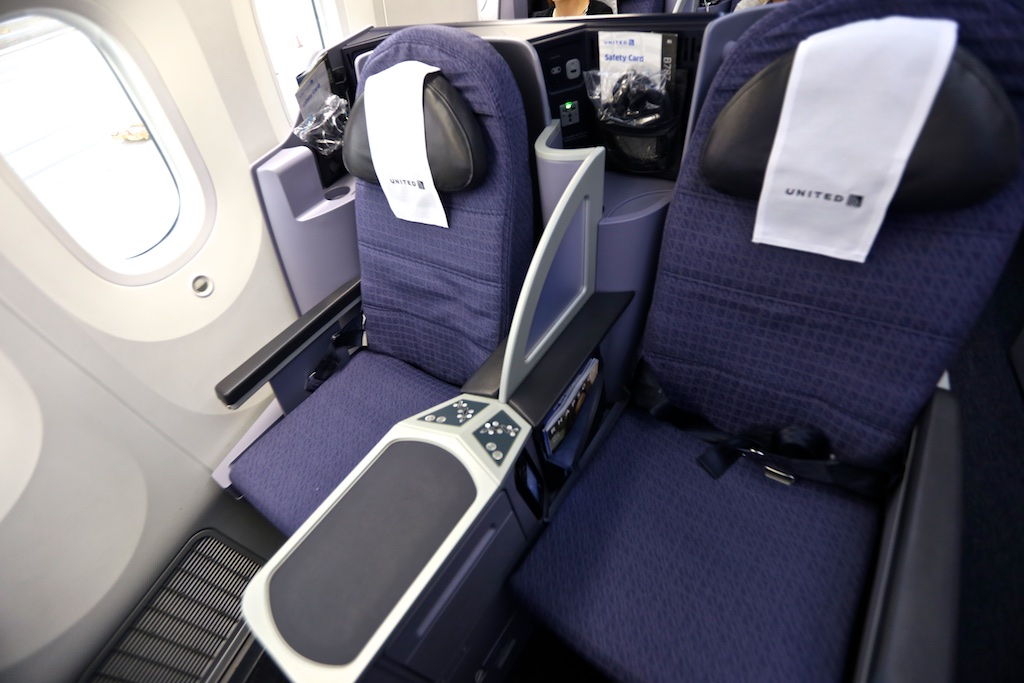 ---
What are the United Global Services qualifications?
United does not officially publish their qualifications for how to get Global Services and there doesn't appear to be automated invitations. Instead, United will usually "hand pick" its Global Services members.
But what causes them to select certain people?
Here's what United had to say about Global Services:
Global Services recognizes the extraordinary dedication of our top flyers. We consider a number of factors beyond the usual Premier-qualifying criteria. We look at your travel spend on United-operated flights relative to that of other top Premier flyers over recent consecutive years. Usually, members invited to Global Services tend to consistently purchase premium cabins or fully refundable tickets.
So we do know a few ways that it can be obtained.
Substantial spending
You're going to need to spend a lot of money on United to get a personal invitation to Global Services. And you'll need to make sure that you're spending money on United flights and not codeshares, since those are obviously much less profitable for United.
It's not clear exactly how much spend is required to get the attention of United but I've seen reports with spending at $40,000 a year while others have said you might need to spend around $60,000 or higher.
Also, the spend requirement for your first year might be higher than what will be required in future years. So, for example, your first year might require you to spend $50,000 in a year but subsequent years may only require $40,000 or potentially even less.
But again, United considers much more than the amount of spend you have with them.
United wants to reward its most profitable customers and that means that they are going to be looking for passengers who purchase tickets with higher cost per miles (CPMs).
Buy full-price economy fares
United factors in not only how much money you spend but also which type of fares you purchase.
If you're flying economy, you'll want to stick to the most flexible fares which are the most expensive. These are those fully refundable economy fares that are sometimes more expensive than business class tickets.
Again, you can see the emphasis on profitability.
Purchase international business class and first class fares
You can probably get by with buying discounted business class and first class fares but there seems to an emphasis on those who purchase international business class and first class.
If you regularly purchase transpacific or transatlantic business class and/or first class cabins then your needed spend requirement for qualifying will probably be on the lower side.
Work corporate deals with United
There are reports of Global Services going to "VIPs" in companies who handle travel contracts with United Airlines.
Also, if there are several Global Services members from your company, your company might be able to persuade United to give you an invite if you're close to qualifying.
Annual PassPlus enrollment
There also also reports that people get invitations for purchasing an annual PassPlus enrollment of $50k or greater.
Fly 4,000,000 miles!
The only published way to achieve Global Services is to fly 4,000,000 lifetime miles on United Airlines (actual miles you were inside of the aircraft for).
That's a ton of miles but some have had flying credits grandfathered in from the Continental Airlines days.
If you do achieve this then you'll be able to share your Global Services with your spouse or significant other.
| Lifetime flight miles | Status award | Annual companion Premier status |
| --- | --- | --- |
| One million | Premier Gold | |
| Two million | Premier Platinum | |
| Three million | Premier 1K® | |
| Four million | United Global Services® | |
Status Challenge
United has offered status challenges to people who have had Global Services in the past.
In those cases you'll likely need to be at least Premier 1K and you might get something like spending $15,000 over a span of 90 days.
---
United Global Services benefits
There's a long list of Global Services benefits but here's a breakdown of the benefits. Keep in mind that these are not published and so they could change without public notifications.
Welcome Kit
United will send you a sweet Global Services welcome kit. In the past, they offered things like carbon fiber luggage tags, beverage vouchers, and other cool swag.
Dedicated phone number
The Global Services phone line is answered immediately on most occasions and your call is handled by a specially trained Global Services agent who is said to be very helpful. Indeed, a lot of people report this phone line as one of their favorite perks of the program.
During very busy interruption periods (inclement weather), you might not get connected immediately.
The Global Services phone number is not made public.
Dedicated email address
You can send your emails to a dedicated email address for MileagePlus and other inquiries that will usually be answered in a hurry, allowing you to avoid direct human interaction if you'd like.
Dedicated check-in at airports
You should be granted access to dedicated check-in areas and Global Reception centers at major hubs along with priority TSA security access. You are even allowed to bring guests along with you who are traveling on the same itinerary.
Earlier cleared upgrades
Complimentary Premier Upgrades (CPUs) will be cleared beginning 120 hours prior to flight departure for the Global Services member and up to one other traveling on same Passenger Name Record.
This is a fabulous benefit since you'll know several days in advance that the upgrade has cleared.
(Compare that to the 96 hour window offered by Premier 1K elite status.)
Waitlist priority
Global Services members will receive the highest priority when on waitlists for Upgrades, Award Travel, and Sold-out Flight Availability.
Priority Boarding
Members will be the first to board the planes after people with disabilities, passengers who need more time boarding, families with young children, and often active-duty military.
Depending on your preference, this may or may not be a valuable perk since many elites like to spend more time hanging out in lounges rather than waiting for others to board the plane. But if you're the type who like to board first, you'll often be among the first to make your way through the jet bridge.
Get served meals first
As a Global Services member, you'll be the first served in your cabin.
This is actually a pretty useful benefit because you'll get dibs on the menu selection first, too. I've been stuck with meals I didn't want because the staff ran out of the best meals due to higher elites selecting them first.
Priority treatment
If things go awry and operations go south (bad delays, equipment mix-ups, etc.), Global Services members will get priority handling of the situation which could include next flight guarantee in case of re-accommodation, overseen by dedicated team of location-based GS Customer Service Agents.
When it comes to perks saving you a lot of time and frustration, this might be one of the most valuable. Many Global Services members appreciate being able to be put on one of the next flights out when operations break down.
Mercedes-Benz Tarmac Transfer
You'll be offered a Mercedes-Benz tarmac transfer for those close calls with tight connections at major hubs (some have complained this benefit has proven to be elusive). Also, you can't request this service in advance.
Marriott Platinum Status
As a Global Services members, you'll receive Marriott Platinum status (currently awaiting data points to see which tier of Platinum this will be in the new Marriott program).
Access to Global First Lounges
United has special Global First Lounges and Global Services members can get access when they are booked in Polaris Business on an international itinerary. However, no guests are allowed to come in.
As a tip, be sure to have your Global Services card on you when going for special lounge access with Global Services because many of these lounges will require it.
United Arrivals Lounge at SFO
You'll get access to the United Arrivals Lounge at SFO when arriving from an international flight, no matter what type of cabin you were flying in (even economy). But note: no guests are allowed to accompany you.
Arrivals Lounge at LHR T2
You'll get access to the Arrivals Lounge at LHR T2 when arriving from inbound United Airlines-operated intercontinental flights, regardless of the cabin you're flying in. No guests allowed.
Access to Lufthansa First Class Lounges
You'll get access to Lufthansa First Class Lounges (except the FRA First Class Terminal) when booked in a departing flight in Polaris First. No guests allowed.
Access to Lufthansa/Swiss Welcome (arrival) Lounges
You'll get access to Lufthansa/Swiss Welcome (arrival) Lounges in FRA and ZRH for same-day inbound United Airlines intercontinental flights, regardless of cabin. No guest allowed.
The benefits below will require calling a Global Services agent. To make sense of the benefits below, you'll need to have some basic knowledge of fare buckets on United which you can read more about here.
Many of the benefits below can be extremely valuable and will allow you to essentially create your own award inventory in some cases allowing you to use your United miles much easier.
Saver economy awards
Global Services can create saver economy award space (XN) if T inventory is available. United-operated flights only.
Saver business awards
Global Services can create saver business award space (IN) if R inventory is available. United-operated flights only.
Upgrades to business/first
Global Services can upgrade economy awards (XN or YN) into Business / First with a GPU if PN inventory is available, provided both instrument and miles drawn from Global Services member account. United-operated flights only.
Gaining access to PN inventory for upgrades means that you'll have much better odds of getting upgrades in many cases since standard passengers are usually limited to R inventory.
Upgrades from business to first
Global Services can upgrade business awards (IN or JN) into Polaris First with a GPU if ON inventory is available, provided both instrument and miles drawn from GS member account. United-operated flights only.
Confirmed waitlisted upgrades
Confirm any waitlisted instrument-supported upgrade within 72 hours to flight departure provided at least 2 seats remain for sale afterwards and they are at the top of the waitlist
Saver Polaris First space
Create saver Polaris First (O) space at T-72 hours to flight departure if they are already booked in saver business (IN), provided one seat remains for sale afterwards.
Get a Saver award seat
You'll be entitled to one saver award seat in the same class of service with their purchase of any premium cabin fare. GS agents can open space if it is not available provided that at least 2 seats remain for sale afterwards. United-operated flights only.
Upgraded companion
Global Services can upgrade a companion with an instrument (GPU/RPU) from Economy to Business / First when flying on a paid premium cabin fare, even if R or PN is not available, as long as J/F >2 after upgrade processed.
This is another one of the favorite Global Services perks since your companion can get upgraded even when R or PN is not available.
The companion needs to be ticketed in W class or higher on international cash fare itineraries, or ticketed in X/XN for upgrades from award tickets.
Global Services can also open economy award space for the companion to allow for the upgrade with instrument.(Note: Only ONE of the two above options can be exercised per premium fare purchased.)
Buy up from Basic Economy
GS can buy up from Basic Economy fares, which is usually forbidden.
H/T: Flyertalk for the research
---
Global Services compared to others
United Airlines isn't the only airline with a top-tier elite status.
American Airlines Concierge Key and Delta 360 are both competitors. Most will agree that Global Services offers the most superior benefits.
But that's not to say that others don't offer good perks.
American Airlines Concierge Key comes with automatic Executive Platinum status and Key members also get an additional two valuable system-wide upgrade certificate along with Admirals Club membership among other benefit.
Open to many Diamond Medallion high-spenders, Delta 360 offers special gifts and customer service (Delta SkyClub access is already offered to Diamond Medallion high-spenders).
---
Global Services is not Global Entry
Don't get Global Services confused with Global Entry which are not related at all.
Global Entry provides you with expedited access when entering back into the US and costs $100 for four years. It is open to the general public so long as you can pass the background check.
---
Final word
I think that United Global Services offers some pretty incredible perks that make your life much easier in many different ways. It's easier to sort problems out with the special phone line, easier to use your miles and get upgrades, and easier to travel comfortably through airports with lounge access.
While the spending qualifications might be on the higher side, I think the program has a lot of value to offer.
H-Town based Attorney turned credit card rewards expert. Founder of UponArriving.com.