[Offers contained within this article may no longer be available]
The American Express® Premier Rewards Gold Card is often regarded as one of the top premium travel credit cards. It earns good rates on different bonus categories like dining and groceries, can offer some valuable sign-up bonuses, and comes with some superior benefits, such as exceptional purchase protection. Here's my review of the American Express® Premier Rewards Gold Card and why it's one of the top travel cards to get in 2016.
Charge card vs Credit Card
The American Express® Premier Rewards Gold Card is a "charge card," which means that it must be paid off in full each month or else you face a hefty monthly fee. The benefit to a charge card is that you're not restricted to a credit limit and so you have a little more flexibility — you just need to be able to keep yourself in check to make sure you'll pay off your balance in full each month.
American Express will often offer you the opportunity to "pay over time," however. This essentially turns your charge card into a hybrid credit/charge card and allows you to carry a balance. Typically, American Express will monitor your spending habits for approximately one year and then offer you this option (though sometimes it comes sooner).
In addition to being able to carry a balance, there are two benefits to the pay over time option. One, American Express does not conduct a hard pull on your credit when they check your eligibility. They run a soft-check in conjunction with their own internal credit check system. Second, American Express will usually offer you some kind of incentive and reward you with Membership Rewards for opting into pay over time.
Transfer Partners
American Express cards earn you Membership Rewards. They are generally considered one of more valuable reward currencies and these points can be transferred to several different airline and hotel partners. Below is a list of the eligible travel partners.
Airlines
Delta Skymiles

Club Premier AeroMexico

Aeroplan Air Canada

Flying Blue (Air France/KLM)

MilleMigilia Club Alitalia

ANA

Asia Miles

Avios British Airways (250 points = 200 Avios)

Emirates Skyrewards

Hawaiin Airlines

Iberia Plus

JetBlue

KrisFlyer Singapore Airlines

Virgin America (200 points = 100 Elevate points)

Virgin Atlantic
Hotels
Best Western Rewards

Choice Privileges

Hilton HHonors (1,000 points = 1,500 HHonors points)

SPG (Starwood Preferred Guest) (1,000 points = 333 Starpoints)
There are a few things to keep in mind about Membership Rewards:
Bonus transfers are occasionally offered allowing you to transfer your points to partners for higher ratios. Check this thread for a history of these transfer bonuses.
Your Membership Rewards cannot be freely transferred between you and any friend or family members

They don't expire as long as you remain a cardholder
Redeeming Points
If you don't decide to transfer your Membership Rewards to other travel partners you can always utilize them for travel redemptions or purchases.
Membership Rewards can be redeemed for between .5 and 1.0 cent per point for gift cards and only .6 per point for a statement credit/charge. If you go through Amex Travel you can redeem at 1.0 cent per point on air fare but only up to .7 cent per point on hotels. Aside from maybe using them for air fare to earn or maintain elite status, I personally do not think these are good redemption rates. However, depending on the circumstances (no availability with travel partners), it might make sense for you to redeem your points through the Amex travel portal.
Sign-up Bonus
There are several different sign-up offers for the American Express® Premier Rewards Gold Card that appear for this card. Here are the main offers:
25,000 Membership Rewards after you spend $3,000 within the first 90 days of opening your card. This is the current main public offer.
50,000 Membership Rewards after you spend $3,000 within the first 90 days of opening your card. Good offer but not as good as the one below.
50,000 Membership Rewards after you spend $1,000 within the first 90 days of opening your card. This is the offer you want to seek out!
75,000 Membership Rewards after you spend $3,000 within the first 90 days of opening your card. This is an extremely targeted and pretty rare offer that you may not want to waste your time waiting around for.
The 50,000 Membership Rewards offer can often be found via Google Chrome Incognito. Simply get on the American Express website and try refreshing your browser and see if the offer comes up. If it doesn't come up, try it at your work computer, a friend's house, etc. It should eventually pop up, although some report never having any luck with finding the offer.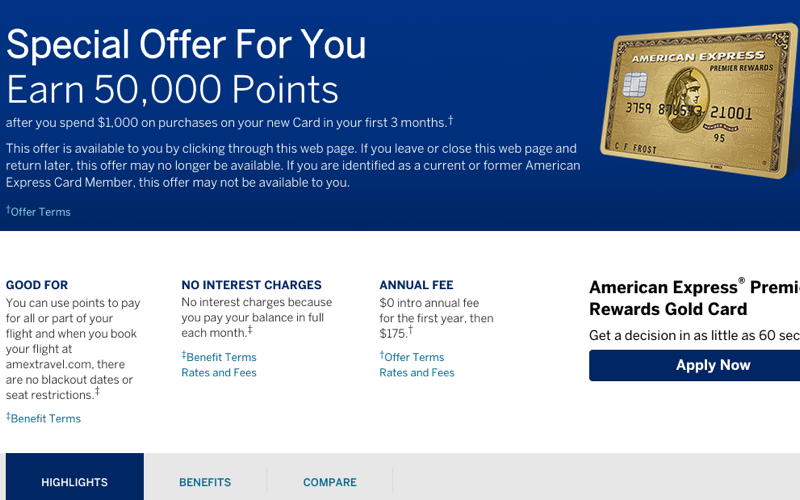 One bonus per lifetime
You need to know that American Express has a once per lifetime rule for receiving sign-up offers for its cards. So that's why you want to make sure that you receive the best offer. There are some exceptions to this and you can read more about them in the American Express application rules article.
Bonus Category Earning
The Premier Rewards Gold Card earns some pretty great rates on different categories.
3X on Airline Tickets (4X through the Amex Portal)

2X on Dining, Groceries, and Gas

1X on all other purchases
Although I love the Chase Sapphire Preferred®, I think for the average consumer who makes frequent trips to the gas station and grocery store, the Premier Rewards Gold Card will earn them more points. Also, if you fly frequently for business travel and are allowed reimbursements, booking your flights through the Amex travel portal can earn you a whopping 4X on your air fare, which can add up ridiculously quick.
Amex Offers
Amex Offers is one of the most underrated aspects of any American Express card. It's basically a set of constantly updated promotional offers that are available to all Amex cardholders. Some of these offers will essentially provide you with free money, often giving you back $5-$15 off purchases at department stores or random online retailers, though some offer more significant savings on hotels and airfare. If you used consistently and effectively, you can easily save yourself $100-200 a year on items you would've likely purchased anyway.
No Foreign Transaction Fees
The Premier Rewards Gold Card has no foreign transaction fees.
Annual Fee
$195, waived the first year
This annual fee, which is $100 higher than the Sapphire Preferred® and Citi Thankyou® Premier, makes some people shy away from the card. However, when you consider the $100 airline credit, the annual fee is effectively cut back down to $95.
The American Express® Premier Rewards Gold Card has some of the best purchase protection on the market since it updated its terms to protect purchased up to $10,000 per claim. That's much higher than other similar cards and is one reason I like to put large purchases on my Premier Rewards Gold Card. Here are some of the highlights of the protections:
Covers your new purchases for 90 days against damage or theft up to $10,000 per claim and $50,000 per account.

Extends the time period of the U.S. manufacturer's warranty by an additional year, on eligible warranties of five years or less.

You can be reimbursed for eligible items that the store won't take back within 90 days of purchase, up to $300 per item, $1,000 per year.
Car rental coverage is excess

Travel accident insurance of no more than $250,000 (death, dismemberment, etc.)

Will pay a benefit for the Replacement Cost, up to $500, for each Covered Person on a Covered Trip for Loss of checked Baggage.
Final Word
Overall, the American Express® Premier Rewards Gold Card is a great option if you're looking for a card with a reasonable annual fee that has superior earning potential and a solid sign-up bonus that can help you be on your way to valuable travel redemptions as quickly as you can.

Daniel Gillaspia is the Founder of UponArriving.com and the credit card app, WalletFlo. He is a former attorney turned travel expert covering destinations along with TSA, airline, and hotel policies. Since 2014, his content has been featured in publications such as National Geographic, Smithsonian Magazine, and CNBC. Read my bio.