On March 6, Japan's largest airline, ANA, announced a special livery for its new A380 flights that will fly between Tokyo and Honolulu.
This special livery was designed by Tokyo resident, Chihiro Masuoka, and was selected out of a pool of 2,197 submissions from around the world that were part of an open competition, organized by ANA. The design features a large Hawaiian Green Sea Turtle (along with its little ones), which the airline says is a sign of "prosperity and good luck." For the winning design, Chihiro Masuoka was also given roundtrip business-class tickets for ANA's Tokyo-Honolulu route… not bad.

The design titled, Sea Turtle Family, will be painted on ANA's first A380 which will be delivered by Airbus in early 2019. ANA will then become the first Japanese airline to fly the A380. Two more A380s are set to be delivered later in the year of 2019. In Hawaii, they call the green sea turtle "Honu" and so ANA is dubbing its A380 the "Flying Honu."
There are actually four runner up designs that ANA revealed. The Kirkuma design looks interesting to me but I definitely think that the right winner was chosen based on the other designs. Although I love the "spirit" of the design of the Stephen+Cayden (I'm assuming painted by a kid in MS Paint), I don't think a lot of people would "get it," so I think ANA chose the right design.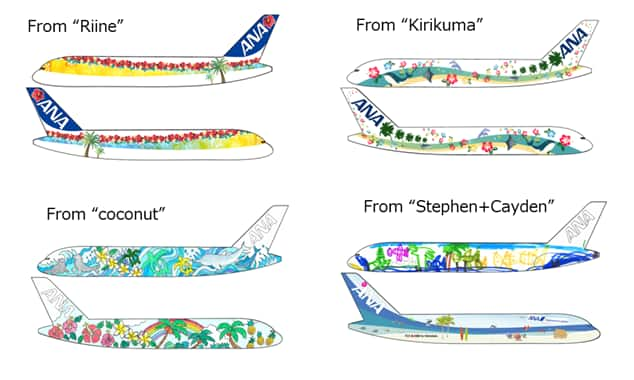 Anything new for the A380 cabin?
According to the press release, "ANA is moving forward with preparations to offer new passenger services to coincide with the introduction of the A380, and will provide updates as they become available."
It doesn't sound like any revolutionary seating design is on the way by the sound of that language (emphasis on "services"), so it looks like ANA will be sticking to its current product for now (which is quite good). 
If you're not familiar with ANA they are one of my favorite airlines because they offer such great redemption rates (often with little fees) and are a partner of American Express Membership Rewards. For more on ANA, read here about reasons why they are a powerhouse airline.
Daniel Gillaspia is the Founder of UponArriving.com and creator of the credit card app, WalletFlo. He is a former attorney turned full-time travel expert covering destinations along with TSA, airline, and hotel policies. Since 2014, his content has been featured in major publications such as National Geographic, Smithsonian Magazine, Forbes, CNBC, US News, and Business Insider. Find his full bio here.