Since 2014, we've done a lot of international flying including lots of the first class and business class products out there. But while we were focused on international airlines for so long, we had very little experience with what the long-haul product was like on US carriers.
Luckily, that would finally change when we booked a flight from Santiago, Chile to Miami on American Airlines' 777-200. Here's how it went and how it failed to meet my expectations.
Booking American Airlines 777-200 business class
This flight was initially a connecting flight on LATAM from SCL->BOG->MIA.
But after searching for award availability I saw American Airlines open up and we wanted desperately to mix up the airlines on this trip since we would have been flying LATAM's (dated) business class product 5X!
So I called Qantas and I was able to change the flight and I was surprised to find the American Airlines flight was actually cheaper at 68,400 miles compared to 75,000 miles. Fees were only $62. The downside was they charged me a change fee in miles of 5,000 miles.
Still, we avoided the connection late in the trip and finally I would be able to try out AA's long-haul, lie-flat product!
Getting to SCL
This flight was the returning leg of a 17-day trip down to Latin America where we spent most of our time exploring Easter Island, which had been a bucket-list destination for me for over a decade.
At this point of the trip, we were running on fumes and so we just stayed at the Holiday Inn Airport Hotel before we departed.
We actually booked two nights so that the night of the trip we would be able to stay in the room as long as we wanted, which was a great call.
About three hours and 15 minutes prior to departure we made our way from the hotel over to the international terminal which was a pretty short walk. As the sun sets very late here in the summer, it was a beautiful and breezy walk over to T2.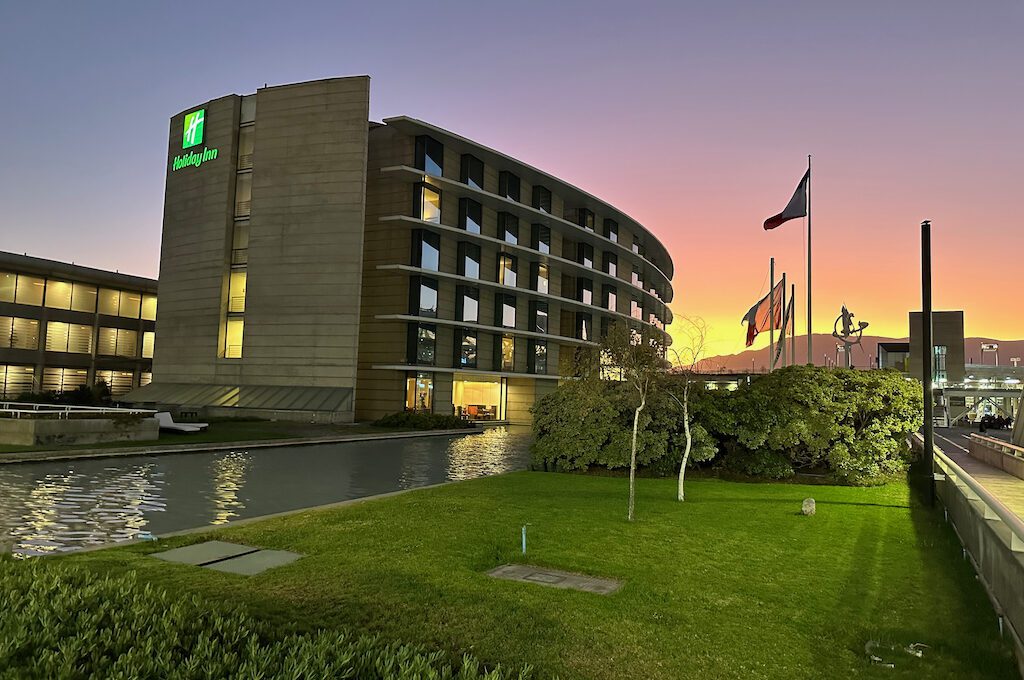 Check-in
We made our way over to the priority check in for American Airlines and there was basically no one around.
However, the people in front of us had some type of issue and were occupying the priority desk so it would have been much faster for us just to join the main line. We were not in a rush though so there was no big deal.
After getting through check in we made our way through a long immigration line and then through security pretty quickly before trying to find an airport lounge.
We walked past a LATAM lounge and I thought maybe there was a snowball's chance in hell there was still some way to get in with an international business class AA boarding pass but my dreams were quickly dashed. No chance.
So we then made our way over to our gate area where we would pass by a Pacific Club VIP lounge open to Priority Pass members (and apparently everyone else at the airport).
The line was backed way out out of the door and not moving at all.
Worse, it didn't look like there was much space inside and we decided that we would just hang out in the terminal since the lounge options were lacking.
I enjoyed some of the sites in the terminal, especially the Easter Island themed artwork. But after exploring some of the terminal, we soon found ourselves chowing down at McDonalds, as it was one of the few places with seating open so late.
Boarding
Boarding was a little bit interesting and I think I finally convinced myself to just ditch the whole trying to board first strategy.
The reason I try to board first is to get photos and video of an empty cabin.
The photos look a lot better because they are cleaner and allow you to see the cabin in detail. Plus I don't have to worry about any privacy issues or getting in the way of other passengers.
I usually line up at boarding around 30 minutes prior to it beginning and find a spot (that is not in the way) to line up at.
But I think after doing this for so many years, I'm finally kind of over it.
For one, about 25% of the time there are people who are very determined to board first for some unknown reason.
These people will try to cut you (outright or slyly) and sometimes just give you some kind of negative reaction or looks because you lined up before them. It's truly the weirdest sense of competitiveness.
Other times, you may just get cut by a clueless passenger who pays absolutely no mind to anyone lining up. Usually you can call them out or a gate agent will but sometimes they quickly get through and you are stuck behind them.
Also, preboarding often boards just seconds before you and so they are often in the cabin shot anyway, so the efforts to line up early end up not mattering.
In this case, I talked with a boarding agent about where I could stand so that I would not be in the way and as soon as I stood there I initiated a long line up of business class passengers who came out of the wood works.
So now, well before boarding was beginning there was now a long line of passengers extending out into the terminal.
When boarding finally began, we had to go through an additional screening on the jet bridge for liquids. The agent going through my bags did not have speed as an asset so I ended up losing my top boarding position up front anyway.
When we finally got on the plane, there was an elderly-ish couple blocking the aisle in our cabin and access to our seats. They were obviously having some kind of issue and getting a crew member involved but it wasn't clear to me what was going on.
The cabin already feels a little bit claustrophobic to me and the added congestion didn't help.
But finally, we were able to make it to our seat.
The 777 comes with B/E Aerospace Super Diamond seats. I believe the last time I flew these seats was in 2018 when flying on Virgin Australia business class on the 777-300ER. I generally had a good impression of the seats but remember a few challenges they posed.
First, let's talk about counter and storage space: two of my favorite things in business class.
I love that the seats have a good amount of counter space with the compartments closed. You can easily prop up a laptop if needed, place random things on the counter, etc. It just makes life easier.
Then you can utilize the two storage compartments on the side for smaller personal items. One of the storage compartments is only about a couple of inches deep while the other one is about 4 inches deep. So while storage opportunities are there, they aren't the greatest.
It's also worth pointing out that Virgin Australia's 777 has an additional (but arguably useless) storage compartment that the seat did not have which was located right behind the 777 pamphlet you see in the photos.
In the deeper compartment, you'll find to USB ports, the headphone jack, and the power outlet. This is also where you will pull out the in-flight entertainment controller.
I like the simplicity of the outlets being right there so you don't have to contort your body or go on a mad scavenger hunt to find them. When I flew this seat in Virgin Australia's 777 this compartment only had one USB port so it was interesting to see another one.
The next thing that stood out was the 18.5-inch TV monitor. After flying on LATAM's business class, this TV monitor represented an instantly recognizable upgrade. I was excited to use it and enjoyed the quality.
I found the entertainment options to be plentiful with good movies. You can also use the touchscreen to navigate which I found to be very responsive. No complaints here.
It was then time to check out the Bang & Olufsen headphones. Once again, I was excited for these because LATAM does not provide you with very high-quality headphones so I was relieved to get back to premium audio gear!
Unfortunately, when I opened the headphone case, I instantly noticed how worn down these were. I don't expect these headphones to be brand new but they felt and looked extremely worn, and some of the wiring was even exposed and frayed.
They still worked okay from what I could tell but I expected better.
Then it was time to try out the Shinola Detroit amenity kit. They provided us with a pretty compact and plain amenity kit but I liked the zipper design and overall feel of the bag, which felt like a quality amenity kit.
On the inside we had socks, a short writing pen, toothbrush with toothpaste, earplugs, an eye mask, and lip moisturizer and lotion by D.S. & Durga. There didn't seem to be a lot of creativity that went into the kit but the products were seemingly quality.
I guess I had been left a little bit impressed by LATAM's long-haul kit that came with some uniqueness like a bamboo toothbrush with sugar cane cap and vibrant design but this plain Jane kit wasn't a big deal by any stretch.
I like the seat controls on the B/E Aerospace Super Diamond seat. They are very simple and right there for easy access. I also found them to be pretty responsive. The lighting controls for my seat did not work, however.
Also, I should probably mention that the Wi-Fi did not work on the plane (despite charging us), which was another let down because I really wanted to test it out.
These seats have an interesting little armrest that can be raised and also they have a small storage compartment underneath them.
15 minutes after loading the plane, pre-departure beverages were served with champagne, water, and orange juice coming out on a tray. I recorded myself grabbing a cup of orange juice to which the flight attendant responded, "Really, you going to do this now?"
Apparently, despite showing no signs of straining, she was struggling to serve a few partially filled plastic cups and me recording myself grabbing a cup (which maybe added half a second) was causing too much strain for her.
Whether she meant her comment to be joking or not, I'm not sure, but because this was my first (and only) interaction with her she definitely came off as rude.
I've been getting pre-departure drink photos or videos for years and never had a flight attendant get chirpy like that.
The interaction pretty much set the tone for the service for the entire flight which I found to be at best forgettable. Interactions were brief, uninspired, and all business.
It was one of those flights where the majority of the crew feels like they are just doing what they have to do to get the job over with.
I may not have realized just how mediocre things were if it were not for the JetBlue Mint flight I would take in the next 24 hours which reminded me what quality premium service is all about! More on that amazing flight later.
Dining
I had pretty high expectations for the dining as I fully expected American Airlines to blow away LATAM's product. But of course that would not happen.
The tray table is simple enough to utilize as you simply pull the lever on the bottom and then it comes out to you.
A tablecloth was then brought out as dinner approached.
Nuts along with my beverage of choice, sparkling water, were then brought out.
Then the entire meal, including bread, was brought out at once.
The seasonal salad with quinoa was pretty fresh as was the smoked trout. The main parmesan breaded chicken breast looked very appetizing and I was excited to give it a shot.
Unfortunately, it had this uncanny moistness to it that caused the breading to get very soggy and it just didn't sit right. It was edible but didn't deliver like I thought it would.
I took one bite of the grilled polenta and immediately ruled that out. So the dinner on the hole was mostly a swing and a miss in terms of rising above mediocrity.
I will say that the chocolates given out were absolutely amazing and the one true highlight of dinner.
And now, let's fast forward to breakfast.
Surely breakfast would deliver at a higher level?
Unfortunately, that was not the case. I was given one of the slimiest pieces of ham I'd ever seen along with basically inedible potato frittata. The fresh fruit got me through breakfast but I was once again very disappointed with the dining on American Airlines.
Bedding
I eventually put the seat in lie-flat mode to get some decent rest.
Unfortunately, at this time I was just checked out so I did not get any good bed photos. It's a pretty long bed at around 78 inches and for the most part you have a good amount of width so as to be comfortable. I did have a slight gap between the cushions in my seat which made lying flat a bit uncomfortable, though.
The other thing I don't like about the seat is that when reclined it's difficult to get in and out of especially when you are trying to put your shoes back on to get to the bathroom. (AA did not provide any slippers.)
Speaking of the bathroom, I really did like the bathroom on the 777-200. It was spacious, modern looking, and well-kept.
I ended up maybe dozing off for a short amount of time but not nearly as long as I thought it would on this flight considering that we departed at midnight.
Before I knew it, we were on the approach to Miami and finally arriving back in the US.
I hate to say it but this was probably one of the most disappointing long-haul flights I've done.
Part of it was this was my first time flying with American Airlines on the long-haul and I had worked up these expectations that were probably too high. I imagined them at the very least blowing LATAM out of the water which definitely did not happen.
In fact, I would say that based on this trip the soft product of LATAM was clearly better than American Airlines. The service was certainly more memorable and I even enjoyed the food better. That's something that I did not expect before going on this trip and to be honest it was kind of a bummer.
Again, I'm very thankful for the JetBlue Mint flight we would go on just a day after this flight because I felt like I was losing some of my love for long-haul flying.
I had done so little long-haul flying since the pandemic and I was starting to wonder if things were just that much different in a post covid world.
Turns out, no, flying can still be an awesome experience but the soft product really does matter. A lot.
As we arrived back at MIA, Global Entry was a breeze and we didn't have any issues getting back into the country. Felt good to be back.
Final word
Overall, this flight fell well short of my expectations.
For the most part, I'm a fan of the 777-200 hard product having basically flown it before and found it pretty comfortable and private. So from a comfort standpoint, it was a pretty worthwhile experience.
But the soft product on this flight was severely lacking. I didn't care for 80% of the food and the service was bottom-tier, minimal effort, etc.
I really wanted to enjoy this flight and have good things to say but it seemed like American Airlines just didn't put forth any effort into making the flight memorable. So unfortunately for me, my first long-haul flight with American Airlines was overall a big dud.

Daniel Gillaspia is the Founder of UponArriving.com and the credit card app, WalletFlo. He is a former attorney turned travel expert covering destinations along with TSA, airline, and hotel policies. Since 2014, his content has been featured in publications such as National Geographic, Smithsonian Magazine, and CNBC. Read my bio.