American Airlines is one of the largest airlines in the world and you might be wondering about what the first class experience is like on a domestic flight in the US.
Most of my domestic first class experiences have been on United but I have had a few on American and I thought it would be helpful to put together an article that covers everything you need to know about American Airlines domestic first class.
What is domestic first class on American Airlines?
Domestic first class on American Airlines is the top premium cabin offered on domestic flights within the US. It is also often the same product offered to other nearby international destinations, such as Canada, Mexico, and the Caribbean.
Domestic first class on American Airlines typically comes in a two class cabin configuration (first class + economy) but there's also something called "Flagship First," which is a three cabin configuration (first class + business class + economy).
The most common type of domestic first class seating is the standard recliner seat, which you will be able to find from many destinations and on aircraft like the 737-800.
When flying domestically this is called "business/first" or just "first" but when flying on shorter international flights it is called "business." When people refer to "domestic first class" this is typically what they mean.
But you can also fly on lie-flat seats when flying in first class on domestic routes.
First class cabins with lie flat seats are also usually only flown on select routes from hubs but these can be on many different types of aircraft (I will break down these in more detail below). In some cases, these will be known as "Flagship Business."
Three class cabins with a first class and business class cabin are only flown on a couple of premium transcontinental routes in the US and on aircraft like the A321T or 777-300ER. This is known as "Flagship First."
Don't Miss out! Find out which American Airlines credit card can set you up with a big bonus, lounge access, free checked bags, and a short-cut to AAdvantage elite status! Read more here!
Pricing in miles
If you want to use miles to book a domestic first class flight on American Airlines, it's going to cost you 25,000 miles one-way for a MileSAAver award.
Tip: It's possible to find web special awards lower than 25,000 miles one way.
If the award includes travel on an aircraft that offers lie-flat seats in the U.S. and Canada, the Business/First levels will be 7,500 miles higher.
If you are redeeming on the three class cabin such as the Flagship First on the A321T, you will be shelling out 50,000 miles for a one-way flight.
For more information about how to maximize your American Airlines miles be sure to check out our top uses of AA miles.
Aircraft & Routes
There are quite a few different aircraft that you can fly on when it comes to American Airlines domestic first class.
And these aircraft have different seats so it's a good idea to do some research to find what type of aircraft you would prefer to fly on. (Google Flights is an easy way to do this.)
The most common aircraft operated by American Airlines is the 737-800 so that is the most likely aircraft you will be flying on.
That aircraft has a standard reclining first class seat and will have four rows of first class.
The A321-200 and A319-100 are two other very common aircraft that American Airlines uses, and you will probably see them pop up in your searches. The seats will be pretty standard and you will likely encounter four or five rows of first class.
While narrow-body aircraft will be the most common you will encounter with American Airlines, due to different scheduling policies, you can also get wide-body planes on domestic routes sometimes.
If you are trying to fly on a lie-flat seat then consider booking a flight on one of the following aircraft:
777-300ER
787-9
787-8
A321T
A330-200
In the past, you may have also looked for fully lie flat seats on the 757, 767, and A330–300. However, many/all of those aircraft have recently been retired, so I'm not sure it will be possible to fly first class on them in the future.
Typically, you will have your best luck finding these wide-body planes flying between premium routes or across the country from AA hub to AA hub.
Routes to consider include the following:
DFW — MIA
DFW — HNL
DFW — LAX
DFW — OGG
DFW — ORD
JFK — LAX
JFK — SFO
MIA — LAX
Some of these wide-body aircraft will feature some of the top business class seats like the 777-300ER which offers the Zodiac and the 787-9 which offers the B/E Aerospace Super Diamond seat.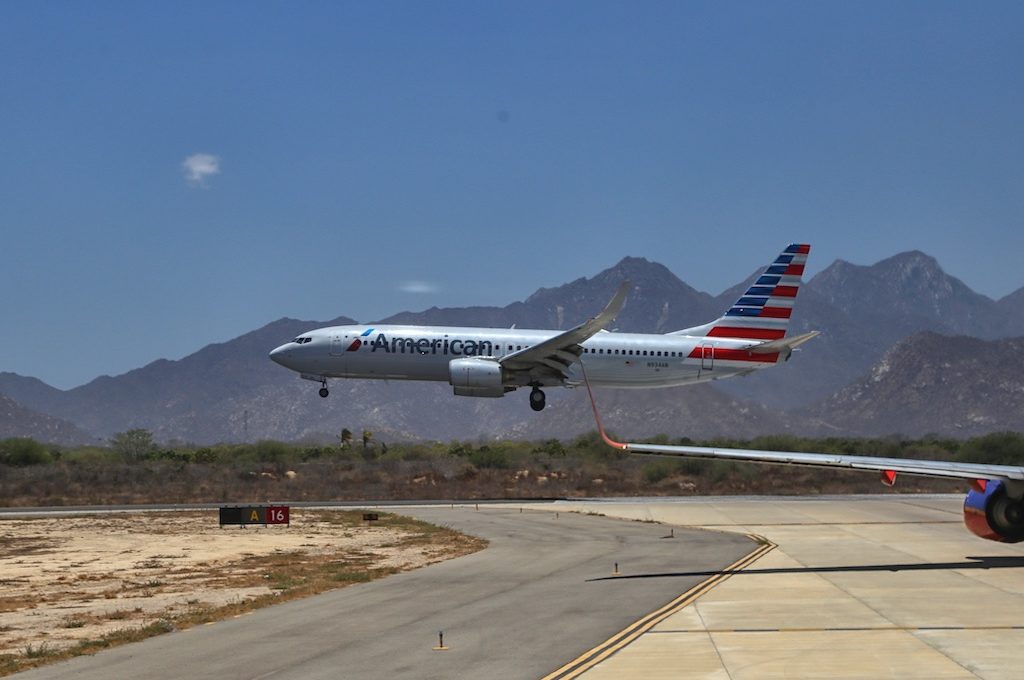 The first class perks
If you choose to fly first class on a domestic flight with American Airlines, you can expect to receive a number of perks.
Priority check-in
When you show up to the airport, you'll be able to check-in at a desk that is separate from the standard check-in desk.
Look for the sign that states "Priority" as shown below and that is where you will be able to check-in and check your baggage.
Passengers who can use this priority check-in area include:
First, Business, and Premium Economy passengers
AAdvantage Executive Platinum, Platinum Pro, Platinum and Gold members
AirPass travelers
oneworld Emerald, Sapphire and Ruby members
Citi AAdvantage Executive cardholders
Eligible corporate travelers
Priority security
You will be allowed to enter the priority security line which will offer an expedited security waiting time in many cases.
Personally, I just choose to jump in to the TSA Pre-Check line and you might even want to jump ahead to CLEAR if you have it.
With TSA Pre-Check you can enjoy the following benefits:
Shoes can stay on
Belt can stay on
Light jackets can stay on
Laptops allowed to stay in bag
Liquids (3-1-1 Rule) can stay in bag
Checked baggage benefits
When flying on first class domestically, you'll be offered two free checked bags. What's more, these bags can weigh up to 70 pounds.
The typical checked baggage fees for American Airlines are $30 for the first bag and $40 for the second bag so you're looking at saving at least $70 whenever you check two bags.
Keep in mind that you can also get free checked baggage on domestic flights with the Citi Platinum Select Card.
Lounges
American Airlines lounges are known as Admirals Clubs. These are pretty standard airport lounges that offer comfortable places to relax along with light snacks, free drinks, and free Wi-Fi. You can also choose to purchase certain meal items and premium alcoholic beverages.
Related: Admirals Club Houston IAH (Terminal A) Review
Many domestic first class passengers wonder whether or not they will have lounge access.
In most cases, you will not get airport lounge access when flying domestic first class with American Airlines. Typically, you will need to be flying internationally to get access.
If you are flying domestically, you can get lounge access if you are flying on certain premium routes like the following:
New York (JFK) and Los Angeles (LAX)
JFK and San Francisco (SFO)
Note that if you are flying between other premium routes, you will only get lounge access if you are flying on the right type of aircraft.
LAX and Boston (BOS) – traveling on A321T aircraft only
LAX and Miami (MIA) – traveling on Boeing 777-300 aircraft only
Of course, if you want lounge access you can always purchase it by getting a day pass or by purchasing an annual membership.
Tip: The annual fee for the Citi AAdvantage Executive World Elite MasterCard is only $450 so if you get approved for that card you can save a lot of money on your membership.
Priority boarding
When flying domestic first class, you will board with "Group One," so you will be boarding directly after pre-boarding.
You will see a sign near your departure gate that clearly indicates where to line up. When it is time to board, you will line up on the left side which is designated for priority groups and consists of groups one through four.
Tip: If for some reason you show up late to boarding, you can bypass the line at any time by heading through the left side.
To find out more about how the American Airlines boarding process works, click here.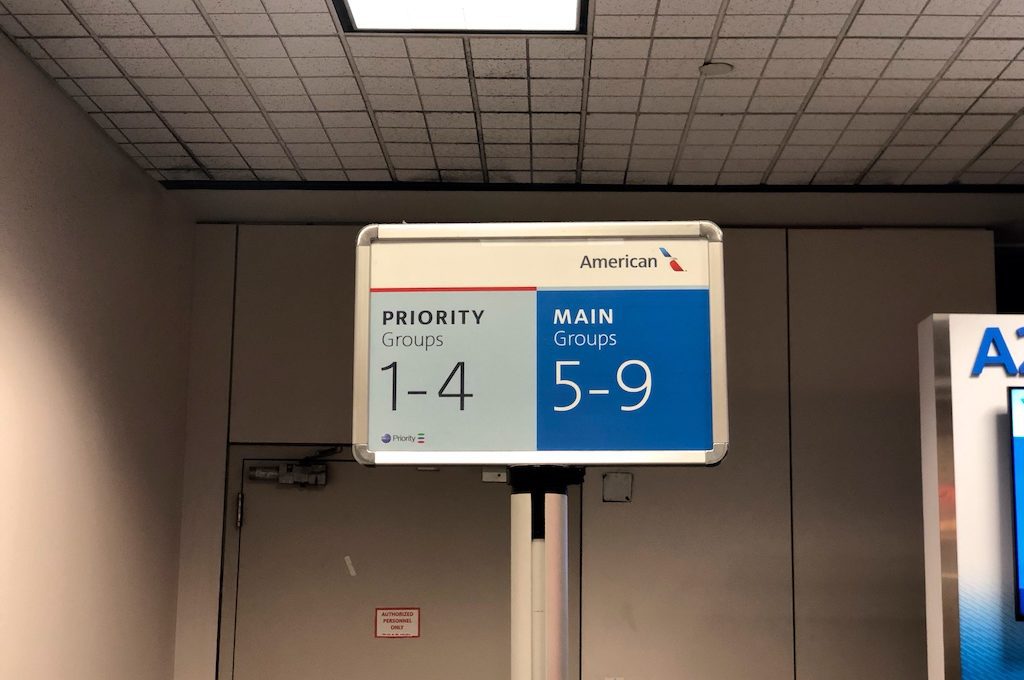 The flight experience
Below, I will walk you through some of the features of flying first class on an American Airlines 737 since that is such a common aircraft.
Pre-departure
You will be among the first to board the plane so you will easily make your way to your seat at the front. You should have no issue with overhead storage bin space as there are compartments reserve specifically for first class passengers.
Once you get settled in your seat, you may be offered a drink which includes complimentary alcoholic beverages.
You may also be brought out a hot towel at some point and your seat may already have a (very thin) blanket and headphones that may be sponsored by Avis.
The cabin
The first class cabin is located in the front of the plane and you will also have access to the first class lavatory.
The number of first class seats in the first class cabin and the configuration all depends on the type of aircraft you're flying on.
A standard 737 or similar will have a 2-2 configuration and may have four or five rows of first class seats. A smaller aircraft may only have two rows of first class like the A319 or even a 1-2 configuration.
The seat
The typical domestic first class seat is going to be a traditional reclining seat and not a lie flat seat.
You will have much more legroom than you would in economy.
You can expect the pitch to be around 40 inches to 42 inches compared to economy which is around 31 inches. (It's worth noting that you can get some pretty decent legroom of around 34+ inches with Main Cabin Extra.)
The seat will also be wider and more comfortable. For the width, you're looking at over 20 inches versus an economy seat which is closer to 17 inches.
There typically is a neck support that you can mold to your liking.
Your main tray table will usually pop out of your armrest on an aircraft like a 737. It's pretty spacious and can function as a workstation as well.
In addition to your main tray table, there will also be multiple cocktail trays that can be pulled out.
You may be able to pull out these cocktail trays from the front/side of your seat.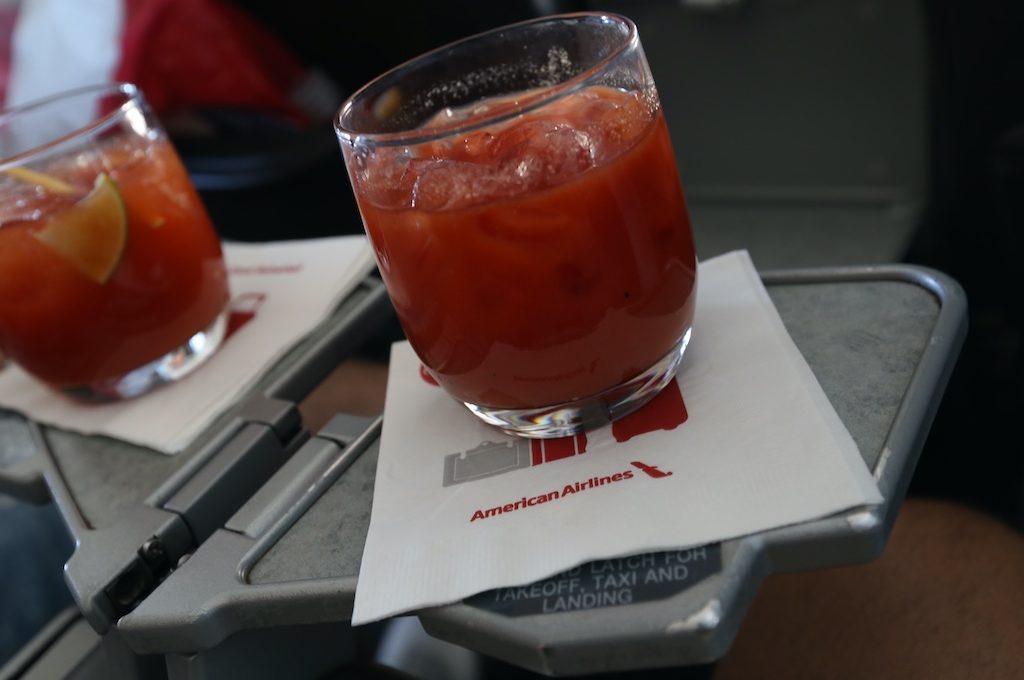 There may also be a tray that folds down from in front of you.
Also, you may or may not have an in-flight entertainment screen built in the seat in front of you.
If you don't have a screen right in front of you, there may be a larger screen at the front of the cabin or you may just be expected to stream entertainment via a mobile device/laptop.
You should be given instructions on how to set up your entertainment on your own device.
You should have access to power outlets but you may not on all aircraft. On a narrow body like a 737, look for the outlets in the middle between the seats.
It's worth pointing out that there are new American Airlines first class seats for domestic flights. The cabin has more noticeable privacy partitions, better seat cushions, more underseat storage, 5-volt USB ports, and they even added phone/tablet holders.
Dining and drinks
Went flying first class domestically, you'll be offered complimentary alcohol and food, depending on the length of the flight and the time of your flight.
Here is what you can generally expect:
Flights under 700 miles: Light snacks (fig bar, cookies, and/or pretzels)
Flights between 700 and 899 miles: Warm mixed nuts and a plated snack (fruit/cheese, pita/hummus, or spinach dip/pita). A small dessert may be offered.
Flights between 900 and 1,298 miles: Warm mixed nuts and a three course meal. A small dessert maybe offered.
Flights between 1,299 and 2,199 miles: An appetizer with your entree and dessert. You might receive cake for lunch desserts and ice-cream for dinner desserts.
Flights over 2,200 miles: The above plus you'll receive a choice of dessert. You might receive made-to-order sundaes or a cheese plate for both lunch and dinner desserts.
Tip: No meals are offered between 1:30pm and 4pm on flights under 900 miles.
There are some flights under 900 miles that will receive a more extensive meal service. These include flights on the following routes:
Chicago (ORD) – AUS/BDL/BOS/DCA/EWR/JFK/LGA/MSY/RDU
Dallas (DFW) – BJX/ORD/MEX/QRO/SLP
Fort Lauderdale (FLL) – PAP
Los Angeles (LAX) – DEN
Miami (MIA) – DCA/IAD/PAP
New York (LGA) – ATL
Phoenix (PHX) – MZT
When flying on premium transcontinental routes such as between JFK and LAX/SFO or MIA-LAX you can expect an upgraded dining experience.
For example, you might be offered three meal choices, better service, printed menus, tablecloth linens, etc.
If you are flying on a smaller regional jet you can expect the following meal offerings:
Up to 175 miles: A light snack mix along with beverage service
176-899 miles: Snack basket
900-2199 miles: Warm mixed nuts, two meal options, and dessert.
If your flight has scheduled meal service, you can pre-order your meals starting 30 days before your flight and up to 24 hours before departure.
H/T: Flyertalk
To give you a sense of what to expect on a shorter flight of around 2 hours I've broken down the meal experience below.
Initially, you may find a nice little refreshing mint waiting on your seat.
As things get closer towards meal service, you may be brought some warm mixed nuts to hold you over. Note that you may not get these for early morning flights.
On the handful of times that I have flown American Airlines, I did not think that the food was too bad.
I've enjoyed the dishes like ravioli, lasagna, salad, and some fantastic desserts. Typically, you will be offered a vegetarian dish and a meat dish.
Sometime after your meal service or just any time during the flight, you may be offered additional snacks. In some cases, they may bring around a basket of snacks and allow you to select whatever appeals to you.
American Airlines domestic first class FAQ
How many miles do I need to book American Airlines domestic first class?
For a standard domestic first class MileSAAver award, prices will begin at 25,000 miles.
If you are flying on a lie-flat seat you will have to pay an additional 7,500 miles.
If you are flying on Flagship First, prices start at 50,000 miles one way.
How can you get lie flat seats in American Airlines domestic first class?
You can get lie flat seats by selecting the right type of aircraft on a specific type of route.
These include the following aircraft:
777-300ER
777-200
787-9
787-8
A321T
A330-200
And these aircraft can sometimes be found on the following routes:
DFW — MIA
DFW — HNL
DFW — LAX
DFW — OGG
DFW — ORD
JFK — LAX
JFK — SFO
MIA — LAX
Do you get free checked baggage when flying American Airlines domestic first class?
Yes, you will receive two free checked bags.
Do you always get a meal on American Airlines domestic first class?
No, you will only receive a meal if your flight is a certain distance or route. If your flight is over 900 miles, you can expect a meal although some routes offer meals on flights shorter than that.
Do you get lounge access with American Airlines domestic first class?
No, you normally will not get lounge access. However, if you're flying on a premium route such as from New York to Los Angeles, you will get access to a lounge.
Do you get priority boarding with American Airlines domestic first class?
Yes, you will be able to board with Group 1.
Do all first class seats have TV monitors?
No, unfortunately some first class seats will not have TV monitors installed for in-flight entertainment.
Can unaccompanied minors travel in first class?
Final word
As you can see, there are a lot of details regarding the American Airlines domestic first class experience. There are quite a few different products out there and they come with different features and special offerings.
Daniel Gillaspia is the Founder of UponArriving.com and creator of the credit card app, WalletFlo. He is a former attorney turned full-time travel expert covering destinations along with TSA, airline, and hotel policies. Since 2014, his content has been featured in major publications such as National Geographic, Smithsonian Magazine, Forbes, CNBC, US News, and Business Insider. Find his full bio here.