A lot of travelers often wonder whether or not the bottom levels of airline elite status are worth it. While it is true that there are limitations to these bottom elite levels when it comes to things like upgrades, there are still some pretty valuable perks you can take advantage of.
In this article, I'll tell you everything you need to know about American Airlines AAdvantage Gold status. I'll cover things like the upgrade policies, priority boarding, free checked baggage, and all of the perks in between.
What is American Airlines Gold status?
American Airlines Gold status is the bottom level elite status for American Airlines.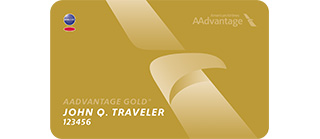 How do you qualify for American Airlines Gold status?
Earning Gold status by flying
There are two different methods for earning elite status with American Airlines via flying.
Elite Qualifying Miles (EQMs) + Elite Qualifying Dollars (EQDs)
Elite Qualifying Segments (EQSs) + Elite Qualifying Dollars (EQDs)
So you can earn status by flying a certain amount of qualifying miles or a certain number of qualifying segments. But either way you go you will have to spend a certain amount of elite qualifying dollars.
The standard qualifications for obtaining Gold elite status are shown below:
Executive Platinum
oneworld Emerald
Platinum Pro
oneworld Sapphire
Platinum
oneworld Sapphire
Gold
oneworld Ruby
EQMs
100,000
75,000
50,000
25,000
EQSs
120
90
60
30
EQDs
$15,000
$9,000
$6,000
$3,000
For 2020, American Airlines made exceptions to qualifying due to the decreased demand in travel from the coronavirus.
Now, in order to reach Gold you can fly 10,000 fewer miles or only 50% of the normal segments needed. The spend requirement has also been cut in half.
Here's a look at all of the elite status requirements for American Airlines for the year 2021.
American will count all elite qualifying flight activity flown in the fourth quarter of 2020 toward a member's 2021 qualifications.
AAdvantage 2021 tier requirements
| | Gold | Platinum | Platinum Pro | Executive Platinum |
| --- | --- | --- | --- | --- |
| Elite qualifying dollars (EQD) | 2,000 | 4,500 | 7,000 | 12,000 |
| Elite qualifying segments (EQS) | 20 | 45 | 70 | 95 |
| Elite qualifying miles (EQM) | 20,000 | 40,000 | 60,000 | 80,000 |
Tip: Use the free app WalletFlo to help you travel the world for free by finding the best travel credit cards and promotions!
Coronavirus American Airlines extension
Because of coronavirus American Airlines is extending the validity of status for many customers. For any status that is valid through January 31, 2021, that status will be extended through January 31, 2022.
Elite status achieved in 2021 is valid through Jan. 31, 2023.
For 2021, American will also waive the elite qualifying dollar requirement for Gold, Platinum and Platinum Pro if members spend $30,000 on purchases with their eligible AAdvantage credit cards. 
Gold members can also look for a $300 credit for an American Airlines Vacation package.
Purchasing American Airlines Gold status
Sometimes, you could receive an offer to purchase Gold status. For example, you might receive an email inviting you to purchase it for ~$500 to $1,000.
I would argue that given how some of the meaningful benefits can be obtained via credit card, this will often be a poor deal for the vast majority of people so I would not jump on it.
Fast track with hotel status
If you hold Hyatt elite status like Globalist or Explorist status, sometimes you might be able to fast track your way to Gold status.
In the past, Explorist members could obtain Gold by meeting 7,000 EQMs or 8 EQSs + $1,000 EQDs and Globalists could get it with 7,000 EQMs or 8 EQSs + $1,000 EQDs in a matter of three months.
What are the American Airlines Gold status benefits?
Airport benefits
One of the best things about earning elite status with an airline is that your airport experience becomes more convenient and also cheaper. Here's a look at the airport benefits you'll get as an AA Gold member.
Priority check-in
From the moment you step foot in the airport, you should be able to access the priority check-in area which should have a much shorter line than the standard check-in lines.
As a Gold member, you'll be able to use any business class lane and if there is not a business class check-in lane available, you can use the first class check-in.
Priority security
You'll also be able to breeze through a priority security line although if you have TSA Pre-Check or CLEAR you might want to go with them instead.
Priority boarding
And finally, you'll also get priority boarding and you'll be able to board with Group 4.
Group 4 is the last of the priority groups which means you'll be boarding right before economy. It doesn't sound very high up on the food chain but you'll still be able to board in time to ensure you have overhead storage bin space.
(If you hold the premium Citi AAdvantage Executive World Elite Mastercard you can also board with Group 4.)
Related: Which American Airlines Credit Card is Best?
Also note that if you happen to arrive late at the gate and boarding is already going on, you can bypass the general boarding lines by showing your boarding pass. You can read more about the boarding process for American Airlines here.
Checked baggage fee waived
As a Gold member, you won't have to pay the AA checked baggage fee for your first checked bag. This applies to yourself and any guests traveling on the same reservation (excluding group reservations). With a potential savings of $30 per bag, those savings could add up pretty quick.
It's worth noting that you can also get free checked baggage on domestic flights with the Citi AAdvantage Platinum Select World Elite.
As you climb up the elite levels, you'll get two free checked bags and eventually three as an Executive Platinum member.
It's worth pointing out that you do not get priority baggage delivery as a Gold member. This means that your bags will not be among the first to be unloaded unless you just get lucky.
Complimentary same day standby
American Airlines will allow you to take advantage of a complimentary same-day standby flight. There's no charge to standby for a different flight on the same day of travel when flying to/from:
United States and the U.S. Virgin Islands
Puerto Rico
Canada
Caribbean (select destinations)
Admirals club membership discount
Another perk is that you can get a discount on the American Airlines lounge access membership. If you are purchasing an individual membership, you will save $25 so the total will be $625 versus $650.
You can also get a discount when using your AAdvantage miles to purchase a membership. Instead of 65,000 miles, your price will be 62,500 miles.
I would suggest to look into the Citi AAdvantage Executive World Elite Mastercard for this membership.
Mileage bonuses
Once you achieve Gold status, you'll earn more miles (40%) every time you fly. This amounts to 7 miles per $1 spent.
And you won't just earn bonus miles on American Airlines and American Eagle, you can also earn additional bonus miles when flying with:
British Airways
Cathay Dragon
Cathay Pacific
Finnair
Iberia
Japan Airlines
LATAM Airlines Group
Malaysia Airlines
Qantas
Qatar Airways
Royal Air Maroc
Royal Jordanian
Here's a look at how the bonus earning rates compare with other elite level statuses:
| Executive Platinum | Platinum Pro | Platinum | Gold |
| --- | --- | --- | --- |
| 120% | 80% | 60% | 40% |
You'll also get a base of 500 EQMs for flights under 500 miles on American and oneworld partners. (But note, you'll get 250 EQMs for flights under 500 miles on Basic Economy fares.)
Tip: Use WalletFlo for all your credit card needs. It's free and will help you optimize your rewards and savings!
Upgrades
Complimentary preferred seats
You can get complimentary "preferred seats" as a Gold member.
Preferred seats are basically economy seats with the same amount of legroom but just more favorably located throughout the cabin. Basically, you just won't be stuck in the back of the plane. The cool thing about this benefit is that it also applies to up to eight passengers traveling with you on the same itinerary.
Complimentary Main Cabin Extra seats
Main Cabin Extra is the upgraded version of economy with much more legroom and even complimentary alcoholic beverages.
It's actually a pretty great experience and you can get your upgrade confirmed within 24 hours of departure. This benefit also applies to up to 8 passengers traveling in the same reservation with you.
Complimentary Upgrades
As a Gold member, you are entitled to request a complimentary upgrade for yourself and for one eligible companion on American Airlines flights 500 miles or less.
Upgrades are valid from the Main Cabin to the next class of service but upgrades aren't allowed on Basic Economy fares.
If there is availability for an upgrade 24 hours prior to your departure, your upgrade will be automatically processed.
These upgrades are valid for travel within and between all 50 US states, Canada, Mexico, the Caribbean, Bahamas, Bermuda, and between the U.S. and Central America.
Keep in mind that clearing upgrades to business/first on a complimentary basis as a Gold member is not going to be easy. These upgrades will be awarded based on elite levels and you are at the bottom of the totem pole. ConciergeKey members are first, followed by Executive Platinum, Platinum Pro, Platinum and then Gold members.
Earned Upgrades
American Airlines will reward you with more upgrade potential as you do more flying.
You will be credited for 500 mile electronic upgrades for every 10,000 qualifying base miles you earn when you purchase a ticket on eligible American Airlines, American Eagle, AmericanConnection and "airline participant" flights during your membership year.
Here's a list of the airline participants: Aer Lingus, Alaska Airlines/Horizon Air, British Airways, Cathay Pacific Airways, Finnair, Iberia, LanChile/LanPeru and Qantas Airways.
For flights 500 miles or more, you can use earned or purchased 500-mile upgrades. One 500-mile upgrade is needed for every 500 miles of travel, so you'll need to know the distance of your travel. And keep in mind that American Airlines will round up.
So if your flight is 1,750 miles, you would need to cover 2,000 miles by using four 500-mile upgrades.
With these upgrades, you'll be able to upgrade from any eligible purchased, published fare in the Main Cabin (excluding Basic Economy fares) or Premium Economy to the next class of service (Business or domestic First) for travel within North America.
Purchased Upgrades
American Airlines will allow you to purchase more 500 mile electronic upgrades if you need them. These will cost you $40 per upgrade or if you want to use miles, you can purchase eight upgrades for 40,000 miles.
You can call in to the American Gold hotline to purchase them or also purchase them at an Admirals Club.You may also purchase 500-mile upgrades on AA.com or through the AAdvantage Dial-In system.
You will also be able to upgrade one companion traveling with you on the same flight with your 500 mile upgrade. Just be sure to link reservations if they were made separately.
Note: Each upgrade is valid for up to 500 miles of travel on eligible American Airlines flights and each flight segment requires at least one upgrade.
Award ticket upgrades
As an American Airlines Gold status member you will not get complimentary upgrades on award tickets. These type of upgrades are only reserved for Executive Platinum.
Systemwide upgrades
As a Gold member you will not be awarded systemwide upgrades as those are reserved for Executive Platinum status members.
AAdvantage Gold Hot Line Access
Like many other elite status programs, American Airlines offers you a special hotline for being a Gold status member.
You can use the special hotline for reservations, upgrades, seating preferences, or even to order special meals. You can also use it to claim awards and purchase 500-mile electronic upgrades.
The Gold Hot Line phone number is 1-800-848-4653. But note that if you are outside of the continental U.S., Canada, Puerto Rico, Guam, Saipan or the U.S. Virgin Islands, you may need to contact your local American Airlines reservations office.
You'll also get access to the exclusive service desk.
Award travel benefits
There's honestly not a lot of award travel benefits for a Gold member as they are mostly reserved for Executive Platinum. For example, you do not get expanded award seat availability or award change fees waived.
However, you can get special discounts on hotel and car awards.
Oneworld benefits
You don't get a lot of alliance benefits as a Gold member but you can get priority check-in and standby by having Gold Ruby status.
American Airlines Gold status FAQ
What are the American Airlines Gold status benefits?
Priority check-in
Priority security
Priority boarding
Checked baggage fee waived
Complimentary same day standby
Admirals club membership discount
Mileage bonuses
Complimentary preferred seats
Complimentary Main Cabin Extra seats
AAdvantage Gold Hot Line Access


Do American Airlines Gold status members get priority boarding?
Yes, you will be able to board with Group 4 (the last of the priority groups).
Do American Airlines Gold status members get free checked bags?
Gold members will receive their first checked bag free.
What is the Admirals club membership discount for American Airlines Gold status?
You can save $25 on an individual membership.
How many miles per dollar do you earn with American Airlines Gold status?
You will earn 7 miles per one dollar spent. This amounts to a 40% bonus.
What is the AAdvantage Gold Hot Line Access
phone number?
The Gold Hot Line phone number is 1-800-848-4653.
Final word
American Airlines Gold status is the bottom tier elite status so you can't expect too much with it. But it does provide some nice perks like the priority check-in and boarding and it has some upgrade potential. I would not pay hundreds of dollars for it but I would happily accept the status if my flying habits led to me getting it.
UponArriving has partnered with CardRatings for our coverage of credit card products. UponArriving and CardRatings may receive a commission from card issuers. Responses are not provided or commissioned by the bank advertiser. Responses have not been reviewed, approved or otherwise endorsed by the bank advertiser. It is not the bank advertiser's responsibility to ensure all posts and/or questions are answered.
Daniel Gillaspia is the Founder of UponArriving.com and creator of the credit card app, WalletFlo. He is a former attorney turned full-time credit card rewards/travel expert and has earned and redeemed millions of miles to travel the globe. Since 2014, his content has been featured in major publications such as National Geographic, Smithsonian Magazine, Forbes, CNBC, US News, and Business Insider. Find his full bio here.