TSA Pre-Check is a program that has exploded in popularity over the last few years.
It's popular because it allows passengers to avoid frustration and save valuable time by avoiding waiting in long security screening lines at airports.
But how exactly does the TSA Pre-Check application process work and what are all of the benefits?
In this comprehensive article, I'll cover all of the key benefits of TSA Pre-Check and walk you through how to handle the application, appointments, checking your status, and everything else you need to know about.
I'll also show you how to find which airlines and airport locations offer TSA Pre-Check.
What is TSA Pre-Check?
TSA Pre-Check is a government program that costs $78 to join and allows approved passengers to go through a separate security screening process that is less demanding than the security screening open to the public.
Tip: Use the free app WalletFlo to help you travel the world for free by finding the best travel credit cards and promotions!
TSA Pre-Check brief history
The Transportation Security Administration (TSA) is an agency of the U.S. Department of Homeland Security that was created as a response to the September 11, 2001 terrorist attacks and its goal is to provide security for the traveling public in the United States (mostly related to air travel).
TSA Pre-Check is a relatively recent program launched by TSA back in 2011 to enhance the pre-boarding security screening process.
It started off as a bit of an experiment found in only a handful of airports and was utilized by only American and Delta Airlines, but in 2013 it opened up to the public so anyone could apply.
Now it's found at over 200 different airports and involves over 50 different airlines.
What are the TSA Pre-Check benefits?
There are quite a few benefits to the program that allow for more convenient travel through airports.
First, you often only have to pass through a traditional walk-through metal detector (as opposed to the invasive full-body scanners) and you also get to enjoy the following benefits:
Shoes can stay on
Belt can stay on
Light jackets can stay on
Laptops allowed to stay in bag
Liquids (3-1-1 Rule) can stay in bag
On occasion, if your shoes or belt contains too much metal or your jacket is too bulky, you may have to remove them.
By keeping these objects on your person and in your bag, it makes getting through security much less stressful and also speeds up the process a great deal. So everybody's sanity remains intact for a little longer.
What is the TSA Pre-Check application process?
The TSA Pre-Check application process is pretty simple and straightforward.
First, you need to fill out and submit your application online.
Second, you'll need to schedule your in person appointment that includes a background check and fingerprinting/getting a photo taken.
Third, you'll wait to get approved and receive your KTN (Known Traveler Number) and be done with the process.
TSA states that this process will usually take 2 to 3 weeks but in reality it can take as few as 5 to 10 days. So unlike Global Entry, which often takes much longer, the TSA Pre-Check application process is a relatively quick process.
How much does TSA Pre-Check cost?
The application fee for TSA Pre-Check is $78 USD.
Payment methods
They will accept the following payment methods:
Credit card

Money order

Company check

Certified/cashier's check
Keep in mind that you must pay at your appointment so they don't allow you to use a credit card in someone else's name.
Get TSA Pre-Check for free
You can easily get this fee covered by using a credit card that offers a complimentary TSA Pre-Check or Global Entry credit.
There are many credit cards that offer this statement credit but some of my favorite are:
American Express Platinum Card
Capital One Venture Rewards Credit Card
Chase Sapphire Reserve
Citi Prestige
United MileagePlus Explorer Card
As stated, these cards also offer Global Entry credits so you need to seriously consider if Global Entry might be the better option for you. Keep scrolling down for a TSA Pre-Check vs Global Entry comparison.
TSA Pre-Check application
The application for TSA Pre-Check is very simple to fill out. You can find the application by going to the Pre-Check website here.
I'll walk you through the information that you'll need to share in order to complete your application.
Note that you can get through this application very quickly. I timed it and it took me less than two minutes to complete the application and schedule an appointment.
Step 1 — Biographic Information
The first part of step 1 will just require you to input your basic biographic information, such as:
Name
DOB
Gender
Email
Phone number
Country of birth
City/State of birth
Country of citizenship
Then you will need to answer the following questions:
Have you ever used a maiden/previous name?
Have you ever used an alias?
Is your mailing address the same as your residential address?
Have you lived at your current residential address for more than five (5) years?
You'll then need to input information about your
Height
Weight
Hair Color
Eye Color
Then input your address and you'll move on to the eligibility questions.
Step 2 — Program Eligibility Questions
Here are the questions that you'll need to answer to make sure that you are eligible for TSA Pre-Check.
Are you a U.S. citizen, U.S. National or Lawful Permanent Resident (LPR)?
Excluding juvenile cases unless convicted as an adult, have you been convicted, pled guilty including "no contest" (nolo contendere), or found not guilty by reason of insanity, of any disqualifying felony listed in TSA Eligibility Requirements, Part A, in any jurisdiction, military or civilian?
Excluding juvenile cases unless convicted as an adult, have you been convicted, pled guilty including "no contest" (nolo contendere), or found not guilty by reason of insanity, of any disqualifying felony listed in TSA Eligibility Requirements, Part B, in any jurisdiction, military or civilian, during the 7 years before the date of this application?
Have you been released from incarceration in any jurisdiction, military or civilian, for committing any disqualifying felony listed in TSA Eligibility Requirements, Part B, during the 5 years before the date of this application?
Are you wanted or under indictment for any disqualifying crime listed in TSA Eligibility Requirements, Parts A or B?
Have you ever been found by a court or other lawful authority as lacking mental capacity or involuntarily committed to a mental institution?
Step 3 — Documents Required for Enrollment
You'll need to choose the type of photo ID you're going to bring into the enrollment center. You can choose from a lot of different types of ID forms, such as a
Driver's license
Passport
Enhanced Driver's license
Commercial Driver's license
Federal ID card
Military ID card
State ID card
And several other forms of identification
You'll also need to choose a Citizenship/Immigration document, which could include:
Birth Certificate (with seal)
FAST Card
Enhanced Driver's license
Enhanced ID
Passport book
Note that if your first, middle, and/or last names do not match you'll need additional documentation.
For example, if your name on your ID is different from your birth certificate due to marriage, you'll need to provide a marriage certificate that links the name on the birth certificate to the name on the driver's license.
If one ID has your middle name listed and another ID only has your middle initial that is okay.
In some cases, multiple name change documents are necessary to link identity documents. This could include documents such as divorce decrees if you've gone back and forth with your last name.
Once you select the documents you are going to bring, you'll see a window telling you what documents you have to bring to your TSA appointment.
Make sure to bring these documents!

Step 4 — Create an Appointment
For step 4, you'll choose an appointment at a TSA enrollment center.
You can find TSA enrollment centers here. However, the application page will allow you to input your Zipcode/City/Airport Code to search for nearby centers.
The great thing about TSA enrollment centers is that there are many more of them compared to Global Entry and the availability is much better for setting up your appointment.
Many people are able to schedule their appointment for the next day for example.
After selecting a location, click 'Next' to continue to the next screen where you will select the date and time of your appointment. You can also choose to walk-in but others with appointments will have priority over you.
Once you input that date, you'll be able to hit submit and finalize your pre-enrollment application. You should see your confirmation of your application along with your UE (Universal Enroll) ID and the required documents for your appointment.
You should also receive a confirmation email that confirms the price of the enrollment and contains your UE ID which you can use to check your status.
Very important: You'll need to visit an enrollment center within 120 days to complete your enrollment.
Note: If you are paying with a credit card, that credit card will likely have to be in your name.
TSA Pre-Check appointments
The TSA Pre-Check appointments are usually very brief and very easy to get through.
In some instances you'll be met by someone who will simply take down your information, and then take your fingerprints/photo. This can easily take less than five minutes.
Sometimes you won't be even asked any questions though some have been asked basic questions like where they plan on traveling and if they plan on traveling for work or pleasure (these are similar questions to Global Entry interviews).
Eligibility email
It's not uncommon to receive your eligibility email the same or very next day after your appointment. However, some people do have to wait several days or even over a week to receive their eligibility email.
Getting your KTN
The eligibility email might tell you to expect a letter in the mail within 10 days, but you won't have to wait that long to get approved as you might receive your official approval with your KTN within a couple of days of receiving your eligibility email.
Once you receive that KTN, you can start adding that to your itineraries and frequent flyer profiles and you'll be able to enjoy the TSA Pre-Check benefits.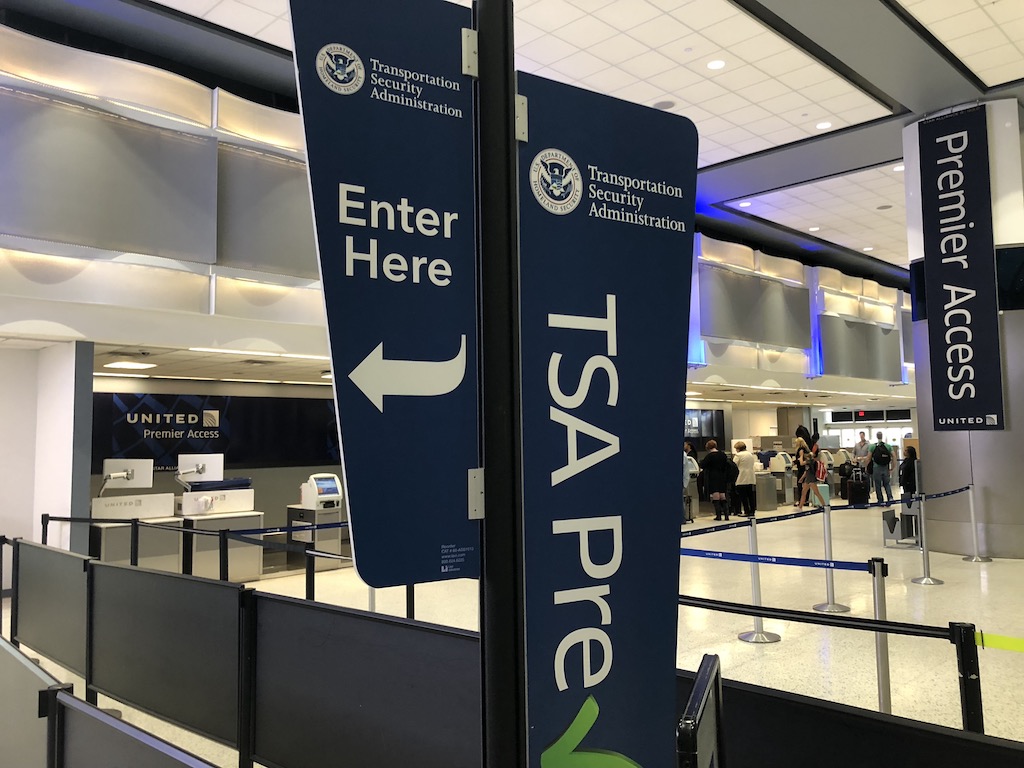 Checking your TSA Pre-Check application status
If you need to check your TSA Pre-Check application status you can go to this link.
You can check your status by entering in your personal details such as your name, DOB, and contact information or you can simply enter in your UE ID and DOB.
TSA Pre-Check background check
TSA Pre-Check requires you to pass a background check and a lot of people wonder whether or not they will be able to pass the background check.
Luckily, TSA publishes a list of offenses that will exclude you from being eligible. There are two lists.
One is a list of offenses that will permanently exclude you and the other list is a list of offenses that will temporarily exclude you.
Permanent disqualifying offenses
The list of permanent disqualifying offenses is pretty hardcore and includes offenses such as the following:
Espionage or conspiracy to commit espionage.
Sedition or conspiracy to commit sedition.
Treason or conspiracy to commit treason.
A federal crime of terrorism
Improper transportation of a hazardous material
Unlawful possession, use, sale, distribution, manufacture, purchase, receipt, transfer, shipping, transporting, import, export, storage of, or dealing in an explosive or explosive device
Murder
Interim disqualifying offenses
The list of interim disqualifying offenses is still full of hard core offenses but it only applies if the applicant was convicted, pled guilty (including 'no contest'), or found not guilty by reason of insanity within seven years of the date of the application; OR if the applicant was released from incarceration after conviction within five years of the date of the application.
Here are some of the offenses:
Unlawful possession, use, sale, manufacture, purchase, distribution, receipt, transfer, shipping, transporting, delivery, import, export of, or dealing in a firearm or other weapon.
Extortion.
Dishonesty, fraud, or misrepresentation, including identity fraud and money laundering
Bribery.
Smuggling.
Immigration violations.
Distribution, possession w/ intent to distribute, or importation of a controlled substance.
Arson.
Kidnapping or hostage taking.
Rape or aggravated sexual abuse.
Assault with intent to kill.
Robbery.
Fraudulent entry into a seaport as described in 18 U.S.C. 1036, or a comparable State law.
Violations of the Racketeer Influenced and Corrupt Organizations Act under 18 U.S.C. 1961, et seq., or a comparable state law, other than any permanently disqualifying offenses.
Voluntary manslaughter.
Note that TSA can still disqualify someone if they determine that an applicant is not eligible for the application program based on analyses of the following:
Interpol and other international information, as appropriate.
Terrorist watchlists, other government databases and related information.
Any other information relevant to determining applicant eligibility or an applicant's identity.
Extensive convictions
TSA may also determine that an applicant is not eligible if the security threat assessment process reveals:
Extensive foreign or domestic criminal convictions
A conviction for a serious crime not listed (including some lesser included offenses of serious crimes; e.g. murder/voluntary manslaughter), or
A period of foreign or domestic imprisonment that exceeds 365 consecutive days.
Security-related offenses
TSA may also determine that an applicant is not eligible based on analyses of records related to violations of transportation security regulatory requirements.
These include security-related offenses at an airport, on board an aircraft, at a maritime port, in connection with air cargo and other regulatory violations.
Related: Does TSA Check For Arrest Warrants?
Adding TSA Pre-Check
Once you receive your Known Traveler Number, you then need to add it to your frequent flyer profiles with all of your different airlines. This step is key because if you don't link your account with your KTN, you won't receive TSA Pre-Check.
If you forget to enter in your KTN into your profile, you can always check with an agent at check-in and they should be able to add your KTN no problem. So always keep your KTN stored somewhere like in your phone!
Related: Can You Get Through TSA and Fly with No ID?
What airports have TSA Pre-Check?
TSA Pre-Check is currently available at more than 200 airports. You can search for which airports have TSA Pre-Check here. Simply click on a state and then you'll see a close-up of that state with all of the airports where Pre-Check is available.
You can also search for the TSA Pre-Check schedule at specific airports.You can see which terminals and checkpoints are open at exact times which can be very helpful for planning your visit through the airport.
Pre-Check Lite
Something you need to know is that just because an airport is listed as a TSA Pre-Check airport, that does not mean that all terminals at that airport will have TSA Pre-Check lines.
In many cases, if they don't have an official TSA Pre-Check line, they'll allow you to get by with some of the TSA Pre-Check benefits but you'll just have to go through the regular line.
They might let you keep your liquids and/or electronics in your bags but take your shoes off or vice versa — it all just depends on the airport.
Tip: Use WalletFlo for all your credit card needs. It's free and will help you optimize your rewards and savings!
What airlines allow TSA Pre-Check?
You can find the list of participating airlines here.
Advanced Air
Aerolane Lineas Aereas Nacionales del Ecuador
AeroMexico
Air Canada
Air Choice One
Air France
Air India
Air Serbia
Alaska Airlines
All Nippon Airways
Allegiant Air
American Airlines
Aruba Airlines
Asiana Airlines
Austrian Airlines
Avelo Airlines
Avianca
Azul Airlines
Boutique Airlines
Breeze Airways
British Airways
Brussels Airlines
Cape Air
Cathay Pacific Airways
China Airlines
Condor Airlines
Contour Aviation
Copa Airlines
Delta Air Lines
Eastern Airlines
Edelweiss Air
EL AL Israel
Elite Airways
Emirates
Etihad Airways
Eurowings Discover
EVA Air
Finnair
Flycana
Frontier Airlines
Global Crossing Airlines
Hawaiian Airlines
Icelandair
InterCaribbean Airways
Japan Airlines
JetBlue Airways
Key Lime Air
KLM Royal Dutch Airlines
Korean Air
LAN Peru S.A.
LATAM Airlines
Lufthansa
Norwegian Air
Omni Air International
PAL Express
Philippine Airlines
Porter Airlines
Qantas
Qatar Airways
Scandinavian Airlines
Seaborne Airlines
Silver Airways
Singapore Airlines
Southern Airways Express
Southwest Airlines
Spirit Airlines
Sun Country Airlines
Sunclass
Sunwing Airlines
Swift Air
Swiss International Air Lines
Swoop
TAM-Linhas Aereas S.A.
TAP Air Portugal
Turkish Airlines
Ultimate Jet Charters
United Airlines
Virgin Atlantic
Viva Air Colombia
VivaAerobus
Volaris
WestJet
World Atlantic
TSA is constantly adding new airlines to this list so always make sure to check on the latest update to the list.
TSA Pre-check contact phone numbers
TSA Pre-Check vs Global Entry
Global Entry is a program that allows you expedited entry back into the US through immigration and customs. This can be a life-saver when you arrive back to the US and are faced with those daunting immigration lines.
Global Entry does require you to pass a more rigorous background check and it also has a (slightly) more demanding interview process (the hardest part can be scheduling the interview since there are fewer locations and fewer open slots).
The extra work to get approved for Global Entry is often worth it though because if you are approved for Global Entry, you are automatically given TSA Pre-Check.
This is why if you have a credit card that gives you a statement credit for both of these programs, it can be wiser to just use it for Global Entry.
At the same time, if you don't ever travel internationally, you may have no use for Global Entry and in that case all the extra work for Global Entry may not be worth it.
There are two other programs similar to Global Entry that also provide you with Pre-Check. These programs are ideal for those who travel between the US and Canada or the US and Mexico.
But note that the statement credits usually don't apply to the programs below, so you'll just have to pay out of pocket for them.
NEXUS
NEXUS is a joint program between the US and Canada that will grant pre-approved, low-risk travelers expedited entry into both Canada and the US.
Specifically, membership in the NEXUS program allows you to reduce your wait times at designated ports of entry by:
Using dedicated processing lanes at land border crossings
Using NEXUS kiosks when entering Canada
Using their card in dedicated SENTRI lanes along the U.S.-Mexico border
Using Global Entry kiosks when entering the United States, and
Calling a marine telephone reporting center to report your arrival into the United States and Canada
You may also be granted access to the Canadian Air Transport Security Authority (CATSA) Security Line at some Canadian airports to expedite airport pre-boarding security screening. (This is like a Canadian version of TSA Pre-Check.)
Just like Global Entry, NEXUS will require you to clear a background check.
The difference is that this background check also is submitted to Canadian authorities, such as the Canadian Security Intelligence Service (CSIS), Royal Canadian Mounted Police (RCMP).
One of the major draws to the NEXUS program is that the application fee is only $50. This is surprising since NEXUS comes with both Global Entry and TSA Pre-Check. For people who live near or travel between the US/Canada border, NEXUS is an especially attractive bargain.
SENTRI
The Secure Electronic Network for Travelers Rapid Inspection (SENTRI) is a U.S. Customs and Border Protection (CBP) program that allows expedited clearance for pre-approved, low-risk travelers upon arrival in the United States.
You can enter the United States by using dedicated primary lanes into the United States at Southern land border ports so this is a program you might be interested in if you're traveling between the US and Mexico a lot.
TSA Pre-Check vs
CLEAR
CLEAR is a privately owned service offered to passengers that allows them to bypass the lines going into airport security, whether you are going into the standard security line or the TSA Pre-Check line.
In order to use it you find the CLEAR line leading to security which should have little to no line and then you simply scan your boarding pass and biometric data and then you're off to the races and able to skip whatever line you would have been waiting on.
You don't even have to show your ID.
CLEAR can be great for frequently flyers in busy airports but it's not cheap at $189 per year (though cheaper promos are often available).
As you can probably tell, CLEAR is something that you'd get that you would use in addition to TSA Pre-Check to help save you even more time by skipping the line.
If you frequent airports when the TSA Pre-Check line gets long or backed up and very slow, then CLEAR could absolutely be worth it.
TSA Pre-Check vs
Mobile Passport
Launched in the fall of 2014, Mobile Passport Control is an app, developed by Airside Mobile and Airports Council International-North America in partnerships with CBP, that you can download to use in order to expedite your entry into the US.
It's available in the Apple App Store and Google Play.
It's free to use and can be just about as good as Global Entry at some airports, though I'd still take Global Entry over Mobile Passport.
That's because Global Entry gets you Pre-Check and also allows you to get through customs AND immigration while Mobile Passport often only get your priority access through immigration.
Mobile Passport deals with entry back into the US and does NOT come with TSA Pre-Check, so it's not really a competitor or alternative to TSA Pre-Check in any way.
However, since Mobile Passport is free and doesn't require the extensive background check, it can be a great alternative to Global Entry.
TSA Pre-Check FAQs
Do you always get TSA Pre-Check with your boarding pass?
No, you won't always receive TSA Pre-Check on your boarding pass. I've been told that you can expect to receive it about 95% of the time. If you don't see it on your boarding pass don't assume that you didn't receive it for your flight.

For whatever reason, TSA Pre-Check is sometimes not included on your boarding pass and you simply need to go to a check-in desk to request your KTN to be added.

Also, note that you might be given TSA Pre-Check on your boarding pass even when it's not available for an airline, so be on the lookout for that.
How long is TSA Pre-Check good for?
Your membership will be good for five years.
Is there an age limit for kids?
There is no age restriction to apply for TSA Pre-Check. However, family members ages 12 and under traveling with an eligible parent or guardian with a TSA Pre-Check indicator on their boarding pass can participate in expedited screening.
Do I need to be a US citizen?
TSA Pre-Check is only open to U.S. citizens, U.S. nationals and lawful permanent residents.
How long does it take to get through security?
In October 2018, 93% of TSA Pre-Check passengers waited less than 5 minutes.
How do I find my TSA Pre-Check number?
What is the TSA Pre-Check processing time?
TSA states that it should take about 2 to 3 weeks from the time you apply from the time you receive your KTN. However, there are many reports of applicants getting their applications processed in under 10 days so you could get approved much quicker than 2 to 3 weeks.
Can I get TSA Pre-Check with a misdemeanor?
Yes, while your situation may depend on how many misdemeanors and what type they were, others have been approved for TSA Pre-Check despite having committed a misdemeanor.
Are there TSA Pre-Check military benefits?
Members of the armed forces can take advantage of Pre-Check. They simply need to enter their DoD ID number from the back of their common access card into the "known traveler number" field of their flight reservations or when updating their Defense Travel System profile for official travel.
Do I need a TSA Pre-Check card?
No, you do not need to show a TSA Pre-Check card to use the benefit and you are not issued a card for the program.
Does TSA Pre-Check require a drug test?
No, TSA Pre-Check does not require you to take and/or pass a drug test.
How do I know when my TSA Pre-Check expires?
TSA will send a renewal notification to members who have a valid email and/or phone number on record.
You may check your membership status online.
You can find your KTN expiration date under the field marked "TSA Pre✓®Expiration Date"

You may also contact customer service at 855-347-8371 weekdays between 8 a.m. – 10 p.m. ET to request your KTN expiration date.
When can I renew my TSA Pre-Check?
You may renew your membership up to six months before the expiration date.
Can I renew Pre-Check online?
Most members will be able renew online here. In order to renew, you will need to enter your name, date of birth, and KTN. But note that some members may be required to renew in person at an enrollment center.
Will I keep the same KTN when I renew?
Yes, most members will keep the same KTN.
Final word
TSA Pre-Check is a great perk. Personally, I recommend getting Global Entry and going with a credit card that covers the enrollment fee but if you don't travel internationally then you might not need Global Entry. In that case, you can take advantage of the easier enrollment process for TSA Pre-Check.
Daniel Gillaspia is the Founder of UponArriving.com and creator of the credit card app, WalletFlo. He is a former attorney turned full-time travel expert covering destinations along with TSA, airline, and hotel policies. Since 2014, his content has been featured in major publications such as National Geographic, Smithsonian Magazine, Forbes, CNBC, US News, and Business Insider. Find his full bio here.