Opinions, reviews, analyses & recommendations are the author's alone, and have not been reviewed, endorsed or approved by any of these entities. UponArriving has partnered with CardRatings for our coverage of credit card products. UponArriving and CardRatings may receive a commission from card issuers. 
This comprehensive article will tell you everything you need to know about your Known Traveler Number. I'll cover how you can get one and the best way to do that with programs like TSA Pre-Check and Global Entry. I'll show you how to look-up your Known Traveler Number and add it to your travel itineraries with airlines like United, Southwest, and Delta. Finally, I'll explain the differences between a Known Traveler Number and a Redress Number.
Interested in finding out the top travel credit cards for this month? Click here to check them out! 
---
What is a Known Traveler Number?
A Known Traveler Number, also called your "KTN," is a 9-digit number used to link your TSA Pre-Check enrollment to your travel itinerary in order to ensure that you can receive TSA Pre-Check benefits like expedited security screening.
This is the same number used for other trusted traveler programs, such as Global Entry, NEXUS, and SENTRI. However, for these latter programs, this number is known as your "PASSID."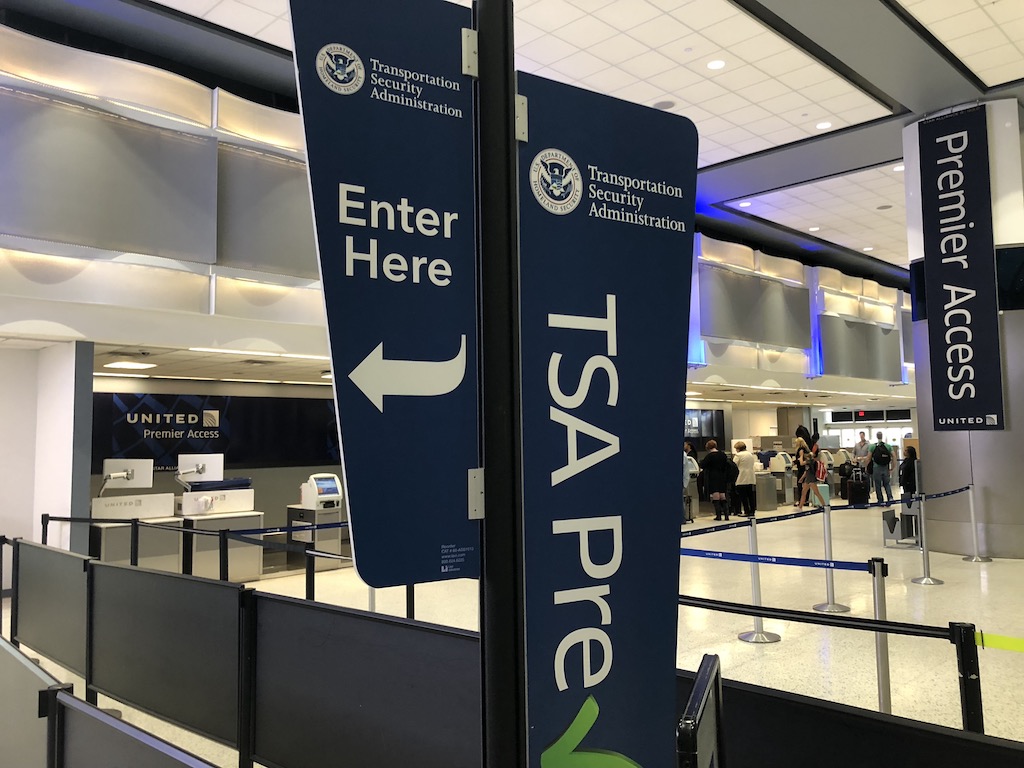 ---
Why do you want a Known Traveler Number?
With a Known Traveler Number, you can participate in TSA Pre-Check, which means you'll be able to breeze through security at airports.
---
How do you get a Known Traveler Number?
You can get a Known Traveler Number by signing up, getting approved, and paying the fees for any of the following programs:
TSA Pre-Check
As already discussed, TSA Pre-Check will usually get you through airport security in a breeze.
You'll usually get access to a priority security line which is often much shorter than the standard security line (though not always, unfortunately).
You'll also be able to go through a less restrictive and invasive screening process. You often only have to pass through a traditional metal detector (as opposed to the full-body scanners) and you also get to enjoy the following benefits:
Shoes can stay on
Belt can stay on
Light jackets can stay on
Laptops allowed to stay in bag
Liquids (3-1-1 Rule) can stay in bag
This program costs $85 to enroll for five years and it does not require the extensive interview process that Global Entry requires. There are multiple ways to get TSA Pre-Check for free and you can read about those here.
Global Entry
Global Entry would be my preferred method for obtaining a Known Traveler Number. That's because not only will you get TSA Pre-Check, but you'll also get expedited entry at Customs and Immigration when making your way back into the US.
This program does require you to attend an interview to be approved but the interview process is not difficult at all. If you've got a clean criminal history and come prepared with your documents then you should pass the background check and interview without any issues at all.
In some cases this "interview" process will only take about five minutes total. You might get asked some very basic questions like what countries you have visited and whether or not you have traveled for business or pleasure. It's hardly anything close to an interrogation in most cases.
The hardest part is often scheduling the interview because availability can be limited and in some cases it might take weeks (or even months) to find an open slot.
Luckily, some airports offer interviews upon arriving from international locations. So if you have some international travel coming up, this can be one of the easiest ways to get approved for Global Entry.
There are many credit cards that come with a $100 statement credit for your Global Entry application fee, so it's very easy to get this program for free. My personal recommendations for getting a $100 statement credit for your Global Entry/TSA Pre-Check is to go with the United Explorer Card. It has great perks and a low annual fee and you can read more about it here! 
Since you'll get both TSA Pre-Check and expedited entry back into the US, I think Global Entry is the way to go for many people.
NEXUS
NEXUS is a joint program between the US and Canada that will grant pre-approved, low-risk travelers expedited entry into both Canada and the US. Specifically, membership in the NEXUS program allows you to reduce your wait times at designated ports of entry by:
Using dedicated processing lanes at land border crossings
Using NEXUS kiosks when entering Canada
Using their card in dedicated SENTRI lanes along the U.S.-Mexico border
Using Global Entry kioks when entering the United States, and
Calling a marine telephone reporting center to report your arrival into the United States and Canada
You may also be granted access to the Canadian Air Transport Security Authority (CATSA) Security Line at some Canadian airports to expedite airport pre-boarding security screening. (This is like a Canadian version of TSA Pre-Check.)
Just like Global Entry, NEXUS will require you to clear a background check. The difference is that this background check also is submitted to Canadian authorities, such as the Canadian Security Intelligence Service (CSIS), Royal Canadian Mounted Police (RCMP).
One of the major draws to the NEXUS program is that the application fee is only $50. This is surprising since NEXUS comes with both Global Entry and TSA Pre-Check, which cost $100 and $85 respectively. For people who live near or travel between the US/Canada border, NEXUS is an especially attractive bargain.
SENTRI
The Secure Electronic Network for Travelers Rapid Inspection (SENTRI) is a U.S. Customs and Border Protection (CBP) program that allows expedited clearance for pre-approved, low-risk travelers upon arrival in the United States.
You can enter the United States by using dedicated primary lanes into the United States at Southern land border ports so this is a program you might be interested in if you're traveling between the US and Mexico a lot.
You might be a little overwhelmed with all of the different Trusted Traveler programs and perhaps you're not sure which program you should sign-up for.
If that's the case you can check out this TSA tool which can help you narrow down what program is most ideal for you based on your citizenship, number of flights, and travel destinations.
---
Other related travel programs
CLEAR
CLEAR is a privately owned service offered to passengers that allows them to bypass the lines going into airport security, whether you are going into the standard security line or the TSA Pre-Check line.
In order to use it you find the CLEAR line leading to security which should have little to no line and then you simply scan your boarding pass and biometric data and then you're off to the races and able to skip whatever line you would have been waiting on. You don't even have to show your ID.
CLEAR can be great for frequent flyers in busy airports but it's not cheap at $179 per year (though cheaper promos are often available). This program does not require you to have a Known Traveler Number.
Mobile Passport
Launched in the fall of 2014, Mobile Passport Control is an app, developed by Airside Mobile and Airports Council International-North America in partnerships with CBP, that you can download to use in order to expedite your entry into the US. It's available in the Apple App Store and Google Play.
It's free to use and can be just about as good as Global Entry at some airports, though I'd still take Global Entry over Mobile Passport.
That's because Global Entry gets you Pre-Check and also allows you to get through customs AND immigration while Mobile Passport often only get your priority access through immigration. This program also does not require you to have a Known Traveler Number.
Image via CLEAR.
---
Adding a Known Traveler Number
Once you have your Known Traveler Number, you're going to need to add that number to your travel profiles for the various airlines so that your Known Traveler Number will automatically show up in your itineraries.
However, you should note that your Known Traveler Number will NOT automatically show up in all of your travel  itineraries.
Many people assume that once they add their Known Traveler Number to their profile, it will always show up but that's not the case. So you always need to double check that your KTN was added.
Below, you can see how to add your Known Traveler Number to some of the major airlines. For whatever reason, it is not always the easiest thing to do since you often have to click around a lot.
Usually you can find where to input it if you just look for your profile and a button allowing you to edit your profile, but the steps below should help you locate this.
American Airlines
Sign in to your American Airlines account and then click on your name at the top of the page. Then click on "your account." Next, click on "edit account" and then click on "Information and password." Scroll down and then under "Secure traveler," you will see where to input your Known Traveler Number.
Southwest
Sign in and click on "My Account" and then scroll to "My Preferences" to change your personal details within your profile information.
United
Sign in and click on Profile and Preferences and then click on "Travel identification documents" and then you'll see the area to enter it in below.
Delta
Go to the Delta website and log-in and then proceed to My Delta -> My Profile -> Basic Info. You'll then see a field where you can input your Known Traveler Number.
JetBlue
First, sign in to your JetBlue account. Click on the arrow in the upper right corner by your name and then click on "Edit profile." Scroll down and you will see where to input your information.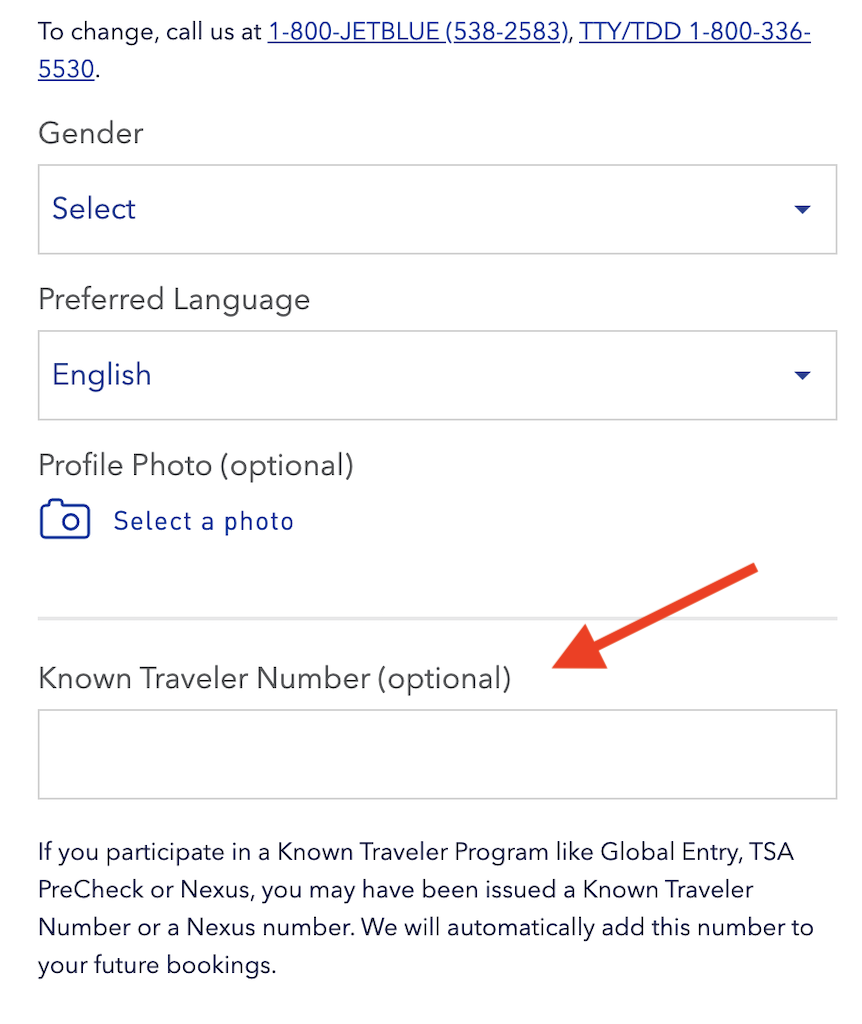 Travel portals and OTAs
Most online travel agencies (like Expedia) will allow you to enter in your Known Traveler Number into your profile which should populate into your itinerary when you make a booking. But since you're dealing with a third party, you should always verify that your number was properly included in your booking.
---
Add Known Traveler Number after booking?
If you add your Known Traveler Number to your profile after you make a flight reservation, there's a good chance that your flight itinerary is not linked to your Known Traveler Number and you won't get TSA Pre-Check. 
In that case, you should be able to call up the airline and request for them to input your number into your itinerary. You could also just wait until you arrive at the check-in desk for baggage and request for your Known Traveler Number to be added to your boarding pass.
Also, sometimes you'll have to re-add your Known Traveler Number to specific itineraries. It's not always clear why this happens but sometimes you'll just have to do it.
So I highly recommend that you keep your Known Traveler Number somewhere easily retrievable like in your smart phone in a folder or app that you won't forget about and can quickly pull up.
---
Where can I look up and find my Known Traveler Number?
If you are a member of the TSA Pre-Check Application Program you can, look up your KTN online.
If you are a member of another trusted traveler program, such as Global Entry, NEXUS, or SENTRI, log on to the Trusted Traveler Program website to obtain your PASSID, which once again is the same as your KTN.
You can also check the back of your trusted traveler cards for your PASSID. Note that TSA does not issue an ID card like Global Entry, NEXUS, and SENTRI do.
---
What is a redress number?
You might also be wondering about a redress number since that field often shows up near where you input your Known Traveler Number. A redress number is the record identifier for people who apply for redress through the DHS Travel Redress Inquiry Program (DHS TRIP).
"DHS TRIP is for travelers who have been repeatedly identified for additional screening and who want to file an inquiry to have erroneous information corrected in DHS systems."
For example, someone might share the same name as another person on a no-fly list and that might bring up a red flag every single time that person attempts to board a plane. The redress number will help those people avoid additional searches, pat downs, and questioning in the future.
So in case you were wondering a redress number really has nothing to do with your Known Traveler Number.
---
Known Traveler Number for Military members
If you are a member of the military, you can utilize TSA Pre-Check for free.
Members of the U.S. Armed Forces can get expedited screening including those serving in the U.S. Coast Guard, Reserves, and National Guard. This can be done by using the official Department of Defense (DoD) identification number when making flight reservations. Your 10-digit DoD ID number is located on the back of your Combined Access Card ID and it is not the same as your SSN. Read more about how to utilize this benefit here. 

---
TSA Pre-Check vs Global Entry
Now that you're aware of all of the benefits you might be wondering whether or not you should choose TSA Pre-Check or Global Entry.
The answer to this question depends a lot on your personal preferences.
If you are only going to be traveling within the US then your need for Global Entry will be nearly zero. In that case, getting TSA Pre-Check should be just fine. The only drawback to that is that if an unexpected trip comes up you'll lose out on the benefit you could have had with Global Entry.
On the other hand, if you're going to be traveling internationally then you might want to think about Global Entry since it will save you a lot of time getting back into the country. The two drawbacks to Global Entry are that it requires you to attend an interview and that the background check can be tough to clear if you have anything on your record like a DWI, DUI, etc.
---
Final word
As you can see, getting a Known Traveler Number can be very easy and can even be done for free with the right credit card. I recommend going with a program like Global Entry to get your PASSID/Known Traveler Number and using a credit card with a $100 credit for Global Entry. If you always keep your Known Traveler Number with you at all times you'll be able to add it to your boarding pass when needed and there shouldn't be any major issues.
UponArriving has partnered with CardRatings for our coverage of credit card products. UponArriving and CardRatings may receive a commission from card issuers. Responses are not provided or commissioned by the bank advertiser. Responses have not been reviewed, approved or otherwise endorsed by the bank advertiser. It is not the bank advertiser's responsibility to ensure all posts and/or questions are answered.
Daniel Gillaspia is the Founder of UponArriving.com and creator of the credit card app, WalletFlo. He is a former attorney turned full-time credit card rewards/travel expert and has earned and redeemed millions of miles to travel the globe. Since 2014, his content has been featured in major publications such as National Geographic, Smithsonian Magazine, Forbes, CNBC, US News, and Business Insider. Find his full bio here.