If you've ever been slowed down at the airport by additional screening measures you know how frustrating (and even anxiety-inducing) it can be. Now imagine this happening just about every single time you make your way through an airport!
That's what some people experience because the government has mistaken them for a nefarious actor or there has been some other hiccup with checking their background information.
Luckily for these people, there is something that they can do about this. It's called getting a redress number and it's actually pretty easy and straightforward to do. In this article, I'll tell you everything you need to know about getting a redress number, including what the meaning is and when you should consider applying for one.
What is the meaning of a "Redress Number?"
A redress number is a case number issued by the Department of Homeland Security that allows individual agencies like the TSA to properly identify travelers that may have been misidentified as those who require additional screening.
Your name can also end up on a list requiring additional screening if you travel through certain countries, such as those in the Middle East.
The Department of Homeland Security set up a program to remedy these situations called the DHS TRIP and here's what the DHS states about it:
Traveler Redress Inquiry Program (DHS TRIP) is a single point of contact for individuals who have inquiries or seek resolution regarding difficulties they experienced during their travel screening at transportation hubs—like airports and train stations—or crossing U.S. borders
Tip: Use the free app WalletFlo to help you travel the world for free by finding the best travel credit cards and promotions!
Do I need a redress number?
As you can imagine, not everyone has issues getting through airport security and other ports of entry so not everyone needs a redress number.
One of the most common reasons for getting a redress number is when you've been subjected to secondary screening on multiple occasions. For example, you might constantly receive "SSSS" on your boarding pass and be forced to be searched in a special security area (likely receiving a pat down) before boarding.
Here are a few other situations, based on DHS recommendations, when you might need a redress number:
You were not able to print a boarding pass online
You had issues getting a boarding pass from the ticket kiosk
You were denied or delayed boarding
A ticket agent called someone before handing you a boarding pass
You are on the "No Fly List"
You were denied entry back into the US
You were told your fingerprints were incorrect or of poor quality
Basically, anything related to getting access to boarding or making your way through an airport or port of entry that happens on a repeated basis may mean that you should look into getting a redress number. But the key here is that it happens on a repeated basis — if it's an isolated event you probably don't need a redress number.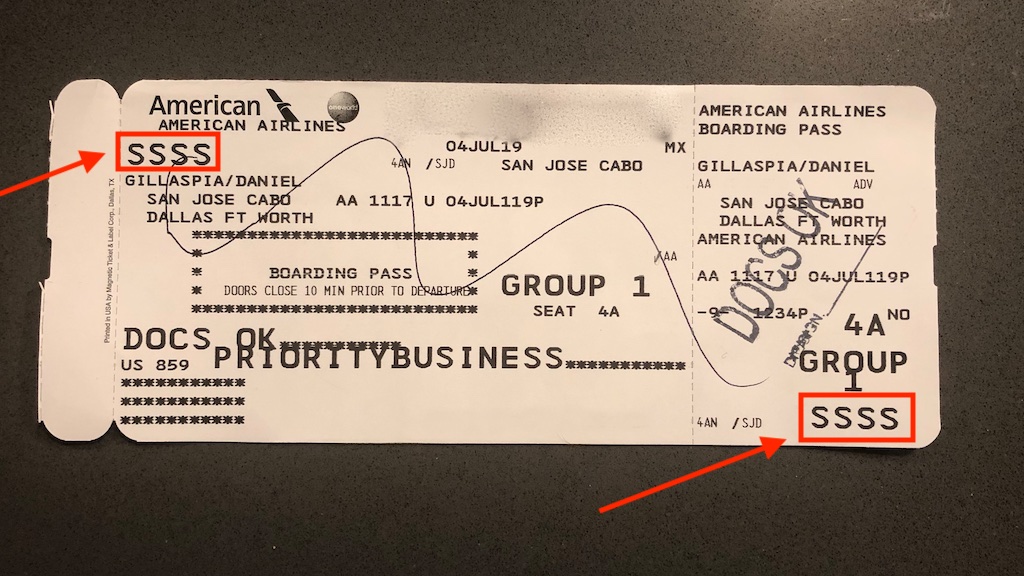 How to get a redress number
To get a redress number, you need to go through the DHS TRIP process and submit an application form. You can submit an application form online or you can print one out and submit it via mail. You might also print out your application, scan it, and then send it via email.
Filling out these applications is easy and will not require much of your time.
There are two ways you can fill out the application.
Here's what filling out the application form will entail.
Travel details
You'll first be asked to provide details related to your travel issues on your application.
If you had issues with a flight you'll fill out your flight information, such as:
Travel dates
Airport
Airline
Flight number
You'll also be asked to check the type of issue you had, such as if you were denied boarding or subject to additional screening, etc.
(If you had multiple flights, provide that information in the Incident Details box.)
You can also provide information about your trip through ports of entry, immigration, customs, or border control. You'll include relevant details like:
The date of entry
Name of airline or vessel
Port of entry into the US
Flight or cruise ticket number
Date of departure from the US
US Airport
Finally, be sure to describe the incident or incidents related to your boxes checked in the Incident Details at the bottom of the page (up to 5,000 characters).
Identity information
Next, you'll need to provide your identity information. This is very basic information. Just provide your name and other names if you have used other names in the past along with your contact information.
They also ask you to submit information about your travel frequency (questions like: "On average, how often do you travel each month?").
Government-issued document
Next, you'll need to provide information for the type of government-issued document that you're going to send in. Make sure that it is legible and that it is NOT expired.
If you do not have a passport, you'll need to provide a copy of at least one legible, unexpired copy of a government-issued photograph bearing travel document, such as a:
Passport Card
Birth certificate
Certificate of Citizenship
Drivers License
Government ID Card
Immigrant/Nonimmigrant Visa
Military ID Card
Naturalization Certificate
Global Entry
Alien Registration
Petition or Claim Receipt
I-94 Admission Number
FAST
SENTRI
NEXUS
Border Crossing Card
Additional Supplemental Documents
Also note:
For children under the age of 18 who do not possess a photograph-bearing travel document, a copy of a birth certificate may be submitted
Do not

provide copies of Social Security Cards, Tax Information, or Personal Financial documents
Once you've entered in all of your information and submitted your application, you'll need to print out the next screen and sign that page and send it in along with a copy of the ID you're sending in as well.
You must send in your documents within 30 days of completing your application.
Note that on that page you'll see your Redress Control Number.
Related: REAL ID Act: Explained with Detailed Timeline
Sending in your documents
You can submit documents via mail or e-mail.
For expedited service, e-mail all requested documents to [email protected].
If your attachments exceed 10 MB, they will be rejected due to size limits so they suggest that you send separate e-mails with attachments using the same subject line.
You can mail in your documents to the address below:
DHS Traveler Redress Inquiry Program (TRIP)
601 South 12th Street, TSA-901
Arlington, VA 20598-6901
Submitting documents via mail will result in slower processing. In fact, due to federal government mail screening requirements it could take 10-15 business days for the government to receive your submission.
How long does it take to get a number?
After your application and documentation have been received and verified for completeness, DHS TRIP will process your request and they state that the minimum length of a review of a request for redress is 30 business days.
The processing time can be much shorter than that though and some get their request approved in a matter of a couple of weeks or even days. However, the DHS has sent out emails telling others to expect processing times of 50 days or longer.
So the processing time can vary and it might depend on the nature of your request.
How to check your redress status
You can check on the status of your redress case application here.
Here are the different statuses your application might be in:
"In Progress"- required documentation has been received and the redress process is underway.
"Closed"- Any corrections or updates have been made, and a final response letter was mailed to you.
"Pending Paperwork" or "No Paperwork," – DHS TRIP has sent you a letter describing the additional information needed to complete your case review.
Tip: Use the free app WalletFlo to help you travel the world for free by finding the best travel credit cards and promotions!
How to use a redress number
When you go to make a flight reservation, you should see a field to enter in your redress number. This is often close to the field for your Known Traveler Number. You can also add your redress number to your frequent flyer profile when you log-in as shown below with Southwest and United.
Alaska Airlines
Sign in and click on your profile located at the top right. Then click "Overview and Elite Status". From the drop down menu under Account select "Profile and Settings". To the right select "Travel Documents".
Delta Airlines
Sign in and click on your profile located at the top right. Then click "Profile" and to the right, click on secure flight info.
JetBlue
Sign in and click on your profile located at the top right. Click "Profile & Settings" and scroll down to the bottom.
Southwest

Airlines

Sign in and click on My Account and then click "Profile" at the top right and the Redress Number is located under Travel related info.
United
Sign in and click on "View My United" and then click "Profile" on the left and from that drop down select TSA PreCheck and travel documents. You will see the option to add your Redress Number.
Redress number vs Known Traveler Number
A redress number is different from a Known Traveler Number (KTN).
A Known Traveler Number, also called your "KTN," is a 9-digit number used to link your TSA Pre-Check enrollment to your travel itinerary. This is the same number used for other trusted traveler programs, such as Global Entry, NEXUS, and SENTRI. However, for these latter programs, this number is known as your "PASSID."
TSA Pre-Check will allow you to make your way through security in a breeze by going through an expedited line and by not taking off your belt, shoes, light jackets, and keeping your liquids and electronics in your bag.
Global Entry will grant you expedited entry through US Customs and Immigration at ports of entry. Also, if you get Global Entry, it comes with TSA Pre-Check as well.
(By the way, there are several ways that you can get TSA Pre-Check /Global Entry for free and if you want to find out more about those options click here.)
The only relationship between a KTN and a redress number is that if you need a redress number and don't have one, your KTN benefits like TSA Pre-Check and Global Entry might be affected.
Once you are given a redress number, you are still able to use your Global Entry and TSA-Pre Check benefits.
Redress Number FAQ
How do I know if I am on a Government Watchlist?
According to the DHS, the U.S. government does not reveal whether a particular person is on or not on a watchlist and the selection criteria is largely a secretive process.
Am I on a terrorist watchlist if I need a redress number?
Ninety-nine percent of individuals who apply for redress are not on the terrorist watchlist, but are misidentified as people who are.

Also, there are two subsets of the terrorist watchlist which are the "No Fly" list and "Selectee" list:

The "No Fly" list includes individuals who are prohibited from boarding an aircraft. You are NOT on the No Fly list if you receive a boarding pass.
The "Selectee" list includes individuals who must undergo additional security screening before being permitted to board an aircraft.
What if I lost my redress control number?
You can still get it retrieved by sending an email to [email protected]/Redress_Number_Inquiry and providing your full name (including your middle name), current home address, and date of birth.
Do I have to be a US citizen to apply?
No, you do not have to be a US citizen to apply.
Do families send in one application?
No, each person in a family or other traveling group seeking redress must submit a separate application.
Final word
If you've been burdened by extra security measures and you have repeatedly struggled to make your way through airport security, through the boarding process for planes and trains, or when getting back into the country, there's a chance that you might need a redress number. It's very easy to get if needed, so there's really no reason why you shouldn't give it a shot.

Daniel Gillaspia is the Founder of UponArriving.com and the credit card app, WalletFlo. He is a former attorney turned travel expert covering destinations along with TSA, airline, and hotel policies. Since 2014, his content has been featured in publications such as National Geographic, Smithsonian Magazine, and CNBC. Read my bio.