When it comes to pat downs, TSA doesn't have the best reputation and it's one of the reasons why it's even earned the nickname of "Touching Sensitive Areas."
But all jokes aside, getting a pat down by TSA can be a very uncomfortable experience.
The thing is, TSA agents are not free to do whatever they want when it comes to pat downs and they have to abide by some pretty specific rules and policies (that TSA has set).
If you are aware of these guidelines then you can call out TSA if you ever suspect an agent is failing to live up to the standards.
In this article, we will get into detail about the policies for TSA pat downs and provide you with some insight on how agents are required to conduct themselves when performing pat downs at security checkpoints.
The evolution of the TSA pat down
TSA pat downs have not always been done the same way.
A few years ago, a report came out that TSA agents had missed 95% of dangerous items during an internal investigation. That prompted a review of policies which led to some major changes for pat down searches.
In the past, a TSA agent could choose to perform a pat down in one of five different ways. They made the judgment call based on the circumstances and what they believed was required for the individual. But after that report came out, the policy changed.
A few years ago, TSA adopted a new pat down policy that introduced the standard pat down, which is what most passengers get and that is what we will focus on below.
Why you may get a TSA pat down at the airport
One thing about TSA pat downs is that they are often predictable.
There are a few different reasons why you might get a pat down at the airport.
Refusal to go through the metal detector or body scanner
One of the most common reasons you will get a pat down is if you refuse to go through the walk-through metal detector or the full body scanner. For some people going through a metal detector is not an option, while others just may prefer to not go through these.
But regardless of your reasoning for refusing the traditional screening methods, TSA will need to verify that you don't have objects on you so it's understandable that a pat down would be necessary.
The scanners detect a foreign object
You can also get a pat down if the screening methods show that you have an object (or anomaly) on you.
If you can simply pull a detected object out of your pocket and then go back through the screening without the alarm going off then you should not require a pat down.
But if the officer cannot determine why the alarm is going off then you may need a pat down or some other type of additional screening. For example, you could have an implant that sets off the alarm (see the section on medical devices below for more details).
Enhanced screening
If you have something like SSSS on your boarding pass, which requires enhanced screening, then that usually requires a pat down in addition to other screening methods like swabbing.
Sometimes this can happen on a random basis but other times your travel habits can trigger SSSS.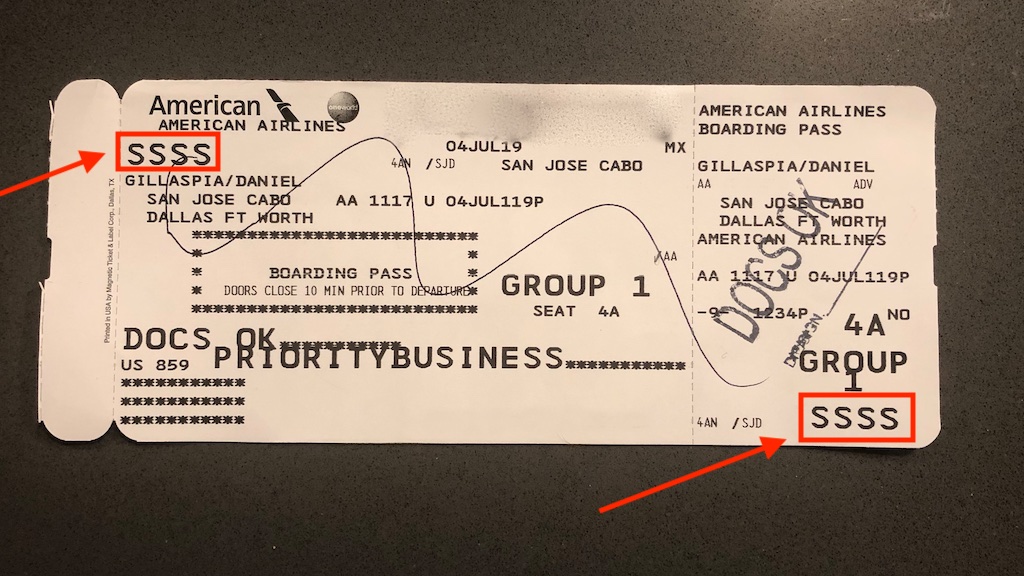 Behavior Detection Officers
Behavior Detection Officers look for certain behaviors that could indicate a passenger is up to something.
The efficacy of these officers is in question but if they found that someone was displaying signs of nervous behavior, they could select them for a pat down.
Travel document checker
A Travel Document Checker (TDC) could determine that there is something suspect about your travel documents and recommend that you undergo a pat down.
There also may be a random element to getting a pat down, although I was not able to find much information on random pat downs.
One thing to be aware of is that TSA Pre-Check does not exclude you from potentially getting a pat down.
What happens during a TSA pat down? (rules and procedures)
Based on 2018 training documents, we know a lot about the pat down process.
While a lot of that information is redacted, we know that during a TSA pat down you can expect to encounter the experience detailed below.
First, an agent will let you know that in order for you to get through security, you will have to submit to a pat down. You are not forced to undergo a pat down but you will not be allowed through security if you refuse.
At that point, you should be presented with the option of getting the pat down done in an open area nearby security or in a private area.
If you elect for a private screening, you can bring along one person with you who can act as a witness.
For travelers who are worried about being subject to abuse or mistreatment, they should be able to have the other person record the pat down session so that if anything happens there is video evidence.
Your carry-on luggage should also be brought to the private screening room, although you will not be able to access it until after the pat down is complete.
If you don't go for the private screening room, your carry-on luggage will likely remain at the conveyor belt.
A TSA agent of the same gender will be performing the pat down and if you go to private screening route, a second TSA agent of the same gender should join the room as well.
According to their training, it's possible that an agent of the same gender may not be available and TSA could attempt the pat down with an officer of the opposite gender.
As far as what gender is used, the gender is based on what the passenger identifies as.
If you want, you can request the TSA agent to wear a fresh pair of gloves although it appears that this may be a requirement now, especially after coronavirus.
The universal patdown method hits on pretty much every area of your body and before beginning the agent performing a pat down should explain the entire process to you.
To relieve some of the tension and awkwardness, as they go through the pat down they should alert you as to what part of your body is going to be searched next.
If you have any medical issues or have sensitive regions of your body, let the agent know and they should respond accordingly to avoid causing you pain or severe discomfort.
The agents are instructed to use the back of their hand for sensitive areas such as the breast, groin, and butt. However, TSA has mentioned that sometimes the front of the hand may be needed.
You should only be asked to remove outerwear such as jackets and your belt and shoes. Items should also be removed from your pockets .
Other clothing should remain on although there are reports in the past of TSA doing a strip search which does not seem to be in line with any TSA policy.
An agent could request for you to hold up your shirt so that they can check your waist line but if they request for you to remove an article of clothing that should be a big red flag.
When the inspection begins, you will be asked to stand with your legs shoulder width apart and raise your arms.
The agent should verify that you're able to remain in this position for four minutes before beginning the search. If that's too difficult for you then make sure that they provide you with a chair.
The pat down may start with your head. If you have a lot of hair or a poofy/tall hairstyle, your hair could also be subject to an inspection.
Next, they will move onto your collar and arms, including your underarms.
The pat down then may move to your sides and back with the agents hands applying firm pressure to potentially detect anything hidden under your garments.
When it comes to your waist line, they will feel around on the inside of your waistband in both the back and the front.
They use an up-and-down and side-to-side motion when checking your rear end and groin area.
This is typically the most controversial aspect of a pat down and there are videos out there that look very suspect with some agents really overdoing it. (Link to video w/music.)
But generally, after a couple of swipes in either direction the officer should be able to tell if there is anything hidden.
The inside of your thighs and legs will also be rubbed with the officer likely to come very close to your groin area.
If you are wearing something like a dress or a kilt the officer will ask you to take one step forward and inspect each leg separately that way.
If an item is found in your garment or on your person, a TSA agent may need to run that item through the x-ray machine or give it a close physical inspection.
If you have a prohibited item it will be handed over to a supervisor and you could potentially face a fine.
It's possible that the agent may also want to do a swab of your hands, your clothing, and possibly some of the belongings and your luggage. This is typically a pretty quick process that they only take a minute or two if everything goes correctly.
What the officer is doing is looking for traces of explosives and they use a special machine that can pick up on different chemicals associated with explosives.
After all of this is done you can exit with your luggage, breathe a huge sigh of relief, and head out to your flight which you hopefully are not going to miss because of the delay.
The time it takes for a pat down will vary based on the available personnel and how things go during the search. You could be done in around 10 minutes but other times the process can drag out to even longer.
Will TSA perform a pat down on children?
For children 13 years and older, the standard pat down policy described above will apply, so teenagers are essentially subject to the same pat downs as adults.
However, for children 12 and under, TSA states that "officers will consult parents or the traveling guardian about the best way to relieve any concerns during the screening of a child and to resolve any alarms during screening."
The child will not be involuntarily separated from the parents or guardians and the adult can even hold a child's hand during the process.
Also, there must be an adult witness during the pat down which could include an aircraft operator escort in the case of an unaccompanied minor.
Reportedly, TSA modified the screening method so that children 12 and under have a reduced odds of getting a pat down.
Pat downs and medical implants/devices
If you have had a hip replacement or knee replacement, or have a metal plate, screws, metal rod, or other types of orthopedic implants, these could cause an issue when going through security screening
But there are different ways you can go about it.
First, some people may want to avoid going through the scanners. For these people, the pat down is inevitable and they will just have to adjust to it.
But if you have one of the medical devices or implants mentioned above, there is a chance you will set off the metal detector or something will alarm in the full body scanner when you go through.
This will often lead to a TSA agent utilizing a metal detector wand to verify that the location of the metal is only in one specific spot. If the agent is satisfied with your explanation and the findings, then you may be able to go on your way.
However, if the agent has some doubts or something does not line up then you may have to undergo a pat down.
Often times you can get a medical card from your doctor that explains your condition and that could help you avoid a pat down in some cases but not always.
Final word
Getting a pat down from TSA can be embarrassing and extremely uncomfortable for some people. If there is any good news, it is that you can often anticipate when a pat down is going to happen so you can mentally prepare for it.
It will help to familiarize yourself with the rules and policies above because then you will be able to call out a TSA agent if they are not abiding by the guidelines!
Daniel Gillaspia is the Founder of UponArriving.com and creator of the credit card app, WalletFlo. He is a former attorney turned full-time travel expert covering destinations along with TSA, airline, and hotel policies. Since 2014, his content has been featured in major publications such as National Geographic, Smithsonian Magazine, Forbes, CNBC, US News, and Business Insider. Find his full bio here.