Hyatt Globalist (formerly Hyatt Diamond) is the top status offered by the World of Hyatt program.
But how do you earn this status and what are the benefits?
This article will go in deep into all of the different ways to earn Hyatt Globalist status and give you an idea of what to expect when it comes to benefits like upgrades, breakfast, lounge access, suites, etc.
Interested in finding out the top travel credit cards for this month? Click here to check them out!
---
What is Hyatt Globalist?
Hyatt Globalist is the top-tier elite status offered by World of Hyatt. It offers special perks like upgrades to suites, free breakfast, lounge access, late check-out, and a number of other benefits that I'll cover below.
---
Hyatt elite levels
Here's how Globalist stacks up to the other Hyatt tiers.
Discoverist (10 qualifying nights, 25,000 Base Points, or holding 3 qualifying meetings/events per year.)
Explorist (30 qualifying nights, 50,000 Base Points, or holding 10 qualifying meetings/events per year.)
Globalist (60 qualifying nights, 100,000 Base Points, or holding 20 qualifying meetings/events per year.)
Lifetime Globalist status (Earn 1,000,000 Base Points over the course of your program membership)
---
How to earn Hyatt Globalist elite status?
There are a few ways that you can earn Hyatt Globalist status.
Earn via stays
As just shown, you can earn Globalist status by completing 60 qualifying nights, 100,000 Base Points, or holding 20 qualifying meetings/events per calendar year. You can also earn it with only 55 nights if you've already earned it via 60 nights the previous year.
Hyatt Globalist status challenge/fast track
Hyatt has offered status challenges/fast track in the past which have allowed you to earn Globalist status with only 20 nights stayed so be on the lookout for those offers. Some of these tend to go out to Hyatt credit card holders, so you might want to think about getting the card for that reason.
Hyatt Globalist status match
Status matches for Globalist are not very common but they have gone out in various forms over the past few years.
The World of Hyatt Card
Bonus earning:

4X spent with your card at Hyatt hotels, including participating restaurants and spas
2X on local transit and commuting, including taxis, mass transit, tolls and ride-share services
2X at restaurants, cafes and coffee shops
2X on airline tickets purchased directly from the airline
2X spent on fitness club and gym memberships

Free nights:

Receive one free night at any Category 1-4 Hyatt hotel or resort every year after your cardmember anniversary
Earn an extra free night at any Category 1-4 Hyatt hotel or resort if you spend $15,000 during your cardmember anniversary year

Elite status:

Receive 5 qualifying night credits toward your next tier status every year
Earn 2 additional qualifying night credits toward your next tier status every time you spend $5,000 on your card

$95 Annual Fee ($20 higher now)
The World of Hyatt card allows you to receive 5 qualifying night credits towards elite status and allows you to earn 2 qualifying night credits every time you spend $5,000. For high spenders, this could be an easy way to quickly work your way up to Hyatt Globalist status and it's one reason why I consider it to be one of the top hotel credit cards (see the full list of top hotel cards here).
This is also just a great credit card because it comes with up to 60,000 points at times and has some solid bonus earning potential with 4X at Hyatt properties. Getting the free nights each year is a nice plus, too.
---
What are the Hyatt Globalist benefits?
30% Bonus Points
Premium internet
Late check-out
Upgrade to best room, up to standard suites
Club Lounge Access
Priority access to available rooms when checking in early
Complimentary parking
48 hours
Status with M life Rewards
Guest of Honor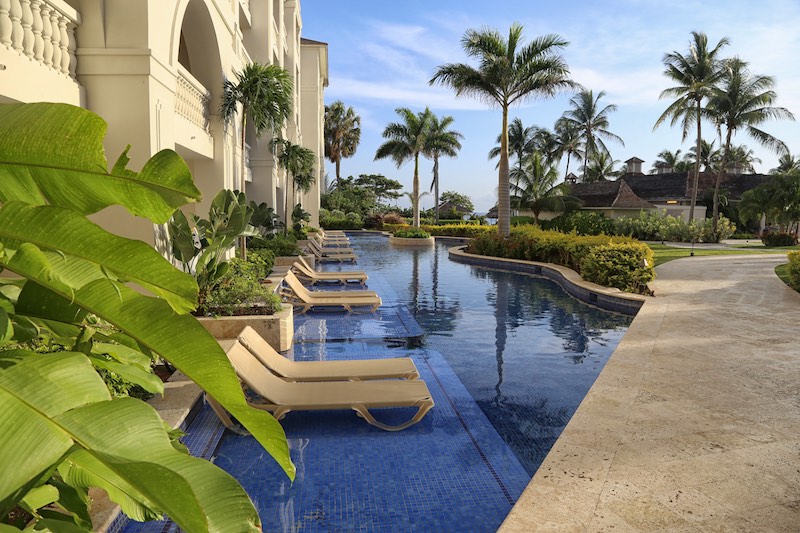 ---
Bonus Points
As a World of Hyatt member you earn 5 base points on stays, dining, spa services and more at participating locations.
If you're a Globalist member, you'll receive a 30% bonus on your base points, which amounts to 6.5 points per dollar spent.
If you value Hyatt points at 1.5 cents per point, that's 9.75% back. Compared to other programs, this isn't the best top-tier return but if you value Hyatt points closer to 2 cents per point, it's actually a great return on your hotel spending.
Also, remember that if you use the World of Hyatt Card you'll be earning an additional 4X on your spending at Hyatt properties. At that point, you're earning over 10 points per dollar at Hyatt properties, which allows for a great return.
---
Suite upgrade awards
You'll receive 4 suite upgrade awards after 60 qualifying nights or 100,000 Base Points each calendar year. (But note the new changes to these suite upgrades below where you can earn 2 suite awards after 50 nights.)
Complimentary Suite Upgrade Awards are valid on nights for which the Member has paid an Eligible Rate or has redeemed points for a standard-room Free Night Award, a Club Free Night Award, or a Points + Cash Award, up to a maximum of seven consecutive nights.
Also, Complimentary Suite Upgrade Awards are to be used for standard suites — they cannot be redeemed for premium suites (i.e., any Specialty, Premier, Presidential or Diplomatic Suites or similar suite categories).
Note that there are many properties where these upgrades cannot be used, including the following hotels or resorts:
Park Hyatt Beaver Creek Resort and Spa, Park Hyatt Maldives Hadahaa, Park Hyatt Sydney, Andaz Tokyo Toranomon Hills, Hyatt Regency Kyoto, Hyatt Regency Phuket Resort, Hyatt Regency Tulsa, Hyatt Regency Wichita, Hyatt Paris Madeleine, Hyatt Herald Square New York, Hyatt Key West Resort and Spa, Hyatt City of Dreams Manila, Hyatt Centric Santa Barbara, Hyatt Centric South Beach Miami, Hyatt Place hotels or M life Resorts.
There are some big name properties on that list so make sure you're aware about the exclusions. You can find a list of example upgrades at various Hyatt hotels here.
---
Premium internet as available
Globalist members will receive premium internet as available. While a nice perk, this is also offered to Discoverist and Explorists.
---
Late check-out
With Globalist you'll be able to check out as late as 4pm. This is a nice increase from the late check out offered to Discoverist and Explorists, which only allows for late check out at 2pm.
---
Upgrade
Globalists may be upgraded to the best room, up to standard suites. In many cases, you'll have to proactively seek out your upgrade by asking the front desk about upgrades. Make sure that you're specific about upgrades for Globalists, too.
Some hotels are better about offering you upgrades without you even having to ask. You can check out this Flyertalk thread on data points for receiving upgrades at various hotels like the Park Hyatt New York.
---
Club Lounge Access
Globalists will be given Club Lounge access. The Club lounges are great places to relax and have breakfast and evening hors d'oeuvres daily. If there is not Club Lounge then you'll be able to enjoy a complimentary full breakfast daily for each registered guest (up to 2 adults and 2 children).
A breakfast for up to four people at certain properties could amount to a huge savings, so this is a great perk.
---
Priority access when checking in early
Priority access to available rooms when checking in early.
---
Complimentary parking
Complimentary parking on free night awards at participating Hyatt hotels and resorts with parking that can be charged to a guest's room.
---
48 hours
Ensure a room is available at participating Hyatt hotels 48 hours in advance of arrival (blackout dates apply.)
---
Gold status with M-life Rewards
Globalists get Gold status with M-Life, which can get you the following benefits:
Extended Expiration For Points and Express Comps
Invitations to Members-Only Events, Tournaments or Promotions
20% Bonus on Points Earned Playing Slots at M life Rewards Destinations Nationwide
20% Bonus on Express Comps Earned at M life Rewards Destinations Nationwide
Read more about M-Life Gold status here

.
---
Guest of Honor
You can share in-hotel benefits with friends or family when you gift an eligible award. (Note: this is not available on paid stays and these need to be booked over the phone.)
This is one of the cool perks of Hyatt that allows you to pass on your elite benefits to someone when you make a booking in their name. By transferring your points to a Globalist member, this is a way for guests without Globalist status to get in on the fun and enjoy things like upgrades and lounge access (you can't use the guaranteed upgrades for these bookings, however).
---
United Club passes
Globalists will be able to enjoy two complimentary United Club one-time passes annually, which will allow you to relax in a lounge in an airport served by United. To get a sense of what these lounges are like you can click here.
Update: Starting January 1, 2019, Globalist members will no longer receive two United Club℠ one-time passes upon achieving Globalist status.
---
Hyatt free night awards
Hyatt offers special free night awards for when you hit certain milestones. In the case of achieving Globalist status, you'll hit several of these milestones on your way to getting the status, including getting multiple free nights.
Actions Needed
Rewards
Stay at 5 different Hyatt brands and pay an eligible rate starting March 1, 2017
Free night award in a Category 1-4 Hyatt hotel or resort (valid for one year from issuance)
Stay 30 qualifying nights or earn 50,000 Base Points in a calendar year
Free night award in a Category 1-4 Hyatt hotel or resort
Stay 60 qualifying nights or earn 100,000 Base Points in a calendar year
Free night award in a Category 1-7 Hyatt hotel or resort

Maintain Globalist status after 55 qualifying nights each subsequent year

Stay 70, 80, 90 and 100 qualifying nights in a calendar year
Choose to receive 10,000 Bonus Points or a suite upgrade award
Note that as of March 1, 2019 new milestone awards will come into effect which will look like this:
Starting in 2020, existing Globalist members will need to stay 60 nights to retain the status rather than the 55 nights currently required.
---
Hyatt phone number
To book an award or join World of Hyatt, call the Hyatt phone number at: 1(800)304-9288.
---
Final word
Hyatt Globalist status is one of my favorite top-tier elite statuses because it offers confirmed suite upgrades (though they come with many limitations). But it also has a lot of other perks like lounge access, breakfast, and many more. This is one of the tougher top-tiers to achieve though so it will likely take some planning and/or serious spending to achieve it.
Daniel Gillaspia is the Founder of UponArriving.com and creator of the credit card app, WalletFlo. He is a former attorney turned full-time credit card rewards/travel expert and has earned and redeemed millions of miles to travel the globe. Since 2014, his content has been featured in major publications such as National Geographic, Smithsonian Magazine, Forbes, CNBC, US News, and Business Insider. Find his full bio here.