Opinions, reviews, analyses & recommendations are the author's alone, and have not been reviewed, endorsed or approved by any of these entities. UponArriving has partnered with CardRatings for our coverage of credit card products. UponArriving and CardRatings may receive a commission from card issuers. 
A lot of people book domestic first class seats on United but don't really know what to expect. Depending on the type of aircraft that you are flying on (737, 787, 777, etc.), the experience could be drastically different. In this article, I will give you a breakdown of what you can expect when flying first class with United Airlines on domestic routes when it comes to things like the seats and meals.
Note: United first class on domestic routes is the same as "business class" for the most part. The terms are used interchangeably by many but for this article I'll just used first class to describe this cabin.
---
Booking
For the most part there are two different types of United Airlines first class experiences when flying domestically. There is the traditional first class seat that is basically a larger and more comfortable economy seat with more recline ability and leg room. You'll find these on aircraft like the 737 while aircraft like the Embraer may have a slightly different type of seat.
Then there are the wide body aircraft that (mostly) have the lie flat seats. You can find these on the various routes. Anytime I ever fly first class to the West Coast or to New York from Houston, I always use Google Flights to search through the different flight options to see which of the flights are served by a wide body aircraft.
Often on routes to/from IAH, I'll find that 90% of the flights are on a 737 or similar aircraft and then there is one or two flights that are served by a wide body aircraft like a 787, 767, or 777.
The cash price for flying in a small body versus flying in a wide body is not always different. For example, I looked up a first class flight from IAH to LAX and the cash price came out to $364 for both. One flight was on a 737 with a standard recliner and the other was on a 787 with a lie-flat seat, as shown below.
If you want to book a first class award flight with miles, it will cost you 25,000 miles one way for a saver award. However, you'll need to add 10,000 miles to that for a premium route. I've struggled a lot to find open saver awards for first class flights on United so I would generally not expect to find a lot of open awards.
---
Tip: Don't miss out on my #1 rated travel card. The Chase Sapphire Preferred is now offering a new high offer of 60,000 points (worth $750 in travel) after spending $4,000 in the first three months after account opening! For the longest time this offer was stuck at 50,000 points so you don't want to miss out on this better opportunity. Find out more here.
---
United Premier Access
If you are flying first class with United, you will be given United Premier Access. The biggest benefit of this is that you will have your own separate check-in area. I've never really seen the lines very long in the Premier Access area. So typically we are able to print out our boarding pass and check our bags in very efficiently.
You also will get access to a priority line through security in many cases but I typically just go through the TSA Pre-check line (read more about TSA Pre-Check here).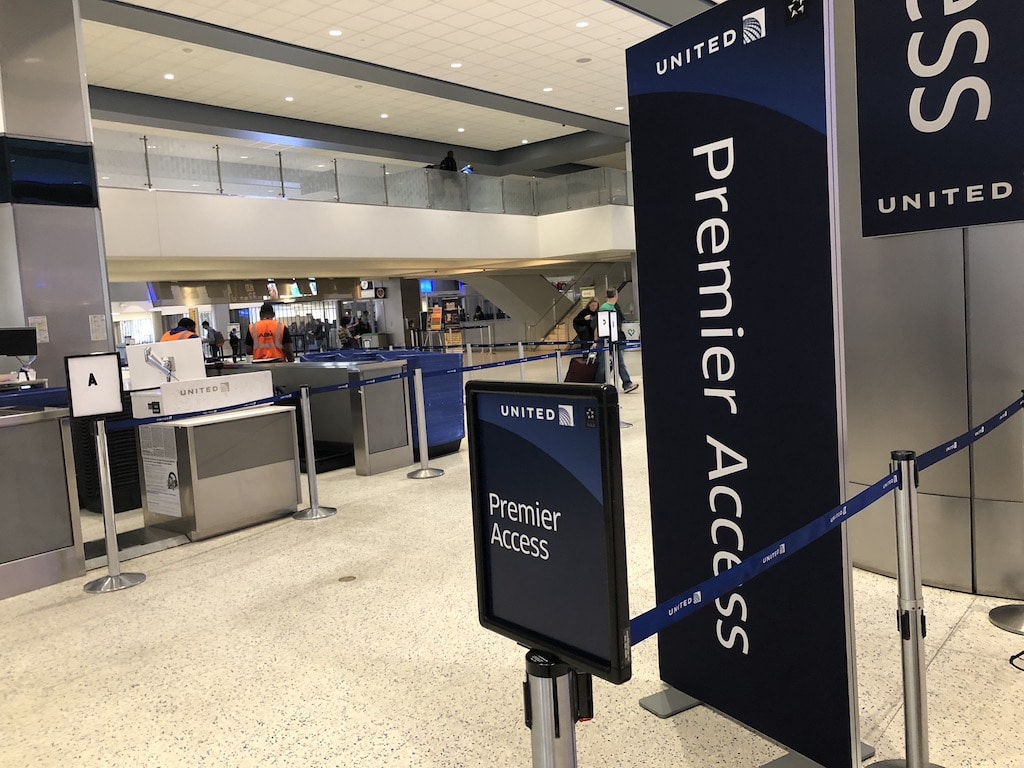 ---
United domestic first class lounge access
One of the exciting parts about flying first class typically is that you get to enjoy lounge access. I have to admit that United Club lounges are nothing special. The newer lounges look great but the food and drink offerings are still pretty basic. I'd much prefer an American Express Centurion Lounge over a United Club Lounge, though those can have overcrowding issues.
When flying United first class domestically, you typically will NOT have access to the United Club Lounges.
The exception to this is whenever you are flying what is known as a premium transcontinental route. These are those long routes between places like San Francisco and New York, LAX and New York, etc.
However, if you are flying internationally (even to a close destination like Mexico) you will be given United Club Access. This is true even if you are flying on a smaller aircraft like a 737 that does not have lie flat seats.
If you are interested in getting United Club access then you might want to look into cards like the United Explorer Card. With that card, you can get to annual lounge passes each year along with some nice benefits like free checked bags.
To read more about the United Club Lounges and the access policy, click here.
---
Boarding
When you are flying first class, you will be able to board with Group 1. You will still have to wait for the pre-boarding and for other groups, such as United Global Services and United 1K. However, you will still usually be among the first people to board the plane.
When flying on a smaller aircraft, we typically arrive to the boarding area about five minutes prior to boarding and are usually about the second or third passengers in line. But when flying on a larger aircraft like a 787, we like to arrive to boarding a little bit earlier just to get closer to the front of the line.
Of course, some people don't like to sit on the plane any longer then they have to so they don't prioritize arriving to the boarding area early.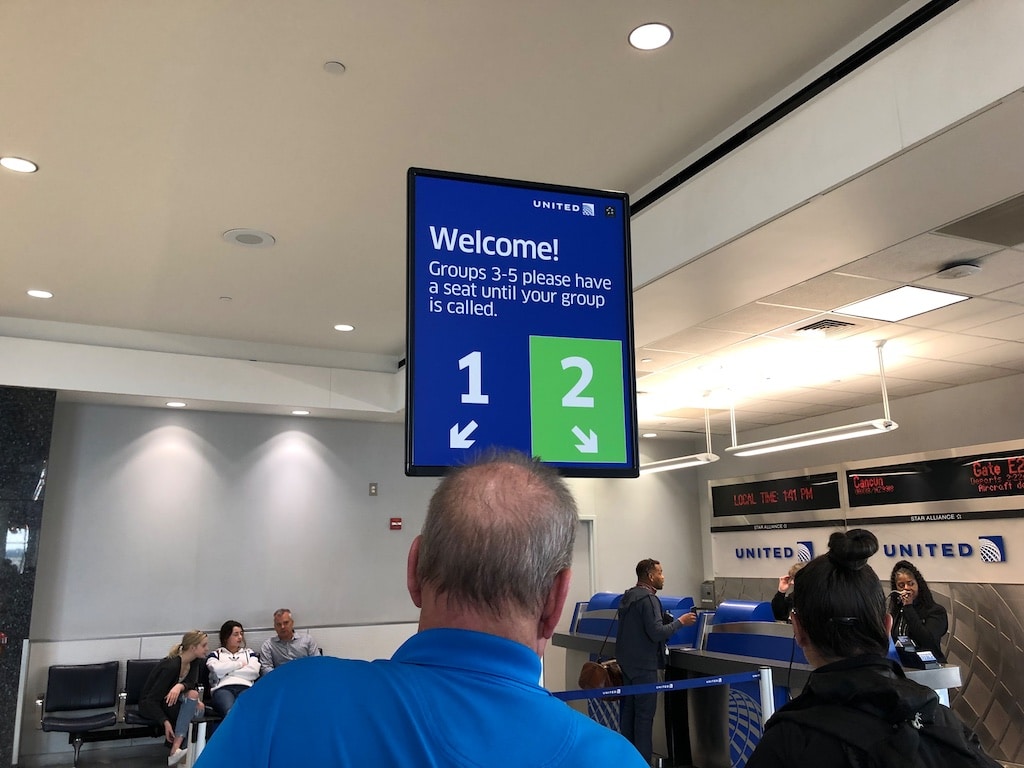 ---
The flight experience
The flight experience is going to vary dramatically between a wide body aircraft and a smaller aircraft like a 737. Since most people flying first class on a domestic route with United Airlines will be on a smaller aircraft, I'll focus more on that.
The cabin
On a smaller aircraft like a 737, you usually will see about four rows of business class seats. On a 737-700, there could be as few as three rows and on a 737-900, there could be up to five rows. Either way, typically the first class cabin is going to be pretty compact.
You'll also have your own lavatory up front that should only be open to first class passengers though the occasional economy passenger finds their way in sometimes.
The seats
First class seats on the 737 are definitely much more comfortable than economy seats. They are much wider (about 4 inches wider) and give you a lot more legroom (about 7 inches more) and they have a 2-2 configuration. Smaller aircraft like the Embraer will have a 1-2 configuration.
Your seats should come equipped with power outlets, making it easy to keep your electronics charged up. This is really nice on some of the aircraft that do not have screens built into the seat in front of you. (While you might expect all first-class seats to have in-flight entertainment with screens that is not case.)
There is a mini tray you can pull out between the seats that is convenient for placing drinking glasses on and then a full tray table can be pulled out from your outside armrest. To recline your chair you simply hit the silver button on the side of your chair and if you want you can adjust the headrests to your liking.
If you are able to fly on a wide body aircraft with life flat seats the experience will be much more comfortable. The cabin will feel bigger and more open but you will also have many more passengers in the cabin with you. The configurations can vary for wide body aircraft and you might see something like (2-2-2, 2-1-1, or even the dreaded 2-4-2).
You will be able to enjoy a fully lie flat seat which (while definitely not industry leading) is better than just a reclining seat in my opinion. You can position this chair in many more different positions to find whatever is most comfortable for yourself.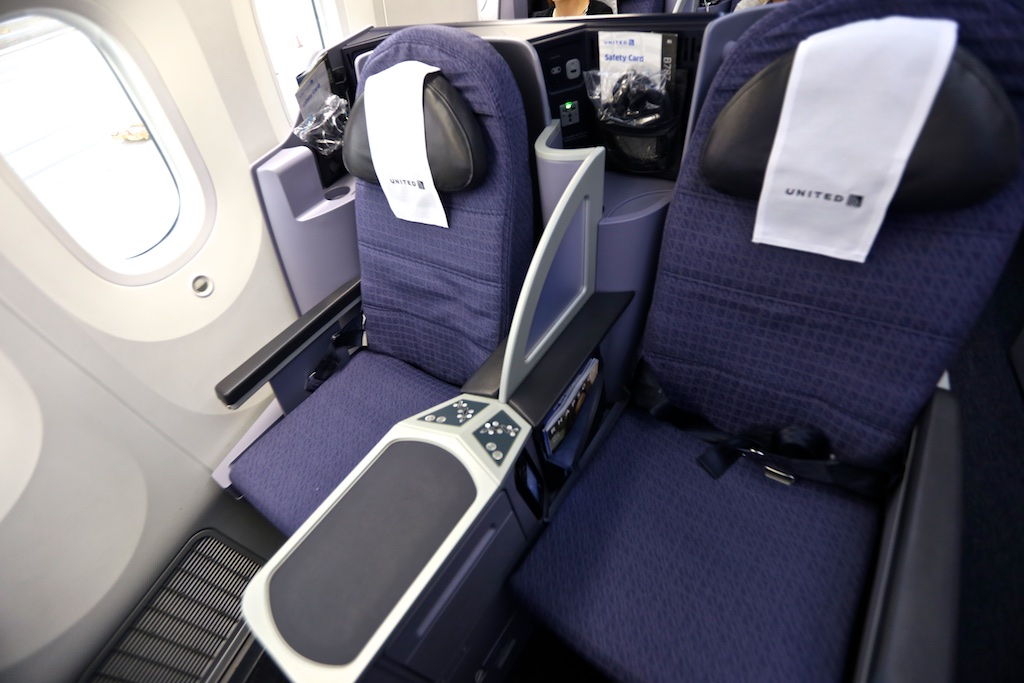 You will also have a larger TV screen and better options for in-flight entertainment.
---
United first class domestic meals
United first class dining is not going to be on par with some of the more renown airlines like Singapore Airlines, Cathay Pacific, etc. But, at the risk of losing all my credibility, I will venture to say that some meals that I've eaten on United first-class domestic flight have not been that bad and actually quite satisfying.
Typically, you'll get some warm nuts and then will be offered two options to choose from (assuming that both are available after the top-tier elites have chosen their meals). While I would not necessarily ever look forward to a meal with United with great anticipation, I've honestly enjoyed a few dishes over the past few years.
My biggest strike against them would probably just be the presentation of the food sometimes. They seriously make the food look much grosser than it actually is (which I realize is not a problem unique to United).
I will say that on some other occasions the food has been flat out crap, so it really tends to be a hit or miss thing with United first-class dining. But when it comes to desserts, especially cookies, they usually have something very good so at least that is one consistent quality.
---
United first class service
Another feature of United first class that can be hit or miss is the service. I've had some pretty disinterested and borderline rude flight attendants but for the most part I've been pretty satisfied with the quality of service onboard.
---
United first class priority luggage
Your luggage should be marked as priority whenever you are flying United first class. What this means in theory is that your bag should be one of the first bags available for pick up whenever you are at baggage claim. This does not always happen although I will say that the last few domestic first class flights I have had on United, I've received my bags very quickly.
---
Final word
Flying first class on a domestic flight with United can be a little underwhelming if you are expecting things like lounge access, lie flat seats, and gourmet meals. However there are ways to seek out lie-flat seats and and there are some perks that are always available like priority check-in and boarding that make the experience better.
UponArriving has partnered with CardRatings for our coverage of credit card products. UponArriving and CardRatings may receive a commission from card issuers. Responses are not provided or commissioned by the bank advertiser. Responses have not been reviewed, approved or otherwise endorsed by the bank advertiser. It is not the bank advertiser's responsibility to ensure all posts and/or questions are answered.
H-Town based Attorney turned credit card rewards expert. Founder of UponArriving.com.