Are you thinking about going to a luau in Hawaii or are you getting ready for one and not sure what to wear?
The good news is: there is not much to worry about and it's super easy to wear something appropriate for a luau.
With that said, there are just a couple of considerations you might want to think about in order to make the most of your luau experience (and all of your luau photos).
Below is a guide to consider for both men and women when attending a luau that will have your wardrobe on point when you arrive.
Make sure you don't miss my two essential tips at the end!
Luau dress code overview
Every luau is a little bit different when it comes to the food, performance, crafts, setting, etc.
But whether you are going to a luau in Oahu, Maui, or any other island in Hawaii, they all seem to have the same thing in common when it comes to creating a very laid-back, festive atmosphere.
Going with that same theme, you can pretty much wear whatever you want to wear and you likely won't stand out or have any issues.
It's really all about being comfortable.
So basic vacation attire with a t-shirt and shorts is perfectly acceptable.
With that said, a luau is also a great time to bust out some special attire that will get you more into the Hawaiian aloha spirit and allow you to take some better (and more memorable) photographs.
(A lot of luaus have a special photo spot where you can get your picture taken by a professional photographer for a keepsake so you might want to get a little fixed up for your photo.)
Below, I'll drop some tips that will help you narrow down your options for your luau wardrobe.
Tip: Use the free app WalletFlo to help you travel the world for free by finding the best travel credit cards and promotions!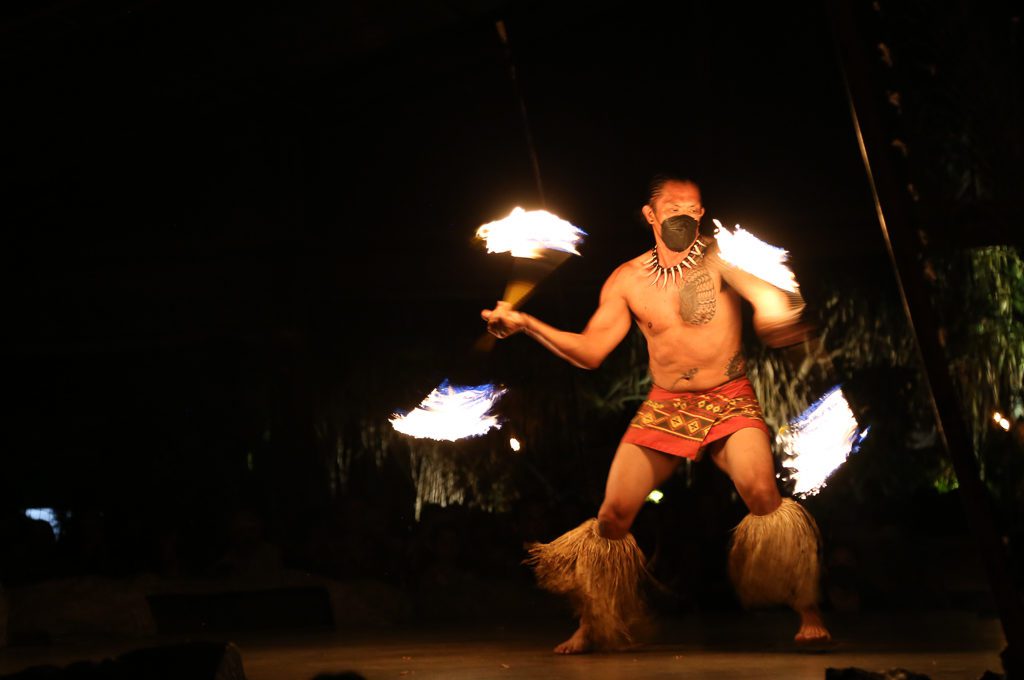 What to wear to a luau (for men)
Hawaiian shirt / "Aloha" shirt
An "aloha shirt" a.k.a. Hawaiian shirt is probably the number one piece of apparel you want to sport at a luau.
You might feel like a Hawaiian shirt is "too touristy" for you but donning one is a simple and easy way to let loose a little bit and commit to your luau experience.
When we attended our luau in Hawaii, most men were wearing some type of Hawaiian shirt.
The good news is that you can get super creative and bold with these shirts.
A traditional Hawaiian shirt may have some type of floral pattern on it but you can find men's Hawaiian shirts in all forms.
For example, you can find them designed with a sports team, college, and even destination-specific designs.
Have a favorite movie or favorite pet? I'd be willing to bet you can find a Hawaiian themed shirt just for that.
You can go as bright or as dark as you'd like — it really doesn't matter.
You can also find men's Hawaiian shirts everywhere including Amazon, Etsy, Target, Walmart, etc.
You'll no doubt find some at souvenir shops or even ABC stores in Hawaii but a lot of times those will be lower quality shirts you may not want to get.
Feel free to go as bright and bold as you'd like but my advice would be to pay attention to the type of fabric and fit before you make your purchase.
Personally, I like the really light and somewhat stretchy-fabric Hawaiian shirts which are super comfortable and perfect for a cool and breezy luau setting.
You can also find fitted Hawaiian shirts which are a little bit more stylish but may not be as comfortable as a loose fitting button-down.
Related: Luau Kalamaku Review (Kilohana Plantation, Kauai)
Men's leis
When you arrive at your luau, there's a good chance you'll be leid right as you enter.
My recommendation, which applies to both men and women, is to do some research to see if you will receive a lei and what it might look like.
Just call up the luau ahead of time and ask them if they provide leis and if so what type/color.
This will help you pick an optimal color for your Hawaiian shirt that will allow your lei to really "pop" in photos.
My advice would be to find a shirt color that contrasts really well with the lei. Going with a white-based Hawaiian shirt is usually a good idea because it will contrast so well with purple orchid leis, green leaf leis, black Kukui nut leis, etc.
Some luaus will give flower leis to women and smaller, more discrete leis to men. In our case, we received these thin, shell leis which did not really stand out (but were still pretty cool).
In those cases, when your lei isn't really going to stick out, you might want to purchase a lei before you arrive at the luau. You can find those thicker shell leis and black leis at a lot of souvenir stores such as ABC stores.
I wouldn't purchase the silk leis because they honestly don't look great and chances are you can get a real flower lei at the luau.
However, the shell leis are cheap pretty much anywhere.
We saw quite a few people sporting two leis so this is just a way for you to stand out.
However, I would avoid stacking on lots of necklaces and leis so that you don't look like those people at graduation ceremonies who just couldn't help themselves.
Tip: If you are worried about your lei getting in the way during dinner, just pull it back so that it is hanging on your back rather than in front of you.
Shorts or pants
My number one recommendation for men would be to just wear a pair of khaki shorts. These could come in a traditional khaki color, a bright or dark color, or you could even go with white.
I would just choose the color of your shorts based on the color of your Hawaiian shirt.
Have a light colored shirt? Go with dark colored shorts and vice versa.
And if you don't have any type of khaki shorts, don't be afraid to get by with board shorts or something similar. Nobody is going to care.
If you want to look a little bit more formal then just go with a pair of khaki pants or white pants.
Just remember, it might be warm at the start of the luau because they typically begin before the sun sets. Pants may not be that comfortable, unless you have a nice breeze in the evening.
Hats
Luaus take place mostly in the evening with a large portion taking place after sunset so a hat is often more of a fashion statement than a necessity.
But as just mentioned, the first hour or two of the luau experience could be in the sun and so a hat could be useful.
Wearing the typical baseball cap is perfectly fine at a luau and does not look bad if paired with the right type of shirt.
You could try to get fancy with something like a Tommy Bahama straw hat but that is not necessary and I didn't really see any dudes in straw hats.
If you don't go with a hat (or even if you do), sunglasses can really come in handy, too.
Shoes or sandals
You can pretty much wear whatever type of shoe you would like to but some might look better than others at a luau.
A popular choice to go with is some type of sandal.
A leather sandal will probably look the best but you could go with basic flip-flops or perhaps even some type of running/hiking sandal and be just fine.
Some luaus even mention that you can go barefoot but I would not necessarily recommend that unless you are really comfortable with that idea and know the type of setting you are going to.
Luaus may have additional venues to check out like plantation train rides, market areas, etc. Some areas get crowded and there will be a lot of Mai Tais flowing. It's probably best to have something covering your feet in those cases.
However, if you were going to a luau on the beach and you know that is where you will be located the entire time, the barefoot approach could probably work and makes sense.
What to wear to a luau (for women)
Floral dresses
I'm definitely not an expert on women's apparel but I did notice women at the luau wearing a lot of the same items.
The most common item I saw was a floral sun dress (some even may have had a muʻumuʻu type of thing going on).
Unlike the men's Hawaiian shirts that come in all sorts of different designs and patterns, the dresses worn by women were typically floral patterns.
It seemed like both long dresses and shorter (mid-length) dresses were common so it just depends on if you want to be a little bit more conservative or not.
I also saw some women just wearing pants, capris, or shorts, and some were even wearing Hawaiian print shirts. So once again, it really comes down to your personal preference and how much you want to invest in your attire.
My one bit of advice is to not be too revealing with your attire because these are very much family events and some people may not appreciate your outfit if it is too "provocative."
Also, if you think you might be getting chilly consider bringing a light jacket or perhaps some type of scarf.
Women's leis
The same advice above re: leis applies here.
You'll likely receive a flower lei so consider trying to wear something that helps that lei pop in your photos.
Flower in the hair
A popular fashion choice for many women at a luau is to place a flower in the hair, just above the ear (pictured below). It's a great way to stand out but there is just one major consideration you need to think about: the placement.
If you are taken (married or have a significant other) then you want to place your flowers on the left side of your head and if you are single your flowers go on the right side.
An easy way to remember this is that the flowers should be on the side of your wedding ring if you are married.
Hats
Most women I noticed did not have any type of headwear on. If they chose anything it was usually a single flower in the hair (some had more than one).
If you wanted to get really bold you might be thinking about arriving with a flower crown on your head but I don't think I saw any women wearing those who were not performers so that might be a bit much.
I believe that is more appropriate for special occasions like weddings, etc., so I'd probably avoid wearing one.
Shoes
High heels don't seem like an optimal choice considering that some luaus take place in sandy or soft-ground areas. I noticed a lot of women (almost all) wearing sandals and flip-flops during our luau, so that's probably the way to go.
Bags
Try to avoid bringing large purses or large bags with you as it will just make it easier to get around.
Matching as a couple or family?
Some couples or families like to match whenever they head out to a luau.
Personally, the matching look is not for us but you can find Hawaiian outfits that match for both men and women and obviously same sex couples, too.
If all-out matching is a little much for you, you could always do something a little more subdued like complimentary colors with matching patterns.
Two essential items
There are two things that you want to bring with you to your luau so that you don't have a frustrating experience.
First, make sure that you have sunscreen because the first hour to hour and a half of your luau might be exposed to the sun.
While the temperatures are pretty amazing in Hawaii, direct exposure to the sun for that long can definitely burn some people.
Sunset times in Hawaii usually range from around 5:50 PM to 7:20 PM depending on the time of year.
The second thing you want to bring is bug spray.
There's nothing worse than trying to enjoy a luau while constantly swatting at bugs. Just be sure you spray it away from the crowds or tables.
And finally, if you get cold easy then you might want some type of light jacket or scarf to keep you warm.
Last tip on what to wear
Overall, I would just try to avoid being too gimmicky when dressing for a luau.
You can leave all of the outlandish outfits to the performers and just focus on being comfortable and stylish (if that's what you're interested in).
Final word
Unless you are attending some type of special event, there is little to no pressure to dress a certain way when you attend a luau. However, if you want to get a little bit more festive and really stand out in your photos, consider the tips above.

Daniel Gillaspia is the Founder of UponArriving.com and the credit card app, WalletFlo. He is a former attorney turned travel expert covering destinations along with TSA, airline, and hotel policies. Since 2014, his content has been featured in publications such as National Geographic, Smithsonian Magazine, and CNBC. Read my bio.