One of the biggest reasons I enjoy earning miles and points is that it offers me the opportunity to fly on some amazing aspirational first class products.
I've been able to fly on many of the top first class products and I used my Chase Ultimate Rewards to help me fly on several of those.
In this article, I'll show you some of the best ways to use your Chase Ultimate Rewards to fly on some amazing first class products.
Earning Ultimate Rewards
It's very easy to quickly earn lots of Ultimate Rewards with some of the top Chase credit cards.
Typically, I recommend people to go first for the Chase Ink Business Preferred and then wait a couple of months and go for the Chase Sapphire Preferred.
Depending on the bonuses that you pick up, you could easily net close to 150,000 Chase Ultimate Rewards which would be enough for a first class flight.
If you wanted to build up your balance even more you could also seek out cards like the Chase Ink Business Cash or perhaps the Chase Freedom Card.
Adding those into the mix could easily put you north of 200,000 points which is a good amount of points for booking at least one solid round trip in an aspirational first class product.
The thing is that Chase has a lot of tricky application rules that can kill your chances of being approved for these cards.
But if you are using the new app WalletFlo to check your eligibility for these cards, you won't have to worry about getting surprised by the application rules.
WalletFlo will also help show you which cards to use to maximize your points and help you track and manage annual fees, credits, etc. It's free and very user-friendly so you should definitely check it out.
When you use your points for these first class bookings below, in many cases you will be receiving outsized value for your points.
For example, let's say that you had the Chase Sapphire Reserve and you use your points in the Chase Travel Portal. You'd be getting right at 1.5 cents in value per point. That's not bad, especially compared to other travel portals like Amex Travel.
But, as you'll see below if you choose to use your points to book first class flights the value that you get from your points can be multiplied by a lot.
Tip: Use WalletFlo for all your credit card needs. It's free and will help you optimize your rewards and savings!
Ultimate Rewards airline partners
Below are all of the Chase Ultimate Rewards airline partners.
| | |
| --- | --- |
| Airline | Transfer ratio |
| Aer Lingus AerClub | 1:1 |
| British Airways Executive Club | 1:1 |
| Emirates Skywards | 1:1 |
| KLM/Air France Flying Blue | 1:1 |
| Iberia Plus | 1:1 |
| JetBlue TrueBlue | 1:1 |
| Singapore Airlines KrisFlyer | 1:1 |
| Southwest Rapid Rewards | 1:1 |
| United MileagePlus | 1:1 |
| Virgin Atlantic Flying Club | 1:1 |
Chase Ultimate Rewards airline partners
As you can see, the ratio for transferring points is always one to one.
That 1:1 transfer ratio is one reason why Chase Ultimate Rewards is a special program because other transfer programs do not have 1:1 transfer ratios for all airlines.
First class redemptions with Ultimate Rewards
Emirates first class
Emirates flies its first class on many different routes so you could look at flying from many destinations in the US to Dubai (DXB).
I once used 85,000 Emirates Skywards to book Emirates first class and paid close to $300 in total fees for a flight between Milan and New York. That flight would cost about $3,620 so the value in cents per mile came out to approximately 4 cents.
Emirates first class is on the bucket list of many miles and points enthusiast.
And for good reason.
Emirates offers a fully enclosed private suite that can be conjoined with an additional suite if flying as a couple.
It offers a comfortable flying and sleeping experience with solid in-flight entertainment and all of the premium alcohol and champagne you would expect.
The product goes over and beyond when it comes to additional amenities, though. For example, you can get up and stretch your legs at the main business class bar where you will be able to mingle with other passengers and crew.
You can also hang out at the exclusive first class bar where you will find premium champagne and other expensive bottles.
And finally, there is the world famous on board shower which is the best shower in the sky. You'll have up to half an hour to relax in the luxurious spa like shower area and be able to pamper yourself up a bit.
Overall, Emirates is an expensive first class experience but it can be an unforgettable way to splurge with your Chase Ultimate Rewards.
Lufthansa first class
To do this redemption, you first need to transfer your points to United Airlines and then book Lufthansa with those United miles.
Tip: You can use the United Explorer Card to help you rack up miles needed for this redemption.
I booked Lufthansa first class with 110,000 United miles and the fees for the flight were only $112.13.
This flight would have cost $8,945 so with all fees factored in, I got 8 cents in value per mile on this redemption!
Lufthansa first class is one of the most respected first class products that you can fly on.
The hard product itself is very solid. The service and dining will be tremendous and you'll be served up a healthy serving of caviar and offered premium champagne.
The drawback is that it is one of the least private first class cabins so if you really want privacy or a fully enclosed suite this is not the product for you.
If you're flying out of Frankfurt Germany then you can experience the amazing Lufthansa First Class Lounge. The lounge is actually it's on terminal and you will enter through your own private security which is a really cool feeling.
I arrived as soon as it opened on my visit and had the terminal to myself for quite some time and it was a pretty surreal morning.
They have a great dining experience in the lounge, a huge bar area, and some quality nap rooms and shower/bath facilities. There's also relaxation areas, a cigar room, and a private transport to the aircraft via a Porsche.
It's just a really outstanding experience overall and you will not regret using your Chase Ultimate Rewards for it.
Singapore Airlines first class
Another unforgettable first class experience will be flying in Singapore Suites.
Singapore offers the most spacious first class suites that you will find with miles and points. The amount of space is unreal and one of the unique features of Singapore Suites is the ability to sleep in a double bed in the sky.
The bubbly game is strong with Singapore Airlines. They are one of the only airlines to serve up both Dom Perignon and Krug champagne.
If you want the full suite experience you will need to look for Singapore Airlines A380 routes and you can find those between certain destinations like Singapore and Sydney, Australia.
For a route like that it will come out 85,000 miles but fees can be very reasonable (~$65). The flight would run you about $2,660, so you would be needing about three cents per point.
Availability is usually the hardest part of booking suites so in some cases you will have to do a lot of searching or book very far in advance.
Whether you are flying on the old Singapore Suites or the new Singapore suites honestly both are super impressive and will blow you away.
If you're flying out of Singapore, you can also enjoy The Private Room which should be undergoing a new renovation soon.
ANA first class
While ANA is a partner of American Express Membership Rewards they are not a partner of Chase.
However, you can transfer your points to Virgin Atlantic and then use them to book and a first class flight on ANA.
One of the best first class redemptions in the world is using Virgin Atlantic miles to book ANA first class. For only 120,000 miles round-trip from the US, it's an absolute steal. Plus you can book open jaws.
Availability can be tough at times but from a cents per point standpoint, it's very hard to beat this considering the flights can be close to $20,000 round-trip.
The one downside with using Virgin Atlantic mile is the fact that they impose fuel surcharges. They are not astronomical but in some cases can be over $300.
Related: 11 Keys to First-Class Etiquette
Thai Airways first class
Thai Airways first class is a pretty exceptional product that gets a lot of high reviews. You can enjoy the suite experience in an A380 or other wide-body jet like a 747.
Thai Airways is a Star Alliance partner of United so you can transfer your Ultimate Rewards to United to make this redemption happen. Flying from Bangkok to a place like Europe will require you to shell out about 160,000 points for a saver first class award.
That's a lot of points but the good news is that fees are extremely low at only around $25.
If you can't get the miles for first class, the business class isn't too shabby either.
Japan Airlines First Class
Japan Airlines first class is another one of the top first class products.
They are a member of the oneworld alliance so you would be transferring points to British Airways and booking with Avios.
The suites may only be available on certain routes so you'll need to check those first. Many of these routes are very long so the price could be very high for this first class experience when using Avios.
For example, from Japan to the West Coast of the US you'll be looking at 103,000 Avios. The good news is that the fees will be extremely low at only around $53.
While the suites are not fully enclosed, It's still a top-notch experience with premium dining and champagne and quality amenities like ETRO amenity kits, Bose headphones, and comfy pajamas.
Tip: If you are flying from Japan, consider flying out of Haneda (HND) instead of Narita (NRT) for Red Suites.
JetBlue Mint
JetBlue Mint is widely regarded as the top domestic business/first class experience. Depending on the type of ticket you get, you could be flying around the country in an enclosed suite with lie-flat seats.
The only drawback to JetBlue Mint is that it is only found on select routes so it's not always that easy to book.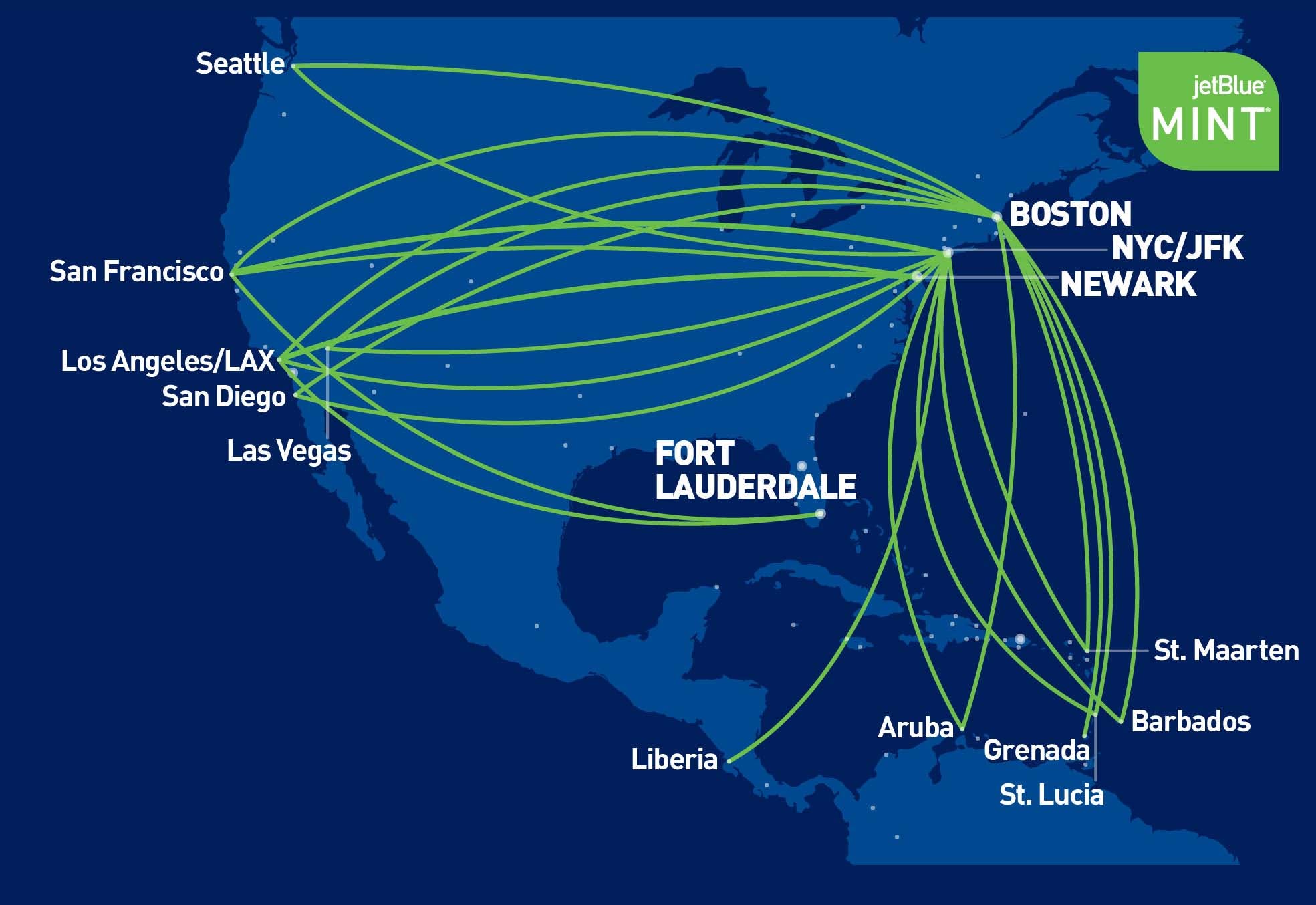 JetBlue has dynamic pricing so the cost of a Mint award will change but here are some of the award rates that I've found for one-way flights in the past:
JFK to SFO: 65,000 one way + $5.60 in fees
JFK to LAX: 57,700 one way + $5.60 in fees
BOS to LAX: 45,300 one way + $5.60 in fees
FLL to LAX: 53,100 one way + $5.60 in fees
Tip: JetBlue is a partner of other transferable programs like American Express, Citi, and Capital One. You can also earn more miles with the Barclays JetBlue Plus Card.
United Airlines first class
United is a transfer partner of Chase Ultimate Rewards so you could easily transfer your points directly to United and fly United business/first class around the country or to nearby regions like the Caribbean.
For a round-trip domestic flight in first class you would be looking at 50,000 miles on many routes though the price could vary.
If you fly internationally, even to Mexico, you can get access to a United Club for free. You also won't have to pay any United baggage fees on your first couple of bags when flying first class so you get a lot of additional value outside of the air travel.
Tip: In some cases if you have the Chase Sapphire Reserve and the price of a first class ticket is lower than $375, you should consider using the Chase Travel Portal because you will get better value for your points
American Airlines domestic first class
If you were just trying to get around the country, American Airlines first class can be an option.
As you've probably noticed, American Airlines is not a transfer partner of Chase Ultimate Rewards.
This immediately makes a lot of people think they need to pick up an American Airlines credit card like the Citi Platinum Select in order to use miles on American Airlines.
But remember you can book American Airlines with Chase partners like British Airways.
You can book domestic routes for pretty cheap rates, especially if you can find nonstop flights. For example, I found business class flights between Miami and Phoenix for only 22,000 Avios, which is a great rate.
Since you are using Avios, which is a distance-based award chart, the longer your flight is, the more miles you may have to use.
Consider using your Avios to book first class lights around the US or two nearby locations like Mexico and the Caribbean. Some of these shorter redemption routes can be extremely great value.
Related: First Class vs Business Class: 15 Differences You Might Expect
Cathay Pacific first class
Cathay Pacific first class is widely regarded as one of the top first class experiences in the world. It's an ultra-luxurious experience with arguably the most comfortable bed in the sky.
Cathay Pacific is part of the oneworld alliance so you can transfer your points to British Airways and use your Avios to book them. Flights may get pretty expensive from the US to Asia but you can always look into routes within Asia which should be more manageable.
If you are departing from Hong Kong International Airport (HKG), be sure to check out The Pier — an elegant airport lounge with quality dining, a beautiful bar area, day beds, and a spa.
British Airways first class
If you are transferring your points directly to British Airways, a first class fight is going to be pretty expensive mostly because you are going to have to pay a lot in fees.
But if you are flying let's say from London to the East Coast, prices are not too crazy. A first class flight on British Airways from London to New York JFK would cost 68,000 Avios.
That's not bad at all but the fees will be pretty high at $587.
So this redemption really is only for people who don't mind splurging on fees.
Tip: Another way to fly first class on British Airways would be to use something like Alaska miles or American Airlines miles.
Qatar Airways first class
You can also transfer your points to British Airways and book a trip on Qatar Airways first class. If you're flying between somewhere like Paris and Doha, you could expect to pay around 75,500 Avios one way. Fees should be pretty reasonable and may be around $125.
The first class product on Qatar Airways on the A380 is not talked about as much as some other first class products. I think that is largely because the business class product is so solid on Qatar Airways that it gets most of the attention.
But don't sleep on this first class experience.
The seat is very comfortable and spacious and while it is not a fully enclosed sweet it is still very private.
You will be served up some great dining and premium champagne and if you would like, you can head to the in-flight lounge and bar area which in my opinion is the best bar in the sky.
If you're flying out from Doha, you can experience one of the top first class lounge is in the world.
The Qatar Airways First Class Al Safwa First Lounge is basically like a large museum full of artifacts and superb amenities like a great dining station, spa, entertainment rooms, and best of all the little "hotel" rooms.
Chase Ultimate Rewards First Class FAQ
How many Chase points are needed for a first class flight?
The amount of Chase points needed can vary drastically depending on the type of first class product. If you are flying domestic first class on American Airlines with British Airways points, you may only need 22,000 points.

But if you want to use United miles on Thai Airways first class from Southeast Asia to Europe, you may need close to 160,000 points.
What Chase cards are best for flying first class?
Because first class redemptions can be so expensive, you want to pursue cards with the highest bonuses. Chase cards that offer high bonuses include cards like the Chase Ink Business Preferred and Chase Sapphire Preferred.

It's also a good idea to supplement your point balances with co-branded airline cards like the United Explorer Card.
Are there high fees when using Chase points for first class flights?
You do not have to pay fees to fly first class when using Chase points. You can transfer your points out to partners like United Airlines and book several first class flights with low fees.
Final word
As you can probably tell, you can get very far with Chase Ultimate Rewards whenever it comes to first class redemptions. By utilizing the travel partners and some of the alliance partners you can find some super valuable redemptions, often with very manageable fees.
Daniel Gillaspia is the Founder of UponArriving.com and creator of the credit card app, WalletFlo. He is a former attorney turned full-time travel expert covering destinations along with TSA, airline, and hotel policies. Since 2014, his content has been featured in major publications such as National Geographic, Smithsonian Magazine, Forbes, CNBC, US News, and Business Insider. Find his full bio here.