These are my top ten first class experiences that I've flown (all with miles and points). I've only included cabins/airlines that I've personally flown so that's why you might not see some airlines that would otherwise belong on the list.
Some of the factors (roughly in order of importance) that I used for my first class experience rankings include:
Privacy (fully enclosed suite, size of cabin)
Comfort (seat, bedding, space)
Dining & beverages (customization, quality, premium champagnes)
Service (passion, attentiveness, charisma)
Special cabin features (double beds, bars, showers, etc.)
Lounge experiences at hubs (dining, special features like nap rooms, spa, etc.)
A couple of the flights I took below were on short to medium flights so I didn't get the full first class experience. However, because the flights were so memorable, I felt compelled to still include them on the list.
Below, I'll give you my reasoning for choosing each of these and talk about some of the pros and cons of each airline's cabin. I'll also tell you what type of miles and points I used to fly on these first class products and how much I paid in fees for each booking. Hint: I used many of the top travel credit cards!
Tip: Use the free app WalletFlo to help you travel the world for free by finding the best travel credit cards and promotions!
10. British Airways First Class (747)
The British Airways First Class product gets a bad rap from many people. The hard product is built similar to a business class product so that's understandable but it's not that bad since the ottoman is still bigger than most business class products.
Despite the business class build, I still think it's a pretty sleek product. And if you're a couple (of the right size) you can even share your table and dine together. We weren't exactly confident about our comfort levels sharing the cramped dining space so we opted not to.
British Airways has put a new soft product in place that has improved the dining experience since we flew them so that's another plus for BA F. I can't comment on that new soft product based on personal experience but I've heard pretty good things about it.
I enjoyed being in the nose of the 747, although the cabin felt a little cramped with fourteen seats — that's over twice as many seats as some first class cabins. Still, it isn't quite as bad as you might think once you get settled into the seat.
We enjoyed the Concorde Room at LHR. I liked relaxing on the indoor terrace and watching the sunrise and I also was a fan of their very private dining booth areas. I remember the lounge getting kind of packed even for an early am visit and the spa and cabanas (nap rooms) being all booked up. So if you visit, I recommend that you reserve a spot ahead of time.
(Customers traveling in first class can pre-book a treatment at the ELEMIS Spas in London Heathrow Terminal 5A South and Terminal 3 from 28 days before departure up until 48 hours before.)
So I think the Concorde Room is a quality lounge but it wasn't the most memorable first class lounge experience, especially compared to some of the lounges below. I should note that I visited it before it was recently refurbished so it might be even nicer now.
Booking
I used 85,000 American Airlines miles and paid $270 in fees for the booking from OSL to IAH and this flight was from LHR to IAH. Since we were flying out of Oslo, we were able to avoid the higher fees for direct flights out of London, which was very nice. Also, in my experience availability for British Airways first class has always been pretty easy to find. The flight segment is priced at $12,984.
It's not that difficult to find an AA credit card offering 70,000 miles for a sign-up bonus these days so it's pretty obtainable to cover the miles needed for a one-way first class segment on BA — you just need to be ready to cough up some dough for the fees. (You used to be able to avoid the fees flying out of Brazil but that's no longer the case.)
9. Etihad First Class (A330)
I flew the Etihad A330 on a short flight from MLE to AUH. I was thoroughly impressed by the privacy which includes a fully enclosed suite. The interior suites are great for couples and with the partition lowered they really open up nicely — more so than the interior first class suites with Emirates.
What surprised me was the dining — I think I enjoyed one of my favorite meals on this flight (chicken biryani) and though they didn't serve up the most premium champagnes it was still a memorable dining experience on such a short flight. The service was fantastic, too.
I liked how cozy the interior suites felt and I think that the sleeping experience would've been very good, especially because there are vents in the suite that allow you to control the temperature and stay cool and comfortable.
I might have ranked this one higher if I had flown it on a long-haul route and got a better feel for things like the bedding, dining, service, etc. I'll talk more about the Etihad first class lounge below.
Booking
I used 62,500 American Airlines miles and paid around $65 in fees for the booking from MLE to LHR and this flight was the first segment from MLE to AUH. As far as I'm concerned that is one of the very best redemptions out there, since the mileage rate is super competitive and fees are so low (or at least they were when we booked).
8. Korean Air First Class (A380)
The Korean Air A380 is worth trying out at least one time simply for the novelty of it. The cabin itself isn't the most private and houses 12 suites which are not fully enclosed (though the partitions do help with the privacy). And while I wasn't crazy about the color scheme, the seats were pretty comfortable with plenty of room and good storage.
The dining on Korean Air is high quality. Starting with a fancy presentation of caviar, you can also enjoy delicacies like bibimbap and premium champagne.
But what makes the A380 stand out are the multiple bars. There's the main Celestial Bar which is at the back of the plane and it's a great place to go for a cocktail and to stretch your legs. But there are a couple of other areas for you to relax in, including an exclusive first class bar.
There's even a freaking duty free shop on the plane.
So overall, first class on the Korean A380 is just a unique experience that I think any true avgeek would appreciate. And if you're someone who likes to roam around on long flights, you'll be able to do plenty of that on the A380 (they'll even "escort" you to the bar). Click here for Korean Air A380 routes.
The Korean Air first class lounge at ICN isn't the biggest and doesn't really offer anything spectacular in the form of dining but it's a comfortable place to relax in and has a beast of a massage chair that you can use. It also has some decent terminal views ideal for people watching.
Booking
I used 80,000 Korean miles and paid $64 in fees for the booking from LAX to HKG and this flight on the A380 was the first segment from LAX to ICN (priced at $9,059). I transferred Chase Ultimate Rewards to Korean Air but note that Korean Air is no longer a partner with Chase. SkyTeam makes booking first class awards difficult so I'm not sure which SkyTeam partner, if any, you could currently use to book Korean Air first class.
Korean Air had a very generous hold policy and allowed me to put awards on hold for several weeks while I awaited the points I needed to make the booking. I'm not sure if they still allow holds like that but it's something to inquire about because those things can be very YMMV.
7. Cathay Pacific First Class (777)
Cathay Pacific first class seats are ridiculously wide and comfortable and offer a lot of privacy with the large privacy shields. The cabin is also very small with only six seats, which allows for a very intimate flying experience. Tip: You can optimize your privacy by picking the aisle on the left that looks toward a partition.
I only got a taste of the Cathay Pacific first class experience on a short flight from HKG to BKK. Due to the short flight, I didn't get the full dining experience and didn't get try out the bed that gets amazing reviews. The service was fantastic though and the bit of dining I did get to try out was solid, so I could only imagine how it would be on a long-haul flight. With a true long-haul CX F experience, I might have ranked them a little higher.
The Pier at HKG is unquestionably one of the best first class lounges in the world. It's a beautiful venue that offers complimentary spa treatment, nap rooms (day suites), and some pretty fantastic dining, too. The spa gets booked up quickly so you'll need to act quickly.
They ask that you limit your time in the day suites to 1.5 hours which is too short to get real rest when you need it in my opinion so that's a bit of a shortcoming. But many of the day suites have tarmac views so they're just a great place to relax in.
Booking
The booking was for HKG to SIN and this first class flight was from HKG to BKK. I used 22,500 Alaska miles and fees came out to around $40. I believe that Cathay is doing away with their first class on shorter regional routes so this type of booking may not be possible in the future.
6 (tie). Qatar Airways First Class (A380)
Qatar first class on the A380 doesn't get a lot of love but I enjoyed this elegant and understated cabin. I'll admit that it's odd that Qatar first class on the A380 doesn't offer enclosed suites but their Q-Suites business class does. The seats still feel very private though with large partitions, and I liked that they allowed them to stay up during take-off and landing for better privacy from start to finish.
Qatar Airways also has the very best bar in the sky on the A380. It's a beautiful bar that has an optimal design that's perfect for socializing and grabbing a couple of drinks or snacks. They even serve premium champagne to business class passengers there if you ask.
I really am a sucker for an onboard bar or lounge since it's a nice way to pass the time and get refreshed, so they get a lot of points for that. The only drawback is that the bar often stays full so get there early to get a good spot.
The Qatar Al Safwa first class lounge in Doha is my favorite first class lounge. It's basically a museum with a lounge in it and as a big fan of museums, I was in love with it (they even have artifacts on display).
The lounge is a huge venue with great amenities like multiple nap rooms that come with private showers (that also allow you to spend many hours in unlike other lounges). We arrived to the lounge exhausted at around midnight and had a long layover and having essentially a private hotel room was a lifesaver.
The dining was also solid and there's a large bar area and plenty of places where you can hunker down to work or relax in privacy.
It's just a fascinating place that is definitely worth spending as much time there as allowed. I think the airport lounge experience and onboard bar helps boost Qatar in my ratings but I also enjoyed other aspects of the flight like the premium champagne, caviar, etc.
Booking
I used 62,500 American Airlines miles and paid around $150 in fees for the booking from CDG to MLE and this flight was the first segment from CDG to DOH. This flight segment is priced at $5,676.
6 (tie). Lufthansa First Class (A380)
I recently flew the Lufthansa A380 and it was impressive. The experience had some of the best service out of any first class airlines. The staff was very friendly, super attentive, and just an overall pleasure to be around. I really can't think of many airlines that do it better in terms of service.
The Lufthansa first class seat is also remarkably comfortable and is probably my favorite first class seat. That's because it's big, comfy, and has controls that allow you get in just the perfect position by doing things like sliding the ottoman up or pushing the headrest up. The roses are such a perfect touch to the cabin as well.
The reason why Lufthansa is so "low" on my list is that there's limited privacy. I'm a huge fan of total privacy in first class and the cabin was one of the most open first class product I've flown in. It helps there are only eight seats and it gets better with the partitions up, but I can't help but think about how epic Lufthansa would be with enclosed suites.
The Lufthansa First Class Terminal (FCT) at FRA is a fantastic place to relax before a flight and one of my favorite first class lounges in the world.
You get to breeze through your own private security entrance (I was the only one in line) and then enjoy some great dining. They've got nap rooms, massage chairs, and even a bath tub you can relax in if you'd like. It's also a pretty sweet feeling to pull up on the tarmac in a Porsche and making your way to your first class cabin.
Booking
I used 110,000 United miles that were mostly sitting in my United account already but I supplemented the balance with points transferred from Chase Ultimate Rewards. The fees for this route from FRA to IAH were only $112 (but you'll likely have to pay close-in fees if you book with United). The segment was priced at $9,318.
Inventory for these seats really opens up a couple of weeks before departure so this is an award that you'll often have to wait last minute to book, with some openings happening one day before departure. If you're using United miles, many times you might have to book with a connection in economy. If you do that, just keep monitoring the routes on a daily basis and you might see an all first class itinerary show up eventually.
Tip: Check out the free app WalletFlo so that you can optimize your credit card spend by seeing the best card to use! You can also track credits, annual fees, and get notifications when you're eligible for the best cards!
4. Old Singapore First Class (A380)
I might be a little biased because my first ever international first class experience was on Singapore First Class on the A380 but I still think it's one of the best first class experiences out there. For starters, if you're traveling as a couple it's hard to beat the unique ability to share a double bed with your partner in the sky.
The suites are very private and you have plenty of room in your suite to get comfortable. The first class cabin is also one of the most charming airline cabins I've every flow in. It sort of feels like a rail car and I loved the windows to the suites that allow you to customize your desired level of privacy.
Singapore Airlines dining on the A380 is fantastic. You've got the option to book the cook and select a special meal like lobster and you can expect a quality serving of caviar and fancy desserts.
Singapore Airlines is also known for offering both Dom Perignon and Krug — the only airline I know of to consistently offer those two options.
The amenities on Singapore have always impressed me, too. From Givenchy pajamas to Ferragamo cologne, the offerings have always been high quality. The service with Singapore First Class is just outstanding, too. They have really stood out on all of my SQ first class trips and that's a huge reason why I rank them so high.
Booking
I used 51,000 Singapore Krislfyer miles to make this booking happen from NRT to SIN (this award price has since been increased). Fees were only around $50 for this route so this was a great redemption, especially considering the cash price for this route. I transferred Chase Ultimate Rewards and American Express Membership Rewards over to Singapore to get the miles for this booking.
The issue is that availability for Singapore Suites can be very tricky on certain routes, especially if you're going after Saver awards. If you're willing to cough up about 2X the miles, things will be much easier but otherwise you might find yourself getting stuck on a wait list.
3. Emirates First Class (A380)
The old Emirates first class on the A380 is still one of the best first class experiences out there. Sure it's one the gaudy side but in person it doesn't feel as "blingy" once you get settled in your suite and the lights dim. I liked the mini-bar with electronic controls, vanity mirror, and the endless supply of snacks they supply you with (so good). I also liked the small touches like the journal they provide.
I recall getting very comfortable in my suite on the Emirates A380 with its soft bedding and ability to control the temperature with air vents. The suite did feel a little confining at times but that wasn't a major concern to me.
The bar on the Emirates A380 is a fun place to hang out in and socialize. The "bartenders" are great and as a first class passengers you can get them to serve you your first class booze at the bar.
Speaking of booze, Emirates serves up some of the most premium drinks, including Hennesy Paradis. You can find some of those premium drinks at the exclusive first class bar that also serves up snacks.
There's something special about taking a shower in the sky and Emirates has the best shower in the sky. It's a spacious and elegantly decorated lavatory that'll have you feeling relaxed. They also have two of them making it easier to schedule your showers.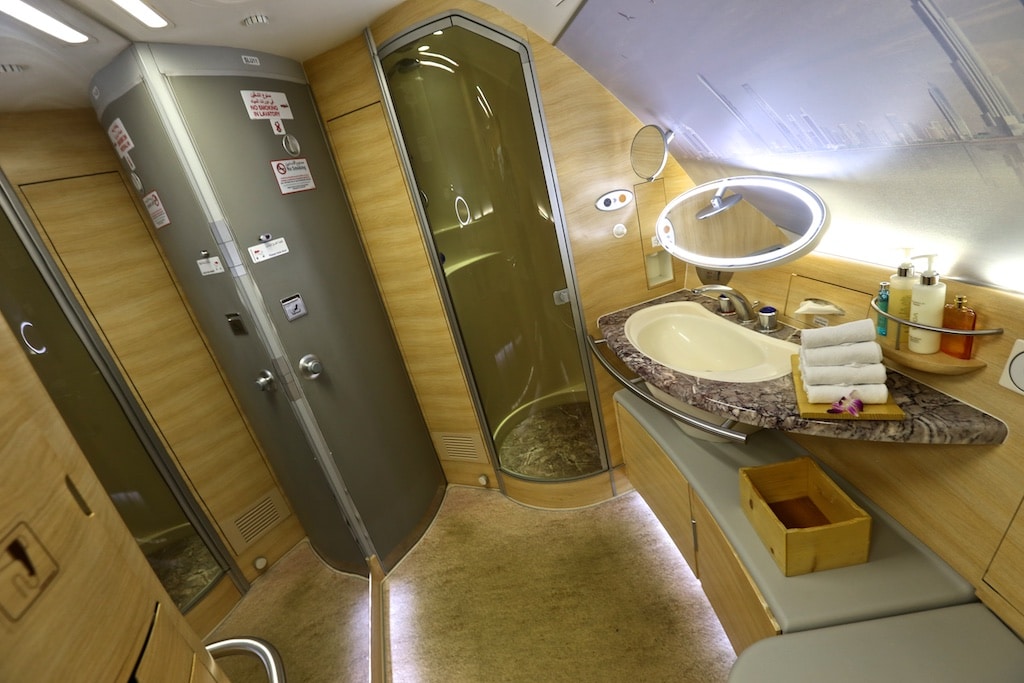 If you take your shower towards the end of the flight, once you finish up, the first class bar will be turned into a beautiful spa section complete with a running waterfall and soothing juices for you to consume. It's a trip.
I didn't get to experience the first class terminal at DXB but I've heard amazing things about it. Instead, I was limited to the business/first lounge at MXP (Milan) which was still one of the better business class lounges I've seen and it offered direct boarding from the lounge which was great. Emirates will also offer you chauffeur service as long as you book your award with their miles.
Booking
I used 62,500 Emirates Skywards miles transferred in from American Express Membership Rewards to make this booking. This route involves somewhat high fees of about $287 to make this redemption happen but that's about half the price of the fees that you'd pay for flying out of Dubai, so it's not that bad. There are ways to avoid fees by flying out of place like Hong Kong (read more about those here).
Award availability from Milan to New York was pretty good so this was one of the easier redemptions I made in first class. The cash price for this flight was $3,917.
2. Etihad Apartment (A380)
The Etihad Apartment is truly a special experience and was a game-changer when it was rolled out. It's one of the few products that has been me in a state of zen when flying, just by the nature of the suite.
It's an elegant suite with a large seat, vanity mirror display, mini-bar, wardrobe closet, and plenty of space to rest your feet. As far as privacy goes, it's about as private as you can get with a seat that's tucked away into your fully enclosed suite.
You don't quite get the full double bed with Etihad but you almost get it, since there's a partition between the conjoining suites. Bedding is pretty comfortable and the TV swings out so you can watch TV as you fall asleep.
The Etihad A380 houses a lounge area known as the "The Lobby." This isn't a bar that's as flashy as Qatar or Emirates but it's still a cool place to relax in while enjoying a beverage or even getting some work done.
The A380 also has a shower you can enjoy. The shower experience isn't as luxurious as it is with Emirates but it's still one of the only airlines to offer you the option so this helps the Etihad A380 to stand out.
I haven't been as impressed with the dining on the A380 during my two Apartment experiences but I think they've stepped up their game by adding caviar and they do offer a cool chef service to help personalize your dishes.
The Etihad First Class Lounge experience at AUH is pretty special too (even though they have removed some features from the lounge like the barber shop). There's a dining room, spa, cigar lounge, relaxation room, and even a small gym in the lounge which is really nice for getting a quick sweat. I also enjoyed the chauffeur service to the lounge that transported us all the way from Dubai.
Booking
As stated, I used 62,500 American Airlines miles and paid around $65 in fees for the booking from MLE to LHR and this flight was the first segment from AUH to LHR. Again, this is a killer redemption with low fees and availability was pretty decent when I booked the award. The cash price for the flight would be a cool $7,680.
1. New Singapore First Class (A380)
The new Singapore Suites on the A380 are my #1 first class experience.
It's a stunning cabin with a single aisle and only six suites on the upper deck of the A380, so it's a very intimate experience.
These suites are huge and provide you with an unreal amount of real estate. If you fly with a partner and open up the conjoining suites, it's amazing how much space you have. It's just a very different flying experience from anything else.
The new suites are great because you can get the double beds and still have window views, which is something you couldn't do with the old suites. The bedding is not the most comfortable which is a bit of a drawback but having so much space to stretch out and get comfortable does help a lot.
The lavatories don't house a shower but they are big and beautiful in their own right.
The dining experience is still exceptional with caviar and great meals to choose from and as usual, Singapore Airlines offers one of the most impressive line-ups of champagne.
But just like the old suites, the service is superb. We flew the new suites on our anniversary and the staff went above and beyond to make it a special flight. They brought out a cake, a huge card signed by the entire crew, and they even stitched our names to the shirts on the little teddy bears. It's that type of extra effort that makes it hard for me to put any airline over Singapore Airlines — they just have something special.
The Private Room is the flagship first class lounge for Singapore Airlines. It's an impressive place that's essentially a lounge within a lounge (within a lounge). Thus, it feels very exclusive — it's just that it's kind of well… a boring place.
It's elegant and has a very stately dining room where they serve premium champagne and lobster, but beyond the dining, it seems like it's in need of an upgrade. Maybe a new bar and spa would do the trick — or at least some kind of refurbishing. The place just needs energy.
Booking
I used 150,000 Singapore Krisflyer miles to make this booking happen from SIN to SYD (this was not a Saver award and I made the booking right when these new suites were rolled out). I transferred Chase Ultimate Rewards and American Express Membership Rewards over to Singapore to get the miles for this booking. The cash price is $4,039 for the route.
Other products I'd like to try
There are still many more first class products I'd like to try but some of these include:
New Emirates First Class
Air France La Premiere
Swiss First Class
JAL First Class
ANA First Class
Qantas
FAQ
What airlines have fully enclosed first class suites?
Some first class cabins with fully enclosed suites include:

Etihad
Emirates
ANA
Air France
Singapore
How many miles are needed for a first class flight?
The amount of miles needed can vary drastically based on the airline and the route. For example, the amount of miles needed could easily range from 60,000 to 150,000 miles.
How expensive are first class flights?
A first class flight for a premium experience on a long-haul flight could range from $4,000 to $12,000+.
Which first class cabins have showers?
Etihad
Emirates
What kind of champagne can you get in first class?
Cristal
Dom Pérignon
Perrier-Jouët
Krug
Salon
Veuve Clicquot
Final word
So that's it for my rankings. Let me know in the comments if you have any products you would have rated higher or if you agree or disagree with any of the rankings!

Daniel Gillaspia is the Founder of UponArriving.com and the credit card app, WalletFlo. He is a former attorney turned travel expert covering destinations along with TSA, airline, and hotel policies. Since 2014, his content has been featured in publications such as National Geographic, Smithsonian Magazine, and CNBC. Read my bio.