After our Korean Air A380 first class flight from LAX to ICN, we spent a couple of hours at the new Korean Air First Class lounge at ICN. This is definitely one of the smaller first class lounges I've visited but it still was a refreshing stop for our layover en route to Hong Kong. Here's my full review of the Korean Air First Class Lounge at ICN Terminal 2.
ICN Terminal 2
We made our way through the new ICN Terminal 2, which debuted January 18, 2018, just in time for the 2018 PyeongChang Winter Olympic Games. It's a pretty breathtaking terminal with plenty of natural lighting and greenery, among many technological enhancements.
A new terminal also meant a new lounge, so I was very excited to try out the new Korean Air First Class lounge just after its grand opening.
Finding the lounge
The lounge is located in close proximity to gate 248. I don't recall seeing a lot of signage for the first class lounge throughout the terminal so it helps to just head towards gate 248. Upon arrival, we took the escalator up and found a large open area with two lounge entrances at the end.
One entrance was to the Korean Air Miler Club lounge (on the left) and the other one was for the Korean Air First Class Lounge (on the right).
In the middle of the entrances, a striking photograph spans across the wall, which I thought looked pretty cool.
We made our way through the First Class entrance since that's what access our tickets granted us.
The Korean Air first class lounge at ICN
The Korean Air first class lounge at ICN is small but offers a lot of options for high-level privacy that we appreciated upon entering the lounge. There are a number of circular, partially enclosed pods/suites for you to relax in.
The suites have different forms of furniture to lounge in. Some have lounge chairs while others have traditional seats and others have multiple seats for small parties.
Most of the seating options that I saw came with outlets in the end tables.
If you enjoy having your own little private nook in airport lounges, you'll really love some of these suites.
Brad and I picked up one of the suites that looks out into the terminal for a bit of a view.
With a decent wifi connection, I was able to get a little bit of work done.
There are a number of monitors along the wall where you can find your updated flight information. Our flight was a bit late in the evening and the lounge only had a handful of other guests during most of the time we spent there.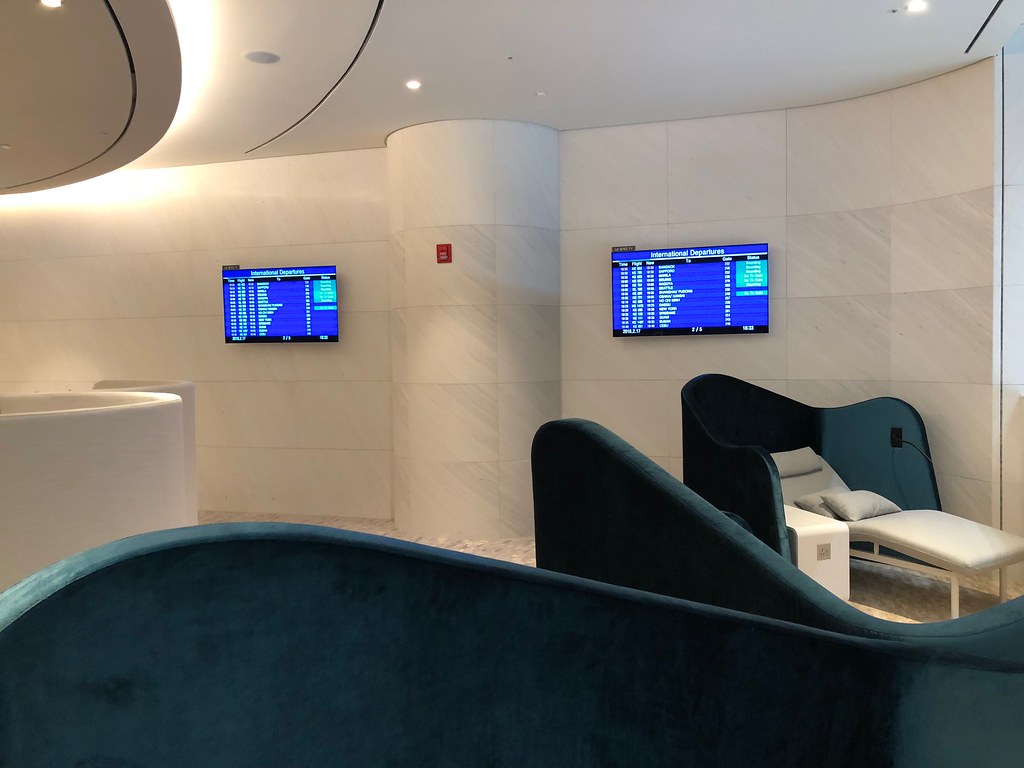 The dining experience
A translucent glass partition divides the sitting area from the dining area and helps cut down on the noise. The dining area is pretty small with only a handful of dining tables lining the partition.
There's a long island in the middle where you'll find the different dining options and plates and silverware.
The dining options at the lounge are limited but still pretty decent. At the time of our visit they consisted of:
Seafood fried rice
Braised pork belly
Braised short rib
Roasted Salmon
They also offered some chili prawn sandwiches, cajun spiced chicken sandwiches, salad items, and fruit slices and yogurt.
I honestly got grossed out by the fruit right after I took the photo below when a family allowed their kid to run around grabbing fruit slices with his bare hands while finding a way to touch almost all of the slices. Five minutes later he was shooting/crashing race cars around the lounge floor, which was seriously annoying to everyone in the lounge. I don't mind kids in first class lounges, but some parents blow me away with their inability to sense annoying behavior. But I digress….
For snack items, there were an array of breads, cheeses, and pastries to choose from.
I found the bananas wrapped in plastic to be a bit odd but they seemed like a hit in the lounge.
There's also an à la carte  menu that we tried. I went with some noodle dish that I can't recall the name of but I thought they were excellent. We didn't have to approach any staff member to order, so that was another nice perk of the lounge.
And finally, there was a freezer full of small ice cream cups. The ice cream is frozen like a rock so if you want any I suggest you pull it out well before you plan on enjoying it.
Drinks
The non-alcoholic drink selections consisted of bottled water (still and sparkling), sodas, and some fruit juices.
Unfortunately, the alcohol selection was very limited. Considering this an international first class lounge at Korean Air's hub airport, I thought there would be a much more diverse range of options.
Bathrooms, showers, and massage chair?
The bathroom is very spacious but it's an individual bathroom so you might have to wait for others to finish up before you can use it.
The shower room was very nice and spacious, too. I was tempted to use it but decided to just wait until we reached Hong Kong to freshen up.
You can also store some of your belongings in lockers near the entrance of the lounge.
One really interesting feature about this lounge is that it comes with a massage chair. It's sort of hidden behind the walls but it's locate between the dining and seating section of the lounge. Just ask a staff member if you can't seem to find it.
There's only one massage chair and the door/wall closes for an entirely private experience. I honestly didn't know what I was doing since the controller is mostly in Korean, but I tried out the different modes simply by pressing the different buttons to see what they would do.
I'd never tried out a proper massage chair so I really had no idea what to expect, but I'll say that the sensations were honestly overwhelming. I don't know what settings I put the chair on but at one point it squeezed my thighs/calves so tight, I thought I was going to be getting carried out of the lounge.
Overall, the massage chair was a unique experience but I'll pass on the chair next time at least until I read up on some Korean.
Final word
This is a decent, small first class lounge but nothing special. It doesn't compare to some of the other flagship first class lounges like those offered by Qatar, Cathay Pacific, etc., but I liked that it's small and cozy and has some decent dining options with nice shower facilities. I think it's worth some time to visit if you have access, but it's not exactly a lounge where you want to arrive at the airport extra early to spend hours experiencing the lounge.

Daniel Gillaspia is the Founder of UponArriving.com and the credit card app, WalletFlo. He is a former attorney turned travel expert covering destinations along with TSA, airline, and hotel policies. Since 2014, his content has been featured in publications such as National Geographic, Smithsonian Magazine, and CNBC. Read my bio.