A lot of people wonder what the difference is between first class and business class flights. Both offer experiences usually lightyears beyond economy but how different are these cabins from each other in reality? Is first class really that much better or is it mostly just a lot of hype?
Having flown a number of first class and business class cabins, I've noticed some areas with real differences between the two cabins and other areas where there is little to no difference. In this article, I will talk about some of these key differences and give you my thoughts on why they matter (or don't matter).
Interested in finding out the hottest travel credit cards for this month? Click here to check them out!
---
1. Prices
As you would expect first class tickets are going to be more expensive than business class tickets. Here's a look at the difference in price for a couple of routes to give you an idea of the cash price difference, which can sometimes be substantial.
Emirates
Milan (MXP) to New York (JFK) Emirates business class: $2,681
Milan (MXP) to New York (JFK) Emirates first class: $4,070
JAL (Japan Airlines)
San Francisco (SFO) to Tokyo (HND) JAL business class: $4,656
San Francisco (SFO) to Tokyo (HND) JAL first class: $11,665
These are pretty standard price differences for these airlines' routes but sometimes you can find first class fares for pretty cheap — and not that much more than business class fares.
The difference between the two prices in miles and points can be dramatic in some cases but in others it can be quite small. Take a look at the price in miles and points for these routes with different loyalty programs.
Emirates
Milan (MXP) to New York (JFK) Emirates business class: 105,000 Alaska miles
Milan (MXP) to New York (JFK) Emirates first class: 180,000 Alaska miles
75,000 miles is a pretty huge price difference. Compare that with getting from the US to Tokyo Japan.
JAL (Japan Airlines)
San Francisco (SFO) to Tokyo (HND) JAL business class: 60,000 AAdvantage miles
San Francisco (SFO) to Tokyo (HND) JAL first class: 80,000 AAdvantage miles
As you can tell from the JAL redemption, the price difference between first class and business class in miles and points can often be much easier to stomach than the difference in cash prices.
While the mileage requirements can vary by a lot, typically the taxes and fees are either the same or very close to the same for award redemptions. For example, the fees flying British Airways business class from London to New York are $583 dollars as of right now and they are the exact same for first class as well.
---
2. Availability
Now that more and more airlines are doing away with first class, first class cabins are becoming harder to find compared to business class.
This means that you need to put in more effort to scout out the routes where first class cabins will be flown. But finding availability for award seats is made harder since first class cabins are becoming smaller and smaller. We've recently seen both Emirates and Singapore downsize their first class cabins and I think that that trend is just going to continue.
Meanwhile, business class seats are often much easier to find and book on average.
---
3. The check-in experience
There are usually separate lines for first class and business class check in. Both of these lines are usually very short compared to the economy check-in lines though sometimes business class will have a slightly longer line than first class.
On a couple of occasions, I've been directed to go to the business class desk because the first class check-in is not in service but when the first class check-in desks are in service, I've found the staff at those desks to be very personable and willing to help.
If you're flying first class out of a hub for that airline, you might be able to experience a dedicated first class check-in area where you can relax in some comfortable seats while an agent takes care of your check-in like in the Etihad photo below. Some business class products have these areas, too, such as the Air New Zealand check-in experience at Auckland (AKL).
On a related note, both business class and first class will often allow you to check in two bags for free. Also, the weight limits for your bags will often be increased (often from 50 pounds to 70 pounds).
Both business class and first class will usually grant you with a fast track pass for security and or immigration. In my experience, the lines for these priority lines are the same for both classes.
---
4. The lounge experiences
There can be a dramatic difference between business class in first class lounges for some airlines. Some of my favorite lounges have been the first class lounges for Cathay Pacific, Qatar Airways, and Etihad Airways.
For some of these lounges, there's a big difference from business class with respect to the dining and premium drinks offered as well as special amenities, such as spas, nap rooms, relaxation rooms, etc. Some of the amenities like the Etihad cigar and whiskey room are a little gimmicky but facilities like the nap rooms can be a lifesaver.
Sometimes the first class and business class lounges are combined like the Emirates lounge in Milan and the Qatar premium lounge in Paris. These can still be high quality lounges but they probably won't floor you with what they have to offer.
---
5. Chauffeur service
Some first class tickets will provide you with special chauffeur service like that offered with Lufthansa. However, some airlines will also offer chauffeur services for business class such as Etihad and Emirates. If both business class and first class allow for chauffeur service, the chauffeur service might be more premium for first class passengers (e.g., Mercedes vs BMW).
Some of these chauffeur services will pick you up from a pretty wide radius from the airport and they can be a great way to save and make your way to the airport stress-free (although they are not always on time like you would think).
---
6. Boarding
Usually, you would expect first class to board before business class. However, on a number of first class flights they have just called for boarding for first class and business class passengers at the same time. So priority boarding is not always a perk for first class over business-class.
When deplaning, first class passengers often get to exit the aircraft first, though it depends on the layout of the aircraft (business class and first class might exit at the same time).
---
7. Cabins
First class cabins tend to be more elegant and have a much more intimate feel to them due to their smaller size. Take a look at the business class cabin for Cathay Pacific on the A350 below. It's nice but has a much higher concentration of seats that gives the cabin a much more cramped feeling.
Now take a look at the Cathay Pacific first class cabin on the 777. With only six suites, it's much more intimate and has a few more decorative touches. Other airlines like Singapore, Etihad, and Emirates have a first class cabin that is vastly different from the business class cabin, in terms of its elegance.
Tip: If you know how to choose the best seats you can often mimic this intimacy feeling by going with a "mini-cabin" in business class.
---
8. Special amenities
The lavatories in first class cabins are usually much more spacious than business class lavatories. They may come stocked with more amenities inside and they might also stay cleaner and fresher since the flight attendants pay more attention to them and there is less foot traffic to deal with.
The only two major airlines that offer shower experiences are Etihad and Emirates (in my opinion Emirates offers a better shower experience). These are offered on a complimentary basis to first class passengers however some business class passengers might be able to pay for the privilege sometimes.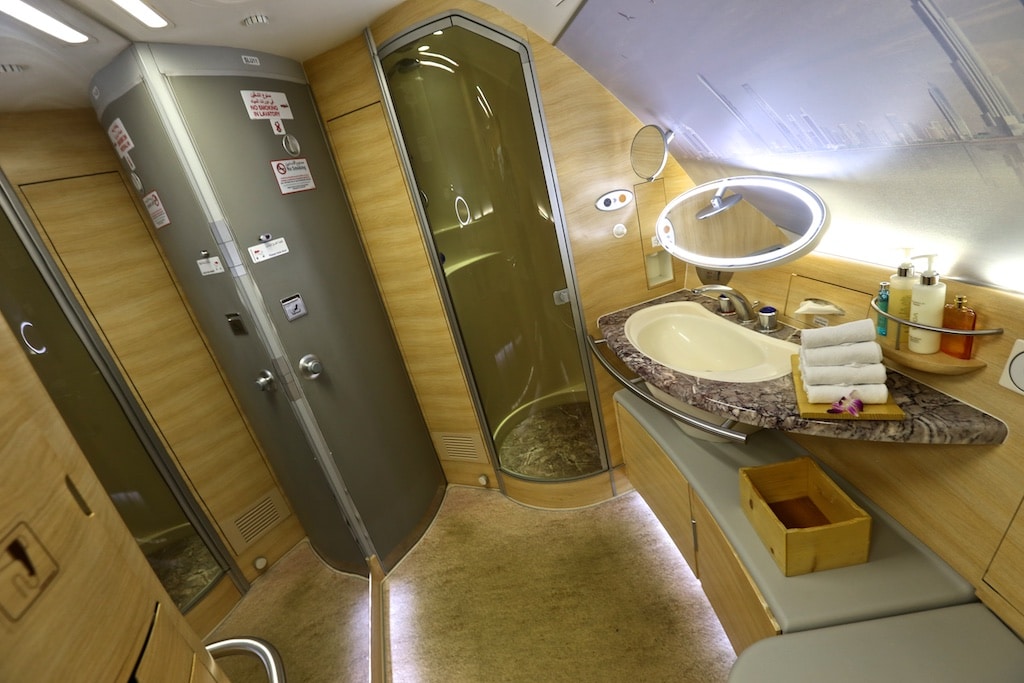 The amenity kits are usually more equipped in first class as well. You'll usually get a more impressive (designer) amenity bag filled with high quality moisturizers/creams. I honestly rarely use any of the items in a first class amenity kit but sometimes I find some items worth keeping, like when Singapore Airlines offered Ferragamo cologne.
Business class amenity kits are usually a bit more basic offering socks, eye masks, and lip balm, and maybe a couple of other items.
---
9. Bars and lounges
Business class passengers and first class passengers often share the same bars and lounges. In fact a lot of on-board bars are closer to the business class cabins and are actually easier for them to access.
However, some cabins like Korean Air and Emirates have an exclusive first class bar that business class passengers cannot access. These are usually much smaller areas and are not nearly the same type of hang-out areas as the other bars. So if you're limited to the business class/main bar, you're usually not missing out on that much to be honest.
---
10. The seats
Generally speaking, in first class you are going to have more spacious seats that are more comfortable. Sometimes these seats are in suites that are fully enclosed with sliding doors but other times they are just wider seats with more legroom and more space to put your belongings and relax.
It's very common for business class seats to have a more confining footwell and that is one of the big differences between the classes. It's just much easier to find a comfortable position in a first class seat versus a business class seat on average (at least for me it is).
Another difference is that first class seats may have more storage space or compartments and usually come with bigger (and or more sturdy) tray tables for you to eat or get work done. The TVs are usually bigger/higher quality in first class as well although the in-flight entertainment options might be the same as those offered in business class.
---
11. Privacy
Due to the layout of the cabin and the design of the seats, you typically get to enjoy more privacy flying in a first class cabin. With fully enclosed suites like those on Emirates and Etihad you can have complete privacy but other products like Qatar Airways first class or British airways first class have a more open layout and there is reduced privacy.
Now that more business class products are going with a 1-2-1 layout and some are even offering suites, the difference in privacy levels is starting to diminish. In fact, in the case of Qatar, you actually get more privacy with their business class Q Suites than you do with their first class product (although they are on different aircraft).
Many business class seats also have privacy shields which help add an additional element of privacy.
The main issue with business class seats is that some business class cabins are still in configurations that don't provide a lot of privacy like 2-3-2 configurations. As long as you can avoid those, the gap in privacy between first class and business class probably won't be that dramatic.
---
12. The service
This service in first class is usually a step up from business class because the flight attendants are more attentive and do more of the little things right like refer to you by your name and offer customizable options for dining/drinks. They sometimes will go out of their way to make sure that you have an unforgettable flight, especially on airlines like Singapore Airlines.
However, I still feel like the quality of service can vary depending on how the staff feels that day on your flight. I've definitely experienced business class service that outshines first class service on some flights. For example, I would rate the service I received on a recent Virgin Australia business class flight over the first-class service I received on a recent Etihad flight.
So I would generally expect the first class service to be a step up from business class but that might not always be the case since service can be hit or miss with some airlines.
---
13. The dining
The dining experience is where there is usually another major difference between business class and first class. In first class, the menus are usually more expansive and the food is a bit more gourmet and arrives with better presentation. In first class, you can often customize your dining but some business class products like Singapore allow you to also customize your dining as well.
One major difference between the two classes is that you often can get caviar in first class but rarely (if ever) will you get that business class.
---
14. The drinks
Both cabins will offer complimentary drinks but in first class you often get served premium champagnes, wines, and spirits that are not always offered in business class.
However, some business-class products do allow you to partake in some premium beverages such as EVA Air and even Qatar Airways allows you to order Krug champagne if you ask for it at the business class bar and lounge.
---
15. The sleeping experience
One of the key differences between business class and first class to me is that I can usually get much more comfortable in first class cabins. This is usually because the bedding/pillows are slightly upgraded and mostly because there is just more space to work with (especially legroom)
With some products like Singapore Suites it obviously is going to be easier to get comfortable when you have a double bed; however, some business class products like the new Q Suites and the new Singapore business class seats also offer double beds in business class.
Even though I find it easier to sleep in first class than business class, the leap from business class to first class is usually nowhere near the leap from economy to business class. So for a lot of people, business class is more than sufficient for helping to catch some shuteye on the plane.
Another difference is that for first class you can often expect to get the full amenities including high quality pajamas, along with slippers. Some business class products do offer you pajamas like EVA, Virgin Australia, and Virgin Atlantic.
---
Overall
Overall, I believe that there is a meaningful difference between first class and business class. Whether or not that difference would justify the cash price is a completely different question. But from a miles and points standpoint, I find that difference usually is enough to justify the increase in price, especially when you're not dealing with exorbitant miles and points prices.
Do you agree with these differences? Are there any other differences that you've noticed?
Daniel Gillaspia is the Founder of UponArriving.com and creator of the credit card app, WalletFlo. He is a former attorney turned full-time travel expert covering destinations along with TSA, airline, and hotel policies. Since 2014, his content has been featured in major publications such as National Geographic, Smithsonian Magazine, Forbes, CNBC, US News, and Business Insider. Find his full bio here.