There are some co-branded airline credit cards that I believe everybody should seriously consider. The AAdvantage Aviator Red from Barclays is definitely one of these credit cards. The reason I am so big on this card is that it offers a lot of bang for buck and also it is perfect for people who may struggle to meet minimum spend requirements when stretching themselves thin.
In this review article, I will break down everything you need to know about the AAdvantage Aviator Red.
AAdvantage Aviator Red Overview
Lucrative welcome bonus usually offered
2X on AA purchases
First checked bag free
Anniversary Companion Certificate
Flight Cents 
Preferred boarding
Reduced mileage awards
$25 back on wifi
25% discount on in-flight purchases
$99 annual fee
Tip: Use WalletFlo for all your credit card needs. It's free and will help you optimize your rewards and savings!
Welcome bonus
For several years, the Aviator Red has been a favorite travel credit card for people who don't want to put a lot of spend on a credit card to achieve a bonus. Typically, you can earn the bonus for this card by simply making a single purchase on your card within 90 days of opening.
That's pretty amazing considering that this card can come with some very lucrative bonuses such as 60,000 miles. 60K is the best standard public offer we've seen but I'd argue this card is worth it even at 50K, just because how easy it is to earn.
It's almost like paying $99 (the annual fee) for 50,000 or 60,000 miles.
The other thing to think about when looking at this card is the potential to stack your bonuses. There are some other lucrative American Airlines credit cards out there like the Citi AAdvantage Executive World Elite Mastercard and Citi AAdvantage Platinum Select.
If you were to time up the bonuses well, you could potentially score 120,000+ miles in one swoop. And because the welcome bonus is so easy to obtain for the Aviator Red, this is one of the easiest ways to net over 100,000 miles in quick fashion.
Stacking bonuses is a pretty strategic move because American Airlines is not currently a transfer partner of any of the major transfer programs associated with large banks such as American Express, Chase, or Citibank.
Bonus categories
2X on AA purchases
1X on all other purchases
The bonus categories on the Aviator Red are extremely vanilla.
Earning double the points on American Airlines is expected and nothing too special. If you value American Airlines miles at 1.37 cents per mile then 2X comes out to 2.74% back. I think they could definitely improve this card by adding some interesting new bonus categories.
Related:
Airline benefits
First checked bag free
You can get a free checked bag for you and up to four companions on domestic itineraries operated by American Airlines.
For this benefit to apply, the card must be open 7 days prior to air travel, and the reservation must include the primary cardmember's AAdvantage Account number 7 days prior to air travel.
Something worth noting is that you do not have to use your card on your airfare in order to receive this benefit. So if you have a credit card with better trip insurance, you can still use that to cover your flight.
American Airlines charges $30 for the first checked bag, so you could easily save over $100 traveling with three other people on a one-way trip.
This perk alone will justify the annual fee for a lot of people who frequently fly American Airlines, as is often the case with co-branded airline credit cards.
The only drawback to this perk is that it does NOT cover international trips. Some international routes will actually give you a free checked bag so that is not a dealbreaker but it is something that is distinguished from competitor cards like the United Explorer Card.
Anniversary Companion Certificate
Every anniversary year you can earn a $99 domestic economy fare companion certificate if you spend $20,000 and keep your account open for at least 45 days after the anniversary date.
For many card members, it's not very difficult to get a couple of hundred dollars in value from this perk by purchasing a ticket between $300 and $500. So that's decent value but $20,000 in spend for a $99 companion certificate is a high amount of spend in my opinion.
I like to compare the spend bonuses to other cards to get a sense of the relative value you might be missing out on. You could spend $15,000 on a Hilton Surpass and earn a free night that could cover a property going for hundreds or even $1,000 a night. So that is less spend and likely more value potential. Just something to think about.
Flight Cents 
Flight Cents is a way to earn additional American Airlines miles by rounding up your Aviator credit card purchases to the nearest whole dollar. For each cent that is rounded up, you'll automatically purchase half an AAdvantage mile up to a certain threshold. So basically you are purchasing miles for two cents per mile.
I think Flight Cents is an interesting benefit. It's not the most lucrative way to earn AA miles but it can be significantly cheaper than purchasing them outright. The way the perk works is a little bit confusing so I would recommend reading my guide on Flight Cents here.
Preferred boarding
You can also get preferred boarding for you and up to four companions when flying on American Airlines operated flights.
I think the biggest thing to note here is that "preferred boarding" is not the same as "priority boarding." Priority boarding includes groups one through four. Meanwhile, preferred boarding is in group 5.
Despite that, you will still be among the first to enter the aircraft in main cabin so it can be helpful when trying to secure your overhead storage bin space. You can find out more about the American Airlines boarding process here.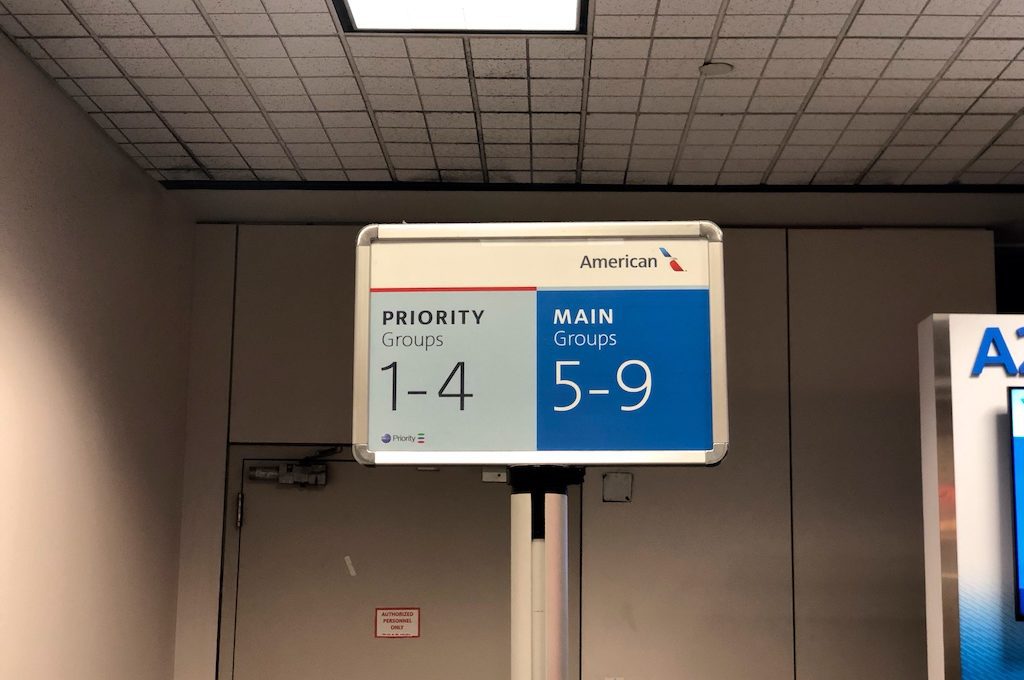 Reduced mileage awards
Reduced mileage awards are special discounts on American Airlines MileSAAver awards to select destinations that are available to some American Airlines co-branded credit card holders.
These discounts allow you to save thousands of miles on redemptions, which can knock down the price of a flight from 12,500 miles to 8,750 miles. This can be a great way to save on miles but just be aware that sometimes "Web Specials" can be cheaper than the MileSAAver awards with the reduced mileage award discount.
$25 back on wifi
Every anniversary year you can get $25 back as statement credits on inflight Wi-Fi purchases. This is a great way to offset 25% of the annual fee.
25% Statement Credit
You can get a 25% savings as a statement credit on eligible inflight food and beverage purchases when purchased using your card. These savings do not apply to any other inflight purchases, such as wireless internet access or inflight entertainment. 
Aviator Red FAQ
What is the annual fee for the Aviator Red?
The annual fee is $99.
Is the annual fee waived for the Aviator Red?
No, the annual fee is not waived the first year.
Do you get free checked bags with the Aviator Red?
Yes, you can get a free checked bag for you and up to four companions on domestic itineraries.
Do you get Admiral's Club access with the Aviator Red?
No, you do not get lounge access with the Aviator Red.
Final word
I've been a big fan of the Aviator Red card ever since it was introduced. I love how easy the bonus is to earn and that the bonus is also usually very lucrative.
The bonus categories are definitely nothing special on this card but there are some pretty decent perks that allow you to offset the annual fee. If you fly American Airlines on even a semi-regular basis this card could be worth holding on to for the long run.
Daniel Gillaspia is the Founder of UponArriving.com and creator of the credit card app, WalletFlo. He is a former attorney turned full-time travel expert covering destinations along with TSA, airline, and hotel policies. Since 2014, his content has been featured in major publications such as National Geographic, Smithsonian Magazine, Forbes, CNBC, US News, and Business Insider. Find his full bio here.