Capital One is a popular bank due to their extensive marketing campaigns. But when it comes to the rewards you can earn with this bank, things are a little bit confusing because there are very different ways to earn and redeem points. Also, transfer ratios with Capital One are different from most other big banks. So there's a lot to consider.
But in this article, I will break down the Capital One rewards system and tell you everything you need to know about how it works. I'll show you some of the best cards and the best ways to use your points to get the most value. So keep reading below to find out more about Capital One rewards!
Capital One card eligibility
Capital One has a couple of restrictions for getting their cards.
The first is that you cannot currently have more than two Capital One branded credit cards. These are cards like the Capital One Venture Rewards Credit Card and the Capital One Savor Cash Rewards Credit Card. So if you already have two of those type of cards, you will need to close one of them before you pursue another one.
The other rule is the six-month rule.
This rule prohibits you from getting more than one Capital One card in a six-month period. So you just need to wait six months between your Capital One credit card applications and you will be good.
By the way, if you would like to automate your eligibility for all of these credit card application rules, be sure to check out the new app WalletFlo. It's a free app and it will help you optimize your credit cards by using smart automation. It's been helping a lot of people get approved for more cards and better capitalize on their rewards so I highly recommend it.
Tip: Use WalletFlo for all your credit card needs. It's free and will help you optimize your rewards and savings!
Travel rewards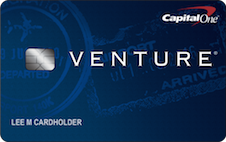 The best travel rewards for Capital One will come with the Capital One Venture Rewards Credit Card — one of the most popular travel rewards cards. Currently, it offers an early spend bonus of 50,000 miles after you spend $3,000 in the first three months. These points are worth $500 towards travel so it is a pretty stout bonus.
It's also an interesting rewards card because it offers hybrid rewards in the form of 2X on all purchases which are worth one cent per point when you use your points for travel. And, the Venture also has point transfer opportunities.
This offers both a simple and more complex way to use your points so it can appeal to all sorts of people.
By the way, you can also earn a lot of additional Capital One miles by going with the Capital One Spark Miles For Business. The Spark card offers a great bonus and is one of the best ways to supplement your earnings. It has a similar earning structure of 2X on all purchases as well and it's one of the most popular business credit cards.
Using the Capital One rewards center
Capital One has a very user-friendly interface and rewards dashboard. All you need to do is log-in, click on "View Rewards," and you will be brought to a dashboard where you can then choose from a number of different options. Simply click on "Use My Miles" and you will be walked through the process of redeeming your miles. It's beyond easy.
Travel expenses (Purchase Eraser)
The Venture card earns 2X miles on all purchases and those miles are worth one cent per point when redeemed towards travel purchases. This means that you effectively have a 2% cashback card but only towards travel.
Earning 2% back on travel purchases is good but not industry-leading. If you had a card like the American Express Green Card you could earn 3X on all travel purchases and your points would be worth much more than 2% back, so that's just something to consider.
The way that the Purchase Eraser works is that you first make a purchase that codes as travel. Then, you selected that purchase and choose to apply your points at a rate of one cent per point. For example, you could make a $100 travel purchase and then use 10,000 miles to wipe that purchase clean.
There are a lot of different purchases that will code as travel. A lot of purchases that you would expect will code as travel like airfare, hotels, and trains. But many other types of purchases like Uber will also code as travel, too. In the past, I have used cards like the Venture card to cover award fees on redemptions allowing me to truly travel for free when using points.
Travel purchases are available to be redeemed for up to 90 days. So if you wait outside of that, you may not be able to get reimbursed for that expense.
Transfer partners (how to get the most value)
If you are experienced with miles and points, you know that the best way to maximize the value of your rewards is to transfer them out to travel partners.
For the longest time, the Capital One Venture did not have any transfer partners but recently they added a lot of different airlines and even some hotels.
Below are the different airlines and hotels that you can transfer to along with the transfer ratios.
Aeromexico (Club Premier) (2:1.5)
Air Canada (Aeroplan) (2:1.5)
Air France/KLM (Flying Blue) (2:1.5)
Alitalia (MilleMiglia Program) (2:1.5)
Avianca (LifeMiles) (2:1.5)
Cathay Pacific (Asia Miles) (2:1.5)
Emirates (Emirates Skywards) (2:1)
Etihad Airways (Etihad Guest) (2:1.5)
EVA Air (Infinity MileageLands) (2:1.5)
Finnair (Finnair Plus) (2:1.5)
Hainan Airlines (Fortune Wings Club) (2:1.5)
JetBlue (TrueBlue) (2:1.5)
Qantas (Qantas Frequent Flyer) (2:1.5)
Qatar Airways (Privilege Club) (2:1.5)
Singapore Airlines (KrisFlyer) (2:1)
Hotel partners
Accor Live Limitless (2:1)
Wyndham Rewards (2:1.5)
Once you transfer your Capital One miles over to an airline or a hotel, you will then use the redemption chart for that program to book your travel. (Capital One does not have its own redemption chart.)
The biggest consideration here is that the transfer ratio is not one to one (1:1) for all (or any) of the partners.
Instead, you will be dealing with transfer ratios of 2 to 1.5 or even 2 to 1.
This means that the value of your points will not be on par with other programs like Chase Ultimate Rewards or American Express Membership Rewards.
With Chase, all transfers happen at a one to one ratio. And with American Express, most transfers are at a one to one ratio.
However, even though you can't transfer your points at 1:1 ratio with Capital One, you can still get a lot of value from these partners. You just need to be mindful about the valuations.
If you were to transfer 50,000 points over to an airline that had a 2 to 1.5 ratio, you would end up with 37,500 miles. Let's say that this airline was JetBlue and you were valuing their miles using WalletFlo's valuation of 1.3 cents per mile.
That means that your 37,500 miles would be worth $487. Now, if you just redeemed your points for travel you would be getting $500 worth of value so in this case you would actually be losing value.
This means that in many cases you have to sacrifice value when you transfer your points but it could still be worth it if the redemption was right.
For example, let's say that you transferred your 50,000 miles over to a different program like Aeroplan. I once used Aeroplan miles to book a $7,000 flight in SAS business class on which I got 14 cents per point in value!
In that case, your 37,500 Venture miles would be worth $5,200.
Now, unless you would normally fly in business or first class you can't say that you are "saving" $5,000 in a situation like that but it's a special feeling to get so much value out of your points and there is something to be said about that.
So even with the substandard transfer ratios, you can still get some ridiculous value for your miles.
Transferring your points to travel partners is very easy. You simply select the option "Transfer Rewards" from the main rewards screen and then you will see a breakdown of all of the transfer partners and their corresponding ratios. Then, you simply click on transfer miles and that will initiate the process.
Keep in mind that you can only transfer miles to a loyalty program that has an exact match for your name. If you would like to add miles to someone else's loyalty account, you would need to first transfer your Capital One miles to them. Keep reading below for more on how to do that.
Booking travel
You can also use your Capital One miles to book travel. So instead of making a travel purchase and then redeeming your miles later on, in this case you will be using your miles at the time of booking your travel. Points will be worth one cent per point which is not that bad for a travel portal but also not the greatest.
If you have a card like the Chase Sapphire Preferred, you would be able to redeem your points at a rate of 1.25 cents per point in the Chase Travel Portal. And also if you had the Chase Sapphire Reserve, you would be able to redeem your points at a rate of 1.5 cents per point. 
Keep in mind that if you book hotels through this travel portal you will likely be missing out on elite benefits. For example, you most likely will not get elite credits for your stays and could potentially also lose out on receiving your benefits like upgrades.
Cashback
You can also redeem your points for other purposes, such as straight cash back on general purchases.
If you go this route, you will be losing 50% of your value.
For example, when I chose the cashback option for my points it showed that I was redeeming for .5 cents per point which was 50% of what I would get for a travel purchase!
Getting .5 cents per point is not great and in my opinion you should try to avoid this. A lot of things can qualify as travel so I would at least try to use my card on something that might code as travel like a parking garage. And if you didn't have a potential travel purchase, then you could still redeem your points for a gift card at a place you shop at and get potentially double the value.
So I think redeeming for cashback should be a last resort with the Venture.
Amazon
You can also redeem your rewards when checking out at Amazon. You'll receive .8 cents per mile when using travel cards but cash back cards redeem at one to one ratio.
Gift cards
Gift cards can be redeemed for different rates that are more lucrative than straight cashback. For example, when I attempted to redeem points for an Amazon gift card the redemption rate was 100 miles for $.80.
So you would be getting .8 cents per point which is better than cash back although not as good as a standard redemption rate of 1 cent per point.
Some gift cards will allow you to redeem at a rate of 1 cent per point. For example, I was able to redeem points at one cent per point for a Best Western® Hotels & Resorts gift card. Also, I could redeem for one cent per point for an Old Navy/Gap/Banana Republic gift card.
Here is a list of stores that you might be able to redeem your points for gift cards with:
AMC theaters
American Airlines
Apple App Store and iTunes
Applebees
AutoZone
Barnes and Noble
Best Buy
Bonefish Grill
Buffalo Wild Wings
Build a Bear workshop
California Pizza Kitchen
Chipotle
Cinemark
Crate and Barrel
Delta
Google Play
LL Bean
Macy's
Nike
Outback Steakhouse
Panera Bread
Red lobster
Saks Fifth Avenue
Starbucks
The Cheesecake Factory
The Ritz-Carlton
Uber
Wal-Mart
Whole Foods Market
Once you select the store you want a gift card for, you will need to select the amount. You will be choosing something like $25, $50, or $100.
Once you confirm your redemption, your gift card will be mailed out to your billing address and should arrive between two and three weeks. Also, will be getting a confirmation code as soon as you redeem and you should receive an email confirmation as well.
Tip: Use WalletFlo for all your credit card needs. It's free and will help you optimize your rewards and savings!
Transfer potential
Capital One will allow you to transfer your miles between cards. So if you wanted to combine the points earned on your Venture card with your Spark card, that is a possibility. In addition, you can also transfer your Capital One miles to other individuals.
This makes the Capital One rewards program stand out a little bit.
Other programs like Chase allow you to transfer points between accounts but you must be a member of the same household. Meanwhile, American Express does not allow you to transfer between accounts and only permits you to transfer to an authorized user's loyalty account.
If you want to transfer your miles between your accounts, you can do that online. But if you would like to transfer your miles to another individual with a Capital One account, you will need to call the number on the back of your card to initiate that process.
Global Entry and TSA Pre-Check
The Capital One Venture Rewards Credit Card will also set you up with up with a $100 credit to be used on Global Entry and TSA Pre-Check. All you have to do is use your Venture card to pay your fees for these programs, and you will be automatically reimbursed. (A lot of cards now offer these credits but it is still not terribly common for a card with a $95 annual fee to offer this perk.)
Cashback rewards
Capital One has some super valuable cashback credit cards.
All purchases
If you are somebody who wants to earn rewards but does not want to keep up with bonus categories then a great option is the Capital One Quicksilver Cash Rewards Credit Card. The Quicksilver has no annual fee and earns 1.5% cashback on every single purchase, regardless of what category it falls under.
This makes it very similar to the Chase Freedom card but a big difference is that this card has no foreign transaction fees. So the Quicksilver can also be a great travel card since you can earn 1.5% back on all of your every day, non-bonused travel purchases.
Bonus categories
If you want to optimize your cashback earnings on specific categories then you should look into the Capital One Savor Cash Rewards Credit Card. The Savor card earns 4% back on all dining and entertainment purchases. These rates are extremely competitive and it makes this card one of the best cards to use for dining rewards, especially if all you want is cash back.
Final word
Capital One does have a great ecosystem of credit cards that earn good rewards. Their flagship card is the Venture card and its hybrid structure makes it an interesting option for someone who wants to keep options available when it comes to their rewards.

Daniel Gillaspia is the Founder of UponArriving.com and the credit card app, WalletFlo. He is a former attorney turned travel expert covering destinations along with TSA, airline, and hotel policies. Since 2014, his content has been featured in publications such as National Geographic, Smithsonian Magazine, and CNBC. Read my bio.