Both the Chase Ink Business Cash and the Chase Freedom are two great travel rewards credit cards with no annual fee.
But how do these cards compare to each other and should you get one or the other? This article will take a close look at both of these great cash back cards and review which card has the better value when it comes to things like sign-up bonuses, bonus categories, and other special perks.
Business vs personal cards
The first thing to note right off the bat is that the Chase Ink Cash is a business credit card and the Chase Freedom is a personal credit card.
This means that you'll need to have a business in order to apply for the Chase Ink Cash. But that doesn't mean you have to have a traditional business — there are lot of different types of businesses and even things like selling items on eBay could be a sufficient business. You can read more about how to get approved for business credit cards.
Tip: Use WalletFlo for all your credit card needs. It's free and will help you optimize your rewards and savings!
Sign-up bonus
Chase Ink Cash
The Chase Ink Cash comes with a very solid sign-up bonus of $500 in cash back after spending $3,000 in the first three months. The $3,000 spending requirement is lower than many business cards that often force you to spend $5,000 or more to receive the bonus. 
The Ink Cash earns cash back for its sign-up bonus but if you have a premium card like the Chase Ink Business Preferred, Sapphire Preferred, or Sapphire Reserve then you'll take home 50,000 Ultimate Rewards which can be transferred to a lot of travel partners like:
Chase Ultimate Rewards Airlines
Aer Lingus
British Airways Executive Club
Flying Blue (Air France/KLM)
Iberia Airways
JetBlue
Singapore Airlines KrisFlyer
Southwest Airlines Rapid Rewards
United MileagePlus
Virgin Atlantic Flying Club
Chase Ultimate Rewards Hotels
World of Hyatt
IHG Rewards Club
Marriott Bonvoy
Chase Freedom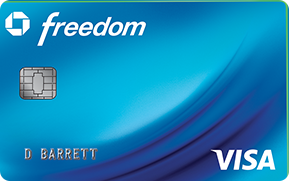 The Chase Freedom comes with $150 after you spend $500 in the first three months. This is obviously much less than what the Ink Cash offers but then again the minimum spend requirement is much lower, too
For a no annual fee card, getting $500 in cash back is not very common so the Ink Cash is definitely the stronger contender here. In fact, the Ink Cash is one of the most valuable no annual fee cards you'll probably ever come across when it comes to your sign-up bonus. 
Bonus spending
Chase Ink Cash
Earn 5% cash back on the first $25,000 spent in combined purchases each account anniversary year at:
Internet, cable and phone services
Office supply stores
Getting 5X is great especially considering that the Chase Ink Plus no longer is available to new applicants.
Office supplies stores like Staples, Office Max, etc. will trigger the 5% cash back, making it a very valuable card for office supplies stores.
This is especially true because you can purchase gift cards at many office supply stores! So instead of earning a standard 1X on many purchases (or even 2X or 3X), you can head to an office supply store and buy a gift card to that establishment and potentially quintuple your earnings! Just take a look at all of the gift cards you can purchase from Staples so see how you can earn 5X on purchases like groceries, travel, and shopping!
It also just feels good to earn 5% back on monthly phone, internet, and cable bills which can add up to pretty big savings for a lot of people.
Earn 2% cash back on the first $25,000 spent in combined purchases each account anniversary year at:
Getting 2X on gas and dining isn't a bad bonus category either.
Earn unlimited 1% cash back on all other purchases
If you're interested in the Chase Ink Cash then you might also want to consider the Chase Ink Unlimited which earns 1.5% back on all purchases.
Chase Freedom
The Chase Freedom earns 5% on rotating quarterly categories on up to $1,500 spent per quarter. That means you can earn up to 7,500 Ultimate Rewards per quarter with the 5% bonus and after that you'll just earn 1% back.
These categories change each year but in the past we have seen bonus categories such as:
Supermarkets
Department stores (including WalMart)
Gas stations
Dining
Local commuter transportation
Movie theaters
Amazon.com
Starbucks
Pharmacies
If you max out the quarterly bonus spend (which is pretty difficult to do for many people) then you could net $300 in cash back per year based on the 5% alone. One thing to note is that you must remember to activate the bonus each quarter.
Getting 5X back on rotating categories isn't bad but I really prefer getting 5X on a consistent basis like what the Ink Cash offers. It's also nice to get 2X on gas and dining, so overall I'd prefer the Ink Cash.
Annual Fee
Both cards come with no annual fee.
Tip: Use the free app WalletFlo to help you travel the world for free by finding the best travel credit cards and promotions!
Primary rental car coverage
The Chase Ink Cash offers primary rental car coverage when renting for business purposes and provides reimbursement up to the actual cash value of the vehicle for theft and collision damage for most cars in the U.S. and abroad.
Meanwhile the Chase Freedom only offers secondary coverage. This is a huge difference if you rent cars on business travel since the Ink Cash will serve you much better.
Chase application rules
Both of these cards are subject to the Chase 5/24 rule and because of that you will be denied for these cards if you've opened up 5 or more accounts within the past two years.
Chase Refer a Friend
Both of these participate in the Chase Refer a Friend program (read more about that program here).
Chase Ink Cash
The Chase Ink Cash is known for offering referrals although currently you might not be able to pull them up. But typically, the Chase Ink Cash referral allows you to earn 10,000 Ultimate Rewards per approval up to a maximum of 50,000 points per calendar year.
Chase Freedom
The Chase Freedom referrals allow you to earn 10,000 points per approval up to a maximum of 50,000 points per calendar year.
Chase Shopping Portal
Both of these cards give you access to the Chase Shopping Portal.
The Chase Shopping Portal is a special website open only to Chase cardmembers that allows you to earn additional bonus Ultimate Rewards when making purchases at various online retailers. It's a fantastic way to increase your earnings and rack up points — you can learn more about this portal here.
Chase Travel Portal
Both of these cards will allow you to redeem your Ultimate Rewards through the Chase Travel Portal at a rate of 1 cent per point. With the Chase Travel Portal, you can book flights, hotels, and more, so getting 1 cent back isn't horrible but you'll get much better value with other Chase cards.
For example, the Sapphire Preferred will allow you to redeem at a rate of 1.25 cents per point and the Chase Sapphire Reserve will allow you to redeem at 1.5 cents per point. Find out more about the Chase Travel Portal here.

Final word
Both of these cards are top-notch for no annual fee credit cards. The Ink Cash offers much more up-front value with its $500 sign-up bonus and a consistent way to earn 5% on many business purchases. Meanwhile, the Freedom is a great card for someone looking to earn 5% back with diverse spending.

Daniel Gillaspia is the Founder of UponArriving.com and the credit card app, WalletFlo. He is a former attorney turned travel expert covering destinations along with TSA, airline, and hotel policies. Since 2014, his content has been featured in publications such as National Geographic, Smithsonian Magazine, and CNBC.