Almost all of my flying around the US has been on United, American, and Southwest. But recently we decided to dabble with Delta and our flight started off with a visit to the Delta Sky Club at PHX.
It was a nice morning lounge visit and below I'll break down the whole experience so that you'll know what to expect when you visit this lounge found in Terminal 3.
Trip overview
This Delta Sky Club visit was the beginning of a fast-paced trip where we flew Delta First Class from PHX to BWI with a connection in MSP.
The goal of this trip was to finally explore the Northeast.
We rented a car and spent eight days hitting up 13 states in the northeast region and exploring some of the fall color change along the way.
Taking advantage of great October weather, we also checked out the National Mall in DC, Salem Witch Trial sites, and caught a game at Fenway.
Some of the interesting hotels we stayed out included:
Tip: Use the free app WalletFlo to help you travel the world for free by finding the best travel credit cards and promotions!
Getting through the airport
We had bags to check and, while we were flying Delta first class, the baggage check-in experience was a little underwhelming.
That's because the line was backed up and with only a couple of staff members it appeared to be going even slower than the standard line.
It ended up being that classic scenario where you don't realize another line is moving quicker until you have already progressed quite a way in your own line, so we just stayed put.
The good news is that we breezed through security with TSA Pre-Check and CLEAR.
Delta Sky Club Location
The Delta Sky Club is located in Terminal 3, across from gate F8.
Terminal 3 serves Delta Airlines among many other airlines at this American Airlines hub.
The entire Terminal 3 South Concourse consists of 15 gates and was opened in early 2019 which is the same time this lounge opened up.
It's a pretty nice little airport terminal if you ask me with some notable eating spots like Shake Shack and Panera Bread.
Related: Delta Sky Club Guide: (Access & List of Locations)
As mentioned, you will find the lounge across from gate F8, just after you pass up Shake Shack. The entrance to the Sky Club doesn't stick out that much but you still shouldn't struggle to find its clear blue doors.
Access & hours
The lounge is open daily from 5:15am to 12am.
We got in to the Delta Sky Club at PHX free of charge with our Amex Platinum cards.
With the Amex Platinum, you can get free access to Delta Sky Clubs but the catch is you have to be flying Delta that day.
Your guest cannot get in for free but you can pay to get up to two guests in at a discounted rate of $39.
In this case, I had made Bradley an authorized user on the Platinum Card so he had his own Platinum Card and was able to get in for free.
The authorized user fee is $175 for up to three users which actually turns out to be a pretty good deal if you can max it out.
We were flying domestic first class to MSP where we would have a layover and then another short first class flight to BWI. Unfortunately, like other domestic airlines, you don't get lounge access automatically when flying first class domestically.
If you want to look into other ways to get access you can check out the access policy here.
Lounge
Opened in early 2019, the 7,500-square-foot Delta Sky Club boasts design "inspired by the Southwest desert landscape."
As someone who recently moved to Arizona in the spring of 2020, the look and feel of all things Southwest has grown on me exponentially. So I was interested to see what they did with the lounge.
Throughout the lounge you'll find earth tones with pops of rich colors and some of the walls showcase artwork from local artists. The Southwest influence is definitely there but it's still pretty subtle in my opinion.
There's a small printer station in one of the corners which was out of order when we visited.
The center of the lounge has a beautiful modern chandelier with a lot of seating options that to be honest looked a tad bit crowded.
I would say that this airport lounge is one of the more beautiful airport lounges I've seen for a domestic airline. I loved the aviation artwork and overall peaceful color scheme.
American and United have also done a pretty good job of renovating and giving their new lounges a fresh modern feel. To see what I mean check out a couple of the photos below.
Here's an image from one of the newer Admirals Clubs:
And here is one of the newer United Clubs:
At the end of the Delta Sky Club there is a long wall with decent views of the neighboring gates but I believe the closest runway is on the other side of the terminal so you don't get those close/direct views.
Along the wall, you'll find a long conference table with plenty of outlets for getting work done.
Most of the seats had power outlets or USB ports near the seats. So charging your devices should not be an issue but I would still be careful with plugging directly into USBs.
There's a TV on both sides of the main central living area, which again felt a little bit cluttered with the seating.
After scoping out some of the seats we decided to head to the back where the bar is. Since this was still really early in the morning, the bar was not open and not serving alcohol.
But if you do come during later hours you can take advantage of seasonal cocktails including the Agave Experience – "an extensive selection of tequila and mezcal that can be sampled in individual pours or tasting flights."
They also have wine selected by Delta's Master Sommelier Andrea Robinson.
It looks like they had removed a couple of seats from the bar area for social distancing.
However, there were still a lot of seating options in this section of the lounge. If you need a power outlet consider getting a spot at one of the high counter seats located next to the partition.
Personally, I really like the vibe of this wooded area.
Dining
We passed on breakfast and so I was really interested to see what type of food we would be able to enjoy at the lounge.
I was happy to see that there was a self-serve line and that they had some pretty hearty options like this breakfast casserole along with sausage and scrambled eggs.
You could also go with hard boiled eggs and throw in a little bit of red salsa if you wanted.
They had a nice little section of fresh fruit including pineapple, cantaloupe, and melon along with grapes and strawberries. And to my surprise they even had blueberries, blackberries and raspberries.
Overall, the breakfast options were much superior to what I experienced at non-hub Admirals Club lounges when arriving early for breakfast. I could actually fill up if I wanted do at this lounge versus just getting by with light bites.
There was a whole mixture of yogurt including plain Greek yogurt and vanilla yogurt.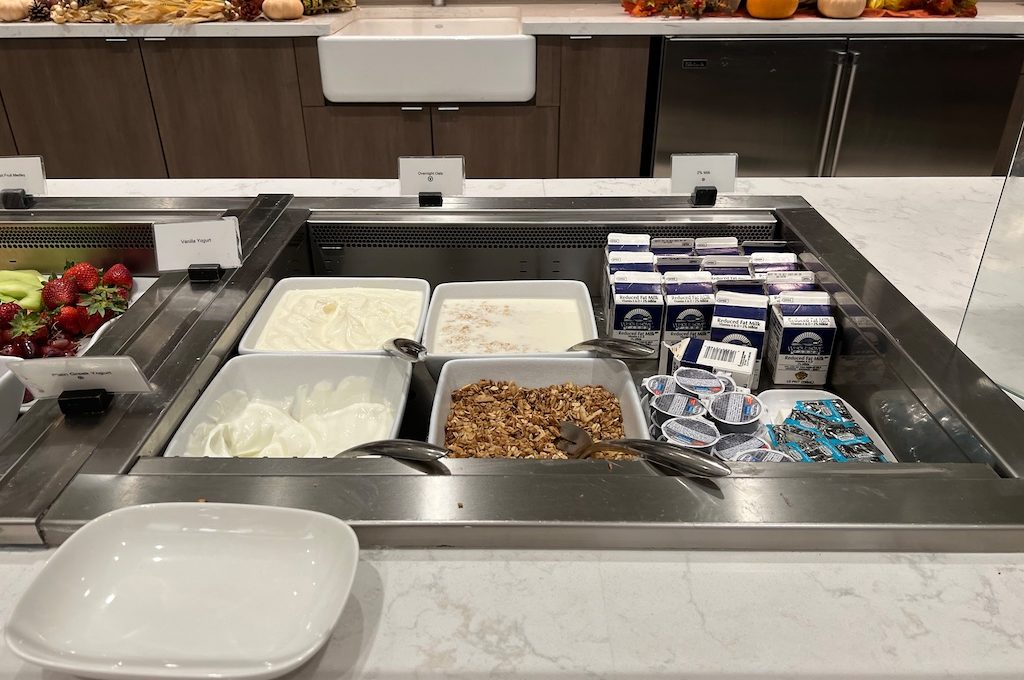 And if you were looking for cereal they had Cheerios, raisin bran, and rice crispies. The cereal dispensers were tricky for some people so my pro tip is to be a little gentle with the levers. I almost witnessed an early-morning disaster.
There's a soda machine with Coke products including Coke Zero, Dr Pepper, Minute Maid lemonade, and ginger ale.
You could also pour up some fresh orange juice which can be found next to the utensil dispenser. They had a sparkling water machine but I was not able to get it to work which resulted in pouring a glass of some very pathetically carbonated water.
We grabbed our food and then locked down a table in the corner area which gave us plenty of space from other travelers as the lounge did not have much traffic this early in the morning.
Shortly after we sat down to eat there was a morning surge that came in and then also quickly thinned out after only about 20 to 30 minutes.
The lounge seemed to have pretty decent views of some of the other gates where we found Alaska Airlines and Hawaiian Airlines.
However, given the morning hour there wasn't much to see beyond our own reflections in the window.
I took a quick visit to the bathroom which was very clean and modern. It's always a good feeling to avoid those airport terminal bathrooms.
Final word
Overall, this was a very solid lounge experience. I thought that the lounge was beautiful, clean, and not overcrowded. The breakfast was hearty and had some nice additional options like fresh berries. The Wi-Fi was fast and there were no issues with anything really. Just a great lounge visit.
Daniel Gillaspia is the Founder of UponArriving.com and creator of the credit card app, WalletFlo. He is a former attorney turned full-time travel expert covering destinations along with TSA, airline, and hotel policies. Since 2014, his content has been featured in major publications such as National Geographic, Smithsonian Magazine, Forbes, CNBC, US News, and Business Insider. Find his full bio here.