Salem Massachusetts is one of the coolest spots we've visited in recent time. We wanted the full Salem experience so we visited in the month of October when crowds can get a bit crazy.
Despite dealing with some busy streets, we felt very good about our choice to stay at the Hampton Inn Salem, a property that just opened up in late 2020.
Here is a full review of the hotel so you know what to expect if you choose to go with the Hampton Inn Salem.
Booking
We made this booking several months in advance which is something I highly recommend that you do if you plan on visiting Salem in October.
Several October weekends were sold out many months in advance so if you plan on staying at this hotel on a weekend my advice is to book wayyy in advance.
Also, if booking for October, be aware that Salem gets extremely busy on the weekends during this month and even weekdays can be pretty hectic closer to Halloween.
Tip: Use the free app WalletFlo to help you travel the world for free by finding the best travel credit cards and promotions!
Location overview
The Hampton Inn Salem is located right in the heart of Salem and in my opinion is one of the best locations you could choose for a hotel.
You are just minutes away from Essex Street which has a ton of iconic attractions and popular sites to see in Salem, including those from the Salem With Trials.
As far as walking distance goes, here are some ETAs:
The House of the Seven Gables: 14 min
Salem Witch Museum: 10 min
Salem Common: 11 min
Peabody Essex Museum: 6 min
The Witch House at Salem: 8 min
If you are interested in doing a tour of Hocus Pocus filming sites you can find several of those nearby.
Guests are also just steps away from the Lobster Shanty which is a fabulous restaurant I would recommend you to check out if you were looking for some good lobster rolls in Salem. Boston Burger is great burger joint that is also super close. For breakfast, you could look into the Ugly Mug Diner.
If you are into cannabis there is a dispensary directly next-door called Seagrass Salem Dispensary, which I found to be a quality dispensary.
Overall, the location really is just about as good as it gets.
Related: Can You Smoke Weed in a Hotel Room?
Check-in
This hotel stay was part of a big road trip we did in the Northeast where we hit up 13 states in 8 days!
On the day of check-in, we drove in from Plymouth, New Hampshire after doing some leaf peeping and on the way stopped in Kittery, Maine for some great lobster rolls at Bob's Clam Hut.
When you arrive at the hotel, there is a parking garage attached to the hotel and there should be an attendant on duty to help get you situated with parking. The attendants were very on top of their job which was nice.
They admitted each automobile individually into the garage which was a little bit inefficient but given that this was October in Salem they probably had to take extra measures to prevent parking issues. Parking was $18/night.
At check-in, due to Diamond status we were offered welcome gifts of drinks and snacks. Because we had been snacking so much on the road trip we declined the snacks but we did snag a couple of water bottles.
The staff at check-in was exceptional and did a great job of making us feel at home and asking us if we needed anything.
Masks were required in the hotel as Salem has a pretty strict city wide mask requirement for indoor businesses.
The room
The king room is modern and spacious. The comfy bed comes with a floating headboard and floating nightstands. There are lamps on both sides and you also have plenty of power outlets and USB ports for convenient charging.
Related: Should You Use USB Ports In Hotel Rooms? (Stay Away!?)
There's a workstation with plenty of outlets (three power outlets + two USB ports) and a comfortable rolling chair so if you need to sit down and knock out some work, there's a great space to get that done.
There's also a large mirror right in front of the desk in case you need to keep a close eye on your appearance while working, I guess?
The workstation is connected to the entertainment area which has a large 55 inch TV, which was perfect for watching the MLB playoffs during our stay.
We actually stayed at this hotel when we went to Fenway for the Astros versus Red Sox game and I did not think the drive into Boston was bad at all. You just need to figure out your parking situation, which isn't very difficult to do.
Under the TV you'll find the microwave, coffee maker, and mini fridge. Next to all of that you'll find the ice bucket.
Related: Are Hotel Coffee Makers Safe & Clean? (YIKES!)
We were put on the top floor which is the sixth floor. As far as the view went, there was an interesting rooftop outside but we did not have much else to look out to.
The bathroom was really nice and came with some quality Neutrogena amenities.
We did not have any issues with water temperature or water pressure with the shower.
Facilities
The parking garage is directly connected to the lobby which is nice and open, although on the smaller side.
The hotel lobby has some iconic signage behind the check-in desk which I thought was cool to see, especially when you first arrive in Salem. It really drives home where you are: "The Bewitched City."
Breakfast
On the third floor, the hotel has a lounge-type area where you can enjoy breakfast and perhaps even conduct business meetings. I honestly wasn't expecting this type of hotel to have such a nice and spacious lounge area so this was a nice surprise.
It's a really cool set up where there are booths with their own TVs which I thought was really interesting (at least in theory).
The problem is that not all of the TVs are synced so you can hear echoes while trying to enjoy the TV which is actually very annoying. In fact, I started to feel like I was going a little bit crazy with the echoes, and I actually had to finish my meal in a hurry so I could get out of there!
The hotel offered what I referred to as a continental plus breakfast. You have options for hot food items like eggs, sausage, and potatoes and also other options like oatmeal and cereal.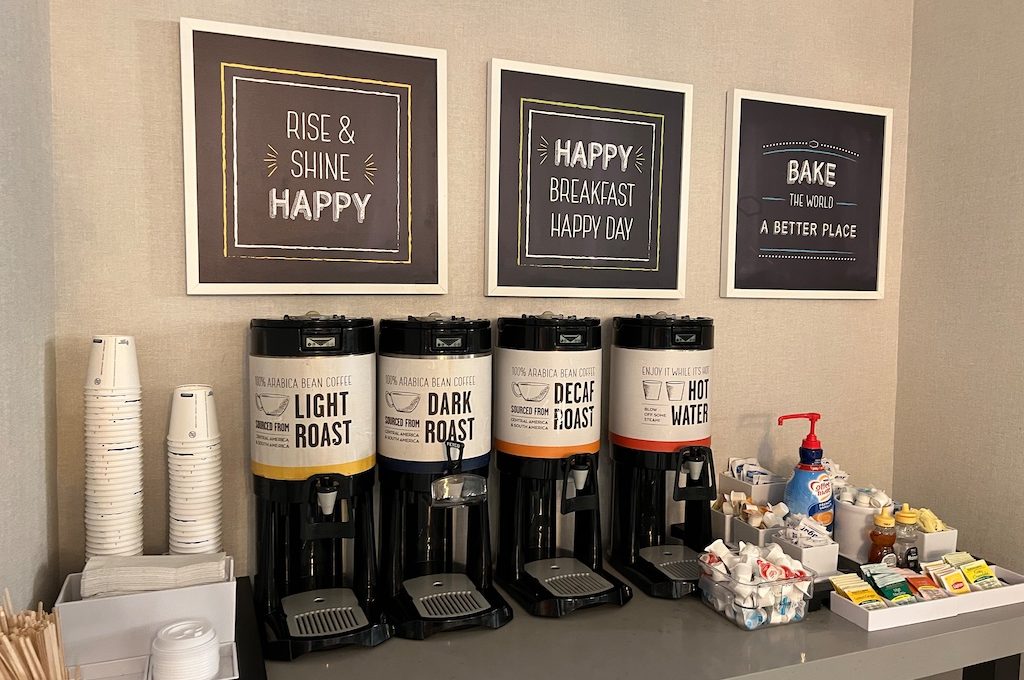 You could also make yourself a waffle with the waffle maker.
Other options included pastries, fruit, and some really good banana nut bread.
Related: What Hotels Have Free Breakfast?
Fitness center
The Hampton Inn gym is located on the third floor as well.
For only having 113 rooms, this is actually a pretty good-sized hotel gym in my opinion.
Pool
The Hampton Inn also has a beautiful indoor pool area (located on the first floor).
Final word
Salem Massachusetts is definitely a unique destination. While it is a bit touristy (okay, let's be honest it's hella touristy), it's still a very cool spot to check out and it is possible to escape from the tourist areas by walking around the city.
In terms of location, I think the Hampton Inn is one of the best hotels to stay at when visiting Salem because it is right in the middle of everything.

Daniel Gillaspia is the Founder of UponArriving.com and the credit card app, WalletFlo. He is a former attorney turned travel expert covering destinations along with TSA, airline, and hotel policies. Since 2014, his content has been featured in publications such as National Geographic, Smithsonian Magazine, and CNBC. Read my bio.