Elephant Mountain in Taipei is the perfect hike. It's strenuous enough that you'll get a bit of exercise and feel a little accomplished when you finish but it's not so serious that you have to make extensive preparations to conquer it. Oh yeah, and it has some of the best views of Taipei.
In this article, I'll tell you everything you need to know about hiking Elephant Mountain and give you some special tips so that you have a great experience.
What is Elephant Mountain?
Elephant Mountain is one of the most popular attractions in Taipei, Taiwan. It's essentially a long trail of about 600 stairs that leads you up to a series of lookout points and platforms, offering you superb views of Taiwan and especially Taipei 101.
Elephant Mountain is actually a part of a series of trails that run through the Four Beasts of Taipei (四獸山) — made up of four mountains Elephant Mountain, Tiger Mountain, Lion Mountain, and Leopard Mountain. There are different peaks you can traverse in this system of trails that will keep you busy for a couple of hours but Elephant Mountain is by the far the most popular and accessible.
Tip: Use the free app WalletFlo to help you travel the world for free by finding the best travel credit cards and promotions!
How to get to Elephant Mountain
It's very easy to get to Elephant Mountain. If you're taking the MRT, you'll need to take the red line to the last stop, the Xiangshan Station (象山站). The fact that it's the last stop makes it even easier to get to.
Once you make it to the station, you'll pop out at Exit 2.
If you pull the walk up on Google Maps, you'll see that it's about a 10-11 minute walk to the trail, which is also known as the Xiangshan Trail. (It's also only about a 15 minute walk from Taipei 101.)
After you exit the MRT station, you should be able to easily find signs pointing you to Elephant Mountain but note that the signs will say "Xiangshan Hiking Trail."
You'll basically follow along a park all the way to the trailhead. The park is nice and you'll come across people working out or just going for a stroll with their pets. You'll also see some basketball courts. Again, it's very easy to find your way.
Once you are approaching the end of the park, you'll notice that there's an incline and you'll continue to follow the road around a curve.
As you approach the trail, you may see a stand open selling beverages. I recommend you pick up one or two bottles of water so that you can stay hydrated and stay up there as long as you'd like. I hiked this in June on a relatively cool day but I quickly ran through my water supply thanks to all of the stairs. If you desire to continue past Elephant Mountain, you'll want extra water.
Finally, you'll approach an unassuming intersection and you'll see some stairs poking out of some lush vegetation — that's the entrance to the Elephant Mountain trail.
It's hard to miss with all of the signs, including the large elephant sign that I'm pretty sure anybody could understand. Also, Discovery Channel somehow found a way to brand itself in with the attraction, so you'll see their giant logo as well.
Pro Tip: It's a good idea to apply bug spray before you head up on this hike. I started to get bit as soon as I stepped on the stairs and after I applied some insect repellant, I was good for the remainder of the hike. I don't think you need the strong deep woods stuff — just a quality bottle will do.
The Elephant Mountain Hike
Anyway, once you make your first step get ready for a serious calf work out. If you're not in great physical shape, I'd recommend to work on a stair master or walk/run some stairs for a few weeks before your trip. I had been doing a decent amount of cardio leading up to my visit but my legs still got very wobbly on the way down, but I think it wouldn't have been so bad if I had focused on some stair work outs.
The trail is pretty easy to follow but there is a major split toward the beginning of the trail. Stay right on the first split you come to and that will take you right to the Elephant Mountain viewpoints.
Usually at the splits there are helpful maps to assist you with heading the right direction, so just give them a look and you should be able to find your way okay.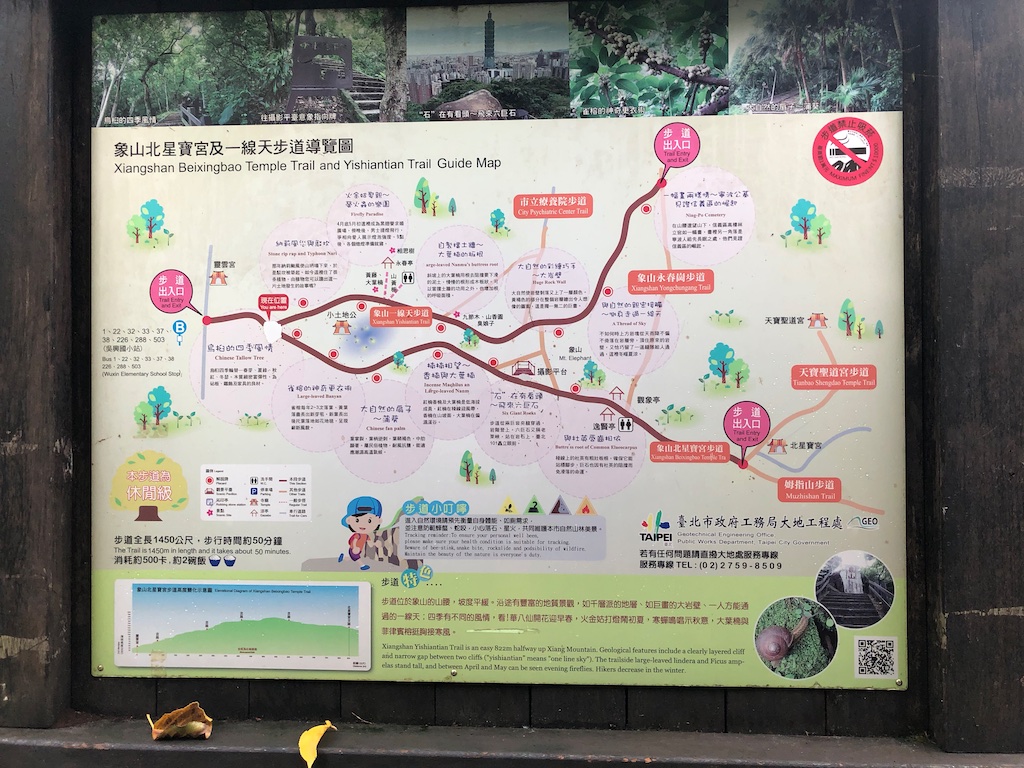 The main trail is all paved so you don't have to worry about getting your shoes muddy (though there are some viewpoints that are off the trail). You'll see lettering etched into many of the stones and bricks along the way — it would be cool to know what they say but I didn't have a clue.
There's also usually railing along the trail adorned with elephants.
When it comes to the stairs, there is usually at least one side with railing you can hold on to for security. The steps aren't super steep but there are a couple of segments that are steep enough to warrant your focus so that you don't miss a step.
You can opt to take each individual step or do what I did and go two steps at a time (on the more flattened steps). I even saw someone going down the steps backwards.
If you get tired, you should be able to find a couple of benches along the way and they will also have benches at the viewing platforms that you can relax on.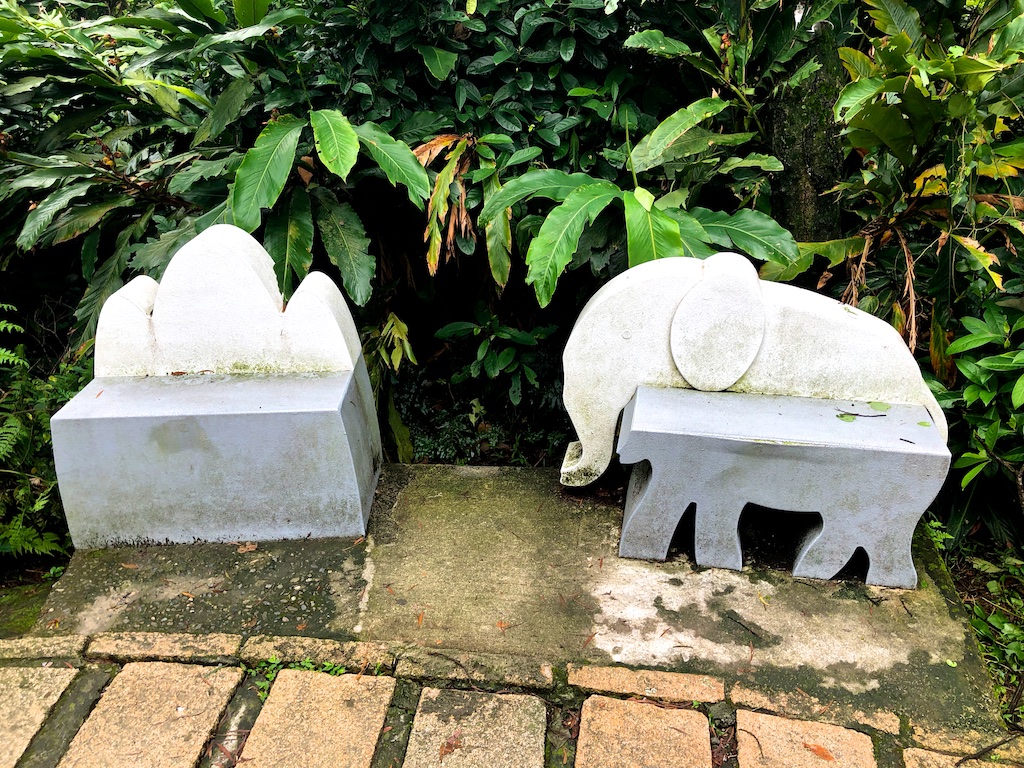 I really recommend that you take your time on this hike. Don't forget to constantly look back at all of the different vantage points as you make your way up the trail — there are some really cool views of Taipei at pretty much every corner.
There are also a number of interpretive panels to check out and you can learn a little bit about some of the native plants. I saw a lot of beautiful plants and flowers during the hike and some of the plants were foreign to me.
Elephant Mountain viewing platforms
There will be a few different platforms that are perfect for photographs. None of these are particularly large. This wasn't a problem when I visited on a Tuesday morning around 8am but this would definitely be a problem on a weekend or holiday when trying to get photographs.
In those cases, you'll definitely have to get there very early to make sure that you secure a spot. And I don't even want to think about how busy Elephant Mountain gets on New Years!
There are basically two main viewing platforms. The first is located about halfway through the trail and you can see what the view looks like from image below.
As far as the view goes, they really are fantastic. You can set up for some sweeping views of the city and I believe that sunset would be the best time for photos. Unfortunately, I visited during the rainy season and I was not able to see any sunsets and barely ever saw any blue-colored sky.
You'll know when you've arrived to the main Elephant Mountain viewpoint because you'll see the large elephant sign and also see the Discovery logo.
The viewpoint is covered so you can avoid the sun and/or rain if that's an issue for you. There's a tree surrounded by a bench in the middle of the wooden platform so you can relax there if you'd like.
The views from the platform are fantastic.
Elephant Mountain boulders
One of the most popular spots to hang out on at Elephant Mountain is on some of the boulders.
There are a number of huge house-sized boulders on the trail. These boulders not only offer you some fantastic views of the skyline but you can also pose for pics on top of them for some epic shots. I didn't have a photographer on standby and didn't feel like bugging anybody so I didn't opt for that shot but I would highly recommend it.
Many have carved their names into the boulders over the years.
They have footholds that allow you to easily climb up but some can be quite slick, so having shoes with good traction is recommended.
Other trails on Elephant Mountain
As you hike, you'll see countless of trails going off the main pathway, some dropping off very steeply. These were very tempting to explore but I wasn't in the mood for getting lost so I just passed up on them.
You can also choose to keep going after you pass Elephant Mountain.
After I passed the main viewing area, I came across a little workout station. There were bars for doing pull-ups, dips, and they even had some weights and a bench up there. Some locals were egging me on to knock out some reps and I almost gave into the pressure but opted to chill out for a while.
They explained the trail system to me and explained how I could continue on on a different trail that would lead me back to the MRT. One local recommended heading up to Thumb Mountain for great views. I didn't do that but I added it to the list of things to check out next time.
Elephant Mountain FAQs
How long does it take to hike Elephant Mountain?
Hiking Elephant Mountain can be done in a swift 12 to 15 minutes if you book it at a steady pace. But as you make your way up the stairs, you'll see a number of vantage points perfect for photos, interpretive panels, and plants and wildlife you might want to stop to observe. You might also want to take a couple of breaks, so giving yourself closer to 30 minutes is better. 
Is Elephant Mountain free? 
Yes, this is a completely free attraction. Well, if you don't count the energy you expend. 
What is the best time to visit Elephant Mountain?
Catching the sunset would be the best time for photos. So if that's what you want to do, I'd advise to visit around an hour before sunset but on weekends or holidays you might need to venture out sooner than that. The hike isn't that bad so you could end up doing it multiple times to get the timing right with the lighting and the crowds. 
Do you need to be fit to hike Elephant Mountain? 
Not really. It will help to be of at least average fitness but if you're out of shape you should still be capable of making it to at least the first viewpoint. You might be more out of breath than others but it should still be possible. 
How many steps are there at Elephant Mountain? 
I've been told there are about 600 steps to get to the top of Elephant Mountain. 
Is there a cable car to the Elephant Mountain viewpoints?
No, you're going to have to stick to the stairs as there is no cable car that goes directly to the viewpoints. 
Final word
Elephant Mountain in Taipei is a popular tourist attraction for a reason. It's easy to access and comes with great views of the city. I wish I visited when there was better weather because I would've loved to have spent more time exploring other trails and getting better photographs of the sunset. I highly recommend trying to time your visit with the sunset and sticking around for night time views of the city.

Daniel Gillaspia is the Founder of UponArriving.com and the credit card app, WalletFlo. He is a former attorney turned travel expert covering destinations along with TSA, airline, and hotel policies. Since 2014, his content has been featured in publications such as National Geographic, Smithsonian Magazine, and CNBC. Read my bio.