If you're flying between Hawaiian islands you might be tempted by the Hawaiian Airlines first class experience.
Could it actually be worth it to fly first class on such a short flight or are you better off just saving money in economy?
In this review, I'll give you a detailed look at the first class experience on the Boeing 717-200 when flying Hawaiian Airlines between neighbor islands.
Trip overview
We recently took a 10 night trip to Hawaii in order to get some awesome content tracking down all of the Jurassic Park filming sites on Kauai and also documenting a lot of the Pearl Harbor sites.
Other content opportunities we came across included:
All of our content objectives were met without any major issues which is always a plus when you're out capturing content for ten days in a place with pretty volatile weather. So this trip was very much a success!
Booking
Initially, we looked to book this flight through AmexTravel.
I'm definitely glad that we did NOT do that though because when we checked the prices on the Hawaiian Airlines website the prices were like 50% cheaper.
I could not believe the price difference but it's definitely good to know that AmexTravel sometimes will show you prices that are way higher.
The total price came out to $137 per person including all of the fees. I used my American Express Platinum Card to book this so that earned us almost 700 Membership Rewards. Not bad.
This would also be the only flight on our trip that we paid out-of-pocket for. All other flights were paid for with points.
Tip: Use the free app WalletFlo to help you travel the world for free by finding the best travel credit cards and promotions!
Check-in
After dropping off our Turo vehicle we took an Uber to the airport.
Initially, they dropped us off at the drop off for Hawaiian Airline trips to the mainland so we had to walk a little bit to get to the check-in area for neighbor island flights but it's not far at all.
Related: Uber vs Turo in Honolulu, Hawaii (Which is Cheaper?)
The check-in area for mainland flights was really busy but when we got over to the check-in station for inter-island flights it was pretty much a ghost town.
We utilized the first class check-in desk and got our bags checked for no additional cost.
For flights within Hawaii, baggage fees are $25 each way for the 1st checked bag and $35 each way for the 2nd check bag. I was going to be checking two bags so I would have been paying $60 in baggage fees.
That was almost the exact price difference between economy and first class so in my opinion it actually made sense to fly first class. Why not pay basically the same amount but get extra comfort?
The big thing to note is that Hawaiian Airlines does not give you a bigger weight allowance when flying first class. Most airlines bump up your weight allowance to 70 pounds but they keep it at 50 pounds.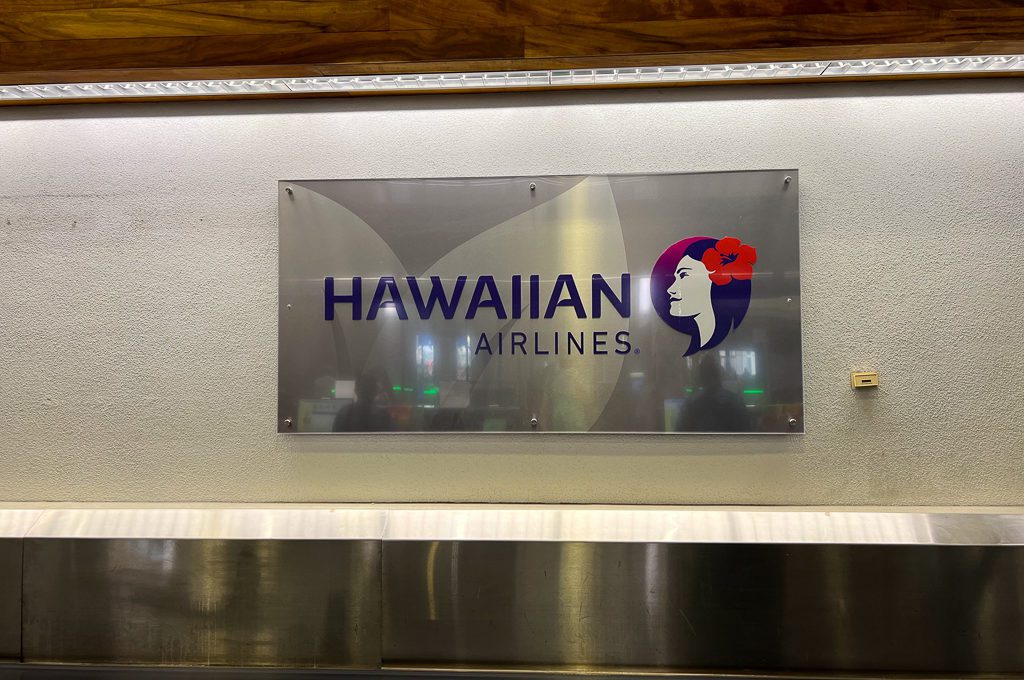 With the short line, we got through security very quickly and then it was time to head to one of the HNL lounges.
Initially, I was kind of surprised we had lounge access because a domestic first class flight usually does not grant you access to a lounge and flying between islands is akin to flying between states.
But the first class inter-island ticket would get us free access to the Hawaiian Airlines Premier Club lounge.
I did a breakdown on the Hawaiian Airlines lounges at HNL so be sure to check that out but basically the Premier Club is an extremely basic airport lounge.
They have coffee, tea, and soda and little snack packs but that's all. After visiting only a few minutes we were ready to check out the Plumeria Lounge, which is the more equipped airport lounge.
Our tickets did not get us access to the Plumeria Lounge but Priority Pass did.
It was at that lounge that we were actually able to enjoy some food and much better drink selection. I would highly recommend you go to that lounge instead of the Premier Club.
But keep in mind that the Plumeria Lounge is still very much a standard airport lounge.
Close to boarding we made our way over to the boarding area where we stood first in line as we normally do unless we get beat out by some other over-eager passengers.
It was interesting because on the way there you are partially outside and get to take in some beautiful garden views.
But this exposes the gate area to the outdoors and so birds get into the gate area. We watched a number of birds just hop around which was a first for me.
Eventually, it was time to board our Boeing 717-200 and because we were first class passengers we got to hop on the plane first (after pre-boarding).
Immediately, I was a fan of the plane's color scheme. I love the teal economy section contrasted with the brown first class seats.
One thing I noticed quickly was that economy was configured in a 3-2 configuration.
So for a lot of couples you may think about just flying economy and saving since you can lock down a row with only two seats.
If you want one of those seats close to the front of the cabin you'll need to pay extra and in this case it would have been $10. But it looks like you can select some of those two person row seats further back for free.
Just be sure to act quickly because I think those seats get taken up pretty fast!
The seats in first class are pretty spacious and felt like any other domestic first class product. You're looking at a pitch of 37 inches and width of about 18.5 inches.
The seats are basic with no seatback TV and no USB or power outlets from what I could tell. It's all understandable considering that these flights are usually only about 30 minutes long.
The entire first class cabin only had two rows for a total of eight seats. So it's a pretty small cabin on the Boeing 717-200, which I always love because it's easier to get service and it just feels more exclusive.
When we finally sat down I tested out the recliner which you can control with a button on the side of the armrest.
The seat reclines in a different way than a normal domestic first class seat does. It's hard to explain but it's like the entire seat sort of slides.
I'm not sure if I liked it more but it did not really matter because you're talking about such a short flight that you don't even really need to recline your seat.
After a pretty quick boarding process we were ready to head to the runway.
During takeoff we had some nice views of Honolulu and Waikiki. I would definitely try to always snag a window seat when flying between islands in Hawaii. The scenery is often breathtaking.
While on the left side we had good views of Honolulu we would miss out on most of the views when landing in Kauai.
You'll be able to pull out your food tray directly from your armrest.
It's one of those thin and wobbly food trays though. Definitely not the type you would feel comfortable leaving a drink on during a really bumpy flight.
The good news is that they have a little slider tray that comes out between the seats so you can rest your drink on there. You also have plenty of room for drinks between the seats.
Speaking of beverages, I was surprised that they actually served up drinks (alcoholic and non-alcoholic) on such a short flight. I tried out some sparkling water and also went with a cup of juice.
The crew member serving up the drinks was very friendly and offered some great service on this very short hop to Kauai.
They also brought us out a small pack of snacks. I tried out the Pau Hana snacks a few times during our time in Hawaii and they did start to grow on me a little bit but I never fully acquired the taste for them.
As soon as I finished up my beverages, it was pretty much time to put everything back up and get ready for landing in Kauai.
Like I mentioned before, you have very little views from the left side of the plane until right when you approach the shore.
After landing, we would make our way on a shuttle bus to the rental car station for Thrifty.
We found an awesome deal on Thrifty for a Jeep Wrangler and I was actually pretty nervous about using Thrifty for the first time.
Not only did we book with Thrifty but I made the booking through Expedia and I was going to have to change the name of the reservation to Brad when we arrived. So I was fully expecting things to go wrong.
But actually, check in went really smoothly and our vehicle ran really well throughout the trip. Overall, it was definitely a success.
Final word
I feel pretty good about this Hawaiian Airlines First Class Boeing 717-200 inter-island flight.
It's such a short flight that it's kind of hard to justify flying first class in a lot of cases but we found a decent deal and we also were checking multiple bags so the net price for flying economy probably would have been the same.
If you don't have to worry about paying for bags then you might want to just think about flying economy and securing one of the seats that only have two seats. You might be able to choose them with no additional fee.

Daniel Gillaspia is the Founder of UponArriving.com and the credit card app, WalletFlo. He is a former attorney turned travel expert covering destinations along with TSA, airline, and hotel policies. Since 2014, his content has been featured in publications such as National Geographic, Smithsonian Magazine, and CNBC. Read my bio.