When you travel to Hawaii you're bound to run into at least one attraction where you're not sure if it's a tourist trap or actually worth your time and money.
The Dole Plantation definitely falls into that category for a lot of people.
In this article, I want to clear up a lot of the confusion by giving you the full picture of what you can experience here.
We tried out all of the different Dole Plantation activities so that we could give you an accurate assessment of what to expect.
After reading this article you should have a very good idea of whether or not visiting the Dole Plantation is worth it for you.
What is the Dole Plantation?
The Dole Plantation is one of the major tourist attractions in Oahu, Hawaii. It's the site of the original Dole Plantation and today it is home to a gift shop/restaurant and activities like the Pineapple Express train ride, Garden Maze, and Plantation Gardens.
Tip: Use the free app WalletFlo to help you travel the world for free by finding the best travel credit cards and promotions!
Where is the Dole Plantation?
The Dole Plantation is located at: 64-1550 Kamehameha Hwy, Wahiawa, HI 96786.
That's about a 40 minute drive away from Waikiki, Honolulu.
It opens up at 9:30am but if you plan on doing some of the tour activities you can walk to the right of the gift shop before 9:30 and you will see some of the little huts where you can purchase tickets for your activities.
(You cannot purchase your tickets in advance online as of February 2022.)
My advice would be to line up for your tickets shortly before 9:30am so that you could be one of the first people on the Pineapple Express train because the lines can get quite long for that attraction.
When you purchase your tickets you can purchase them for individual activities or you can buy them for multiple activities.
If you don't want to partake in the attractions you can just line up in front of the gift shop.
You'll notice that there will be some jewelry stations outside and perhaps other vendors, which you'll also see in other parts of the plantation.
Related: Flying Southwest Inter-island in Hawaii? Here's What to Expect
Dole Plantation history
One major reason why a lot of people visit the Dole Plantation is the history, which (no surprise) is mostly centered around the pineapple.
Contrary to what many think, pineapples are not native to Hawaii and instead likely came from South America.
Nobody knows exactly when pineapples first arrived in Hawaii but they were probably around at least 100 years before James Dole showed up (possibly much longer).
However, it was Dole who first capitalized on the huge commercial opportunity that pineapples offered and he's responsible for the meteoric rise in popularity of the pineapple.
Who was James Dole?
James Dole, a Harvard graduate, arrived in Hawaii in 1899 and he founded the Hawaiian Pineapple Company in 1901 (while his cousin Sanford Dole served as the President of the Republic of Hawaii).
Dole realized that in order to scale his business he would need to can pineapples so that they could reach destinations throughout the mainland (while still fresh).
People had tried to can pineapples in Hawaii before but they also had to deal with US import tariffs.
Annexation of Hawaii in 1898 now made selling agricultural products to the US mainland much more profitable, which made Dole's timing excellent.
Initially, Dole built a pineapple cannery at the plantation in Wahiawa but later it was relocated to Honolulu Harbor, where the signature pineapple water tower would stand for decades.
Benefiting from new technology like the Ginaca machine that could process up to 100 fruits per minute, the Honolulu cannery saw a lot of success and at one time was the world's largest cannery.
Dole also purchased the island of Lānaʻi (aka Pineapple Island) in 1923 and developed it into the largest plantation in the world, producing over seventy-five percent of the world's pineapple at one point.
In the 1950s, Hawaii was leading the world in pineapple production but that would soon change.
Production overseas was growing and Hawaii plantations struggled through the 70s and 80s to compete with the labor costs in places like the Philippines and Thailand, where wages were 1/10th of those in Hawaii.
By 1992, Dole phased out its pineapple operations on Lanai and just a year prior had closed the Honolulu cannery.
Today, only a tiny fraction of the world's pineapples come from Hawaii and those that do mostly serve local needs.
As production of pineapples at the plantation slowed down, the focus turned towards tourism.
Dole had already opened a fruit stand here in 1950 (pictured below) to give the public a taste of what the plantation had to offer but as the canneries and plantations closed they needed to do something bigger.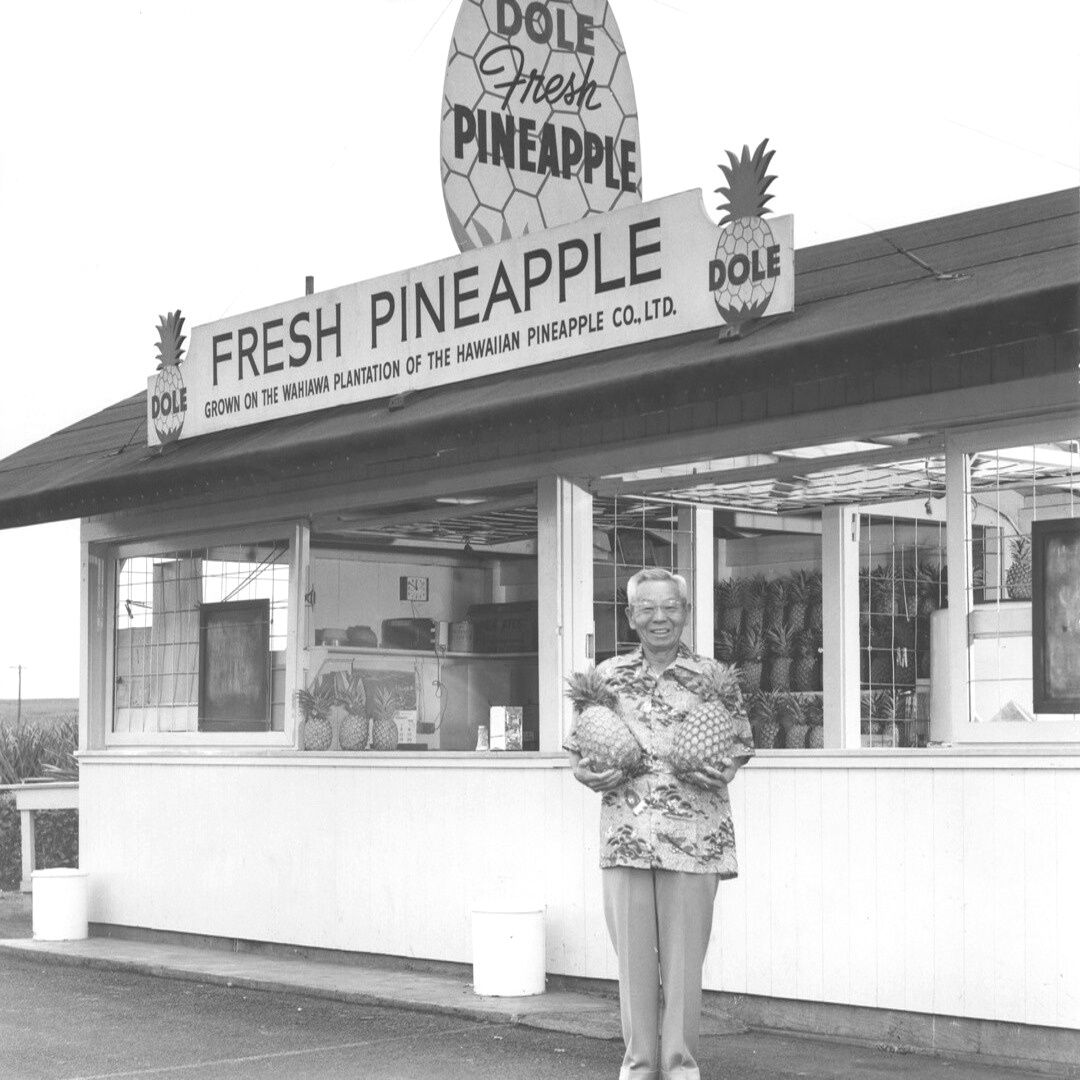 In 1989, the Dole Plantation opened to the public as Hawaii's "Pineapple Experience," which is what you can experience today.
As for the old Honolulu cannery… it's now been repurposed to a mixed-use center with a movie theater.
So the Dole legacy lives on today in Hawaii but in a much different form than it did in its prime in the 1950s.
Dole Plantation: What to expect
There are five different attractions at the Dole Plantation that you might consider visiting.
The Dole Plantation gift shop
Plantation Grille
The Pineapple Express Train Tour
Plantation Garden Maze
Plantation Garden Tour
The Dole Plantation gift shop
The Dole Plantation gift shop is free to enter and many people come all the way to the Dole Plantation just to buy things from the gift shop.
Inside, there are a lot of different items to browse.
You'll see a lot of the typical touristy stuff like T-shirts, hats, bags, magnets, etc. but to me the real interesting stuff is the snacks.
When it comes to snacks, it's actually pretty cool to see all the different varieties you can choose from and it sort of reminds me of a Hawaiian Buc-ees experience with an overwhelming number of tempting options.
You'll come across things like pineapple salsa, pineapple pancake mix, the list goes on.
It is truly heaven for any pineapple lover but they also have other flavored treats like coconut, banana, mango, and others.
And they also produce their own chocolate which could be another great gift idea.
I don't know many people who would not appreciate some tasty pineapple treats from Hawaii, so if you're looking for edible gift ideas for friends and family back home the Dole Plantation gift shop is a great destination to take care of that.
It is worth noting that you can buy some of these items online.
Shipping to the mainland can be expensive, though.
For example, I priced out a $30 order of white chocolate pineapple crunch to Arizona and the shipping was $42. They do ship food and chocolate via UPS so that will hopefully mitigate any melting.
The other thing that I will say is that you can find some of the treats at other stores in Hawaii so you don't necessarily have to go to the Dole Plantation for things like pineapple gummy bears.
The restaurant: Plantation Grille
Another major reason why people come here is for Plantation Grille.
It is here where you can order the "world famous" Dole Whip.
Now once again, you can find Dole Whips in many different places in Hawaii, so you don't have to drive all the way out here to give it a try.
In my case I had never tried a Dole Whip before and I thought it was cool that my first Dole Whip experience was at the actual Dole Plantation.
You can get a Dole Whip served up with different toppings or in different ways like in a waffle cone, bowl, etc.
Personally, I went with the waffle cone and was not disappointed.
Eight dollars was a little steep but considering this is Hawaii, that wasn't that bad.
I also appreciated the container they served it in so that it was (mostly) mess free.
They also serve real food here like teriyaki chicken, barbecue pork, hot dogs, pineapple chili dogs, pineapple chili bowls, and french fries.
The Pineapple Express
Ticket prices:
Adults – $12.00
Children (4-12) – $10.00
Kama'aina/Military – $11.25
Group Tours (25 or more) – $10.50
The Pineapple Express Train Tour is basically a miniature vintage train that takes you around the plantation on a 2-mile journey of about 25 minutes.
You'll see signs pointing you to where to go but it's really easy to find your way to the train.
They actually use four different trains and only one of them is technically the "Pineapple Express." However, I'm pretty sure they all offer the same or a very similar experience.
Once you have your tickets, you head to the line and there will be an attendant waiting to take your ticket stubs.
Since we arrived right at opening, we were able to breeze through the line and we were actually the last two to board our train which was great because we also had an entire section of the train to ourselves.
It's a pretty relaxing experience on the train and if you pay attention to the pre-recorded narrated tour, you'll learn a few things about the history of pineapples in Hawaii and how the plantation came about.
Some of the exhibits like the cut outs of the workers are, let's say interesting and they look like bad tattoo portraits…. But try not to get completely turned off by some of the cheesiness.
You'll see different areas of the plantation growing things like bananas, coconuts, coffee, macadamia nuts, cacao, and of course many pineapples sprouting from the ground.
Seeing all of the different types of plants is interesting but you see many of them from a distance so you don't exactly get a close look at all of them.
For example, take a look at the cacao trees that are pretty much hidden behind some shelter trees.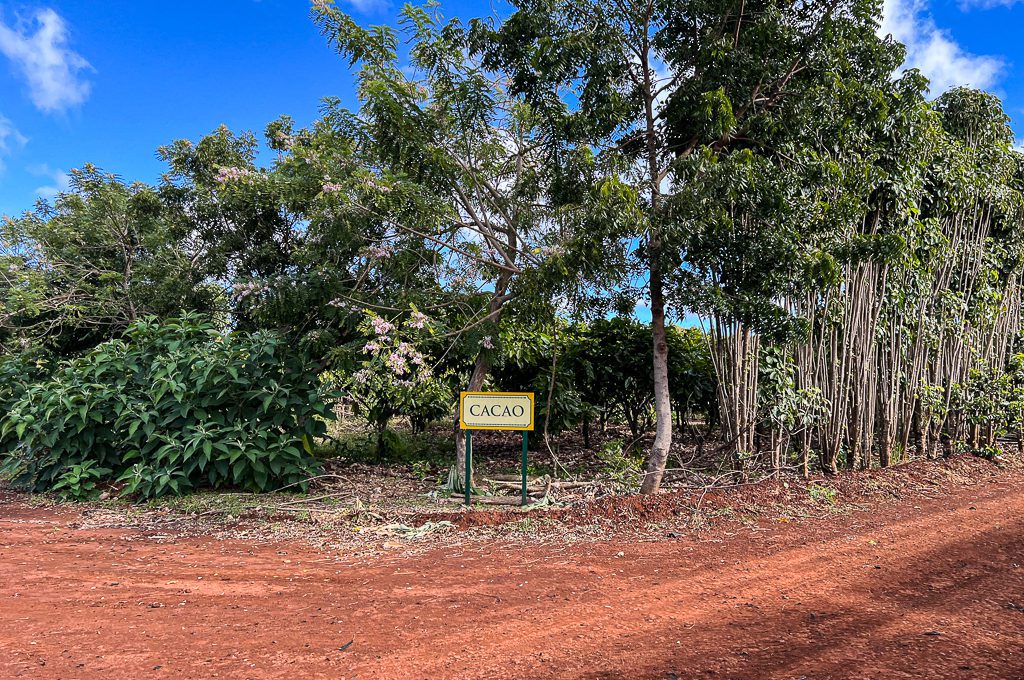 And here are some macadamia nut trees but it's hard to get a good look at the macadamia nuts.
Same with these coffee trees.
But sometimes you will get a close-up of some of these interesting trees.
I was excited to finally see cacao pods!
Overall, I thought the Pineapple Express Train Tour was an okay attraction for the price of $12 but that is also largely because we arrived right whenever it opened and we did not have to wait in line to board the train.
By the time we were leaving, the line was already starting to back up pretty far and I don't think I would've been as pleased with the experience if I had waited as long as some people do which could be like one hour.
Pineapple Garden Maze
Ticket prices:
Adults – $8.25
Children (4-12) – $6.25
Kama'aina/Military – $7.25
Group Tours (25 or more) – $7.25
The Pineapple Garden Maze at the Dole Plantation is the world's largest maze or at least it was at some point.
It was built in 1998 but it soon lost its largest maze in the world status and so they decided to add onto it so it now covers 137,194 square feet!
This is a pretty interesting attraction if you're like me and you've never actually been in a maze before much less a garden maze.
I like that it's grown entirely out of Hawaiian plants.
They have it set up so that the Garden Maze can be interactive.
In order to partake in the interactive experience you first need to download the Dole Plantation app.
The way that it works is that as soon as you enter the Garden Maze you need to scan a QR code with the app and that "activates" your maze scavenger hunt.
Then you can use the map on the back of your Garden Maze ticket to find eight secret stations (named after the eight major Hawaiian Islands) where you can scan your QR code until eventually you find all of the different hidden stations.
You'll then head back to the original station and scan the QR code to close out your session.
The app will automatically track your time so I guess you can keep track of your PR for your next visit? Or simply use it for bragging rights?
We did a couple of them just to test it out and while it is mildly satisfying to find these things, I was kind of over the experience relatively quickly.
To me, this is the type of thing that if you have the time and the right spirit to just goof around with your friends or family, it could be fun.
You could also get competitive with this and try to get one of the best times.
Either way, my advice would be to go to the bathroom before you attempt the maze.
Speaking from experience, there is nothing worse than dealing with a full bladder when you're trying to navigate your way out of the world's largest maze!
Plantation Garden Tour
Ticket prices:
Adults – $7.25
Children (4-12) – $6.50
Kama'aina/Military – $6.75
Group Tours (25 or more) – $6.75
The Plantation Garden Tour begins close to where the Pineapple Express begins.
If you're doing this right after your train ride you'll basically walk in a small circle back to where you started but you'll head to the garden instead of the train.
The Plantation Garden Tour is a series of eight gardens that introduces you to a lot of tropical plants. It's basically a mini botanical gardens.
This is cool because it allows you to get up close to plants like coffee, bananas, and others that you may not have ever even seen growing in real life before.
Some of the plants are just really interesting to look at.
During the right season (April through September), you'll be able to get a nice whiff of lei flowers including plumeria, pikake, and pua kenikeni.
This tour is a nice complement to the Pineapple Express because you can actually get up close to some of the plants you saw from the train.
If you downloaded the app you can also scan QR codes to learn about different parts of the Garden. It's easy to miss the QR codes but they will be in the corner of the interpretive panels.
When I tried scanning the QR code for the audio tour, it pulled up the media player but no sound was produced so I'm not sure what is going on with the app.
The gardens are beautiful but it's not exactly as interesting as something like the Allerton Botanical Gardens.
Still, for seven bucks you basically get to discover a lot of plants that you've probably never seen before and that's worth something.
Is the Dole Plantation controversial?
Like many entrepreneurs and industrialists of the early 1900s, there's criticism on how James Dole built his empire.
People feel that he exploited the culture of Hawaiians (largely through ads) in order to attract mainland Americans to his product and that he exploited foreign laborers who worked in very harsh conditions.
Dole also did some questionable things like the Dole Air Race in August 1927 where he created a prize for the first people to make the flight from Oakland to Hawaii.
10 people lost their lives during the fatal contest.
I think there's validity to a lot of the criticism on James Dole but I'm also not big on judging people who lived 100 years ago by the standards of today.
Lessons can surely be learned, both good and bad, when we look back on people like James Dole.
Personally, I partially used my experience visiting the plantation as a way to learn more about James Dole and what went on at the plantation.
I do think the Dole Plantation could do a little more to shed light on how lives were affected by the pursuit to expand the Dole empire.
But at the same time, there's a time and place for everything and this tourist attraction has more of a Disney/family vibe, so I wouldn't expect to find a whole expose on the Dole family here like I would at a museum.
Final word
I feel like it's hard for me to call the Dole Plantation a tourist trap because I didn't think the main attractions were way overpriced which is usually the hallmark of a tourist trap.
I'd describe the activities as "mildly interesting" for the most part but how much enjoyment you'll get out of these really depends on the type of person you are and the people you're with.
Also, there are some legitimate tasty items that you can purchase at the Dole Plantation that are perfect for gifts and for indulging in the moment.
While it's possible to get some of those at other locations, there's still something to be said about trying out tasty treats at the Dole Plantation.

Daniel Gillaspia is the Founder of UponArriving.com and the credit card app, WalletFlo. He is a former attorney turned travel expert covering destinations along with TSA, airline, and hotel policies. Since 2014, his content has been featured in publications such as National Geographic, Smithsonian Magazine, and CNBC. Read my bio.