If you've ever been on a road trip in Texas chances are you or someone in your car has wanted to stop at Buc-ee's. Over the years, Buc-ee's has established itself as a distinctly Texan establishment.
But what exactly does Buc-ee's have to offer that makes it so special?
In this article, I'll give you the ultimate guide to Buc-ee's.
You'll see what exactly is so special about this oversized convenient store and what you can expect when you visit different locations.
What is Buc-ee's?
Buc-ee's is a chain of travel centers (convenience stores) that can be found throughout Texas and the South.
The stores are known for their enormous gas station facilities, wide range of food and snack offerings, and most of all: ultra-clean bathrooms.
Tip: Use the free app WalletFlo to help you travel the world for free by finding the best travel credit cards and promotions!
Things to know about Buc-ee's
The store that never sleeps (open 24 hours)
All Buc-ee's locations are open 24 hours a day and 365 days a year. So even on major holidays like Thanksgiving and Christmas you can still experience a good ole Buc-ee's visit.
What's more, the stores are often well lit and with all of the security cameras (see below), they generally feel like pretty safe places to stop at.
Related: How Long Does It Take to Drive Across Texas?
Crowds can be an issue
Even though some Buc-ee's locations are absolutely huge and can cater to throngs of customers, crowds and traffic can still be an issue.
If traveling on a weekend, especially around the holidays, you might have to wait or get aggressive to find an open gas pump.
And when venturing inside, you could run into a madhouse as soon as you pass that little buck-tooth beaver statue outside.
These stores are designed to cater to massive amounts of people so big crowds are not always a problem. Hordes of people seem to move in and out without a lot of issues.
But if you're expecting a quiet and peaceful visit to a gas station bathroom, you won't always get that at Buc-ee's.
For some, the chaos just isn't worth it.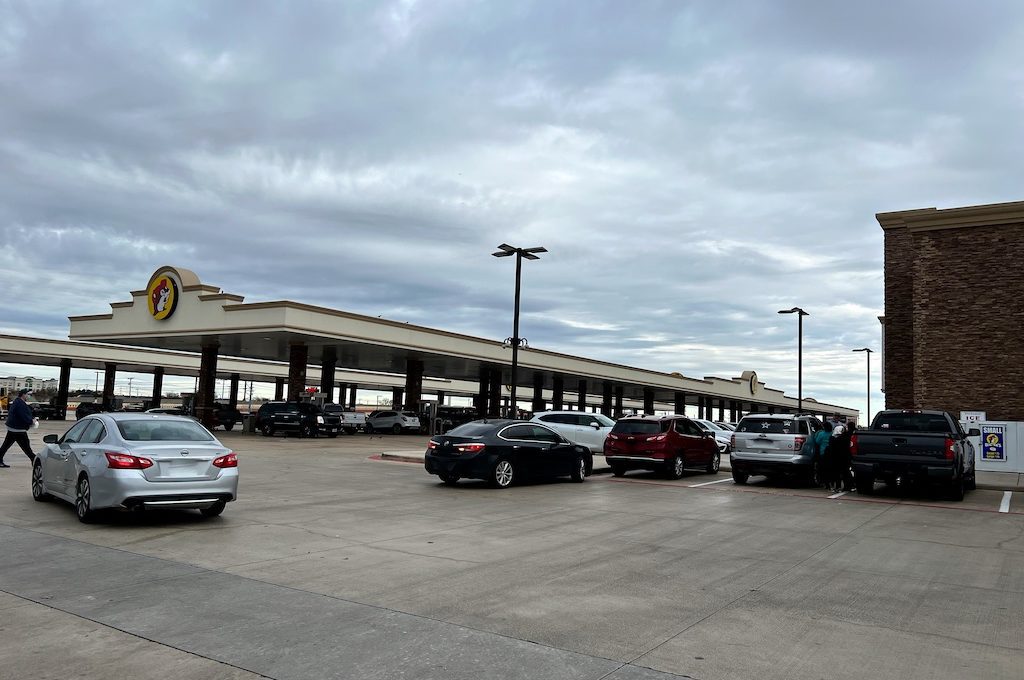 40+ locations (not only in TX)
To the dismay of many Texans, Buc-ee's is no longer an exclusively Texan establishment.
In 2019, Buc-ee's opened their first convenience store/gas station outside of Texas in Alabama.
And now you can now find 40+ locations in states all over the south including Georgia.
More states are being added to the Buc-ee's roster and you'll soon be able to find locations in states like Tennessee, Kentucky, and Mississippi.
Related: How Many Miles Do You Cover When Driving Across the US?
The eyes of Buc-ee's are upon you
Some Buc-ee's locations are known to have high levels of surveillance. For example, the Bastrop location has about 200 high-tech cameras.
These are those movie-like cameras that can zoom in and reveal fine details like the type of bill you used to pay for your purchase.
You could be tracked from the time you enter the parking lot to the time that you leave so you don't want to test the beaver.
Hopefully you don't ever have to worry about this but if something ever goes down you will need to file a police report and then request for the police to request the surveillance footage from the store.
There's a Buc-ee's credit card
The Buc-ee's credit card, issued by TDECU (Texas Dow Employees Credit Union), will get you $.10 off every gallon and comes with no annual fee.
In terms of rewards, this is not the most rewarding travel credit card but for a true Buc-ee's fan, it might be worth picking up. You can find out more details about the credit card here.
Not every one wants Buc-ee's
Believe it or not, not every place on the globe is eager to add a Buc-ee's.
Efland, North Carolina did not want one.
Why not?
They worried it would "would worsen traffic congestion, pollute a protected watershed, and offend aesthetic sensitivities."
Those seem like some pretty legit concerns so you can't knock the town but it all probably just comes down to the fact that not everyone outside of Texas will "get" Buc-ee's.
Where the name came from
Buc-ee's was founded in 1982 which means that it will turn 40 years old in 2022.
The owner and co-founder, a Texas A&M graduate (whoop!), went by the name of Arch "Beaver" Aplin III and he apparently always had a liking for the Ipana toothpaste mascot known as "Bucky the Beaver."
One look at that logo and you can see where the inspiration came from for Buc-ee's.
Not every Buc-ee's is bigger in Texas
To give you a sense of how big the Buc-ee's stores can be, consider that the New Braunfels, TX, location boasts:
120 fueling positions
1,000 parking spots
64 ice freezers
83 toilets
31 cash registers
four Icee machines
and 80 fountain dispensers
The entire New Braunfels store is 66,335 square feet, which is more square feet than a football field.
Seriously, a gas station bigger than a football field.
Only in Texas.
But this may come as a surprise: not every Buc-ee's location is the size of a small airport or shopping mall.
Several locations are actually quite compact and closer to the size of your regular convenience store.
Many of these smaller locations are in Texas so if you see an out-of-state Buc-ee's, there's a good chance that will be on the bigger side.
Bathrooms are NOT overrated
You've probably heard about the award-winning bathrooms at Buc-ee's.
While some gas stations look like a scene from the movie Saw, Buc-ee's stores are famous for being the cleanest bathrooms you'll find on the road and in my experience it's always true.
In fact, the pristine bathrooms found at Buc-ee's are probably the number one reason why people stop at Buc-ee's.
But they aren't just spotless — the bathrooms also are usually huge and spacious.
I've never seen a wait for a urinal and only on a couple of occasions have I seen a real line for the stalls.
In the men's room, you can find walls of urinals with deep floor to ceiling partitions that actually give you real privacy.
For people traveling with families, the consistently clean and private bathrooms are even more attractive.
Bottom line: if you ever need to go on the road, Buc-ee's is definitely where you want to be.
And just in case you were wondering, you don't actually have to buy anything to use the bathroom there.
You'll have plenty of food and drink options at Buc-ee's
Buc-ee's will have just about every type of snack item you could possibly be craving, including their famous "Beaver Nuggets" which are a sweet combination of caramel, sugar, and butter coated corn puffs.
Prices sometimes feel a little high but some popular items to pick up at the store include:
Jerky
Fudge
Kolaches
Dippin dots
Sandwiches
Tacos
Icees (lots of flavors)
If you're looking for specific suggestions consider these:
Hill Country turkey jerky
Bohemian garlic jerky
Salted caramel covered pretzels
Rhino breakfast taco
Texas BLT
Mediterranean salad wrap
Some locations have a barbecue stand called the Texas Round Up where you can buy pre-made chopped brisket sandwiches, pulled pork, turkey, sausage, etc.
In my experience, the food is not always phenomenal but a solid notch or two above your standard gas station food.
It's perfect when you're looking for something quick and hearty on the road.
In terms of barbecue quality, you could certainly do better in Texas by hunting out a BBQ joint.
But the beauty of Buc-ee's is that it's highly convenient to pick up a hot BBQ sandwich while also filling up your tank and not having to gamble on the bathroom situation.
The shopping at Buc-ee's goes well beyond food and drink, though.
You can find all kinds of apparel, souvenirs, and random items.
If your location is near a tourist hotspot with a particular type of attraction then you'll find gear for your visit such as fishing rods, beach supplies, river tubes/shoes, hunting gear, etc.
Buc-ee's is NOT a truck stop
Buc-ee's are not truck stops and so you are not going to find any showers or a lot of 18 wheelers hanging around.
In fact, you can often find "no 18 wheelers" signs posted at the entrances.
The reason for this is to keep Buc-ee's like it is, a family friendly environment without some of the "hassles" that come with truckstops.
Many truckers are unhappy with being denied access to Buc-ee's — after all, without massive shipments coming in from truckers how else could Buc-ee's exist?
But one thing is clear, Buc-ee's is serious about keeping out 18 wheelers and will even escort drivers out of the store who try to make their way in.
They pay great
Working at Buc-ee's can be a lucrative job opportunity because their employees are well paid.
According to GlassDoor, "The average Buc–ee's hourly pay ranges from approximately $16 per hour for a Cashier to $18 per hour for a Team Lead."
That's some really good money.
Meanwhile, the typical Circle K Cashier salary is earning $10 per hour and many convenient stores will be closer to $9 per hour.
These mega-convenience stores can get incredibly busy so it helps tremendously to have employees getting sufficiently compensated so that they can help keep things moving at a quick pace.
You may not have windshield cleaners
If there is one major weakness of some Buc-ee's locations, it's that they don't have windshield cleaners or squeegees located at the pumps.
This means that your bug splattered windshield will have to remain dirty on your long journey to you next destination, unless you have some way to clean it yourself.
They have car washes
While you may not find windshield cleaners, some locations have car washes.
As you would expect some of these car washes are going to be quite large just like the one in Katy, Texas, which is the largest car wash in the world.
Gas may or may not be cheaper
I've seen gas at Bucee's priced both a little bit lower and a little bit higher when compared to nearby gas stations.
Buc-ee's locations
Alabama
Athens
2328 Lindsay Lane South, Athens, AL 35613
Auburn
2500 Buc-ee's Blvd., Auburn, AL 36832
Leeds
6900 Buc-ee's Blvd., Leeds, AL 35094
Loxley
20403 County Rd. 68, Robertsdale, AL 36567
Colorado
Johnstown
Expected to be the largest convenience store (and largest Buc-ee's) in America
Florida
Daytona Beach
2330 Gateway North Drive, Daytona Beach, FL 32117
Saint Augustine
200 World Commerce Pkwy, Saint Augustine, FL 32092
Georgia
Calhoun
601 Union Grove Rd. SE, Adairsville, GA 30103
Warner Robins
7001 Russell Parkway, Fort Valley, GA 31030
Kentucky
Richmond
1013 Buc-ee's Boulevard, Richmond, KY 40475
South Carolina
Florence
3390 North Williston Road, Florence, SC 29506
Tennessee
Crossville
2045 Genesis Road, Crossville, TN 38555
Sevierville
170 Buc-ee's Blvd, Kodak, TN 37764
Texas
Alvin
780 Hwy-35 N Byp, Alvin, TX 77511
Angleton
2299 E Mulberry St, Angleton, TX 77515
931 Loop 274, Angleton, TX 77515
2304 W Mulberry St, Angleton, TX 77515
Bastrop
1700 Highway 71 East, Bastrop, TX 78602
Baytown
4080 East Freeway, Baytown, TX 77521
Brazoria
801 N Brooks, Brazoria, TX 77422
1101 S Brooks St, Brazoria, TX 77422 (Closed)
Cypress
27106 US-290, Cypress, TX 77433
Denton
2800 S Interstate 35 E, Denton, TX 76210
Eagle Lake
505 E Main St, Eagle Lake, TX 77434
Ennis
1402 South IH- 45, Ennis, TX 75119
Fort Worth
15901 N Freeway, Fort Worth, TX 76177
Freeport
4231 E. Hwy 332, Freeport, TX 77541
1002 N Brazosport Blvd., Freeport, TX 77541
Giddings
2375 E Austin St, Giddings, TX 78942
Katy
27700 Katy Fwy, Katy, TX 77494
Lake Jackson
899 Oyster Creek Drive, Lake Jackson, TX 77566
101 N Hwy 2004, Lake Jackson, TX 77566
598 Hwy 332, Lake Jackson, TX 77566
League City
1702 League City Pkwy, League City, TX 77573
Luling
10070 West IH 10, Luling, TX 78658
Madisonville
205 IH-45 South, Madisonville, TX 77864
Melissa
1550 Central Texas Expressway, Melissa, TX 75454
New Braunfels
2760 IH 35 North, New Braunfels, TX 78130
Pearland
2541 S Main St, Pearland, TX 77584
11151 Shadow Creek Pky, Pearland, TX 77584
Port Lavaca
2318 W Main, Port Lavaca, TX 77979
Richmond
1243 Crabb River Rd, Richmond, TX 77469
Royse City
5005 E Interstate 30, Royse City, TX 75189
Temple
4155 N General Bruce Dr., Temple, TX 76501
Terrell
506 W. IH 20, Terrell, TX 75160
Texas City
6201 Gulf Fwy (IH 45), Texas City, TX 77591
Waller
40900 US Hwy 290 Bypass, Waller, TX 77484
Wharton
10484 US 59 Road, Wharton, TX 77488
Find locations here.
Final word
Buc-ee's is a must stop for millions of people every year when traveling through Texas and now through the South.
Beyond the broad food selection, spotless bathrooms, and absurd number of gas pumps, there's just something special about the store that gets a lot of people excited.
Daniel Gillaspia is the Founder of UponArriving.com and creator of the credit card app, WalletFlo. He is a former attorney turned full-time travel expert covering destinations along with TSA, airline, and hotel policies. Since 2014, his content has been featured in major publications such as National Geographic, Smithsonian Magazine, Forbes, CNBC, US News, and Business Insider. Find his full bio here.