Texas is a vast and diverse state and one of the most interesting states to drive through. While you can pass through a handful of states in several hours when traveling through certain parts of the country, Texas will often take you an entire day to get across.
In this article, I'll explain to you how long it takes to drive across Texas when going through five different routes. I'll also give you some tips and recommendations that you want to keep in mind when making your legendary journey across the Lone Star State.
How long does it take to drive across Texas?
With minimal stops, the longest routes from east to west or north to south across Texas will typically take you between 12 and 14 hours but if you hit traffic driving through major metropolitan areas or take long breaks, the drive could be closer to 15 hours.
Even if you take short breaks and push the speed limit, driving across Texas is usually a full-day event.
Tip: Use the free app WalletFlo to help you travel the world for free by finding the best travel credit cards and promotions!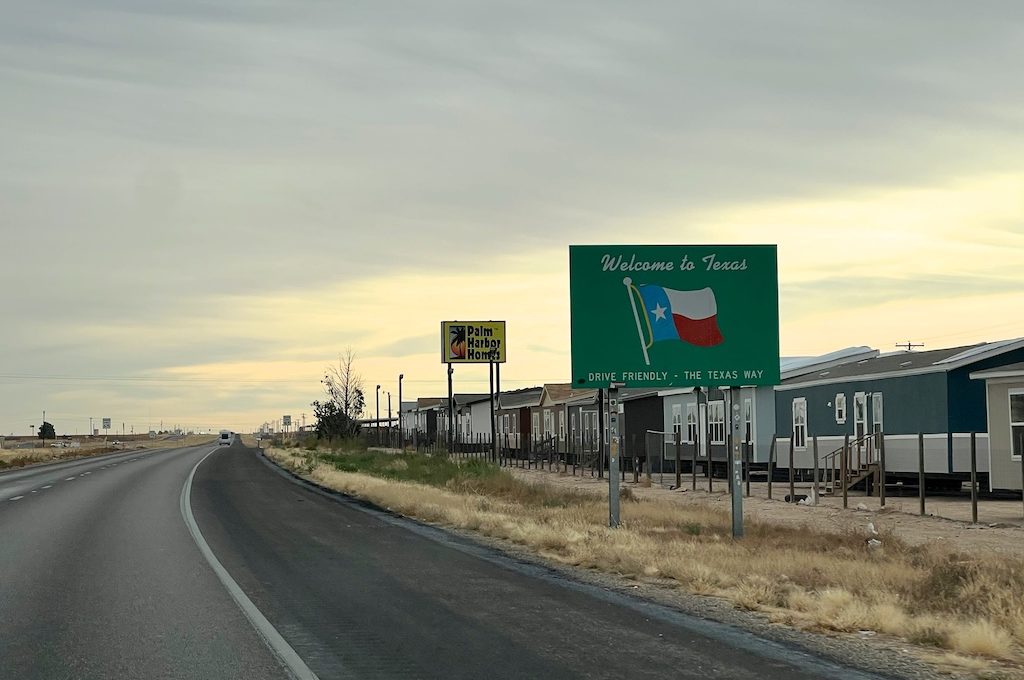 Tips for driving across Texas
Be ready for high speed limits
On a lot of interstates in Texas you can expect the speed limit to range from 70 to 75 mph. On some highway sections, like on I-10 between Kerrville and El Paso, the speed limit is 80 mph!
You can usually get away with going 5 to 10 miles per hour over the speed limit but some patrol officers may decide to enforce the speed limits more strictly on the higher end of that range and beyond.
The best way to stay out of trouble with highway patrol is to utilize the app, Waze.
It will show you where the police have been reported and in my experience, after using it on dozens of road trips covering thousands of miles, it works amazingly well to give you notice about the po-pos.
Also, what works really well is finding a "George."
A George is a vehicle that you follow as they speed ahead and become a sacrificial lamb of sorts for traffic stops.
Watch out for speedsters
Speaking of speed limits, you will undoubtedly come across a lot of vehicles driving very fast on these interstate highways.
It's not uncommon to be driving 90 mph and still just be more or less going along with the flow of traffic.
If you stay out of the fast lane the speedsters should not be a problem for you in the vast majority of cases.
If anyone is ever flashing their lights behind you, that is a sign that you are in the way and your best course of action would be to promptly change lanes and allow the vehicle to pass you.
Avoid traffic in the major cities
When crossing through Texas, most routes will take you through the major cities and in those cities you can generally expect to have some pretty terrible traffic during rush hour.
This includes cities like Dallas, Houston, Austin, and San Antonio.
Rush hour can vary based on where exactly in the state/city you are but generally you can expect it to occur on weekdays at 5 PM and 8 AM (plus or minus 1 hour).
Driving right through the heart of the cities is nice because you get to view the impressive skylines and get a sense of what the city looks like but in some cases you can save a lot of time and headache by routing through the outskirts of the city.
Once again, utilizing Waze is a great way to efficiently move through congested areas.
You'll also find express lanes through the cities and if you have two or more passengers you can usually take advantage of these.
Make a stop at Buc-ees
If you're looking for a gold-standard gas station to stop at that has a vast selection of foods and snacks along with super clean bathrooms then you definitely want to stop at Buc-ees.
Open 24 hours a day, for a lot of Texans no road trip is complete without a stop at Buc-ees.
If you are heading along I-10 near Houston, the city of Katy has a Buc-ees with the world's longest car wash.
And if you are heading through the Hill Country in New Braunfels, you'll find the largest Buc-ees which is also the largest convenience store in the world!
Related: Buc-ee's Ultimate Guide
Respect the fast lane & learn how to say thanks in Texan
When traveling on the interstate or any multi-lane highway, you only should stay in the fast lane (the far left lane) if you are passing or if you are going at least as fast as every car around you.
If you are traveling on one of the smaller highways with only one lane, you'll likely find a lot of Texas drivers to be quite courteous.
When drivers can sense you are needing to pass them they often steer closer to the shoulder to make it easier for you to pass.
If this happens to you a common way to say "thanks" is to flash your hazard lights a couple of times after you pass the car.
After you pass, look to your rear view mirror and you might see the car flash their headlights which is their way of saying "you're welcome."
Plan your gas stops in West Texas
Once you get past Austin and San Antonio, also known as the I-35 corridor, you'll start to notice that gas stations are not as common to find.
And as you start to enter the desert terrain of West Texas, gas stations can be located pretty far apart. My rule of thumb is to always fill up if I am passing a gas station and my vehicle is around half a tank.
I've definitely had some pretty close calls in the past and running out of gas in the middle of nowhere Texas is not necessarily something I'm wanting to experience, especially when the summers can be sweltering.
Related: 56 Most Beautiful Places in the USA
Texas interstate map
Below you can see all of the major interstates that run through Texas. Most of the routes I discuss below are on the interstates but some do go through smaller highways.
When people talk about traveling through or across Texas, they generally are talking about traveling on I-10 and I-20, which run east and west across the widest part of the state.
Less common, some people might take a north and south approach which would involve interstates like I-35, I-27, and even I-45.
Of course, you can also take any of the hundreds of different highways to get through the state.
Something that is pretty fascinating is that Texas has way more lane miles than any other state. So there is no shortage of roads in Texas.
Routes across Texas
I-10 (Orange to El Paso)
13 hours, 12 minutes; 874 miles
This route will take you all the way across Texas by just staying on one highway: Interstate 10. This is probably my favorite route to take across Texas.
You'll get a tiny taste of the piney woods in the east and head through the bayous and marshes surrounding the sprawling metropolis of Houston, where you can check out attractions like the San Jacinto Battleground State Historic Site.
A few hours from Houston, you'll pass through San Antonio and then head through the beautiful rolling green landscape of the Texas Hill Country.
When the bluebonnets are blooming in spring, this can be an extremely scenic drive and you might even consider hopping off the interstate to explore smaller highways with tons of vivid bluebonnets.
After you pass through the Texas Hill Country, you'll start to hit more mountainous terrain in West Texas as you make your way through 80 mph speed limits and small towns like Fort Stockton and Van Horn which are often used as pitstops along the way.
Tip: Quality hotels in these smaller cities can sell out surprisingly quickly so if you are intending on making a pitstop you may want to book a little bit in advance.
Eventually, you'll wind up in El Paso, Texas and you'll be adjacent to both New Mexico and the international border of the US and Mexico. In this region, you'll find a lot of mountainous terrain that many people never associate with Texas.
This is my favorite route because I-10 cuts through just about every type of geographic region and terrain that Texas has to offer.
You don't quite get to experience the high plains and rolling plains of North Texas but some of the scenery in West Texas is pretty similar to that so in my book this is the ultimate route to get across Texas on.
I-20 and I-30 (Texarkana to El Paso)
Estimated time: 12 hours, 18 minutes; 832 miles
If you are starting or ending in Arkansas then this is the likely route you will take to get across Texas.
After starting out from Texarkana, you'll venture through the beautiful prairies and lakes region of North Texas and then get to experience both Dallas and Fort Worth. Try to avoid the DFW area during rush hour because that could easily add on a lot to your time.
Once you get out towards Abilene, a huge stretch of this road is going to be through rolling plains and wide open spaces. You'll see a lot of oil fields, wind turbines, and cotton fields when you get out in the open. Phone service may be very spotty.
One interesting pitstop along the way is on I-20 in West Texas where you can find Monahans Sandhills State Park — one of the only places with sand dunes in Texas.
Did you know? Texarkana is closer to Chicago than it is to El Paso, Texas.
I-27 and I-37 (Texhoma to Brownsville)
Estimated time: 13 hours, 26 minutes; 886 miles
If you want to take the absolute longest stretch of road through Texas then you can go from north to south or vice versa.
Right on the border of Texas and Oklahoma you'll find Texhoma, with a population of around 1,000 people.
You're not gonna find much up in the Panhandle of Texas but along the way you'll be able to hit up cities like Amarillo, Lubbock, and San Antonio, eventually making your way through the South Texas Plains and brush country.
Coming from the north, your ultimate destination will be Brownsville, Texas. The city gets a bad rap but it has a ton of history to check out if you are ever in the area.
Doing this route is cool because it's not as popular as the typical east to west routes most people travel on.
Compared to all of the people who have driven across the state between New Mexico and Oklahoma, it's probably a much smaller group of people who have made the drive between Texhoma and Brownsville.
Did you know? In Texas, "the longest straight-line distance in a general north-south direction is 801 miles from the northwest corner of the Panhandle to the extreme southern tip of Texas on the Rio Grande below Brownsville."
I-35, I-37, US-77 (Gainesville to Brownsville)
Estimated time: 9 hours, 10 minutes; 612 miles
If you don't want to take on the monster route from the very northern tip of the Panhandle of Texas, a more tame north-south route would be going from the more southern border of Oklahoma and Texas down to the tip of Texas.
This is a pretty interesting route because you can head through the prairies of the Dallas-Fort Worth area and then explore some other interesting cities in Texas like Waco, Austin, San Antonio, and even Corpus Christi.
This route will also take you through New Braunfels via I-35 which means you can stop at the largest convenience store in the world (Buc-ees) which is over 68,000 square feet!
Compared to the routes above, you'll be heading through much more civilization but that also means you might be dealing with a lot more traffic so be prepared.
I-40 (Benonine to Hereford)
Estimated time: 2.5 hours; 178 miles
Just like I-10, you can get across Texas with one single highway: I-40.
Traveling laterally across the Texas panhandle is kind of cheating in my opinion but this is still technically one way to get across Texas via the interstate system.
On this route, which comes with minimal bragging rights, you'll have the privilege of traveling through the high plains and the famous city of Amarillo, Texas.
This will give you a chance to check out things like the Cadillac Ranch, US Route 66, and the Panhandle Plains Historical Museum.
Final word
Traveling across Texas is sort of a personal achievement because of how vast the state is. For the most part, driving across the state is going to be an all day event even for people who take little to no breaks on the drive.
Whether you were traveling north to south or east to west, you'll be surprised at how diverse the landscape is and how truly open and beautiful the state is.
Daniel Gillaspia is the Founder of UponArriving.com and creator of the credit card app, WalletFlo. He is a former attorney turned full-time travel expert covering destinations along with TSA, airline, and hotel policies. Since 2014, his content has been featured in major publications such as National Geographic, Smithsonian Magazine, Forbes, CNBC, US News, and Business Insider. Find his full bio here.