In this article, we're going to take a look at different distances required to travel from one end of the United States to another.
We will dissect the country into a handful of different routes to give you a true sense of all of the different ways to get across the US.
You'll see how many miles are required travel east and west across the US as well as north and south. Plus, I'll give you some suggestions on cities and sites to check out along the way.
How Many Miles Do You Cover When Driving Across the US?
Depending on which route you choose to take across the United States, you may have to cover anywhere from 2,448 miles to 3,662 miles when traveling east to west (or vice versa). This means that driving laterally across the United States could take anywhere from 36 hours to 56 hours!
Driving across the US vertically is a much shorter journey requiring you to cover about 1,384 miles if traveling north to south near the West Coast and 2,071 miles if you're traveling up and down the East Coast.
Tip: Use the free app WalletFlo to help you travel the world for free by finding the best travel credit cards and promotions!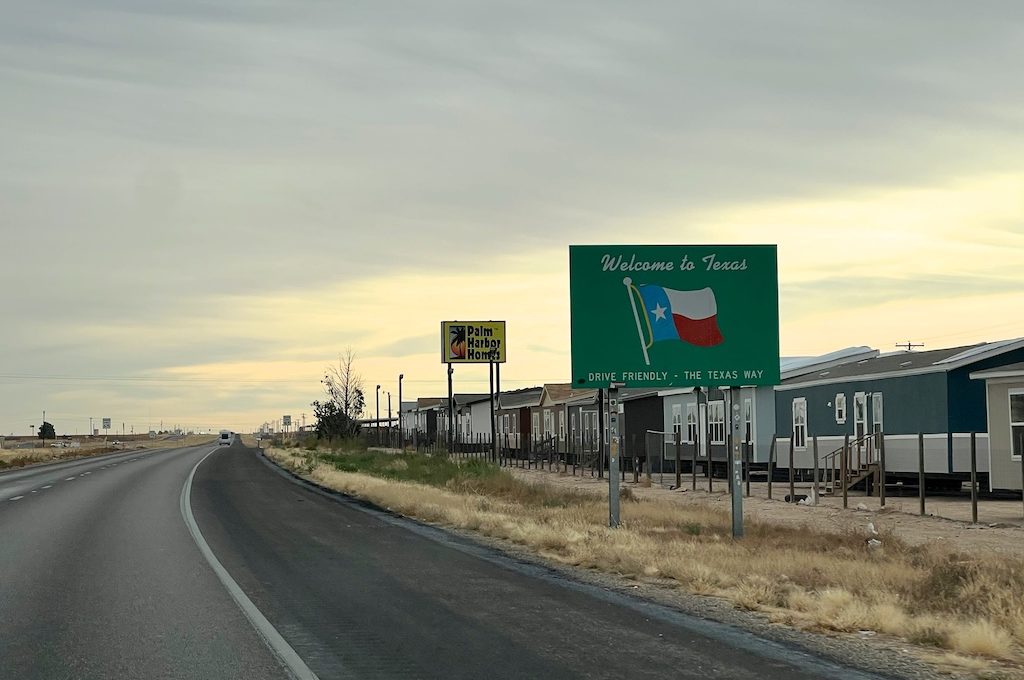 Breakdown of miles across the United States
| | | | | |
| --- | --- | --- | --- | --- |
| Endpoint #1 | Endpoint #2 | Route | Miles | Time |
| Jacksonville, FL | Santa Monica, CA | Lateral | 2,448 | 36 hours |
| Virginia Beach, VA | San Francisco, CA | Lateral | 3,026 | 45 hours |
| Eastport, ME | Cape Flattery, WA | Lateral | 3,575 | 55 hours |
| Key West, FL | Cape Flattery, WA | Diagonal | 3,662 | 56 hours |
| Imperial Beach, CA | Van Buren, ME | Diagonal | 3,436 | 56 hours |
| Blaine, WA | Imperial Beach, CA | Vertical | 1,384 | 22 hours |
| Key West, FL | Van Buren, ME | Vertical | 2,071 | 32 hours |
The times given are based on you driving through nonstop.
So this means that if you took the shortest lateral mileage across the US, you would still be driving for a day and a half continuously!
There is so much to see and do along these routes that I would never recommend just driving straight through unless: 1) that is your specific goal or 2) you have to do so out of necessity.
Below, I'll go into a little bit of depth for each of these routes to give you a sense of what you can expect and the type of cities and sites you'll come across.
Lateral Routes (east and west)
Typically, when people ask how many miles across the US is they are talking about traveling from east to west or vice versa.
Because the US is such a large country full of so many highway networks, there are a few different ways you could travel laterally across the US.
We'll take a look at three different routes.
Each of these routes will be vastly different in terms of the scenery and also with respect to the history.
The southern route (Florida to California)
Distance: 2,448 miles
Time: 36 hours
8 states
Interstate 10 begins in Jacksonville, Florida, just west of the starting point for this measured route which we will officially begin at Jacksonville Beach.
This route across the United States is one of the most interesting because you can stay on one highway the entire time and it literally takes you from coast to coast. Pretty crazy.
The highway efficiency and shorter distance of around 2,450 miles makes this one of the most doable ways to drive across the US.
After starting on the Atlantic coast of Florida, this route runs through the Florida Panhandle where you could check out cities like Tallahassee and Pensacola, along with some beautiful Gulf Coast beaches.
You'll make a very short trip through Alabama hitting up Mobile and then make a short ride through Mississippi as well.
New Orleans is not far off the route at all so it's a perfect time to hit up "The Big Easy."
You'll also get taken to Baton Rouge, home to LSU and also a place where you will cross the mighty Mississippi River.
You'll head through bayou country until you enter The Lone Star State and eventually arrive in Houston, Texas — the fourth largest city in the US.
From there, it's on to historic San Antonio were you can take some time to visit the Alamo before heading through the beautiful Texas Hill Country which is a perfect spot to take in during the spring when the bluebonnets are popping.
Related: How Long Does It Take to Drive Across Texas? (Essential Tips)
Once you're beyond the Hill Country, the scenery makes a dramatic change as you enter the desert of West Texas. Mountains soon emerge over the horizon and there's nothing but highway and open space for miles upon miles.
West Texas is home to two national parks (Big Bend National Park and Guadalupe National Park) but they are a decent drive off the interstate so you would need to dedicate a lot of time to hit up those spots.
When you finally make your way to the end of Texas, you'll arrive in El Paso and then make the ride through Las Cruces and the rest of southern New Mexico. White Sands National Park is just off the route and is a very tempting pit stop.
You'll get to see what beautiful southern Arizona is all about as you head through the mountainous Sky Island region of Tucson (home to Saguaro National Park) and then you'll be on to the sprawling city of Phoenix.
From there it's a pretty barren drive until you arrive in California and approach Joshua Tree National Park.
You can check out Palm Springs and then make your way through Los Angeles where you will arrive at your final spot when you finally hit the Santa Monica Pier.
Related: 40 Places to See in The Western United States (Vacations, Landmarks)
Middle of the country
Distance: 3,026 miles
Time: 45 hours
This next route will take you from Virginia Beach, Virginia, to San Francisco, California, right through the middle of the country.
It kicks off with cities like Norfolk and Richmond and takes you on Interstate 64 right through Thomas Jefferson's Monticello. (If you're a history buff, you'll find lots of interesting side stops along the way.)
You'll get a good dose of the Appalachian Mountains as you wind through Virginia and West Virginia en route to Kentucky.
Then it's on to Missouri where you can visit St. Louis and Kansas City before heading through the Great Plains in Kansas.
From there, you can hit up Denver with an easy stop to the magnificent Rocky Mountain National Park. Enjoy the fresh mountain air and gorgeous scenery before venturing a little bit into Wyoming and then dropping down into Salt Lake City.
That's a good time to pay a visit to the Golden Spike where the transcontinental railroad was completed and perhaps check out the Bonneville Salt Flats.
After Utah, you head west through Nevada on Interstate 80. There's not too much going on at this stretch of Nevada but you'll soon pass right by the stunning Lake Tahoe and then head to Sacramento and on to San Francisco.
The north route (Maine to Washington)
Distance: 3,575 miles
Time: 55 hours
Finally, if you start up north in Maine you could begin at Eastport, Maine, (the easternmost city in the US) and travel along northern states to the tip of Washington located at Cape Flattery, the northwesternmost point of the contiguous United States.
This is a long but pretty phenomenal route to experience some of the most stunning national parks in the US and also it allows you to get a taste of some interesting cities like Boston and Chicago.
If you're into colonial history there is plenty to see and explore.
If you're willing to go a little bit off route, you can kick off this trip with a stop to the stunning Acadia National Park and be sure to indulge in a lobster roll or two as you head to Portland, Maine.
If you're starting this road trip off in late September or early October, you have a chance to see some pretty stunning color change in Maine, upstate New York, and other states like New Hampshire and Vermont.
You'll dip down and have the option of checking out historic Boston and Salem, Massachusetts, where you can re-trace the steps of the Salem witch trials.
You'll then drive right through historic Albany, New York, before hitting up Syracuse and Buffalo which is just a stones throw away from Niagara Falls.
From there, you'll be riding along Lake Erie through Cleveland, Toledo, and on through Chicago at the bottom of Lake Michigan.
Then it's time to head up north through Madison, Wisconsin and through the bottom of Minnesota until you arrive in South Dakota.
You'll be heading close to the Black Hills National Forest where you could make a pitstop at Mount Rushmore before heading into southern Montana. Yellowstone National Park is not too far to the south of you as well as Grand Teton National Park.
You'll venture through Missoula and if you have the time you could always make a side trip to Glacier National Park.
Along interstate 90, you'll get a little taste of Idaho before making your way to Spokane and seeing what Eastern Washington has to offer.
You have the option of checking out Seattle before heading through the stunning Olympic National Park and arriving at the tip of Cape Flattery.
Diagonal routes (corner to corner)
If you're someone interested in pushing the limits you might be looking at routes going from one corner of the country to another.
For example, you could travel from the tip of Florida to the Pacific Northwest corner of Washington. Or you could venture from the bottom of Southern California to the northern tip of Maine.
These are going to be some of the longest routes you can put together when traveling across the United States.
Let's take a look at these two routes.
Key West to Cape Flattery (Florida to Washington)
Distance: 3,662 miles
Time: 56 hours
Traveling from the southernmost point of the mainland US to the most northwest point at Cape Flattery is an adventure of extremes and honestly a pretty impressive accomplishment.
You are essentially driving from the Caribbean to the Canadian Rockies, which is an epic transition to say the least.
Starting from Florida, this is a pretty fun drive as you get to begin in paradise in the Florida Keys, crossing the Seven Mile Bridge, and then hitting up hotspot cities like Miami and Orlando on your way to Atlanta, Georgia.
From there you have more interesting cities to see like Nashville, Tennessee, and then you'll begin your journey west through St. Louis and Kansas City, as you join on Interstate 90.
That gives you a chance to check out big-name national parks like Yellowstone National Park and sites like Mount Rushmore as well as the others mentioned above on I-90.
The only major drawback to this route is that you miss out on what the Southwest has to offer but in terms of the diversity of terrain, you're gonna be covering a lot on this trip!
California to Maine
Distance: 3,436 miles
Time: 56 hours
On the opposite side of this extreme is heading from the tip of Southern California to the northeastern most tip of Maine, near Van Buren.
This journey begins at the border of the US and Mexico at Friendship Park of the Californias in Imperial Beach, where you can see an interesting border fence that protrudes out into the Pacific Ocean.
You'll travel along Interstate 8 which runs close to the border of Mexico until you get closer to the Phoenix area where you will head north through some beautiful forest regions.
Interstate 40 will take you to Petrified Forest National Park and run through Albuquerque, New Mexico, on your way to Amarillo, Texas and then on to Oklahoma City and Tulsa.
From there you'll get to hit up cities like St. Louis, Indianapolis, and Columbus, Ohio. Then you follow Interstate 90 to New England on the same route mentioned above.
Once again, if you're doing this route during the fall the White Mountains in New Hampshire will be a perfect place to explore as you approach the Canadian border.
Vertical routes (north and south)
It's probably less common but another way to travel across the US is to travel north to south or vice versa.
These routes will not be as long as traveling east and west but they still are going to take some time for you to knock out.
Here are a few north and south routes across the US:
Blaine to Friendship Park of the Californias
Distance: 1,384 miles
Time: 22 hours
This is an interesting route because you can begin at the border of the US and Canada and head all the way down to the border of the US and Mexico. Just like the Interstate 10 route above, this route allows you to stay on one single highway the entire time (I-5).
However, it almost feels like a crime to not drive along the stunning Pacific coast so if you chose to make this drive I almost certainly would add on several hours to drive along Highway One for at least a portion of it.
If you decided to hug most of the coastline you could easily add on 10 hours to this route so it does take quite a bit of time but it will be worth it!
Florida to Maine
Distance: 2,071 miles
Time: 32 hours
Traveling north to south across the US along the East Coast is a longer journey. You are looking at about 32 hours to get from the bottom of the Florida Keys to the top of Maine. There's a lot of history along this way so this is a great route for history buffs!
Final word
There are quite a few different ways to drive across the United States. But as you can see, you're most likely looking at around 36 hours to 55 hours depending on which direction you choose to conquer. My advice would be to move at as slow a pace as your lifestyle and budget will allow.
Daniel Gillaspia is the Founder of UponArriving.com and creator of the credit card app, WalletFlo. He is a former attorney turned full-time travel expert covering destinations along with TSA, airline, and hotel policies. Since 2014, his content has been featured in major publications such as National Geographic, Smithsonian Magazine, Forbes, CNBC, US News, and Business Insider. Find his full bio here.