Misplacing an item while traveling can not only be stressful, it may upset your travel plans as well. But many of the stories of people losing things while traveling end up on a happy note especially if you take quick action.
If you have recently lost something while traveling on Hawaiian Airlines, just follow all the important steps I have listed below as that might drastically increase your chances of being united with your lost item.
Hawaiian Airlines lost and found
If you lose an item while flying Hawaiian Airlines, follow all of the steps outlined below to help increase your odds of recovering your lost item.
If you just exited the plane
If you just exited the plane and have entered the airport premises then due to strict security policies, you will not be allowed to go back into the aircraft to look for your lost item(s).
The immediate course of action in this scenario is to get hold of a Hawaiian Airline staff member near the gate or a crew member that is exiting from the aircraft/jet bridge.
Most of the time these people can quickly go and fetch your belonging for you. You just need to give them your seat number and they will search the area and try and recover the item.
Tip: Use the free app WalletFlo to help you travel the world for free by finding the best travel credit cards and promotions!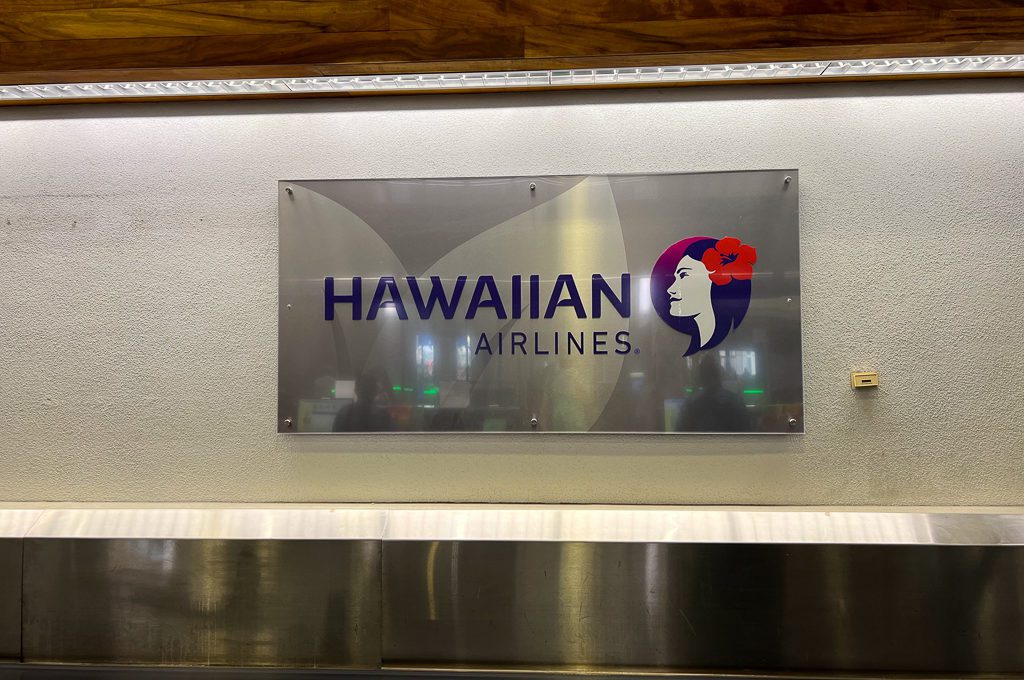 If you still have not left the airport premises
If you have lost an item on a Hawaiian Airlines flight and have exited the plane but have not exited the airport premises yet, then your first point of contact should be Hawaiian Airlines and not the general airport staff.
The simple reason for this is that they will also initiate a process that will eventually end up contacting the relevant airline staff and all this does is waste precious time. Time in such cases is of the essence because once the passengers have left the aircraft, it is thoroughly freshened up for the next flight.
Through experience, I can tell you that most cleaning crews are honest and very helpful. If they find a lost item left behind by a passenger they follow the proper protocol to have it reported.
Having said that, there have been cases where the cleaning crew have been known to pocket the item and sell it for a quick profit.
We don't live in a perfect world. If the crew also missed your item and it is later discovered by the next passenger who takes up your old seat then you are completely left at the mercy of his/her personal code of ethics.
If you are unable to make your way back to your gate without going through TSA airport security, then you need to find the nearest Hawaiian Airlines baggage services counter.
There are many information desks all over the airport that can help you find an airline representative near you. This person will have the training to guide you to the right place to make an official report.
Items left at the Ticket Counter, Gate Area or TSA Security Checkpoint
If you think that you have lost your item at the ticket counter, at any of the gates, or at a TSA Security Checkpoint, the airlines will not be able to help you much as these areas come under the jurisdiction of TSA (Transportation Security Administration).
TSA has its own Lost and Found Department located at all the airports and you can find the relevant contact details for each of them here.
Related: TSA Lost and Found Guide: (How to Get Your Items Back)
Around the airport
If you have misplaced your belongings at any place inside the airport other than the ticket counter, gate areas, or TSA Security Checkpoints, then the item will probably find its way to the concerned airport's Lost and Found department. And yes, they are different than the airline's and TSA's Lost and Found Departments.
Every airport has a dedicated counter for the Lost and Found department which you should easily find by simply asking around. They will have a similar procedure to file a lost and found report. Again, give as much information about your movement while at the airport, your travel plans, and the item's details.
Airport Lost and found services have dedicated contact numbers and or email that you should note for follow-ups. Try as much as possible to get a generic email address because you generally get a better response when you try to communicate with a specific individual.
If you think you left the item at a specific business at the airport, a bar, restaurant, or perhaps even a rent a car service then your best chances for recovery are to contact them right away.
It is also a good idea to check with Airport Lost and Found even if you have lost your items on the plane. Sometimes lost items bounce back and forth and may end up there.
If you have left the airport
If you have left the airport then your best bet is to file a report online.
Traveling first class or having Premier Club membership
If you are traveling in first-class, extra-comfort, or if you have a Hawaiian Airlines Premier Club membership, it might be useful to mention that to airline staff and the personnel at the Lost and Found department.
Airlines are usually extra helpful when it comes to premium service and loyal customers. They will go out of their way to help you find your lost belongings.
Third-party services
While it is not recommended for you to go to third-party services for lost item recoveries, in some cases it might be actually helpful. For example, TSA has officially partnered with Rejjee to help you find items misplaced in TSA jurisdiction areas. The service is free and easy to use and you can file an online report to start the process.
In all of the situations above, if your item is found you might have to pay for delivery charges so that the courier service can deliver the item to you.
Final word
While there are chances that you may not recover your lost item while traveling through airports, the good news is that many items that are lost are reunited with their owners on a daily basis. The key is speed.
How quickly you take action and the action you take in the right order will drastically increase your chances of recovering your belongings.

Daniel Gillaspia is the Founder of UponArriving.com and the credit card app, WalletFlo. He is a former attorney turned travel expert covering destinations along with TSA, airline, and hotel policies. Since 2014, his content has been featured in publications such as National Geographic, Smithsonian Magazine, and CNBC. Read my bio.