There are so many different hotel chains and brands out there that it is almost impossible to keep up with all of them, even for the most experienced travelers.
It's understandable that some people mix up Hyatt and Marriott Bonvoy and have questions about whether or not these hotel brands fall under the same corporate umbrella. Below, I am going to break down the key differences between these hotel chains and give you some insight into how your experience with these chains might be different.
Is Hyatt a part of Marriott?
No, Hyatt is not a part of Marriott. Instead, these are two competing hotel companies: Hyatt Hotels Corporation and Marriott International.
Hyatt began in 1957 while Marriott has been around since 1927. Both of these hospitality companies have a number of different brands with Hyatt totaling 20 brands and Marriott totaling 30 distinct brands.
Tip: Use the free app WalletFlo to help you travel the world for free by finding the best travel credit cards and promotions!
Key differences between Hyatt and Marriott
There are a number of key differences between Hyatt and Marriott, and I'll summarize some of the major differences that stick out.
Footprint
A hotel's footprint refers to the size of a hotel's network here in the US and globally. Marriott has more than 7,000 properties worldwide in 131 countries. On the other hand, Hyatt has more than 1,000 hotel, all-inclusive, and wellness resort properties in 68 countries across six continents.
It's pretty evident that Marriott has a much wider footprint than Hyatt. What this means practically is that on average you'll find it easier to locate a Marriott property than a Hyatt property.
If you are staying in the heart of a major city you may not notice a huge difference in the number of higher-end properties between these two chains. But if you are regularly searching for hotels and traveling all around the globe, you will usually start to see the discrepancy play out.
Sometimes when you compare the number of high-end properties between Hyatt and other bigger chains, you realize there is not that big of a gap when it comes to the quantity of upscale properties. But that is not the case between Marriott and Hyatt.
For example, Marriott has about 108 Ritz-Carlton locations and 53 St. Regis-branded hotels, both of which represent high-end brands for Marriott. Meanwhile, Hyatt has about 35 Park Hyatts.
So it doesn't really matter which way you slice it — Marriott offers many more options than Hyatt.
Point values
Point values refer to how much value you can obtain when redeeming your points for a given loyalty program.
For the most part when you are talking about the value of hotel points you are considering the value when the points are used for free nights. (Other types of redemptions could include gift cards, travel packages, etc.)
There is a pretty big difference in point values between these two hotel chains.
The valuation for Marriott points will vary based on the person but an acceptable valuation would be about .77 cents per point.
Meanwhile, Hyatt has some of the most valuable points in the hotel industry with some people valuing them at 1.5 cents per point or more.
So for Hyatt, you are generally talking about points that are worth two times as much as Marriott.
Something interesting about Marriott Bonvoy points is that these points can be transferred to a lot of different airlines (40+) and you get a bonus whenever you transfer large quantities of points.
When converting points into airline miles they will often transfer at the following rate of 60,000 Marriott Bonvoy points to 20,000 airline miles. For every 20,000 miles that are converted you get an additional 5,000 bonus miles.
This means that 60,000 Marriott points comes out to 25,000 airline miles. If you are using those miles for premium redemptions like business class and first class flights, you can get a lot of value from those 25,000 miles.
For example, if you were getting eight cents per mile, 25,000 miles could come out to $2,000 in value. This means that the value of the 60,000 Marriott points could equate to $2,000+ when used in an optimal way.
So in that sense, Marriott points can actually be extremely valuable.
Elite levels
Below is an overview of the different elite status levels. (Note that these are the standard qualifying thresholds that applied before coronavirus.)
Here are the different World of Hyatt elite levels and the requirements for each level:
Discoverist: 10 qualifying nights, 25,000 Base Points
Explorist: 30 qualifying nights, 50,000 Base Points
Globalist: 60 qualifying nights, 100,000 Base Points
Here are the different Marriott Bonvoy elite levels and the requirements for each level:
The first difference you might notice (other than the funny names used by Hyatt) is that Marriott has five elite levels and Hyatt only has three elite levels.
That makes it a little bit tough to directly compare the programs but you can still compare them based on benefits offered.
For example, Marriott offers free breakfast when you obtain Platinum status but Hyatt does not offer that benefit until you reach Globalist.
Platinum status will get you lounge access with Marriott but you don't get guaranteed lounge access with Hyatt until you hit Globalist (Hyatt offers two club lounge access awards when you hit 30 nights).
Both programs offer milestone rewards such as suite upgrade awards. Marriott will offer you five Suite Night Awards as an Annual Choice Benefit option when you reach 50 nights and 75 nights in a calendar year.
With Hyatt, you'll earn 2 suite awards after 50 nights and 2 more suite awards after 60 nights. You'll then earn one suite award for every 10 additional nights after that up to 100 nights. The great thing about Hyatt suite night awards is that you can use one award to cover many nights (unlike Marriott where it is a per night basis).
Marriott has a partnership with United and if you achieve Titanium status you can get automatic United Silver status which is the bottom level of elite status.
Silver status does not give you a lot of perks but it is a way to get upgrades on occasion to business class and more commonly upgrades to economy plus.
Hyatt also has the partnership with M-Life, which allows you to status match.
Credit cards
World of Hyatt Card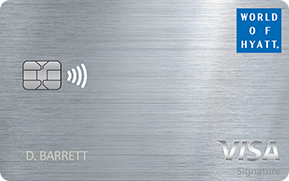 The World of Hyatt Card is one of the best hotel credit cards available since it comes with a great sign-up bonus, strong bonus category earning, and the opportunity for free nights. It's also one of the best hotel cards for climbing your way up the elite status tiers for Hyatt via credit card spend.
Welcome Bonus

30,000 Bonus Points after $3,000 in purchases within 3 months of account opening
Plus, 2 points total per $1 spent on purchases that earn 1 point, up to $15,000 in spend in the first 6 months of account opening

Bonus earning:

4X spent with your card at Hyatt hotels, including participating restaurants and spas
2X on local transit and commuting, including taxis, mass transit, tolls and ride-share services
2X at restaurants, cafes and coffee shops
2X on airline tickets purchased directly from the airline
2X spent on fitness club and gym memberships

Free nights:

Receive one free night at any Category 1-4 Hyatt hotel or resort every year after your cardmember anniversary
Earn an extra free night at any Category 1-4 Hyatt hotel or resort if you spend $15,000 during your cardmember anniversary year

Elite status:

Comes with Hyatt Discoverist status
Receive 5 qualifying night credits toward your next tier status every year
Earn 2 additional qualifying night credits toward your next tier status every time you spend $5,000 on your card

$95 Annual Fee
Marriott credit cards
With Marriott, you have several different options to choose from and both American Express and Chase currently issue Marriott credit cards. Two of the most popular are the Boundless and Brilliant.
The Marriott Boundless credit card is offered by Chase and comes with the following perks:
6X Bonvoy points on Marriott
2X Bonvoy points on all other purchases
Annual Free Night Award
Automatic Silver Elite Status
Get Gold Status when you spend $35,000 on purchases each account year.
15 Elite Night Credits each calendar year
$95 annual fee
Meanwhile, the Bonvoy Brilliant is the premium Marriott card issued by American Express and offers the following perks:
$300 in Marriott statement credits (issued on card anniversary)
$100 property credit
1 Free Night Award every year after your Card account anniversary for redemption levels at or under 50,000 points
Bonus earning:

6x at Marriott properties
3x at U.S. restaurants and on flights booked directly with airlines
2x on all other purchases

Complimentary Gold Elite status
Earn Platinum Elite status after making $75,000 in purchases on your card in a calendar year.
Priority Pass Select membership
Receive a statement credit every four years after you apply for Global Entry ($100) or TSA Preè ($85) with your Card. (Read about these programs here)
No foreign transaction fees
Annual fee: $450
Transfer Partners
You can transfer points from Chase Ultimate Rewards directly to Hyatt at a ratio of one to one. This is one of the best ways to use flexible points like Chase Ultimate Rewards. The reason is that Hyatt points are so valuable, you don't lose much (if any) value when transferring.
You can also transfer your points from Chase to Marriott at a 1:1 ratio and American Express to Marriott where 2 Membership Rewards points = 3 Marriott Points. Generally, unless there is a transfer bonus or you have some specific use case such as topping off an award, transferring flexible points to Marriott is not an optimal choice.
Final word
Hyatt and Marriott have a lot of differences. Marriott offers a significantly larger footprint and has a great conversion method for many airlines. Hyatt offers a more valuable points currency for free night hotel redemptions and has a credit card that is great for spending your way into elite status.

Daniel Gillaspia is the Founder of UponArriving.com and the credit card app, WalletFlo. He is a former attorney turned travel expert covering destinations along with TSA, airline, and hotel policies. Since 2014, his content has been featured in publications such as National Geographic, Smithsonian Magazine, and CNBC. Read my bio.