Opinions, reviews, analyses & recommendations are the author's alone, and have not been reviewed, endorsed or approved by any of these entities. UponArriving has partnered with CardRatings for our coverage of credit card products. UponArriving and CardRatings may receive a commission from card issuers. 
United MileagePlus Premier Silver status is the first true tier of United's loyalty program. Above Silver is Gold, Platinum, 1K, and then there's "Global Services" by invitation only. Premier Silver status offers a number of different benefits to those that qualify and some of those benefits can be quite valuable.
Here's a comprehensive review of the benefits that you can expect to receive if you make United Premier Silver status.
Interested in finding out the top travel credit cards for this month? Click here to check them out!
---
How to get United Premier Silver status
There are three main ways to achieve Premier Silver status: flying, hotel status, and status matches.
By flying
In order to receive Premier Silver status you'll need to meet the following requirements: 12 PQF and 4,000 PQP or 5,000 PQP. Here is how those requirements stack up to the other elite levels.
| Premier level | PQF and PQP Requirement |
| --- | --- |
| Premier Silver | 12 PQF and 4,000 PQP or 5,000 PQP |
| Premier Gold | 24 PQF and 8,000 PQP or 10,000 PQP |
| Premier Platinum | 36 PQF and 12,000 PQP or 15,000 PQP |
| Premier 1K | 54 PQF and 18,000 PQP or 24,000 PQP |
If you are wondering what these PQF & PQP requirements mean, don't worry, I will explain those below.
Premier Qualifying Flights
PQFs are Premier Qualifying Flights and each flight you take will earn one credit toward your PQF requirement. Most revenue partner flights do count towards your PQF count. Note you don't earn PQFs with Basic Economy fares or award tickets. Finally, you must fly at least four United-operated segments to qualify for any level of elite status with United Airlines.
Premier Qualifying Points
PQPs are Premier Qualifying Points and you'll earn one PQP for every $1 you spend on qualifying purchases.
You will earn PQP on the following:
Most flights operated by United and United Express
Most flights operated by a Star Alliance partner airline and connecting partners
Most flights operated by Air Dolomiti, Azul, Edelweiss, Eurowings, and Olympic Air
Most Economy Plus purchases
Most preferred seating purchases
Paid upgrades
MileagePlus Upgrade Award co-pays
Credit cards
With co-branded United cards you can earn 500 PQPs with the first $12,000 spent each calendar year and an additional 500 PQPs with an additional $12,000 in spend. So you can earn a total of 1,000 PQPs with $24,000 in spend that can be applied up to Platinum.
Here are some of the eligible United cards:
United Explorer Business Card
United Club Business Card
Via Marriott elite status
Marriott Titanium and Ambassador elite members can enroll to enjoy complimentary United MileagePlus Premier Silver status. These are the top elite statuses for Marriott so they are not that easy to earn. Here are the different requirements for Marriott elite status:
Silver: 10 to 24 nights
Gold: 25 to 49 nights
Platinum: 50 to 74 nights
Titanium: 75 to 99 nights
Ambassador: 100 nights + $20,000 U.S. dollars in qualified annual spend
In some cases, you might be able to leverage a status challenge to help you climb up elite levels with Marriott. Otherwise, you will have to complete a lot of stays to obtain top status with Marriott.
Status matches
You can also look into doing a status match to get status.
This status match for United Airlines is very simple. You simply submit the required form and documents (proof of status) for the status match and then wait to be matched to a respective level of status.
Here are some examples of the different types of matches you can receive.
| Frequent flyer program | Level | Level | Level |
| --- | --- | --- | --- |
| Delta Air Lines Medallion level | Silver | Gold | Platinum |
| American Airlines AAdvantage elite status | Gold | Platinum | Platinum Pro |
| Level matched to in MileagePlus | Premier Silver | Premier Gold | Premier Platinum |
You will then be able to keep the elite status for a short amount of time and then if you want to maintain that status throughout the year you'll need to meet additional requirements. For example in the past you would have to meet the following requirement:
Fly 7,000 PQM or 8 PQS on flights operated by United or United Express
You can read more about these here.
---
United Premier Silver status benefits
Complimentary access to Economy Plus
This is probably the most valuable benefit to United premier Silver members. On a 737-700, economy pitch will typically be 31″ while economy plus will give you 36″ (on other aircrafts the pitch may be 35″ or 34″). Those extra few inches make a huge difference to me who stands roughly 6'1″ and so I consider this a worthwhile benefit.
What's great about this benefit is that you get to add a companion who is on the same itinerary for free. So couples only need one person with status to benefit (which means 2X the savings).
Another great feature of this is that it's very common to receive these complimentary economy plus upgrades. It's always possible that economy plus could be sold out or that you don't have an ideal seat selection (e.g., the middle seat), but many Silver members frequently receive these upgrades.
The price that you would normally have had to pay for economy plus will differ depending on your route. It could be close to just $20 or $30 for a short haul flight or upwards of $170 or more for a longer flight.
The price also depends on which economy plus seats you're selecting. For example, aisle seats in the emergency exit row will likely cost more than a middle seat in the middle of the economy plus section.
You'll be notified about the upgrade at check-in at the earliest, unlike higher status members who receive their notifications at booking.
Complimentary Premier Upgrades
As a Silver member you're eligible for complimentary upgrades to business/first class and the earliest you'll be notified is the day of departure. Like the economy plus upgrades, if you are upgraded then a companion on your itinerary will also receive the upgrade.
These upgrades are limited to specific routes.
Complimentary Premier Upgrades are available on most United and United Express operated flights in the following regions:
Continental U.S.
Hawaii (from the west coast)
Alaska
Canada
Mexico
Central America
Caribbean
Oceania (not Australia, New Zealand)
Excluded routes include Premium transcontinental routes flights between:
Newark (EWR) and Los Angeles (LAX)
Newark (EWR) and San Francisco (SFO)
Boston (BOS) and San Francisco (SFO)
and long Haul Hawaii flights between:
Hawaii and Houston (IAH), Newark (EWR), Chicago (ORD), Denver (DEN), or Washington (IAD).
Other excluded zones include:
South America
Europe, Middle East, Africa
Australia, New Zealand
Asia, Japan
Tahiti
The problem with Complimentary Premier Upgrades is that Silver members are on the bottom of the totem pole. You've got 1K, Premier Platinum, and Premier Gold (not to mention Global Services) all ahead of you when it comes to being eligible for the upgrades. Also, United often sells business class seats at a discount on the day of departure further lowering your odds of getting upgraded.
However, some have had luck on leisure routes where elite/business travelers are less likely to be on board. But if you're flying on a route known for heavy business traffic, you could probably consider your odds close to zero for this kind of upgrade.
Overall, I wouldn't expect to receive complimentary business/first class upgrades but might hold out a little bit of hope if I was flying somewhere like the Caribbean. Still, it's a nice perk to at least hold out hope for.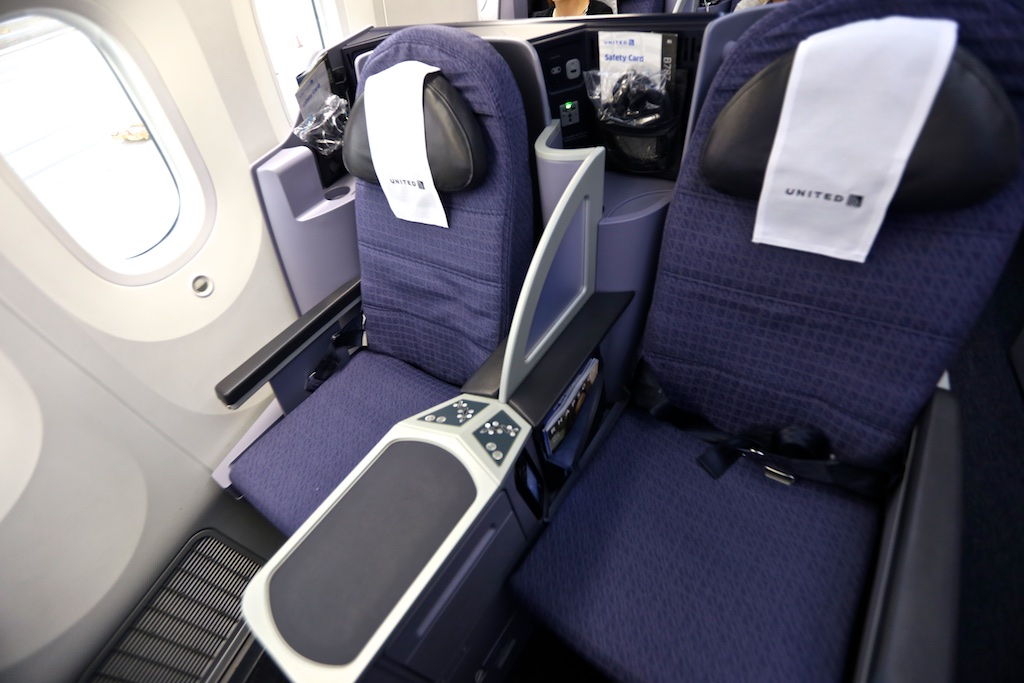 Instant upgrades on Y- or B-class full-fare economy tickets
When you purchase a Y or B class full-fare economy ticket you can receive instant upgrades to business/first. The issue with these is that these full fare economy tickets can be very expensive, so it's just like you're paying for business class. In fact, you might even see a business/first class fee that's cheaper than a Y or B class fare. So for those reasons, my excitement for this benefit is limited.
7X award miles
As a United Premier Silver member, you'll earn 7X the miles per dollar spent on the base fare versus 5X earned by standard members. Here is how the earning rate compares to other elite levels:
| Premier level | Earn rate per $1 |
| --- | --- |
| Premier Silver | 7X |
| Premier Gold | 8X |
| Premier Platinum | 9X |
| Premier 1K | 11X |
Free checked baggage
When flying economy, you will get one free checked bag. The standard checked baggage fee is $30 for a one-way trip so this is an easy way to save $30 on all of your trips. You will also be able to check three bags when flying in a premium class and those bags can weigh up to 70 pounds! You can read more about United baggage fees here.
| Premier level | Complimentary checked bags in Economy, 70 lbs. (32 kg) | Complimentary checked bags in premium cabin, 70 lbs. (32 kg) |
| --- | --- | --- |
| Premier Silver | 1 | 3 |
| Premier Gold | 2 | 3 |
| Premier Platinum | 3 | 3 |
| Premier 1K | 3 | 3 |
Priority boarding
Silver members can take advantage of Priority boarding privileges (they board as group 2). Boarding as group 2 is a big help to get some overhead storage bin space but sometimes group 2 lines can be very long, especially on large aircraft. Here is the order of the boarding groups in case you were wondering:
Pre-boarding (Top tier elites, Military, Disabilities, etc.)
Group 1 (Business class and first class, mid elite levels)
Group 2 (Lower elite levels, United credit card holders)
Groups 3 – 5 (Economy passengers)
You can read more about the United Airlines boarding process here.
Premier Access benefits
Silver members are granted a number of Premier Access benefits, too.
Priority check-in
Priority security screening (where offered)
Priority baggage handling
Some of these perks, such as priority check-in can save you a lot of time. Priority screening is cool but personally I prefer to go with TSA Pre-Check. Priority baggage handling can be hit or miss sometimes but it has also saved me a lot of time since my bags have usually been among the first to come out.
These benefits can actually be purchased on an individual basis for each trip if you don't have elite status. You can read more about Premier Access here.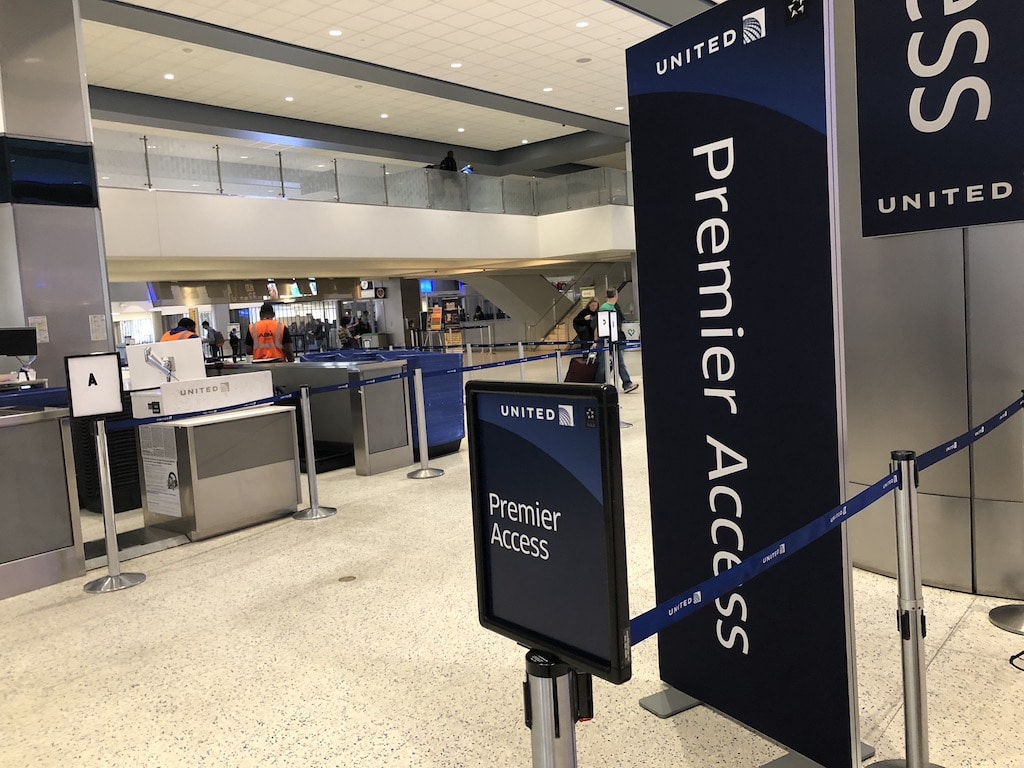 Premier Priority Desk phone line
I have had mixed experiences with the priority desk phone line. On a couple of occasions, they have been extremely unhelpful and have dropped my calls leading to a ton of frustration and wasted time. But on a couple of other occasions, they have been lifesavers for me.
Access to most sold-out flights
You can get access to most sold-out flights but you will need to purchase a full fare ticket so you will need to be prepared to shell out some cash.
Award travel benefits
As a Silver member, you're also offered special perks when you book award tickets.
Priority award waitlisting
Standby for international awards
Unrestricted access to United Standard Awards on United and United Express-operated flights
Better availability for United Saver Awards in economy.
These last two benefits can make using your miles extremely easy since they open up a lot of redemption opportunities for you. However, it is worth noting that these last two benefits are the same benefits offered by the United Explorer Card.
Reduced or waived award changing fees
Award travel change/cancel fees 61 or more days from departure: $75
Award travel change/cancel fees 60 or fewer days from departure: $100
Close-in award booking fee (less than 21 days before departure): $50
Phone booking service fees: $25
You will often be saving around $25 on some fees as a Silver member.
Lounge access?
United Airlines Silver members do not get lounge access into United Clubs. To get access, you would need Star Alliance Gold status with United and have a same-day boarding pass for travel on an international flight operated by a Star Alliance member airline. Read more about who gets access to these airport lounges here.
Upgrades on award flights
Finally, if you hold the United Explorer card, the primary cardmember who is also a MileagePlus Premier member traveling on a MileagePlus award ticket will be eligible for Complimentary Premier Upgrades on eligible United-operated flights. Note that this only applies to the primary cardholder.
Star Alliance Silver benefits
United Premier Silver status will also grant you Star Alliance Silver status. Unfortunately, those benefits are not very valuable, as most of the worthwhile benefits are only given to Gold status members.
For what it's worth, you'll get priority waitlist and priority standby but you miss out on the big benefits, such as lounge access and free checked luggage. Take a look at the chart below to see the difference between Star Alliance Silver and Gold benefits.
CLEAR discounted annual membership
As a United Silver member you can get a discounted CLEAR membership for $109. (CLEAR uses the yearly subscription model, and the regular price for CLEAR is $179 a year.)
If you are not familiar, CLEAR allows you to jump the line at security lines in many airports and even at some stadiums. CLEAR can be a true timesaver so this is a pretty decent discount. If you would like to find out more about the program check out our full review here.
Complimentary Hertz Gold Plus Rewards status
Normally to qualify for Hertz Five Star, you would need to achieve 12 Rentals or spend $2,400, but with Silver you get a complimentary Five Star membership. Here are some of the perks you can expect with Hertz Five Star.
Upgrades
You will be entitled to upgrades but only as they become available. These upgrades will be for a one-car-class upgrade and the maximum upgrade is to a full sized class vehicle with a minimum reserved compact vehicle. You can click here for data points on Hertz upgrades.
Bonus on points
As a Five Star member, you will receive a 25% bonus on your earnings.
Ultimate Choice
As a Five Star member, your dedicated section of Ultimate Choice vehicles will be larger than the Gold section.
Misc benefits
United Cruises onboard amenities offer
TPC Network golf course benefits
Mercedes-Benz incentives
---
United Explorer Card = Silver status?
If there was one co-branded airline credit card that I had to choose, it would be the Explorer Card. That is because of all of the amazing perks like the lounge access day passes, free checked bags, and also the great travel and purchase protections on this card (the purchase protection on this card is really, really good). You can read my full review of the card here.
A lot of people argue that having Silver status is almost identical to the perks offered by the United MileagePlus Explorer Card. I don't really agree with this, though.
The MileagePlus Explorer doesn't offer:
Economy plus upgrades
Complimentary Premier upgrades
Priority check-in and security
Premier Priority desk phone service
Increased mileage earnings (I don't consider bonus miles earned on the card)
Access to most sold-out flights
Reduced fees for award changes
Priority on waitlisted awards
You do get the free checked bag and priority boarding which are two valuable perks (at least the free checked bag is) and the increased award inventory is a nice perk as well. I'm not doubting the Explorer Card is a valuable card or even perfect for some people, I'm just pointing out that to me there's a significant difference in the benefits and you may want to look at those differences closely to see which option will return you more value.
---
Final word
The benefits for United Silver can be quite valuable but it mostly comes down to your personal travel styles. For some, the upgrades to economy plus and reduced fees may not present much value but to travelers, such as myself, I find these benefits to be nice additions. I don't know that I'd go chasing after United Silver status, but if I were close to reaching it already or close to Marriott Platinum, I'd probably go for it (which I have).
UponArriving has partnered with CardRatings for our coverage of credit card products. UponArriving and CardRatings may receive a commission from card issuers. Responses are not provided or commissioned by the bank advertiser. Responses have not been reviewed, approved or otherwise endorsed by the bank advertiser. It is not the bank advertiser's responsibility to ensure all posts and/or questions are answered.
Daniel Gillaspia is the Founder of UponArriving.com and creator of the credit card app, WalletFlo. He is a former attorney turned full-time credit card rewards/travel expert and has earned and redeemed millions of miles to travel the globe. His content has been featured in major publications such as National Geographic, Smithsonian Magazine, Forbes, CNBC, US News, and Business Insider. Find his full bio here.