The United Club Card is a premium airlines card issued by Chase that comes with some pretty hefty benefits like lounge access, multiple free checked bags, and many others. But is this card really worth it with its high annual fee?
In this article, I'll tell you everything you need to know about the United Club Card. I'll cover things like the welcome bonus, bonus categories, authorized user benefits, and many of the special travel benefits and perks.
You'll also see how this card stands out in some ways with its solid travel and purchase protections even compared to premium cards like the Chase Sapphire Reserve. 
United Club Card intro
The United Club Card is a great travel credit card for people who fly United and are interested in taking advantage of perks like free bags and priority check-in and who value United airport lounge access. The card has some very valuable perks and protections but you'll also want to consider the United Explorer Card because it offers many of the same perks and has a lower annual fee.
Welcome bonus
The United Club Card didn't always come with a nice welcome bonus. For a while, it only offered a $100 statement credit but in the fall of 2017, we saw the United Club Card come with a solid offer for 50,000 miles after you spend $3,000 on purchases in the first three months from account opening.
There have been some targeted offers for 75,000 miles in the past but those seem pretty rare so I wouldn't expect to find one of those offers. 50,000 miles can currently get you a roundtrip in first class around the US though United is moving to dynamic pricing so award prices will fluctuate more in the future.
It's worth noting that the United Explorer Card sometimes offers a higher bonus where you can earn 60,000+ miles, so if you're just trying to earn as many United miles as possible, you might want to go with the Explorer Card. As you'll find out below, the United Club Card is really all about the benefits.
Tip: Use WalletFlo for all your credit card needs. It's free and will help you optimize your rewards and savings!
Eligibility
This card is subject to the 5/24 rule and also the 24 month rule which states:
This product is not available to either (i) current Cardmembers of this credit card, or (ii) previous Cardmembers of this credit card who received a new Cardmember bonus for this credit card within the last 24 months.
This means that if you got a bonus for the Explorer card, that should not affect your eligibility for this card.
United Club Card bonus categories
1.5X on all purchases
2X on United purchases
You'll earn 1.5X United miles on all purchases with the United Club Card. That's a decent earning rate but you have to consider that the no-annual fee Chase Freedom Unlimited would earn you 1.5X on all purchases.
If you have a premium card like the Chase Sapphire Preferred, you could then transfer those points to United at a 1:1 ratio, so all of a sudden the 1.5X on all purchases isn't that impressive.
Earning 2X on United purchases is okay but again you can do better with other cards. For example, you could earn 3X with the Chase Sapphire Reserve and then transfer your points to United or you could even earn 5X on airfare with Amex Platinum Card. 
Personally, I would much rather put my spend on a card like the Chase Sapphire Preferred that earns flexible points that could be transferred not only to United but to other travel partners like Southwest, Emirates, Hyatt, etc. That flexibility makes the points much easier to use and also allows you to capture more value for your points.
United Club membership
One of the biggest reasons for getting this card is to take advantage of the United Club membership. The United Club membership will grant you access to United Clubs, which are United airport lounges found all across the country. (You'll also get access to participating Star Alliance affiliated lounges worldwide.)
This has a value up to a $650 per year, which easily offsets the annual fee. I'm not a huge fan of United Clubs and would definitely rather spend my time in a Centurion Lounge is most cases but the newer United Clubs do feel a lot nicer so if you frequent a United hub or live near one then United Club access could be a valuable perk.
Authorized users, which are free to add, will not receive their own United Club membership and are only get access if they accompany the primary Cardmember and qualify as an eligible guest.
Typically, with a United Club membership, you can bring one adult and dependent children under 21, or up to two guests in for free.
You should be aware that with the United Explorer Card you can get two free annual passes to United Clubs. So for people who don't do a lot of traveling but still want United Club access, the United Explorer Card could be a better option. 
United Club Card Travel benefits
Free checked baggage
With the the United Club Card, you'll get free first and second checked bags for the primary cardmember and one companion traveling on the same reservation (this applies to both domestic and international itineraries).
Based on the United baggage fees ($30 for the first checked bag and $40 for the second), this could amount to a savings up to $280 per roundtrip. If you go with the Explorer Card, you'll only get one free checked bag for you and a companion.
Premier Access
The United Club Card grants you with Premier Access which allows you to get expedited access through priority check-in, security screening (where available), priority boarding (Group 2), and even priority baggage. Being able to avoid the standard check-in lines can save you a lot of time as can the priority security line (though I just stick with TSA Pre-Check).
It's also nice to get your bags first when you land although that doesn't always work out. Authorized users are only eligible for this perk if they are on the same reservation as the primary Cardmember. Read more about the United Premier Access benefits here.
Expanded award inventory
The primary cardmember will get expanded award availability when you use miles to book any United-operated flight. This is a great perk for United cards as it can make using your United miles significantly easier.
No close-in fees
You can also avoid close-in fees on awards with this card. This benefit isn't highly publicized but it's a great way to avoid those fees which can be $75. There are some great last-minute awards you can use with your United miles like first class on Lufthansa or business class on EVA and with this card you could book those last minute without paying extra.
Tip: Use the free app WalletFlo to help you travel the world for free by finding the best travel credit cards and promotions!
Premier upgrades
The primary cardmember who is also a MileagePlus Premier member and traveling on an award ticket can get Complimentary Premier Upgrades. This means that when traveling on United award flights you can bumped up to business class but you'll need to have status with United Airlines.
Note that travel companions and authorized users are not eligible for the upgrades.
I believe you also get improved priority for upgrade waitlists.
Hertz Gold Plus Rewards President's Circle
The Hertz President's Circle is the top-tier elite status offered by the Hertz Gold Plus Rewards program that offers special perks like confirmed vehicle reservations, confirmed one-car-class upgrade, designated parking stalls, and a 50% bonus on Gold Plus Rewards points on all qualified car rentals.
The Luxury Hotel & Resort Collection
The Luxury Hotel and Resort Collection (LHRC) is a program consisting of over 900 luxury properties around the world that offers you elite-like benefits, such as free breakfasts and upgrades.
Daily breakfast for two
Complimentary Wifi
Room upgrade (based on availability)
Early check-in and late check-out (based on availability)
Special benefit at each property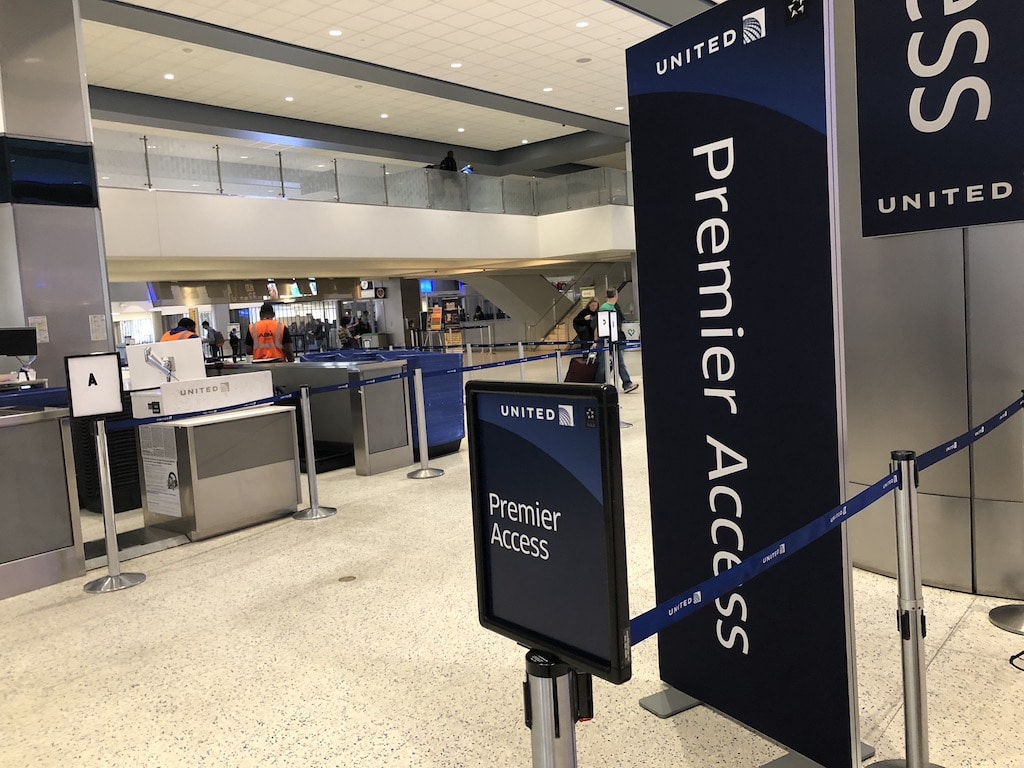 Hyatt Discoverist status
Note that the United Club Card no longer offers Hyatt Discoverist status.
Travel and purchase protections
Across the board, the United Club Card is going to offer you some great travel and purchase protections. Since this is a high annual fee premium Chase card, you'd expect them to be on par with the best cards and for the most part they are but the United Club Card even offers some perks you won't get with other premium Chase cards.
Primary rental car coverage
One of the best perks of this card is the primary rental car coverage. With this perk you won't have to purchase auto collision damage waivers and you can avoid getting hit with spikes on your monthly premium. (The cheaper Explorer Card also offers this perk.)
Trip Cancellation/Trip Interruption
If your trip is canceled or cut short by sickness, severe weather, and other covered situations, you can be reimbursed up to $10,000 per person and $20,000 per trip for your pre-paid, non-refundable travel expenses including passenger fares, tours, and hotels.
Trip cancellation is one of the most important travel insurance benefits to get since you never know when you might need to cancel a trip. Getting coverage up to $10,000 per person should cover you for a lot of trips so unless you're splurging you probably don't need a lot more.
Baggage Delay
Reimburses you for essential purchases like toiletries and clothing for baggage delays over six hours by passenger carrier up to $100 a day for three days. This protection only covers three days which is a couple of days shorter than that offered by the Reserve but it's nice that it kicks in after six hours.
Purchase Protection
Covers your new purchases for 120 days against damage or theft up to $10,000 per claim and $50,000 per year. This is a solid purchase protection and one of the best you can get with a credit card.
For your reference, the Chase Sapphire Preferred only gets coverage up to a maximum of $500 per claim and up to $50,000 per account while the Sapphire Reserve gets up to $10,000 per claim.
Price Protection
If a card purchase you made in the U.S. is advertised for less in print or online within 90 days, you can be reimbursed the difference up to $500 per item, $2,500 per year.
Many cards, including some Chase cards like the Chase Sapphire Reserve, have dropped this benefit over the past year so having this perk is all the more valuable now.
Return Protection
Get reimbursed for items that the store won't take back within 90 days of purchase. This will cover you for up to $500 per item, $1,000 per year.
Lost Luggage
if you or an immediate family member check or carry on luggage that is damaged or lost by the carrier, you can get covered up to $3,000 per passenger.
Foreign transaction fees
The United Club Card comes with no foreign transaction fees.
Global Entry TSA Pre-Check
Something interesting about this card is that it doesn't come with a Global Entry or TSA Pre-Check credit which is surprising since the lower annual fee Explorer Card does.
Annual fee
The annual fee for the United Club Card is $450. This fee is usually not waived but there have been targeted offers sent out in the past that have waived the first year, so be on the lookout for those. If you're not crazy about the annual fee, you can always downgrade to the Explorer or even the no annual fee United card.
Final word
I'm a pretty big fan of the United Club Card for those people who really value United Club access. If you can get approved for the card, it would not make much sense to pay out of pocket for the United Club membership when you could get it with this card for much cheaper.
Daniel Gillaspia is the Founder of UponArriving.com and creator of the credit card app, WalletFlo. He is a former attorney turned full-time travel expert covering destinations along with TSA, airline, and hotel policies. Since 2014, his content has been featured in major publications such as National Geographic, Smithsonian Magazine, Forbes, CNBC, US News, and Business Insider. Find his full bio here.