It's aways important to know what the cancellation policy is before you book a hotel room. But with all of the variations, recent changes, and different room rates, it's not always easy to keep track of the cancellation policies for these hotels.
In this article, I'll explain what the Hilton cancellation policy is and show you how to check what the cancellation terms and conditions are for your stay, whether you've booked flexible or non-refundable stays. I'll also show you a special loophole for advanced purchase stays that can help you avoid losing lots of cash when you need to cancel.
What is the Hilton cancellation policy?
Hilton will generally require you to cancel hotel bookings 48 to 72 hours before check-in but it depends on the type of room rate that you booked and the locations of the hotel.
Also, some rates such as the advanced purchase rates are not refundable and can't be cancelled (though there are some workarounds for that).
Tip: Use the free app WalletFlo to help you travel the world for free by finding the best travel credit cards and promotions!
2017 Hilton cancellation policy changes
In the past, you could cancel your booking so long as you did it 24 hours before check-in time. But in 2017, Hilton followed suit from Marriott and changed their policy requiring cancellations to be made 48 to 72 hours before check-in.
3/2020 Coronavirus update from Hilton: "All reservations – even those described as non-cancellable ("Advanced Purchase") – that are scheduled for arrival before April 30, 2020 can be changed or cancelled at no charge up to 24 hours before your scheduled arrival."
Different cancellation policies
Not every Hilton property or Hilton brand follows the same guidelines — you can find properties that require cancellations further out than 72 hours and some that still allow for 24 hour cancellations.
The cut-off for cancelling also depends on what type of room rate that you book.
For flexible rates and Honors discount rates, you'll often find the 48 to 72 hour limit. But for the semi-flex rates, you'll sometimes have to cancel before five days before check in.
So the key to finding out what the cancellation policy is for your booking is to check the details of your booking. When you're selecting your room type, you'll see the cancellation terms.
Notice in the image below you can see the 48 hour (2 day) policy for the flexible rate and the Honors discount. Then, there's the 4 day limit for the Honors Discount Semi-flex. And finally, there's also the Honors discount advance purchase that offers no ability to cancel.
Be aware that some hotels, especially resorts, will sometimes have some cancellation restrictions that are very far out.
For example, there is the Kings' Land by Hilton Grand Vacations in Hawaii — notice it has a 30 day cancellation policy! Even if you book with points, you'll likely still be subject to the 30 day cancellation policy.
If you cancel a flexible fare after the cut-off time, you'll probably be charged the cost of the first night of your reservation (including taxes and fees). If you booked with points, you'll likely lose the points for the first night of the stay.
My recommendation if you find yourself in this situation is to try to re-book your stay for sometime in the next month. Then after your stay has been pushed out, simply cancel the booking outside of the 24 or 48 hour window.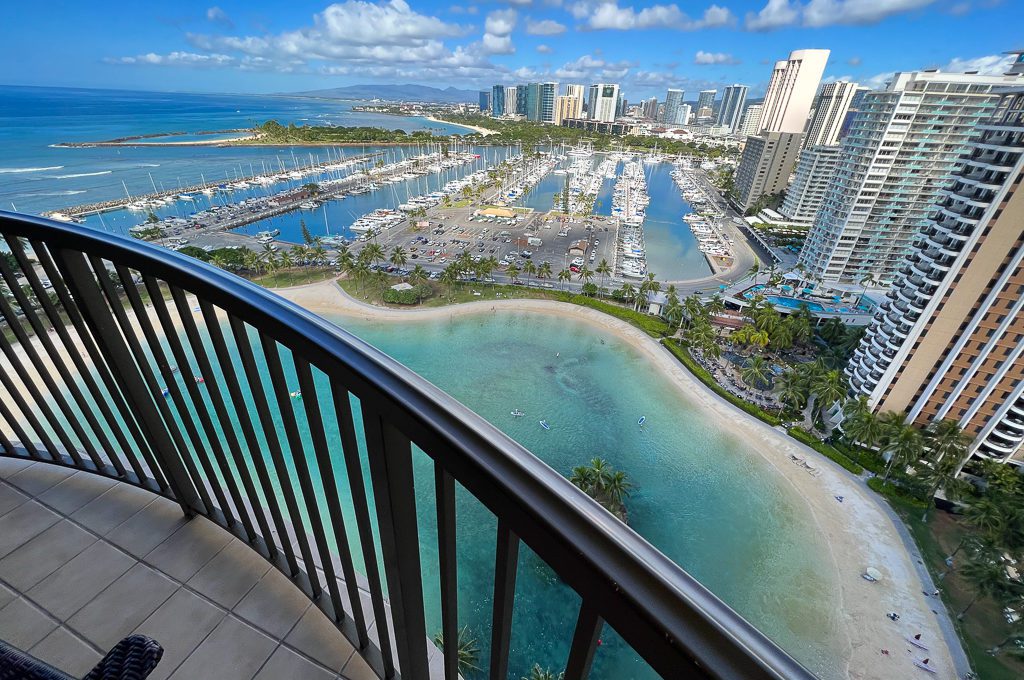 What time do you have to cancel Hilton stays by?
To find out more about the cancellation policy, such as the time you have to cancel by, simply click on the links with the name of the rate as seen in the photo below.
You then might be able to see the exact time of the cancellation deadline in a pop-up window. In this case, it tells the exact time and date for the free cancellation.
You should note that the time for cancelling is in local hotel time.
Also, the cancellation time can be different for different hotels. Some (like in the case below) set the time just before midnight but others might set it just before noon. Always double check the exact time.
If you're booking a non-refundable rate, you'll be able to see the details related to payment so you can know whether they are going to charge your credit card immediately or later.
Note that sometimes pre-paid rates don't actually charge your card at the time of booking for whatever reason.
Hilton cancellation policy for points
As shown above, the cancellation policy for hotels booked with points will depend on the property. Typically, it will be that 48 hour to 72 hour window but as shown above it could be as much as 30 days.
Tip: Use WalletFlo for all your credit card needs. It's free and will help you optimize your rewards and savings!
Hilton advances purchase cancellations (non-refundable loophole)
Hilton advance purchase rates are not refundable and you will be responsible for the entire stay. However, they do have a nice loophole-like exception that can end up helping you.
If you have a booking in the United States, Mexico, or the Caribbean you may be able to cancel your advance purchase room so long as you re-book a new advance purchase rate room anywhere in the Hilton portfolio inside the US, Mexico, or Caribbean.
There will be either a $50 or $25 fee, depending on the hotel that you originally booked but if it means saving hundreds of dollars who wouldn't pay that fee?
If you want to take advantage of this loophole you need to call their "advance purchase department" to process your request no less than three days prior to your scheduled check-in date. Their number is: (800) 236-7113 or (972) 726-3361.
Here are what the terms and conditions state
Modification of Reservation: Price quoted applies to exact date(s)/nights/stay booked. Modifications to your reservation (including but not limited to name changes, date changes, etc.) are not permitted.

However, for bookings in the United States, Mexico and the Caribbean, a request to cancel an existing Advance Purchase/Non-Refundable reservation and book a new reservation may be permitted if at the time you are requesting a change to your reservation, you book a new Advance Purchase/Non Refundable reservation at any hotel in the Hilton portfolio located in the United States, Mexico or the Caribbean, subject to availability.

Upon receipt of full payment for the new reservation, Hilton will issue a refund for the cancelled reservation, less a service fee. It may take up to four (4) weeks for the refund to be reflected on your credit card. For stays originally booked at the Waldorf Astoria, Conrad, Hilton, Embassy Suites or Doubletree brand hotels, the service fee is $50.00 and for stays originally booked at a Hilton Garden Inn, Hampton, Homewood Suites and Home2 Suites, the service fee is $25.00.

For a cancellation and rebooking to be considered, you must call our Advance Purchase Department to request a change to your reservation at (800) 236-7113 or (972) 726-3361 no less than three days prior to your scheduled check-in date.
Getting cancellation fees waived
If there is some sort of natural disaster such as a hurricane you can expect Hilton to work with you and be reasonable when it comes to cancelling even non-refundable fares. But if you're cancelling because of an event like a wedding being cancelled, that's typically not a good enough reason to cancel without penalty.
For weather related issues, I recommend calling into the property first to see how they are handling things with all of their guests rather then trying to work backwards
However, if you just screwed up and you need to cancel a non-refundable rate or you need to cancel after the cut-off time, then you may want to contact Hilton Honors.
If you have elite status with Hilton such as Diamond status then I recommend that you call up the Diamond desk and try to reason with Hilton.
They usually handle these type of things on a case-by-case basis but if you have a legitimate reason for cancelling, Hilton might be willing to make a "one-time exception" for you and allow you to cancel without penalty.
Final word
The cancellation policy for Hilton properties can differ based on how the hotel ownership decides to implement their cancellation policies. Generally, you can expect to see cancellation policies for 48 to 72 hours but it's possible they could be shorter or longer depending on the location and the rate that you booked. And if you book a rate that is not refundable, you might be able to still save yourself some money by re-booking your room subject to the terms above.
Daniel Gillaspia is the Founder of UponArriving.com and creator of the credit card app, WalletFlo. He is a former attorney turned full-time travel expert covering destinations along with TSA, airline, and hotel policies. Since 2014, his content has been featured in major publications such as National Geographic, Smithsonian Magazine, Forbes, CNBC, US News, and Business Insider. Find his full bio here.