The Mendenhall Glacier is one of the easiest glaciers to access in all of Alaska and arguably the most popular attraction in Juneau.
There are many different bucket-list worthy ways to explore Mendenhall Glacier and in this article I'll break down all of the different ways you might want to spend time visiting Mendenhall Glacier.
I'll cover things like hiking, kayaking, canoeing, and how to see things like the ice caves.
I'll also provide you with a lot of practical tips on things like transportation so that you can have as smooth as a visit as possible.
What is Mendenhall Glacier?
Mendenhall Glacier is a valley glacier only 20 minutes away from Downtown Juneau.
Found in Tongass National Forest, it's a beautiful 13.6 mile long, 1.5 mile wide glacier with a face towering more than 100 feet at its terminus in Mendenhall Lake.
Due to its beauty and easy access, it's one of the most popular tourist attractions in Juneau.
Why is Mendenhall Glacier special?
Mendenhall Glacier is a special place to visit for a number of reasons.
First, it's just a very accessible glacier.
Glaciers are not always the easiest places to visit. They may be tucked away in remote mountains or only viewable after going on a long boat ride through a deep fjord.
You don't typically have the ability to just "stroll up" to a glacier.
But considering how easy it is to get to this place from Juneau, this might be one of the most accessible glaciers you'll ever visit.
If you've never seen a glacier before, it really is a sight to behold.
The glacier itself will probably be a lot bigger than you imagine and it's just a really beautiful site that's kind of hard to put into words.
If you're from a climate where you don't see a lot of snow or ice, it's even more dramatic.
Another reason why this is such a special place in my opinion is the recent history.
This glacier once covered the entire valley during a mini ice age a few hundred years ago. But by the mid-1700s, the glacier began to retreat creating the lake you see you today.
So when you admire the area you're witnessing a recently revealed landscape with vegetation still trying to find its footing which is a pretty cool sight.
How to get to Mendenhall Glacier
Mendenhall Glacier is located at: 6000 Glacier Spur Rd, Juneau, AK 99801.
This is in Mendenhall Valley which is 12 miles northwest of Downtown Juneau and the Juneau Cruise Ship Terminal Area.
Driving a rental vehicle from these areas to the glacier will take you about 22 minutes.
If you book any of the adventurous tours such as a kayaking tour, canoe trip, helicopter tour, etc., your transportation should be covered.
You can also book a shuttle bus for $45 roundtrip that will take you to and from the glacier and allow you to spend as much time as you would like there. They sync up schedules with cruise ships which makes things easy.
We decided to use a rideshare service to take us over to the glacier and with the tip we ended up spending $38 for the one-way ride.
Utilizing a rideshare like Uber or Lyft in Juneau is not always easy because of the limited number of drivers.
Also, apparently rideshare drivers are not supposed to serve the Mendenhall Glacier so our driver had to basically sneak us in and we had to book a taxi on the way back.
Speaking of taxi companies, if you are looking to book a taxi to the Mendenhall Glacier consider utilizing one of these services:
Juneau Taxi: 907-586-1111
DLUX Rides: 907-586-2121
Expect the taxi cost to be about $35 one way.
Tip: Consider planning transportation ahead of time because you may not have good cell phone service at the glacier.
Mendenhall Glacier pre-visit tips
Before getting into each different way to explore this place I'll give you some helpful tips for planning purposes.
How much time you'll need
The first thing to think about is how much time you'll need.
If you're just coming to the visitor center and walking around a few of the platforms then you probably only need about 30 minutes to an hour.
If you're going to hit up the visitor center and plan on doing a short trail or two then giving yourself an hour and a half to two hours is plenty.
But if you want to embark on a kayaking adventure or one of the longer trails then you need to spend half a day or longer here.
Cooler temperatures
Thanks to the natural AC effect, the temperature near Mendenhall Glacier can drop about 10° compared to the outer valley so make sure that you are dressed for the temperature swing.
Check on the visibility
If you're visiting during a rainy time or when there is a lot of cloud cover, consider calling the visitor center before you head over and ask about the visibility of the glacier.
The park ranger on the phone will likely have a direct view of the glacier when they're talking to you, so you can get real-time information.
Sometimes you may not be able to see the glacier due to foggy weather but luckily clouds can quickly move in and out over here so there's always a chance it will clear up later.
Speaking of weather….
Give yourself extra time for air travel activities
If you plan on doing a tour that is dependent upon air travel try to leave yourself with some open dates and brace yourself for cancellations because of how rainy the area can be.
(It's not so much the rain but the clouds that can be the issue.)
Remember that if you book tours that take place on the water you can pretty much always go out regardless of the weather.
So if you only have one day that might be the way to go.
Bears
Bears can be found just about anywhere here so always be prepared for that encounter.
They advise you to not have any food on you when you come here which I think is probably a good idea. The visitor center and pavilion are dedicated eating areas but there are no lockers, vending machines, or food concessions on site.
(If you're doing a hike you can have some snacks in your pack.)
Exploring Mendenhall Glacier
Mendenhall Glacier visitor center
A great place to start when exploring the Mendenhall Glacier is to simply go by the visitor center — the information hub for Mendenhall Glacier.
It's where you can learn more about the glacier, browse the gift shop/bookstore, and spend some time indoors if the weather is not cooperating outside.
This is also where you can view the latest wildlife sightings posted by the rangers.
By the way, the park rangers are excellent over here.
You can make your way up to the Visitors Center via the stairs but if you have mobility issues they also have an elevator that you could take.
Inside the visitor center, exhibits shed light on the local environment and wildlife.
Learn how glaciers produce that brilliant glacier blue color. See a rare stuffed glacier bear.
If you have time consider catching the 15 minute film that covers the history of the glacier.
If you want some views, large windows brilliantly showcase the glacier and Nugget Falls.
It's a great view but I would definitely prefer to also do one of the hikes below to get a better vantage point.
Just outside of the visitor center you can find bathrooms and you also can utilize some of the overlooks, where you can check out the interpretive panels while you learn a bit about the history of this valley.
Tip: While the visitor center is relatively close to the glacier, consider bringing binoculars so that you can get a better view.
Don't expect to see much calving at this glacier though.
This type of valley glacier is very different from a tidal glacier you would find in a nearby place like Glacier Bay National Park or the Tracy Arm.
Those get continuously disturbed by ocean currents and have frequent major calving events.
Those don't really happen at this glacier — at least not as often.
One last thing to mention about the visitor center.
This area technically is a fee zone although it's a little confusing to me.
Day use passes sell for $5 per person but those age 15 and younger are free.
The passes allow access to the:
Pavilion
Photo Point
Steep Creek Trails
Fees are not necessary for accessing the:
Parking areas
Nugget Falls Trail
East Glacier Trail
Powerline Trail
Moraine Ecology Trail
Trail of Time
Dredge Lakes and West Glacier Trails
If you have an annual national parks pass such as the "America the Beautiful" pass, Senior Pass, or Military Pass you can use those to get in for free.
While the website states fees are needed to visit some of the locations above, we did not have to actually pay anything when we visited so I'm not sure how they enforce these fees.
As for hours, during summer months (May – September), the visitor center is open from 8:00am – 7:30pm daily.
During the winter, (October – March) the visitor center is open from 10:00 a.m.- 4:00 p.m. on Fridays, Saturdays, and Sundays, excluding federal holidays.
The grounds surrounding the visitor center are open from 6:00 a.m. to midnight year-round.
Check here for information.
Hiking
There's quite a few different hiking trails that you can enjoy here.
The "must do" in my opinion is the hike to Nugget Falls. It's 2 miles round-trip on a gravel path that feels paved and the trail has very little elevation. It will take you somewhere around 45 minutes to one hour depending on how swift you are moving.
Be sure to look for wildlife along the way including porcupines that might be resting up in the trees.
I'd highly recommend you combine this with a small detour to Photo Point which is a paved loop path that offers some great views of Mendenhall Lake, Nugget Falls, and Mendenhall Glacier.
You also want to check out the Steep Creek Trail which is a series of boardwalks and paved paths.
A portion of this trail is closed during the peak salmon run but you can still check out some of the raised observation decks which can offer you an amazing (and safe enough) views of black bears and salmon (sockeye and Coho).
Your odds of seeing bears will increase during the peak salmon runs but it's never a guarantee.
We were told they are most active in the morning and evening when there are fewer visitors but I've also heard they can be spotted at pretty much anytime.
And while some of the black bears may appear brown, they do not have brown (grizzly) bears here at Mendenhall Glacier.
Well, at least they are not common.
The last one officially spotted was back in 2008 so it always could be a possibility although extremely unlikely.
On that note, if we're talking about rare bears a "glacier bear" has been spotted in the Juneau area before. You probably won't see one but they do have one on display in the visitor center which is an underrated exhibit.
Finally, if you're worried about finding bear spray, be aware the Visitors Center does NOT sell any.
You most likely won't need any unless you are doing some hiking, walking with a dog, camping, etc. But you can find some in local sports centers like Sportsman's Warehouse.
Another trail close to the visitor center is the East Glacier Loop Trail, 3.1 miles and 775 feet elevation gain. It's a good trail for encountering dense pioneering vegetation such as willow, alder and cottonwood and also for exploring the rainforest.
If you want awesome views and to get close to the glacier then you need to hike from the other side of lake via the West Glacier Trail.
The trailhead for this trail is located about 10 minutes away from the visitor center in a completely different area on Skaters Cabin Rd.
If you wanted to do something more strenuous, then a popular option is the Ice Cave Trail. This is basically just an extension of the West Glacier Trail that takes you down to the glacier.
It's an amazing experience because you'll end up right at the foot of the Mendenhall Glacier, offering you an unforgettable encounter with this massive "river of ice."
This trail is about 6 miles long (out and back) with elevation gain of about 1,200 feet.
That doesn't sound too bad but the closer you get to the glacier, the less maintained the trail becomes and you may be dealing with a lot of wild tree roots and muddy conditions requiring a bit of technical work.
Rangers don't recommend that you try this hike during the rain because of how treacherous some of the mossy rocks can become.
For many, this hike is a lot of fun but it's only a good option for those willing to commit to a fairly strenuous hike. Stop by the visitor center and get a map of the trail and talk it over with a ranger if you are in doubt.
If you don't feel comfortable leading yourself, you can book a guided adventure. Either way, you will want to have crampons if you plan on stepping on the glacier.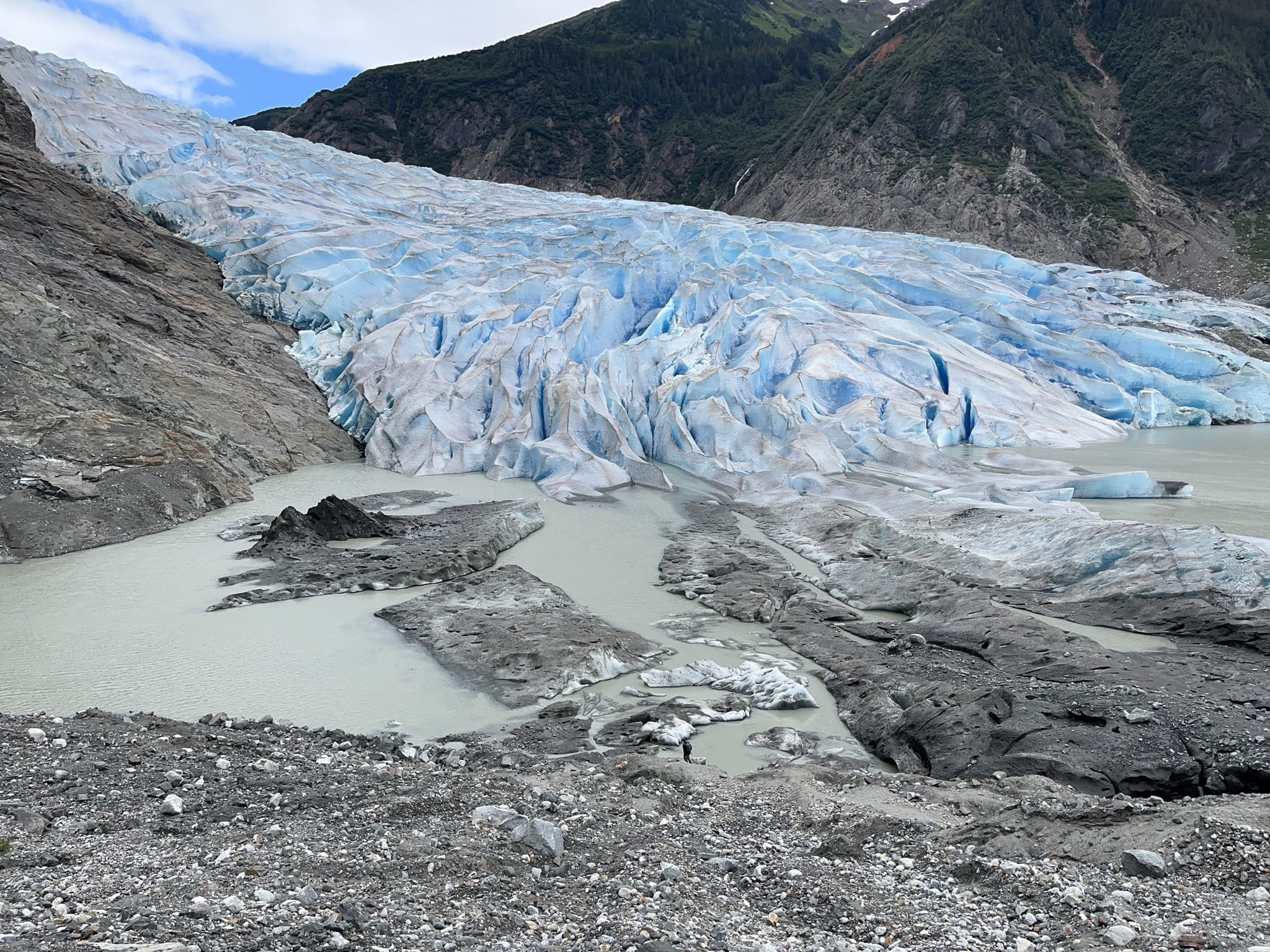 If you don't want to do the hiking, you can kayak over to this point. Be sure to pull your kayak way up out of the shore zone because it could be swept away.
Explore the blue ice caves
One of the most stunning sites to behold would have to be the ice caves that form under the Mendenhall Glacier.
It's the ultimate way to take in that mesmerizing glacier blue and to view an otherworldly landscape that you just can't mimic anywhere else.
Visiting the ice caves is a little bit tricky because the Mendenhall Glacier is always changing its shape so caves are constantly forming and disappearing.
Timing and safety are major concerns.
To get there, you can do the hike above or you can book hiking or kayaking tours and they will take you to the caves if they are safe enough to visit.
Consider calling in and asking about the latest conditions to see if you have a chance to explore these.
I don't think I would ever feel comfortable venturing into these caves without a guide but if you know what you're doing I say go for it.
As far as I can tell, the caves have been difficult to visit as of the summer of 2022 but hopefully that will change.
One way to find the latest conditions in the caves is to filter for things like "Mendenhall Glacier cave" on social media or check the social media accounts of the tour companies.
Make sure people know when to expect you to come back if you are venturing onto the glacier by yourself.
Kayaking
If you trust your kayaking skills you can bring your own kayak and set off by yourself. No permit needed.
The launching point is very close to the parking lot so it's really easy to get in the water.
It's about 2 miles to the face of the glacier so it's gonna take you anywhere from 30 minutes to 1 hour to get there for your average kayaker.
Just remember this water is like 34° so be prepared to deal with extreme cold in the event you take an unplanned dip in the lake.
You can also book a kayaking adventure tour in Mendenhall Lake for around $230.
You'll set out and paddle something like five or 6 miles around the lake while taking in exceptional (close) views of the Mendenhall Glacier and other sites like Nugget Falls.
Wildlife sightings could include beavers, bald eagles, waterfowl, and arctic terns.
Another kayaking tour takes you out to sea and offers a view from a distance of the Mendenhall Glacier, while potentially seeing porpoise, seals, sea lions, eagles, herons, or even whales.
While having experience will certainly help you enjoy these experiences, experience is not necessary.
With that said, some of these adventures last for quite a few hours so make sure you are up for the physical challenge especially if your adventure combines kayaking with hiking.
Be sure to pay attention to the size requirements when it comes to kayaks.
If you are on the larger side either by height or weight you might consider going with a canoe which could be more comfortable.
Note: When you book a tour like a kayaking adventure, you should be supplied with all of the necessary gear you would need like a dry bag, rain jacket, and rain pants, so it's relatively easy to prepare for these.
Canoeing
Canoeing is another option that might be better suited for people not comfortable in a kayak or who are interested in traveling with more fellow travelers.
The canoes can hold a lot more people and sometimes you might be paddling along with close to a dozen other explorers.
Again, be ready for a full day adventure in a lot of cases as some of these tours combine hiking with your boat time.
The cool thing about the kayaking and canoeing tours is that not only do you get close to the glacier but you get some close encounters with ice bergs, some of which can dazzle you.
Getting in a kayak or canoe is probably the best way to experience the face of the glacier.
River raft
Embarking on a river raft adventure is another way to explore Mendenhall Glacier Lake.
You'll get some time to admire the face of the glacier and then float through the milky blue-gray waters of the lake before starting downstream on your 5-mile route.
You'll pass through Class I and II whitewater rapids, so it's a great way to experience some adventure without committing to a super hard-core, white-knuckled rafting ride.
Expect to shell out around $165 for this adventure.
Glacier walks, treks, and climbs
One of the most memorable ways to experience Mendenhall Glacier is to actually step foot on top of the glacier.
To me, this is the ultimate way to experience the glacier as it's not every day that you're standing on hundreds of feet of tightly packed ice that's been carving its way through mountainous terrain for centuries.
You can find three different types of adventures that will allow you to accomplish this. The price range is usually around $400 for these.
The first type it's called a walkabout or walking tour and it will land you on the glacier and allow you to simply walk around and admire the scenery.
This is the most tame and least demanding type of experience but could still be a once in a lifetime opportunity.
The second type is a trek that will be a little bit more physically demanding as you explore more of the glacier's features. This type of trek takes you up close to crevasses, over glacier pools, and offers more of a work out.
And then finally there is a more strenuous option where you can even do a little bit of climbing. If you want to know what it's like to go fully vertical on a wall of ice this is the type of tour you want.
During our trip to Juneau, we booked a glacier trek but unfortunately we were forced to cancel due to the weather. This was a major bummer because we also had to scrap our last plan to glacier trek in Iceland due to me getting sick!
I'm not sure when it will be but one of these days I'm going to find my way on to the top of a glacier!
Helicopter tours
Seeing Mendenhall Glacier from the air is one of the most impressive views you could have in Juneau.
You can accomplish this with a helicopter tour that will take you over the glacier. You can also book flight seeing tours.
If you're not able to book any of those you can often see the Mendenhall Glacier from your plane whenever you fly in or out of Juneau.
We definitely had a great view coming back from Gustavus and I was able to sneak in a quick photo of the glacier.
Dog sledding
If you've ever seen the movie Togo or Balto then you know how far back dogsledding goes in Alaska.
You can venture up to the ice field further back on the Mendenhall Glacier via a helicopter and experience firsthand what it's like to go dogsledding.
In my opinion, this is a much different "glacial" experience because the ice field is a very different environment than where you would be treking on the glacier or kayaking closer to the face.
However, if you wanted to experience dogsledding this would be a fantastic place to do it and it looks like an adventure of a lifetime. Prices are about $550.
Package deals
There are tons of package deals that include a visit to Mendenhall Glacier.
You can often add on an experience like whale watching, the Salmon Bake, the Salmon Hatchery, or something else in the area.
Because the glacier is a little bit away from downtown it makes sense to go ahead and lump something else in so that you can efficiently use your time.
That is especially true if you are on a cruise ship.
Final word
As you have already seen, there are a lot of different ways to explore the Mendenhall Glacier. At the very least I would recommend a visit to the visitor center and doing the Nugget Falls Trail along with Photo Point.
If you can handle something more strenuous, the West Glacier Trail would be my preferred choice.
When it comes to the adventurous tours, I think the glacier trek would be amazing because you get exceptional views while in the air and also get to get up close to some glacier features.
But if you're not able to get up in the air then kayaking or canoeing in the lake among the icebergs and face of the glacier would be quite the experience.

Daniel Gillaspia is the Founder of UponArriving.com and the credit card app, WalletFlo. He is a former attorney turned travel expert covering destinations along with TSA, airline, and hotel policies. Since 2014, his content has been featured in publications such as National Geographic, Smithsonian Magazine, and CNBC.