There's something special about standing in the exact spaces of major historical events. You're able to appreciate and absorb the history in a way that otherwise just would not be possible.
One location where you can do this is the Oswald Rooming House Museum in Dallas — a site closely tied to the assassination of JFK.
If you're thinking about visiting the Lee Harvey Oswald Rooming House and want to know tips on how to go about that and what to expect, keep reading below!
What is the Oswald Rooming House Museum?
The Lee Harvey Oswald Rooming House is a former boarding house that was once the temporary home to Lee Harvey Oswald from October 14, 1963 to the time of the JFK assassination.
Today, it's a museum house open to the public where you can visit Oswald's old room and talk with the owner of the house who grew up interacting with Oswald.
Tip: Use the free app WalletFlo to help you travel the world for free by finding the best travel credit cards and promotions!
Where is the Oswald Rooming House Museum?
The Oswald Rooming House Museum is located at: 1026 N Beckley Ave, Dallas, TX 75203.
This is about two miles from the The Sixth Floor Museum (the former Texas School Book Depository), which is where Oswald allegedly shot JFK.
Don't get the Oswald Rooming House Museum mixed up with another nearby house that was also once the home to Oswald.
That house is located at 214 W. Neely Street and it is infamous for the staircase found in the backyard.
Related: Hilton Fort Worth Review (Where JFK spent his last night)
It was directly under that staircase that Oswald took one of the most infamous photos with him holding the rifle that was allegedly used in the assassination.
That photo is also thought to be one of the most important pieces of evidence incriminating Oswald.
Today, you can view the house and even check out the stairs in the back (without having to trespass).
How do you access the Oswald Rooming House Museum?
The museum is open to the public but you need to make reservations or book a tour in order to get access to the house.
The house can be visited as part of a bus tour but we decided on a private tour (highly recommended).
Private tours can be booked via telephone by calling the owner at: 469-261-7806.
It's possible to do a last-minute tour but it is recommended that you schedule at least a week or two in advance to make sure there will be availability.
The prices for this tour may fluctuate or change but we paid $30 per person for what could've been a session of two hours. Cash and credit card are accepted.
We had to leave to visit another site so we only had 60 minutes which actually was not really enough time.
You might be wondering how on earth a tour of such a small rooming house would last up to two hours. Well, I'll get into that below….
One thing to know about the tour is that you are allowed to take photographs inside but she asks that you appear in all of your photographs.
So you can have someone including Miss Pat, take a picture of you in some of the key spots.
The Oswald Rooming House Museum experience
In my opinion, there are two major reasons for visiting the Oswald rooming house museum: Lee Oswald's bedroom and Talking with Mrs. Pat.
Lee Oswald's bedroom
The first reason to come is that you can see the bedroom of Lee Oswald and the actual wardrobe closet that was in his room at the time.
Note that Oswald did not sleep in this room the night before the assassination.
Instead, he spent the night at the Ruth Paine House where he typically would stay on weekends.
Reports indicate that Lee Oswald made his way over to his bedroom in the Oswald Rooming House Museum after he assassinated JFK.
Once he arrived at the house he went to his wardrobe and grabbed a jacket and a gun and then left the house. He would go on to allegedly shoot and kill officer Tippit and eventually be apprehended in the Texas Theatre.
Seeing the tiny quarters that Oswald lived in is pretty surreal.
First, it's just crazy and a little eerie that this is where he was living at the time of the assassination.
Second, the room is just very, very small.
Talking with Mrs. Pat
The main attraction here is a talk with Patricia Hall aka "Mrs. Pat."
She is the granddaughter of the former owner of the house, Mrs. Gladys Johnson, who owned it when Lee Oswald was a tenant.
Mrs. Pat is full of stories, theories, and conversation related to the JFK assassination.
And it is the stories that are so addicting to listen to.
What's most interesting to me is that she grew up around the house as a kid.
When she was 10 years old she had interactions with Oswald and remembers very specific stories that she openly shares.
You get to hear (first-hand) what Lee Oswald was like and how he interacted with kids in the neighborhood. It's very intriguing.
Beyond recalling her childhood memories, she also has a lot of information about the events related to the assassination.
She definitely does not believe in the "standard" explanation of what happened.
If you are versed in the death of JFK, you know that there are several theories around his death involving actors like Lyndon Johnson, the CIA, the mob, Fidel Castro, etc.
As you sit down in a 1960s style living room, Mrs. Pat is able to go deep into all of these theories and show you how things fit together (or rather how they don't fit together).
While I don't know if I am on board with all of her views on the events, her perspective made me ponder a lot of things.
Regardless of whether or not you are in full agreement or full disagreement with her, you can't deny that listening to her stories is utterly fascinating.
She is like a living museum exhibit.
But unlike an exhibit, she won't be around forever, so talking with her feels like something you truly need to cherish.
In addition to the stories, she also has a few interesting items in the house to show you that I won't fully spoil for you in the review.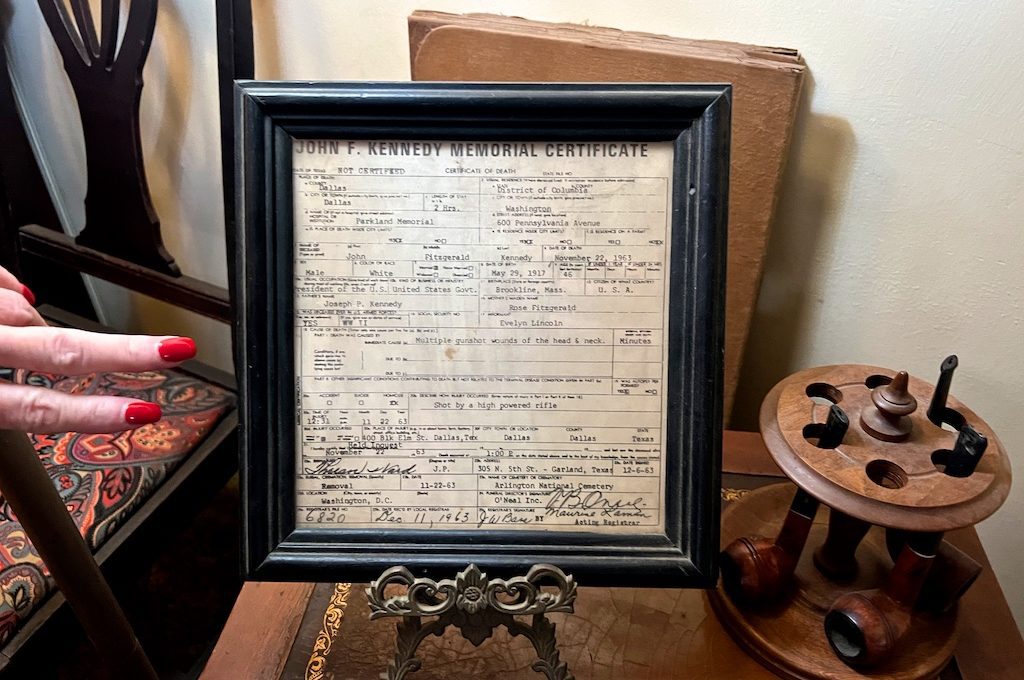 My biggest tip I would have before visiting here is to do some serious research.
Watch documentaries, listen to podcasts, read articles, etc.
Come with questions about the research, ask them, and then just let Miss Pat go off with her stories.
If you are not on board with any of the JFK conspiracy theories, I think it will be impossible to not come away with at least some questions about the current leading narrative.
Final word
The Oswald Rooming House Museum was my favorite location out of the dozen or so JFK assassination sites that we visited in Dallas.
I found Miss Pat's story to be very captivating and it was also very interesting to see Lee Oswald's little bedroom. I would highly highly recommend this tour for anyone remotely interested in the history behind the JFK assassination.
Daniel Gillaspia is the Founder of UponArriving.com and creator of the credit card app, WalletFlo. He is a former attorney turned full-time travel expert covering destinations along with TSA, airline, and hotel policies. Since 2014, his content has been featured in major publications such as National Geographic, Smithsonian Magazine, Forbes, CNBC, US News, and Business Insider. Find his full bio here.