Are you trying to figure out what passengers qualify for preboarding and how the whole process works?
In this article, we rounded up the policies for different US airlines and also clarified the law regarding your rights to preboarding. Below, you'll see exactly what federal law mandates and what type of passengers will qualify for preboarding.
Passengers who qualify for pre-boarding
There are two different ways to qualify for preboarding.
The first way to qualify is to fall into a category that is recognized by federal law and that requires the airlines to provide you with preboarding.
The second way to qualify is to fall into a category that is specific to the airline you're flying with (and not mandated by law).
Let's take a look at these different categories.
Tip: Use the free app WalletFlo to help you travel the world for free by finding the best travel credit cards and promotions!
Those who need additional time or assistance to board
If you are someone who needs additional time or assistance to board the plane, stow your accessibility equipment, or be seated you qualify as someone who can use preboarding.
So this goes well beyond only people who need wheelchairs and includes a very broad spectrum of people.
As I will explain below, this is mandated by law and is not an airline-specific policy.
Unaccompanied minors
Unaccompanied minors are those passengers usually under the age of 16 who are flying without an adult.
Not every airline allows unaccompanied minors but for those that do, they should allow the unaccompanied minor to utilize preboarding.
Unfortunately, airlines are kind of bad about clearly including unaccompanied minors in their preboarding policy pages so sometimes you may need to verify this by calling in.
Active military with ID
Active military members are usually granted preboarding.
Some airlines state that you will need to show your military ID but others do not — still it is probably a good idea to have it on you. It does not appear that you will have to be in uniform to use this but again you may want to clarify. Sometimes it comes down to the discretion of the gate agents.
Families with children under the age of 2
If you are a family with a child under the age of two you should qualify for preboarding with some airlines. You'll want to clarify with the airline as to how many members of your family can join in with preboarding.
Elite members
Some airlines like United Airlines lump top elite members in with preboarding.
Personally, I'm not a fan of airlines doing this because it makes things a little bit more confusing than they need to be and it just is asking for DOT trouble.
As you'll see below, when elite members are in preboarding those who need assistance should be called up before the elite members.
Remember — many people who utilize preboarding will not be able to sit in the emergency exit rows since those passengers cannot have mobility issues.
What the law states
Preboarding is not merely an optional courtesy offered by airlines. Instead, the right to utilize preboarding is required by federal law.
Specifically, 14 CFR §382.93 states:
As a carrier, you must offer preboarding to passengers with a disability who self-identify at the gate as needing additional time or assistance to board, stow accessibility equipment, or be seated.
The Department of Transportation has provided additional clarification on who qualifies as preboarding. These include people who:
need a specific seat assignment
need to stow their personal folding wheelchairs
need additional time or assistance to board, stow accessibility equipment, or be seated
The DOT states that these passengers must be boarded before all other individuals that qualify for other types of preboarding or priority boarding.
It is the Enforcement Office's view that section 382.93 requires carriers to board passengers with disabilities who self-identify at the gate as needing to preboard for one of the listed reasons to board the plane before all other passengers, including first class passengers, elite-level passengers, members of the military, passengers with small children, etc.
It's worth noting that airlines are not required to make a general announcement for preboarding.
However, if they make an announcement for other types of classes of passengers they are "strongly encouraged" to also make an announcement for persons with disabilities the opportunity to preboard.
This is just all the more reason to be proactive and to arrive early before boarding so that you can arrange for your preboarding.
To account for potential long lines, I would advise arriving around 20 minutes or more prior to boarding to work things out.
You can usually find your boarding time on your boarding pass but the boarding time will vary based on the size of your aircraft and your route. Generally, boarding starts about 30 minutes to 50 minutes prior to takeoff.
Where to request preboarding
You can make your request for preboarding during the online booking process sometimes by selecting that you will need additional assistance.
You can also request preboarding at the ticket counter or at the gate. (The ticket counter is where you drop your bags off and the gate is where you lineup for boarding.) Personally, I would always make my request at the gate since that is when your closest to boarding.
If you think you will need to request preboarding at the airport, you may want to arrive just a little bit early in order to take care of your request. Sometimes the gate areas can get very busy and hectic and if you arrive early you can avoid the madness.
You can simply tell the gate agent that you want to request preboarding "for medical reasons" and that should be enough in the majority of cases.
Keep in mind that the law is clear that your status as a preboarder is a matter of self identification.
In theory, if you identify as someone who needs additional time or assistance to get into your seat, the airline should not have any say on whether or not your claim is valid.
Disclosing medical conditions
You do not need to supply a medical letter from your doctor or medical records to qualify for preboarding. You also don't need to get into specifics regarding your medical condition.
All you need to do is express that you identify as an individual who needs additional time or assistance to board.
Some airlines like Spirit Airlines do a good job of making this clear.
They state:
We do not require information concerning the extent of your disability, but the more facts you can share with us, the better we are able to assist you and meet your individual needs. Should you require assistance to or from the gate, we offer a meet and assist service (see below).
What medical conditions qualify?
The law does not specify specific conditions that qualify for preboarding. In addition, airlines don't have a published list of conditions that qualify either.
Instead, it comes down to whether or not your condition causes you to need the additional assistance that qualifies for preboarding.
Physical conditions
If you have a debilitating condition that causes you to need a wheelchair that is an obvious case that qualifies for preboarding. Also, if you have a visual impairment it's pretty obvious you may need assistance.
But there are many other conditions that warrant people needing extra assistance that are not always so obvious.
For example, there are many people who deal with "invisible illnesses."
Conditions like chronic pain, arthritis, dysautonomia, fibromyalgia, neuropathy, etc., are often not detectable by your physical appearance but they can still cause you great discomfort and slow you down when trying to board in a narrow cabin with narrow seats.
One bad pull on your luggage or arch in your back could trigger a bad flareup that could mess you up for weeks or even months. So for people dealing with that type of reality, they absolutely do qualify as needing extra time or assistance to board.
Mental health conditions
A big point of debate is whether or not mental health conditions should qualify someone for preboarding.
The law states that you qualify for preboarding if you need "additional time or assistance to board, stow accessibility equipment, or be seated."
It's very feasible to imagine someone with a severe anxiety disorder that needs extra time to board without dealing with the rush of a normal boarding procedure.
If someone like this were triggered into a panic attack, that could absolutely slow down boarding and result in a potentially disastrous outcome.
So from that sense, I believe people with certain (severe) bonafide mental health conditions should be able to qualify for preboarding.
However, airlines don't really make it easy to get guidance on this issue and so this is probably a very case-by-case type of situation.
Can other passengers preboard with you?
A popular question is whether or not other passengers can preboard with you. Most of the airlines are not explicit about how they handle this so you just need to clarify this with the gate agent.
Most likely, they will handle this similar to Southwest which allows one person from your party to accompany the customer with a disability.
They state:
We will allow one travel companion to act as an "attendant" and preboard with a Customer with a disability. In most cases, the Customer requires assistance from only one other person, and any additional family members or friends are asked to board with their assigned group.
That seems like a pretty reasonable policy for the vast majority of individuals who need preboarding.
As the companion accompanying the person in need of assistance, you might get odd looks or responses from gate agents. I once accompanied Brad the day after he had a shoulder/side procedure done in order to help him stow his heavy luggage and the gate agent gave me a scowl during the boarding process as if I didn't need preboarding….
In the event an airline is more generous and allows more than one companion, I would advise you to avoid taking advantage of this and trying to lump all of your family members into preboarding because that will contribute to the stigma that people utilizing preboarding already face.
And that brings me to the next point….
Dealing with the preboarding stigma
The unfortunate reality is that there is sometimes a stigma on those who use preboarding. It's not usually directed towards those who are in need of obvious assistance such as those in wheelchairs.
Instead, it's usually directed at people with invisible illnesses or to those who accompany people in need of preboarding.
One reason for this is that some passengers fraudulently take advantage of preboarding.
They don't actually require true assistance or extra time but they enjoy the privilege of being able to board before others and take advantage of overhead storage bin space.
Unfortunately, due to the nature of some illnesses and conditions and how we value medical privacy in the US, I don't really see a solution as to how to weed these people out.
So my advice is to simply not utilize preboarding unless you really think it is necessary. And if you are using it, try to keep to yourself and avoid trying to measure how other passengers feel about you.
There is no need for you to explain yourself or to seek validation from others and if they feel a certain type of way about are you using preboarding, just let them be and move on. Some people will always find something to complain about.
Filing a DOT complaint
If you have been denied preboarding or subject to scrutiny that you believe is unjustified or unlawful you may have a basis for filing a DOT complaint. If you would like to file a DOT complaint you can do that here.
Before filing a complaint, you might want to just contact customer service for the airline and try to resolve it with them first. The airline may even offer you compensation.
However, if you don't get anywhere or you feel like this is a systemic issue, it might be worth filing a complaint so that others don't have to deal with your same experience.
If you do end up filing a DOT complaint, DOT requires airlines to acknowledge consumer complaints within 30 days of receiving them and to send consumers written responses addressing these complaints within 60 days of receiving them.
US airlines preboarding policies
As you'll see below, each airline provides a different level of detail and information regarding who qualifies as pre-boarding.
Alaska Airlines
Guests with disabilities who need help or a little more time to board
Families with children under the age of 2
Active members of the military
American Airlines
Customers who need special assistance and families with children under 2 years old can ask to board early at the gate.
When booking you may be able to:
Request wheelchair service
State if you're traveling with your own mobility device
Request individual assistance if you have a hearing, vision, cognitive or developmental disability
State if you're traveling with a service animal. Keep in mind, notice and approval is required at least 48 hours before your flight.
Delta Airlines
Customers needing assistance or additional time to board
Active duty US military with ID
Frontier
Includes anyone needing wheelchair or other boarding assistance and unaccompanied minors.
Hawaiian Airlines
Guests needing assistance
Unaccompanied minors
JetBlue
For customers with disabilities
Southwest Airlines
"Preboarding is available for Customers who have a specific seating need to accommodate their disability and/or need assistance in boarding the aircraft or stowing an assistive device."
Something interesting about Southwest is that they state that if "a Customer with a disability simply needs a little extra time to board, we will permit the Customer to board before Family Boarding, between the "A" and "B" groups."
I honestly don't understand how that is compliant with the DOT since the law clearly states that if you need extra time (not just assistance) you should be able to take advantage of preboarding.
I'm wondering if due to the nontraditional boarding system Southwest utilizes, they have negotiated some sort of DOT middle ground.
Nevertheless, if you need extra time to board on Southwest they will issue you a new boarding pass with an extra time designation. This will allow you to board before family boarding.
Another interesting thing about Southwest is that they state that if you want to request preboarding you should do it at the ticket counter or departure gate where agents "are trained to ask fact-finding questions to determine if the Customer meets the qualifications described above."
That sounds a bit intrusive given that the law is all about allowing self identifying passengers to use preboarding if they believe they need assistance or extra time. Do you really need a "fact-finding" process for that as if they were on trial?
Note: Customers who are preboarding because of a need for a specific seat onboard the aircraft should speak with the Operations (Boarding) Agent prior to the start of preboarding to alert the Agent to the seating need.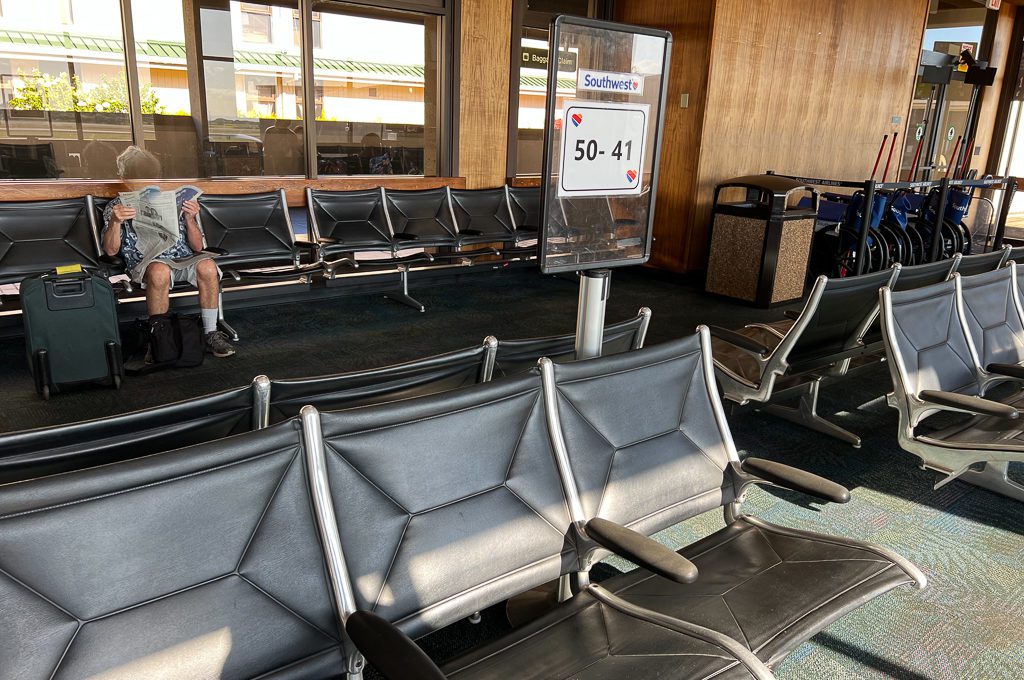 Spirit Airlines
Preboarding is available for Guests who wish to have a little more time on board to settle into their seats. Guests must inform the agent at the gate of their desire to preboard and be present at the gate prior to the boarding process.
United Airlines
Unaccompanied minors
Customers with disabilities
Active members of the military
United Global Services® members
Families traveling with children age 2 and younger
Premier® 1K® members
Link to United Airlines policy
Final word
As you can see, many people can qualify for preboarding.
Although some people think this is just a policy offered by airlines, preboarding for people who need extra assistance is actually required by federal law. In addition, other passengers may fall into the preboarding category depending on the airline's policy.
If you need preboarding, the best route to take is to arrive early for boarding and to notify the agent at the gate that you identify as someone who needs extra time or assistance to board.
If you feel the need to reveal the extent of your medical condition you can do so but you are under no obligation to reveal details about your medical diagnosis.
Daniel Gillaspia is the Founder of UponArriving.com and creator of the credit card app, WalletFlo. He is a former attorney turned full-time travel expert covering destinations along with TSA, airline, and hotel policies. Since 2014, his content has been featured in major publications such as National Geographic, Smithsonian Magazine, Forbes, CNBC, US News, and Business Insider. Find his full bio here.